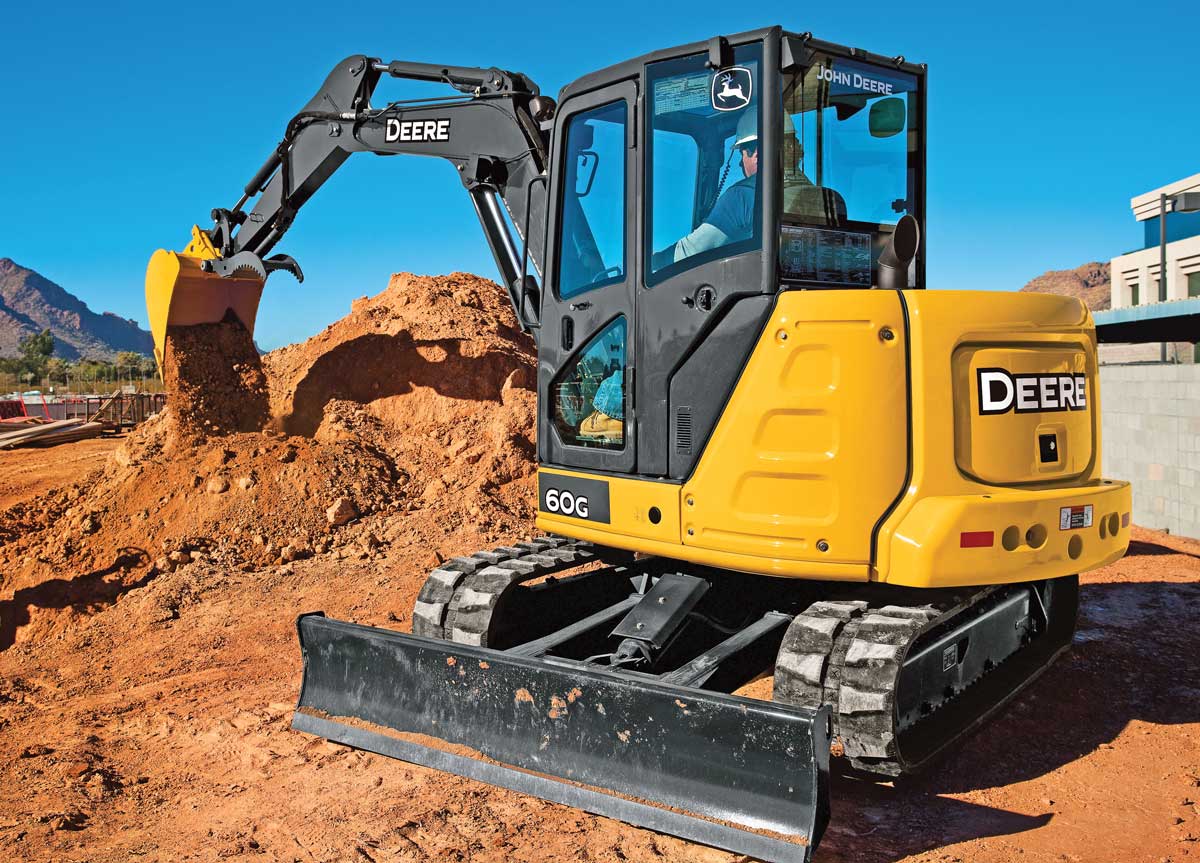 In 2021, the mini or compact excavator segment is one of the hottest machine markets in U.S. construction equipment. These small, tool-carrier excavators are growing in popularity both in the equipment fleet and the rental lot. Like most categories in this spec guide, versatility and size are the key to popularity. Compact excavators can be transported easily and can tackle a variety of applications onsite, such as digging basements, burying downspouts, compacting soil, trenching service lines, augering holes for trees or grappling obscenely big, decorative rocks.
Defined as excavators under 6 metric tons (although we cover a few bigger ones in this magazine as well), these are small excavation machines engineered with an undercarriage and tracks, a long digging arm and a cab or ROPS enclosure. Typically, with a dig depth between 5 and 15 ft + and an operating weight between 2,000 and 20,000 lbs, compact excavators can fit into cramped worksites and still give big dig power. These units have grown so popular that the number of manufacturers offering models is a little overwhelming — Bobcat, Caterpillar, Yanmar, Volvo, John Deere, Komatsu, Kubota, Kobelco, Takeuchi, Case, New Holland, Hitachi and beyond.
The 3.5- to 4-ton class continues to drive the compact hydraulic excavator market (especially in rental), and the 5- to 6-ton size class is beginning to heat up. Conventional-style compact excavators continue to share space with the minimum and zero tail swing designs. Zero tail swing, or ZTS, continues to be a popular option (excavators that are designed to keep their cabs within the width of their tracks). In addition to an excavator's many features (enclosed cabs, backfill blades, extendable sticks, retractable undercarriages), a plethora of attachments are readily available to take on tasks beyond digging (hydraulic thumbs, breakers, specialty buckets, augers, grapples, mowers and more). Also, one of the latest trends in the category is commercially available electric and hybrid variants.
How do you choose? Most applications for compact excavators are project-based, so what will the dig depth of your job be, and what are the installation specs of the product (drainage pipe, fiber optics, tree transplants or caskets)? Weigh those project details with the particular specifications of the compact excavator you're eyeing. Popular mini ex specs include operating weight, digging depth, bucket breakout force and maximum reach. Learn more from the manufacturers below. If you prefer a magazine format, check out our July/August print magazine version right here.