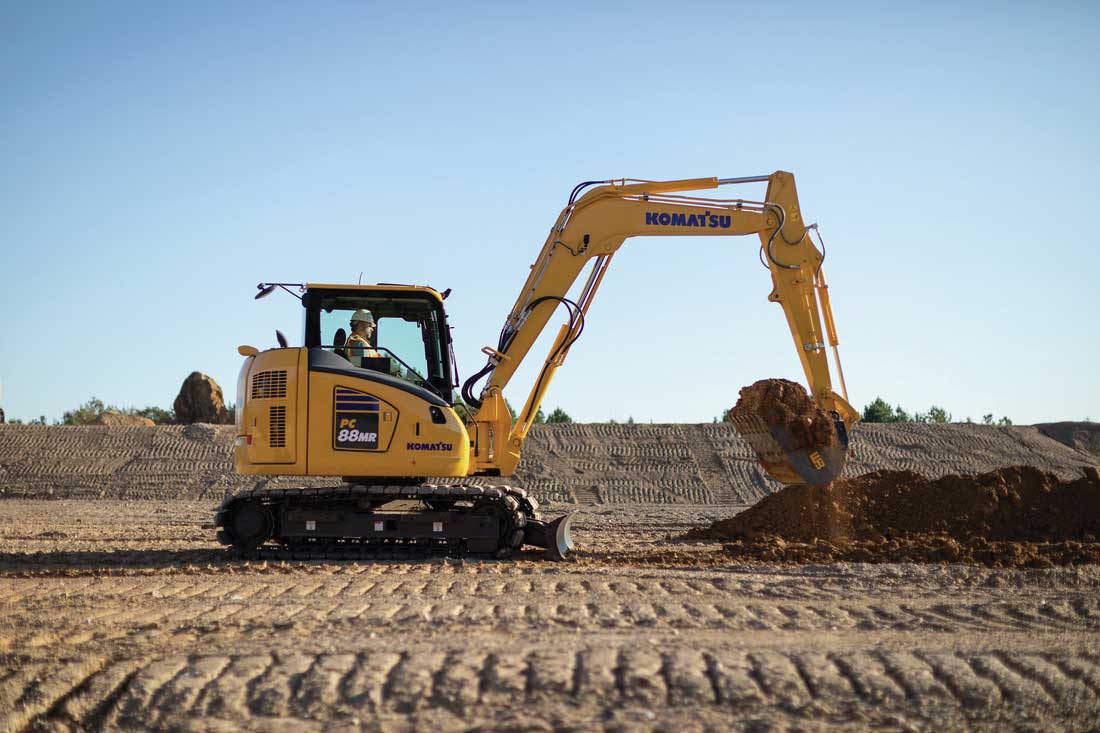 Half a Dozen Mini Excavators Made to Meet Customer Needs
Komatsu continues to offer compact excavators with the same reliability, high-quality and operator comfort features as its large excavator line — things like steel castings in high stress areas and economy mode for fuel savings while reducing emissions. Komatsu's compact excavators are designed to meet the customers' expectations with powerful productive machines offering dozer blades for backfilling, auxiliary hydraulics to power almost any attachment in the industry, multiple undercarriage options and large feature filled cabs that include climate-control, multi-function audio systems with Bluetooth technology, reduced operator noise levels and large high resolution LCD monitors for harsh climates.
Currently, Komatsu offers six excavators in the 0- to 8-metric-ton size classes. All of the compact excavators meet Tier 4 Final requirements without using selective catalytic reduction (SCR) and without the need for diesel exhaust fluid (DEF). The smallest Komatsu excavators, the PC30MR-5 and the PC35MR-5, are extremely versatile because of their light weight, ample power and large range of work tools available through OEMs such as Werk-Brau. The PC45MR-5 and PC55MR-5, which are in the 4- to 5-metric-ton size class, offer features rarely found on compact equipment, including Komtrax equipment monitoring, auto-idle shutdown and economy modes, as well as a two-post ROPS canopy, for class-leading visibility.
All four machines are designed to outperform the competition in applications ranging from landscaping and utility work to general construction work, says the company.
The PC78US-11 comes with a 2.4-liter, 68-net-hp engine, which provides a power upgrade from the previous model while further reducing emissions. The PC78US-11 has the traditional style boom, which is set back further to allow this ultra-short designed machine to work in confined spaces as it only extends 9 in. from the tracks at the rear for maneuverability. Advanced features such as a closed-center load sensing hydraulic system (CLSS), with standard two-way auxiliary hydraulics and enhanced working modes, means the PC78US-11 is up to 3 percent more productive than the previous model. There is also a standard two-way blade available and an optional 8-ft, 1-in.-wide blade, when equipped with the wider 24-in. triple grousers.
Finally, Komatsu's PC88MR-11 is an 8.5-metric-ton excavator with a swing boom and true tight-tail performance. Similar to small and large excavators, the PC88MR-11 comes standard with high-quality booms and arms constructed with thick plates of high-tensile-strength steel and two-way auxiliary hydraulics for optional attachments such as thumbs and hammers. Improved from the previous PC88MR-10 model, the PC88MR-11 now includes an electronic one-way/two-way selector switch and auxiliary hydraulics pressure control from the machine monitoring system inside the cab. The pattern change valve allows for quick and easy switching from excavator controls to backhoe controls. With available road-liner shoes and a two-way blade, the versatile PC88MR-11 fits in well on any general construction jobsite.
The PC78US-11 and PC88MR-11 both have big improvements when it comes to maintenance. All filters are centrally located and grouped together providing easy ground-level access, which improves machine maintenance efficiency and reduces machine maintenance downtime.

Advice to Buyers
"Compact excavators should be able to solve your small, big and anywhere-in-between-size jobs," says Jonathan Tolomeo, product manager, Komatsu Construction. "When choosing a compact excavator that offers you the best versatility, look for quality and reliability, power, true tight tail swing radius and the easy-to-transport package you are looking for. Where space is a premium, compact excavators offer the best solution for your unique jobsites."
Tags:
July August 2021 print issue
,
Komatsu
,
Spec Guide
,
Spec Guide 2021