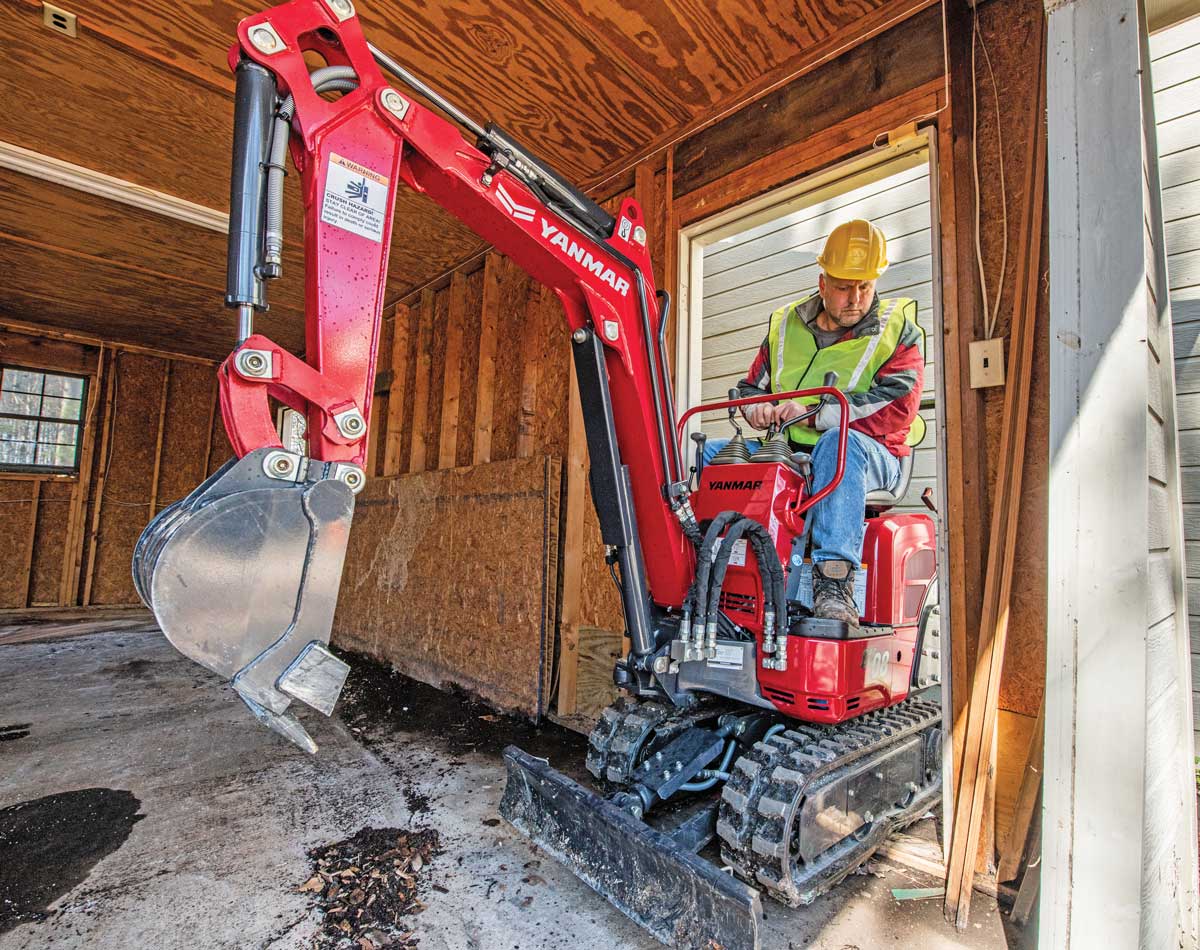 A Diverse Line of Excavators Equipped with the SmartAssist Remote System
With over 50 years manufacturing compact construction equipment and a four-year/4,000-hour bumper-to-bumper warranty on its excavators, Yanmar is dedicated to providing purpose-built machines that can overcome the most challenging conditions.
Following the introduction of the walk-behind dozer in 1967, Yanmar introduced one of the first mini excavators in 1968. These mini excavators proved popular, and since then Yanmar has introduced a number of firsts to the mini excavator market, including the first swing boom excavator and the first zero tail swing excavator, says the company.
An important benefit to purchasing a Yanmar excavator is the addition of the SmartAssist Remote (SAR) system. SmartAssist Remote comes standard on all excavators for free for the first five years and allows you to monitor operational history, geo-fencing, diagnostics and theft notification. This system centralizes control of machine operation information and maintenance support information.
In 1993, Yanmar launched the ViO Series of excavators, which was the world's first zero tail swing excavator and is currently marketing its sixth-generation model. With a zero tail swing excavator, no part of the housing extends beyond the track, which allows efficient operation in tight spaces, access to more jobs, less damage to the machine and less damage to the site, all while maintaining stability and work performance of a conventional style unit.
Mini excavators are making big waves on jobsites all over North America. Click here for the latest news on these machines and the companies that make them.
Yanmar produces six models in the ViO Series, ranging from 3,836- to 18,136-lb operating weights. To start, the ViO17-A is equipped with a 13.5-hp Yanmar diesel engine, 3,836-lb operating weight, 7-ft, 7-in. digging depth and variable width tracks of 3 ft, 1 in. to 4 ft, 1 in. On the other end of the spectrum, the ViO80-1A is engineered with a 56.9-hp Yanmar diesel engine, 18,136-lb operating weight, 15-ft, 2-in. digging depth and a width of 7 ft, 5 in.
The advanced technology true zero tail swing ViO35-6A, ViO50-6A, ViO55-6A and ViO80-1A feature an electronically controlled Tier 4 Final engine and a robust hydraulic system. They also come standard with Eco and Auto-Deceleration modes for even more operational efficiency. These features combine to deliver up to 20 percent less fuel consumption than previous models.
Additionally, Yanmar offers the SV Series of ultra-tight-turning excavators, each of which have a minimal turning radius in both the front and rear. This tight turning radius adds versatility on a tight worksite. Yanmar has three models in its SV Series. The smallest model is the SV08-1D, with a 10.3-hp diesel engine, 2,348-lb operating weight, 5-ft, 4-in. digging depth and variable width tracks of 2 ft, 3 in. to 2 ft, 9 in. The largest model is the SV100-2A, with a 72-hp Yanmar diesel engine, 21,550-lb operating weight, 14-ft, 10-in. digging depth and a width of 7 ft, 7 in. The newest model, launched in 2020, is the SV40, with a 39-hp Yanmar diesel engine, 9,206-lb canopy model operating weight, 11-ft, 10-in. digging depth and a width of 5-ft, 8-in.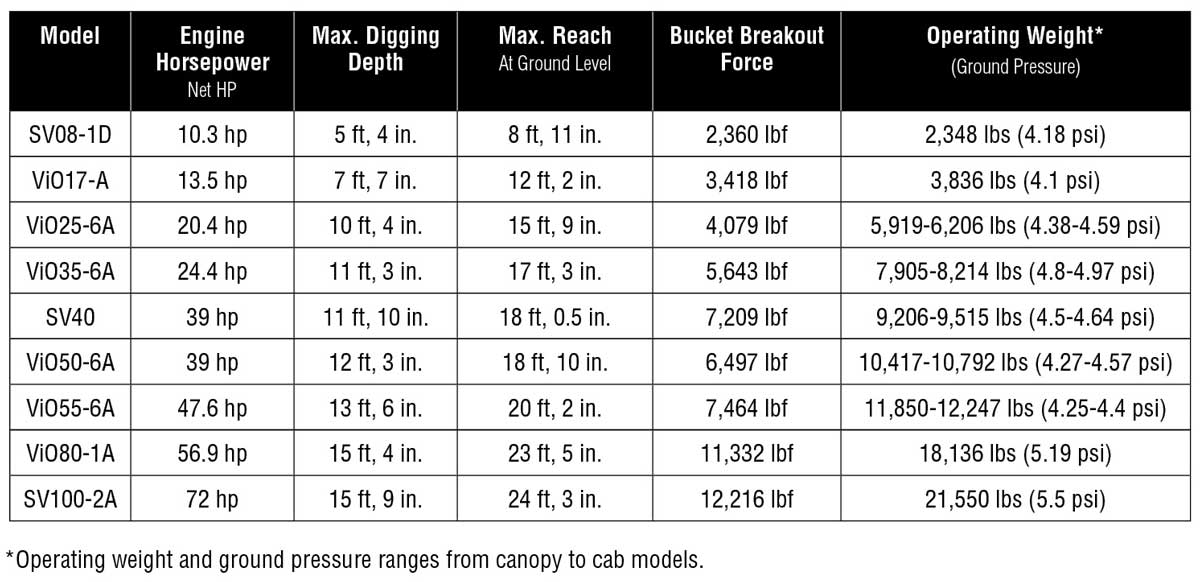 Advice to Buyers
"Quality means everything," says Jeff Pate, sales director for Yanmar Compact Equipment North America. "If you can't afford downtime and costly repairs, then do your homework to ensure you get a machine that can keep you on the jobsite. Look at company warranty agreements. What's the coverage period? What's covered under that agreement? Are there extension options, and what are the costs?"