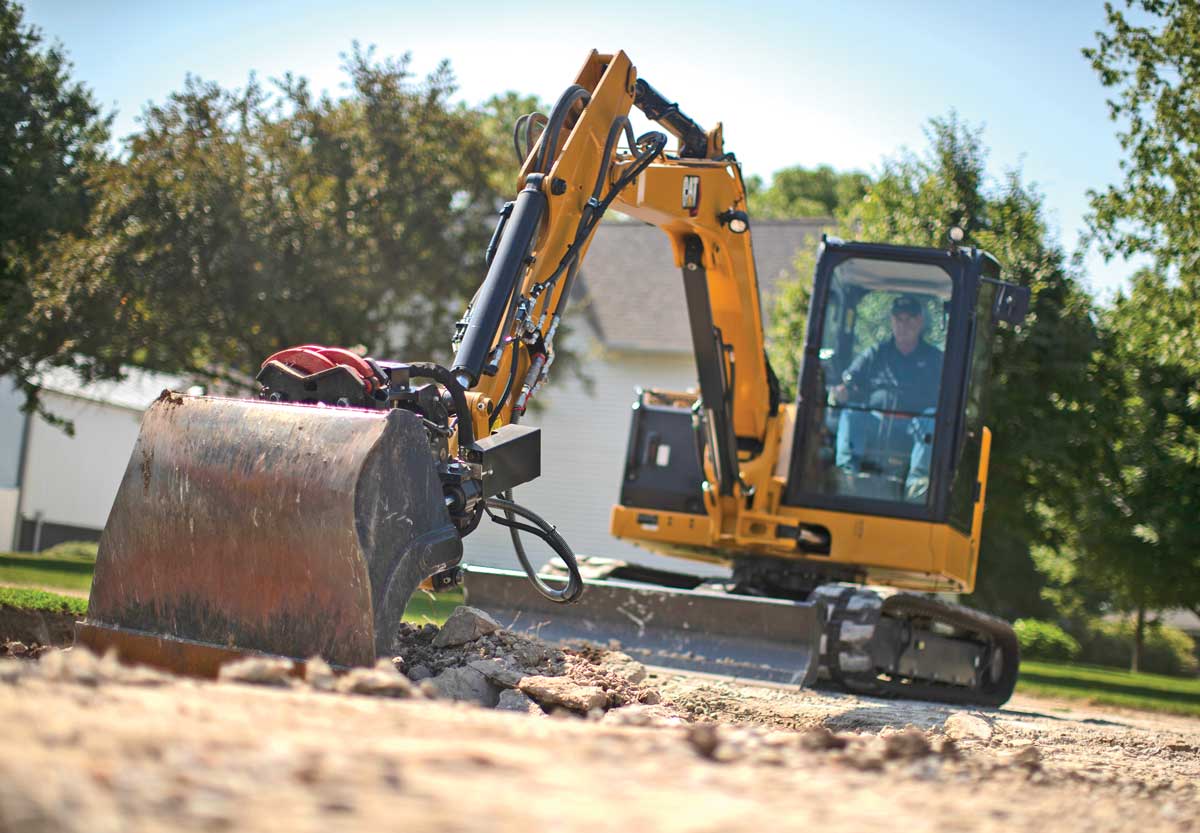 New Machine Intros and Updates from the Famous Brand
Manufacturing of Cat mini hydraulic excavators began with an 8-metric-ton machine in Japan in 1987. Seven years later, the machines were introduced in North America. Today, Caterpillar offers an extensive line of mini hydraulic excavators from 1 to 10 metric tons offered in North America ranging from the 300.9D that weighs less than 1 metric ton to the 310, which is a 10-metric ton Tier 4 Final machine with a high-definition hydraulic system.
The Cat Next Generation mini excavator models (all models excluding the 300.9D, 300.9D VPS, 304E2 CR and 305E2 CR) provide a selection of basic configurations, allowing customers to choose the machine that works most efficiently in applications routinely encountered. These mini excavators feature heavy-duty main structures, fuel efficient engines, load sensing hydraulics, spacious cabs and the exclusive Cat Stick Steer system.
The new Next Generation mini excavators use an efficient, fuel-saving, load-sensing hydraulic system with an electronically controlled variable-displacement piston pump. Generous flow rates, coupled with high main-relief pressures, provide the new models with the hydraulic capacity to generate increased travel performance and higher digging and lifting forces, as well as handle powered attachments.
For added versatility, the standard auxiliary hydraulic system (complete with quick-disconnect lines) provides one-way, two-way and continuous flow. Manual and hydraulic couplers are available, and the new models are available with a thumb-ready package and a certified lifting eye. Front-shovel operation, a capability that lends an extra measure of precision when digging around utilities, can be accomplished with both pin-on and coupler-mounted buckets. A dozer blade further expands the capability of the models, allowing the machine to handle backfilling and grading tasks. Cab models are sealed and pressurized to ensure a clean environment and feature a redesigned heating/ventilating/air conditioning system that ensures all-weather climate control. The Next Generation LCD color monitor provides easy-to-read machine information and features a jog dial for easy, ergonomic interaction with the monitor.
Advice to Buyers
"The mini excavator market is constantly evolving with new features and benefits on machines," says Greg Worley, market professional with Caterpillar. "Many of these new features deliver benefits in performance, versatility, ease of maintenance, safety, operator comfort and affordability. It's important to understand how these features can provide you a better experience by getting more performance and efficiency from your machine. Do your research and take the time to demo the different models on the market and remember to look at the long-term view and big picture of your purchase decision."