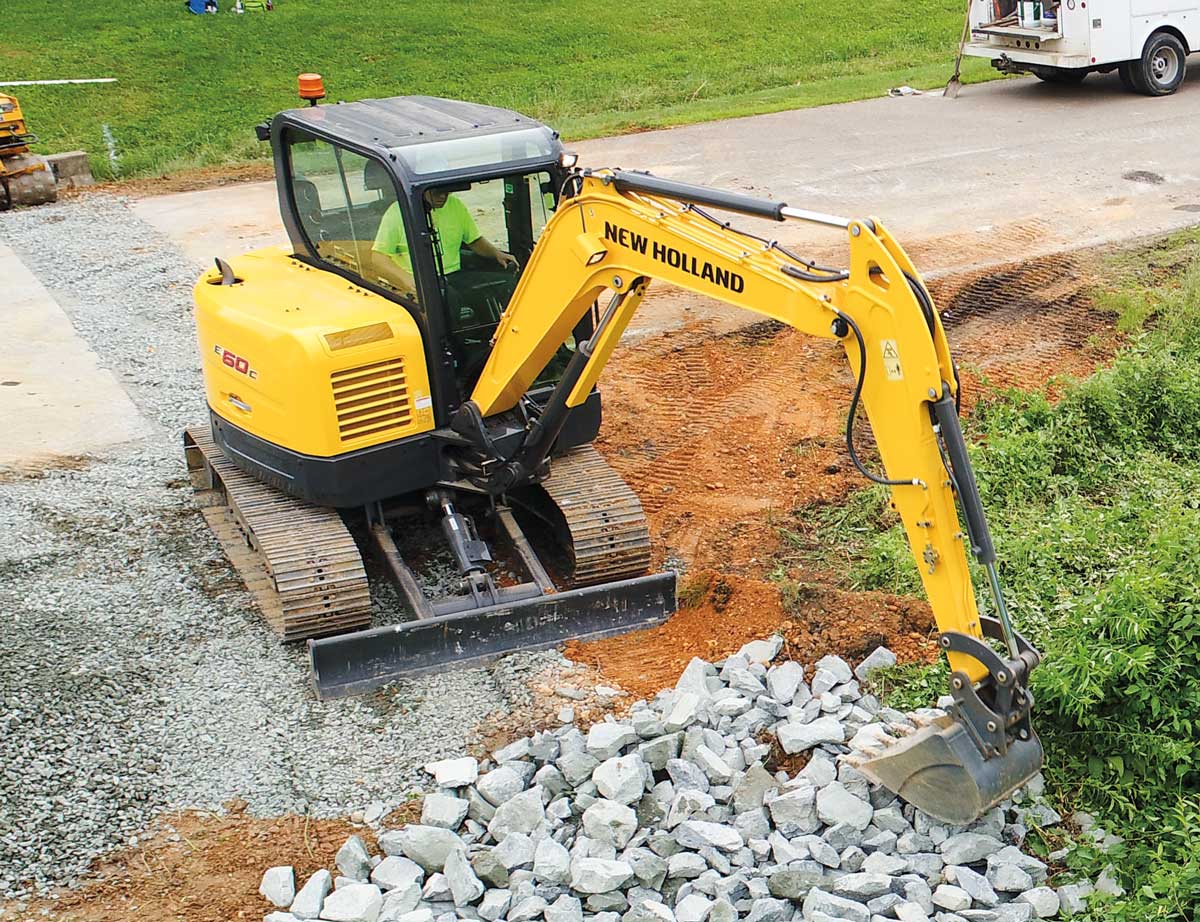 This C Series Is Compact in Size with Big Dig Performance
Smooth, fast and compact, New Holland Construction's C Series compact excavators combine power, comfort and functionality in one versatile machine. New Holland offers seven compact excavator models from 1.7 to 6 metric tons. Compact dimensions enable them to access difficult work areas. There's a model ideally suited to all types of landscaping, municipal, agricultural, horticultural, nursery, vineyard, estate management and general contracting jobs.
With canopy and full cab models, there are three short radius (SR), three zero tail swing (ZTS) and one conventional version to choose from. The ZTS and SR excavators allow operators to work more productively in congested areas due to short tail swing and a boom that can be offset left or right within an operating range. New Holland's conventional tail swing unit is well-suited for applications where limited space isn't an issue.
Designed for day-long working, each model has class-leading excavation performance with the versatility to power a wide range of attachments. With hydraulically powered attachments like soil augers, hammers and compactors, the boom and dipper offer powerful versatility with the strength of a large excavator. The efficient conversion of engine power into hydraulic muscle lies behind the productivity of New Holland Construction compact excavators. All models have three separate pumps to deliver optimized performance when traveling between sites or using the dozer blade, when working with the excavator and when driving hydraulic attachments. For demanding auxiliary attachments, a fourth pump option is available for the E57C and E60C models.
The advanced hydraulic system includes a swing parking brake and an arm flow summation system ensuring smooth and precise control. To further boost performance, the top two models have hydraulic flow summation. This advanced system delivers the enhanced proportional control typically restricted to high-capacity excavators exceeding 20-ton capacity. All models provide a clear, all-direction view for confident, relaxed operation. Slim frame posts ensure excellent all-round visibility with good views of the boom and dipper. On cab models, four sides of glass provide 360 degrees of visibility. Floor to ceiling sightlines allow operators to remain in the cab for both safety and higher productivity. Low noise and vibration levels ensure extended work periods in comfort with no compromise in operator safety.
C Series compact excavators feature an Auto Shift traveling system which automatically shifts between high and low depending upon load and an Auto-Idle feature that will automatically reduce engine rpm during inactivity to reduce fuel consumption and operator fatigue. Ground line serviceability access allows operators to easily perform daily maintenance checks. Wide open access provides easy sight checks of key service points, hoses and belts and fluid levels for easy troubleshooting and daily maintenance.

Advice to Buyers
"Understand fully what you intend to do with the machine now and two years from now," says Ryan J. Anderson, product marketing, New Holland Construction. "Consider what types of business opportunities you are looking to expand into. Currently, if you are only doing your regular excavation with the same bucket and coupler, consider if future jobs or tasks get you into new applications. Some future tasks may require a unique attachment such as a ditch cleaning bucket or a compactor attachment. With that said, consider outfitting your equipment for the future, not necessarily for your immediate needs."
Tags:
July August 2021 print issue
,
New Holland Construction
,
Spec Guide
,
Spec Guide 2021