R2-Series Excavators Provide High Quality Design, Performance and Comfort
Bobcat introduced compact excavators to the U.S. market in 1986. Today it continues to be one of the few manufacturers building compact excavators in the United States. In 2017, Bobcat introduced its newest compact excavator generation — the R-Series. In 2020, Bobcat introduced the all-new R2-Series excavators, made to bring performance that matches customers' growing expertise. R2-Series compact excavators (E42, E50, E60 and the new E88) have updated features, new designs and new enhancements to deliver everything needed to take performance to the next level.
Operators will experience improved ride quality, high-quality finish and a redesigned cab. The Bobcat compact excavator lineup spans from the ultra-compact E10 to the 65.4-hp E88. Bobcat compact excavator dig depths range from 6 to 15.5 ft with a standard excavator arm. A unique feature of select Bobcat compact excavators is an extendable-arm option that allows the use of a hydraulic clamp in the extended position. The option provides operators with up to 30 in. of additional reach when fully extended, giving them more reach, dig depth and dump height without having to purchase a larger machine.
With the most advanced in-cab display in the compact equipment industry, operators can receive detailed machine information and experience unprecedented device connectivity. The optional 7-in. display panel, with a wide and easy-to-use touchscreen, is waterproof and hardened to reduce scratching. Operators can view and toggle through machine performance information to make operation efficient, productive and profitable. The display also supports multiple languages.
Bobcat R2-Series excavators feature a newly redesigned Bobcat engine. Operators will notice a more efficient engine that delivers the performance you need while reducing and simplifying routine maintenance. It also improves cold-weather operation and includes a variety of features that make maintenance and service more convenient.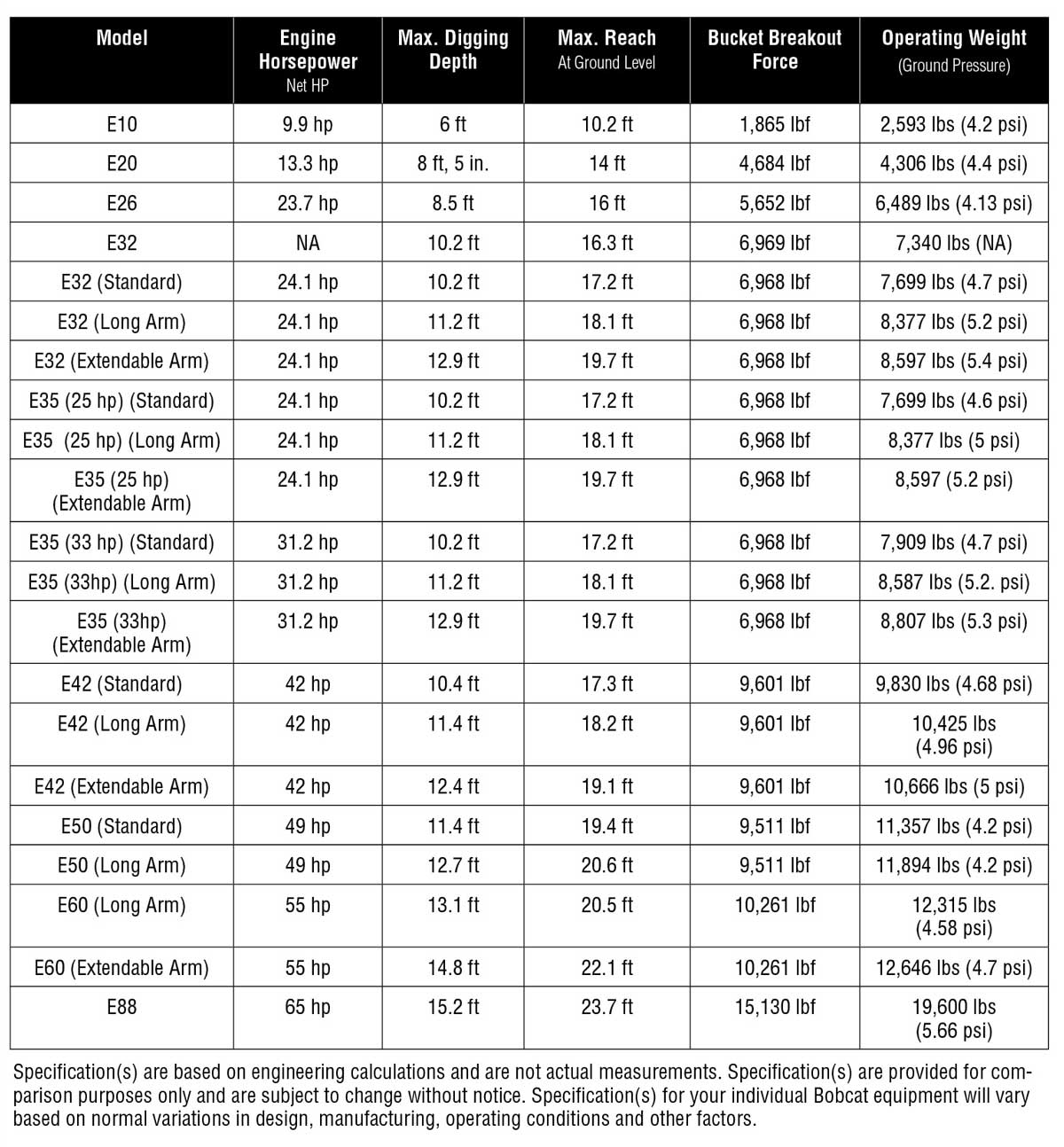 Advice to Buyers
"When considering which excavator model is best for you, it's important to take your application into consideration," says Jason Boerger, marketing manager, Doosan Bobcat. "Size and performance are usually your biggest decision points. Your compact excavator needs to have the performance to operate in your most challenging applications yet sized right to fit on your most common jobsites. It's never a bad idea to demo a machine if you are unsure. It will confirm whether or not you have the right size and performance to match the types of jobs you do."
Tags:
Bobcat
,
July August 2021 print issue
,
Spec Guide
,
Spec Guide 2021