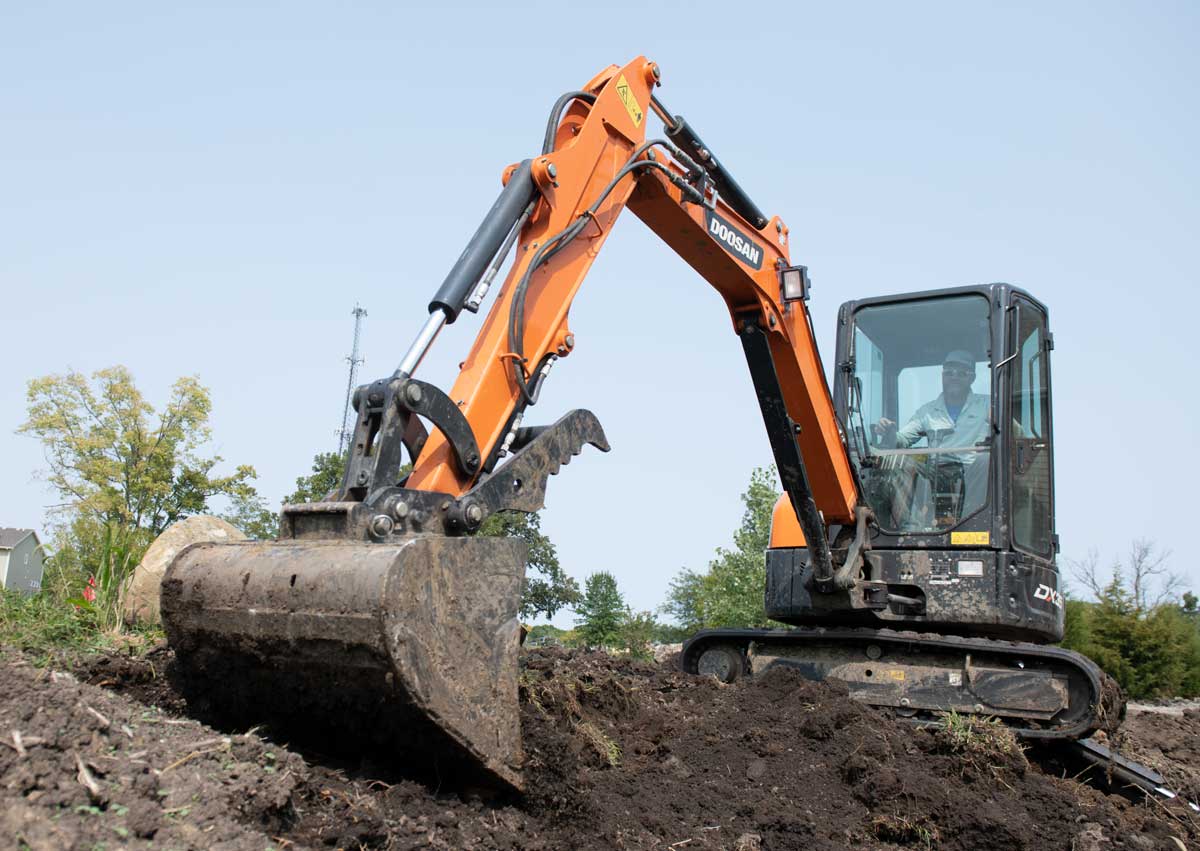 Six Minis Complement the Company's Larger Crawler Excavators
Doosan has more than 80 years of experience manufacturing construction equipment. Recently, the company expanded its presence in the mini excavator market by adding four models. Altogether, six Doosan mini excavators complement its larger crawler models, serving customers in commercial and residential construction applications, landscaping and utility settings. In 2020, Doosan updated its lineup of mini excavators with three new models — the DX42-5K, DX50-5K and DX62R-3 — featuring productivity and operator comfort enhancements. Doosan manufactures hydraulic excavators from approximately 3.5 metric tons to its largest model, the DX800LC-7, for a full excavator product offering.
Within the Doosan mini excavator lineup, customers can choose between conventional tail, reduced/minimal tail and zero tail swing models. The new DX35-5 is the smallest Doosan mini excavator available. This 3-ton class excavator is designed with zero tail swing, which makes it an ideal machine for operating on tight jobsites and working next to other objects. The conventional tail swing, Tier 4-compliant DX42-5K has strong bucket breakout force, dig depth and reach in a highly maneuverable excavator in the 4- to 5-ton class. Its relatively narrow width for a machine in its class provides operators greater ability to navigate through doorways, gates and other obstacles. In the 4- to 5-ton size class, the DX50-5K enables customers to operate in confined spaces with superior digging performance. It is a minimal tail swing excavator with less than 1 in. of tail overhang.
New to the Doosan mini excavator lineup is the DX62-3. The reduced tail swing model provides increased maneuverability and accessibility for excavation work in limited spaces. Providing best-in-class, over-the-side lifting performance, the DX63-3 is a conventional tail-swing excavator and weighs approximately 6.3 metric tons. It is 77 in. wide and designed to travel between existing homes and along property lines. The larger DX85R-3 also has a 58.6-net-hp electronically controlled diesel engine, is a minimal tail swing compact excavator and weighs approximately 8.6 metric tons. The DX85R-3 has only 5.8 in. of tail overhang and is designed to work in tight spaces next to buildings or other obstacles.
An optional angle blade is available for Doosan DX35-5, DX42-5K and DX50-5K models. The angle blade allows operators to angle their backfill blade 25 degrees left or right. Auto-shift travel shifts Doosan mini excavators out of high range or low range and back automatically, offering operators travel performance without having to manually downshift. Operators can focus on the direction and speed with this standard feature for Doosan mini excavators.
Doosan mini excavators can complete a variety of jobs with attachments and are approved for use with ditching and trenching buckets. The machines are hydraulic clamp-ready with durable clamp mounts integrated into the mini excavator's arm. Two-way auxiliary hydraulic lines with flush-face quick-couplers are standard equipment and allow operators to quickly connect hydraulic attachments. If needed, secondary auxiliary hydraulic lines can be added and used to power select attachments. This option is available for DX35-5, DX42-5K and DX50-5K models.
Advice to Buyers
"If your company uses larger excavators and is familiar with steel tracks, you may consider configuring a mini excavator with grouser track shoes," says Aaron Kleingartner, Doosan Infracore North America, LLC, product and dealer marketing manager. "This is particularly useful if you're using mini excavators on dirt versus established surfaces like yards or patios. Work with your local equipment dealer to configure your mini excavator with the right track size for your machine."