Decades of Experience in the Compact Excavator Category
Kubota has decades of experience in the compact excavator category and kicked off the 2021 strong with three new excavator offerings. Most recently, the company introduced the U48-5 and U55-5 tight tail swing excavators and the KX057-5 conventional tail swing excavator.
The new U48-5 tight tail swing model builds upon Kubota's U Series with a powerful 5 (4.8 metric ton) ton, technology-forward machine packed with advanced features that deliver superior performance, enhanced comfort, and tech options for ultimate operator customization to meet every need and tackle every job. The new U48-5 offers a technology-packed cabin space for smart, instinctive functionality right at the operator's fingertips, including a full-digital, full-color, 7-in. LCD screen with intuitive and easy to use jog dial for single glance access to various functions such as AUX flow adjustment and important maintenance functions.
This announcement of the U48-5 comes on the heels of the company's recent introduction of the new KX057-5 and the U55-5, both offering various upgrades from their previous -4 models.
Technology features include a new full-color 7-in. LCD screen that provides all the information the operator needs to know with a quick glance. An optional keyless start is available for the first time on Kubota's excavators; the engine can be started with a four-digit code, and up to 10 user passwords can be set. With this new technology, operators no longer need to worry about lost keys.
The company also launched a new quick coupler for its 3-4-ton excavator class, now available for the KX040 at Kubota dealerships.With the introduction of these new models, Kubota offers not only a broad selection of 13 compact excavator models, but also complete flexibility with conventional and reduced tail swing offerings in the 1-to-6-ton weight classes. And this year, all -5 generation models are outfitted with standard technology and comfort packages, plus more tech options for ultimate customization.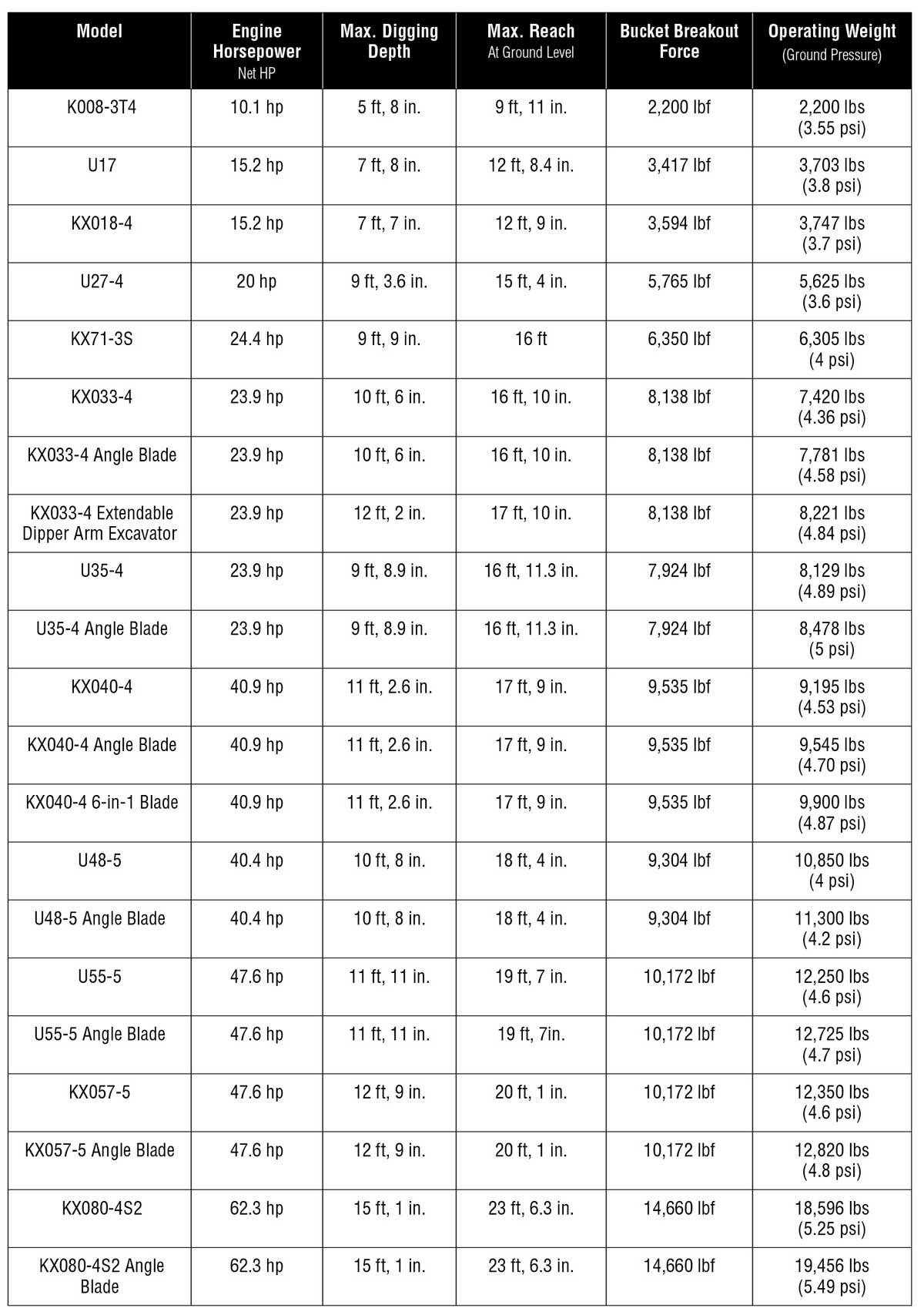 Advice to Buyers
"A buyer can narrow down and save money on the purchase of a new compact excavator by doing research and their homework before making the purchase," says Patrick Baker, product manager at Kubota Construction Equipment. "The buyer should be able to provide what applications the excavator will be used in and what the excavator will be used for, what size excavator is needed to efficiently complete the job and what future work lies ahead if possible. By knowing what the current work requires and what future work may require, the buyer can determine exactly what size excavator is needed. Knowing this information will help the buyer not buy too big or too small of an excavator adding costs to the bottom line."
Tags:
July August 2021 print issue
,
Kubota
,
Spec Guide
,
Spec Guide 2021