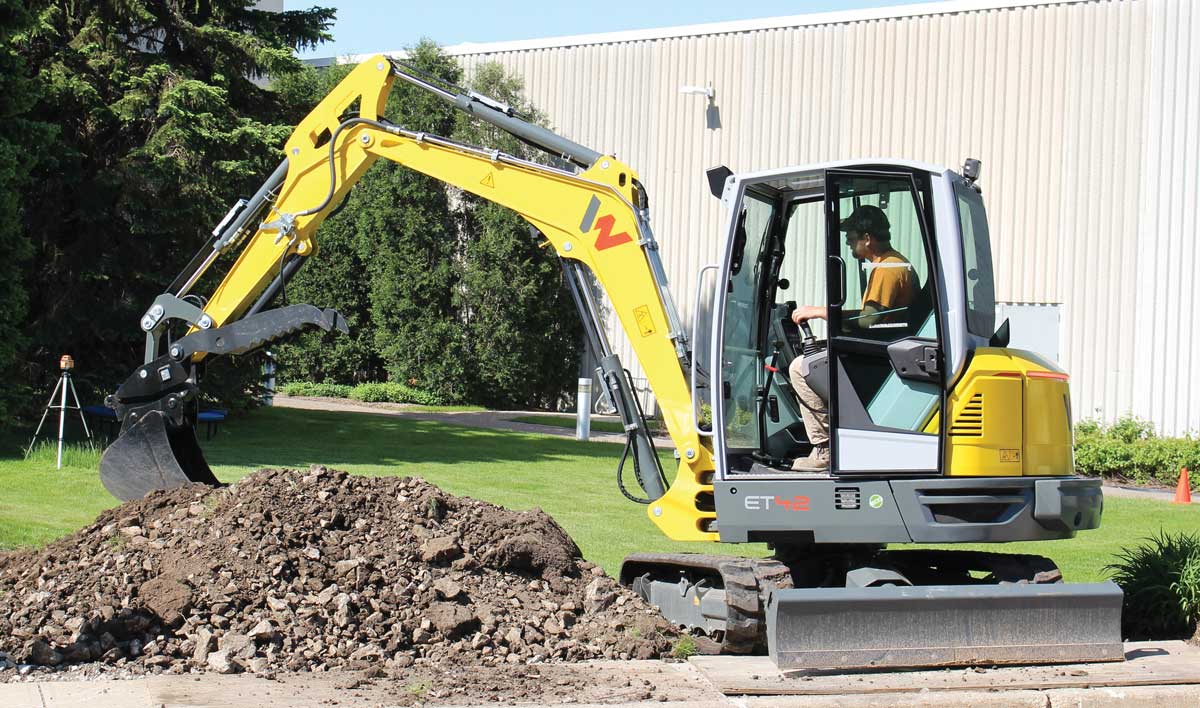 A Dozen Compact Machines Including Wheeled Models
Wacker Neuson has been designing and building compact excavators for over 35 years. Today, Wacker Neuson excavators range from 1 to 14 tons and offer a variety of features that enhance performance and comfort. Wacker Neuson's latest edition to the line is the 4.2-ton ET42 that offers large machine features in a smaller package. The ET42 offers the same three-point bucket linkage that can be found in the company's larger models. This unique kinematic linkage system offers a 200-degree angle rotation that combines excellent breakout force with greater range of motion. This also provides greater vertical digging depth, which can be especially helpful when excavating next to walls and can rotate the bucket further to keep the load more secure before dumping.
Other models include the 3.6-ton EZ36 and 2.6-ton EZ26 compact excavators with a minimal swing design, which are versatile machines for a variety of applications. The 3.6-ton class excavator is among the most popular sizes in the market, so Wacker Neuson looked at features and benefits that would stand out in the crowded field. The EZ36 combines the technology and operator comfort of a larger machine in a powerful, yet economic package. With best-in-class dig depth and reach, the EZ36 is highly productive and offers the performance of a conventional excavator with excellent maneuverability and stability on a minimal swing machine.
Conventional models are available, offering the ideal balance of power and maneuverability. The 803 and ET20 come standard with an expanding undercarriage and folding dozer blade, allowing them to fit in more confined areas. The 803 Dual Power is the industry's first 1-ton hybrid excavator that runs off a standard diesel engine or can connect to an optional electro-hydraulic power pack, transforming it into a zero emissions package. The ET65, ET90 and ET145 incorporate many advanced features that traditionally are not found on machines this size. Modern cabs are designed for operator comfort, hydraulic quick-couplers, swivel boom with dozer blade and easy service access.
What can we say? We love rental. So much so that we published a Digital Rental Guide covering everything you need to know when renting a machine. Check it out here!
Minimal tail machines include the EZ17, EZ26, EZ36 and EZ53. These models offer the flexibility to maneuver and operate in confined spaces as well as in close proximity to walls, foundations and other obstacles. The optional exclusive Vertical Digging System (VDS), available on the EZ26, EZ36 and EZ53, further enhances productivity by allowing the operator to set the cab in an upright position while on uneven terrain and allows for flat bottom trenching on side slopes up to 15 degrees. This results in up to 25 percent material and time savings when excavating, plus provides a more comfortable working environment.
The ultimate urban excavators are Wacker Neuson's wheeled EW65 and EW100. The operator can quickly travel to, from and around the jobsite.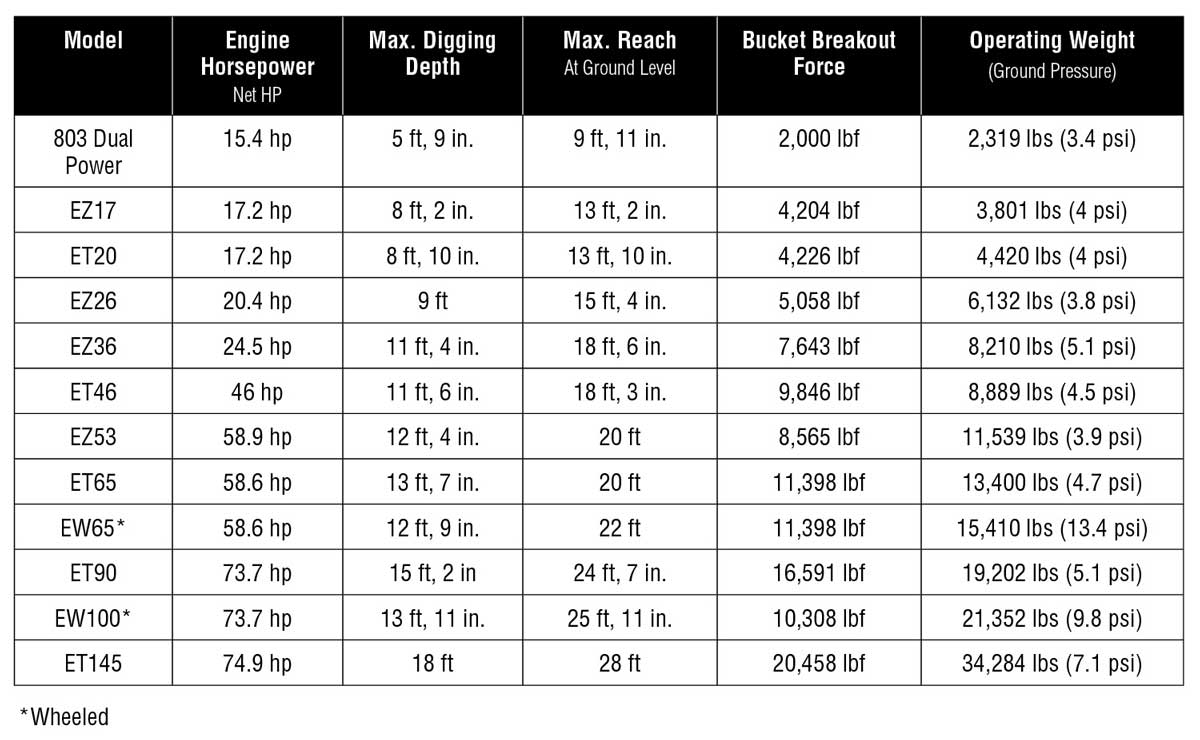 Advice to Buyers
"Buyers should research which features are included standard with their excavator purchase," says Jay Quatro, commercial product manager, Wacker Neuson. "Hydraulic quick-couplers, attachment settings memory and easy control pattern changeover are just a few to consider. Choosing a machine with the features that are important to the operator is the first step. Making sure your investment is protected long term requires a good warranty, easy maintenance access and a proven design with quality components."
Tags:
July August 2021 print issue
,
Spec Guide
,
Spec Guide 2021
,
Wacker Neuson