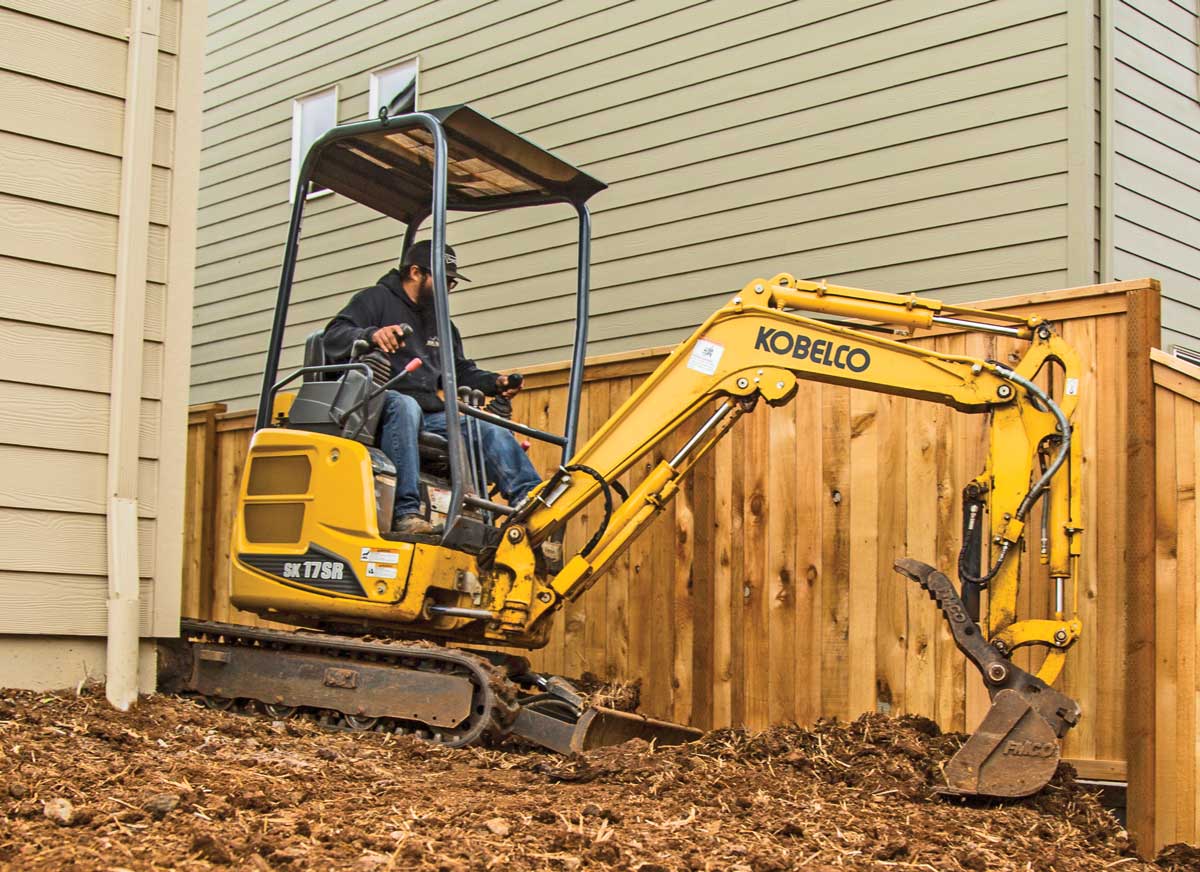 Seven Small Diggers Designed to Tackle Any Application
Since 1930, Kobelco has built its excavators to be industry leaders, adding innovation to its machines at every turn. This attitude led Kobelco to develop the first short rear swing excavator, a demolition machine with the longest reach in the world, and exclusive features that ensure superior performance and efficiency for the toughest worksite challenges. Kobelco currently offers a full range of crawler excavators in the 3,000- to 185,000-lb classes, including zero tail swing, compact, standard, long reach, high and wide undercarriages, mass excavation, auto recycling and demolition models. Seven of these models fall within the 8-metric-ton range.
Kobelco mini excavators pack full-size performance into a portable package. A minimal rear swing radius with zero tail overhang allows for handling in confined spaces, while a simple design makes routine maintenance easy to undertake. The Kobelco mini excavator line is currently comprised of six models with operating weights between 3,671 and 11,860 lbs. The smallest of Kobelco's excavators is the SK17SR-5E. Popular on jobsites where equipment needs to be moved through tight spaces, the SK17SR-5E features hydraulic side frames that retract to a narrow 37 in. for tight areas and extend to a solid 50 in. for stability. The SK17SR-5E combines its compact design with performance, boasting a maximum digging reach of 12 ft, 2 in. and a digging force of 3,395 lbs.
Kobelco's SK25SR-5E, SK30SR-6E and SK35SR-6E deliver a bit more muscle for heavier-duty digging and lifting. These models boast stability and provide a zero tail swing radius for jobs where space is limited. Often used for loading, placing and dozing across a wide range of applications, these units feature powerful digging forces and impressive reach at ground level, says the company. And, excellent side-ditch digging performance allows the operator to concentrate on the work in front of them for greater efficiency.
The final models in Kobelco's mini excavator line are the SK45SRX-6E and SK55SRX-6E. These Tier 4 Final excavators pack plenty of power for hydraulic performance. An integrated flow pump system delivers fast and smooth operation while raising the arm and boom — even during heavy loads. And, an automatic two-speed travel feature ensures smooth and efficient travel on the toughest jobsites. The SK45SRX-6E and SK55SRX-6E also feature Kobelco's optional four-way blade, which delivers a left- and right-angle movement of 23 to 25 degrees for increased operator control during clearing, grading and backfilling.

Advice to Buyers
"Various manufacturers offer mini excavators, but not all of these machines are equal in regards to specifications, technology, quality and support," explains Dan Collins, product marketing manager at Kobelco USA. "Closely consider the different sizes, options and configurations that will best fit your current and future jobsite demands. Machine size and weight will impact ease of transportation. Dig depth and reach have significant variances in model size ranges. A machine's horsepower, digging force, lift capacity and hydraulic output are also key in the selection process."
Tags:
July August 2021 print issue
,
Kobelco
,
Spec Guide
,
Spec Guide 2021