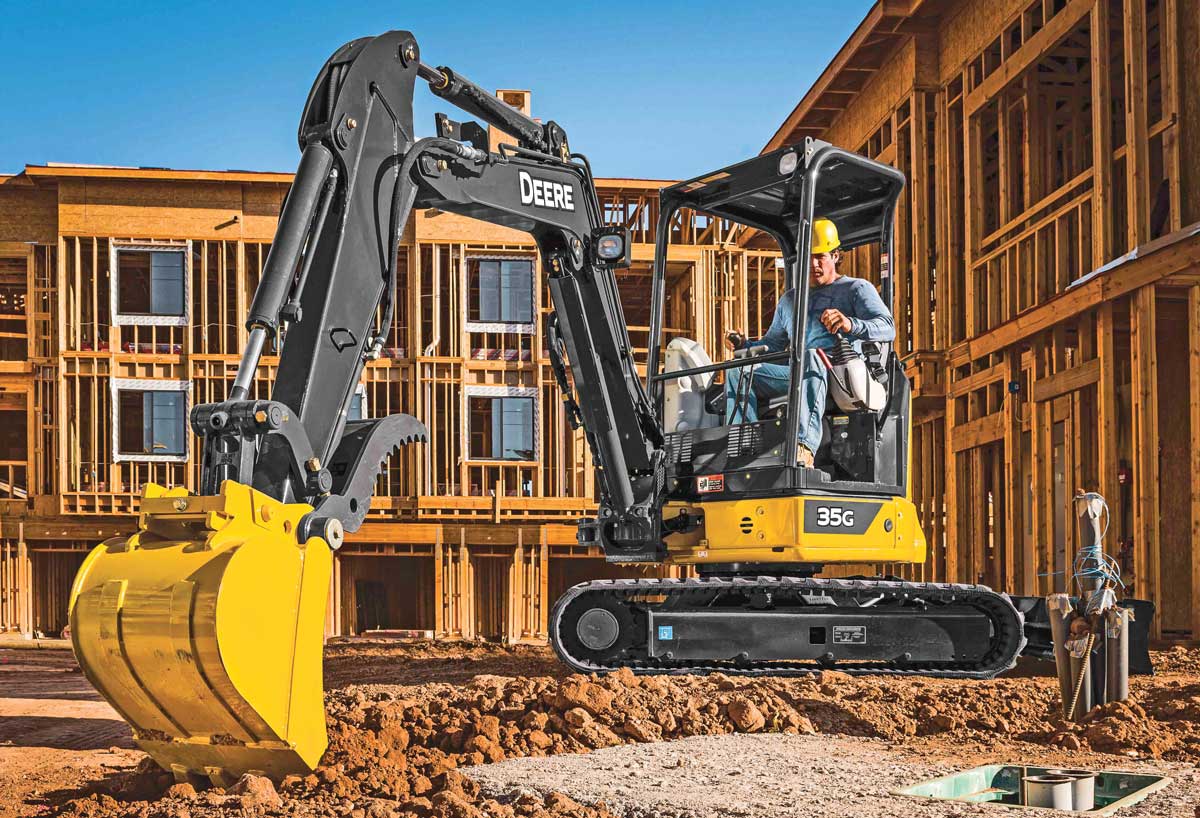 Six Mini Diggers Including the Popular 30G Compact Excavator
John Deere has been manufacturing excavators for more than 40 years. Responding to customer demand for compact excavating equipment that can fit in small spaces, John Deere introduced its first line of compact excavators in 1986. The company has worked to improve the strength, precision and productivity in each new model over time. Since 1986, John Deere has worked to continuously improve its models via customer feedback and validation. The durability of the G-Series today is a direct result of listening to customer needs.
John Deere's current compact excavator lineup includes the 17G, 26G, 30G, 35G, 50G and 60G, allowing operators to choose the size and horsepower needed to get the job done. Their compact sizes and reduced tail swing designs enable these small, but mighty machines to specialize in close-quarters work.
The 30G compact excavator is geared toward customers looking for machines in the popular 3- to 4-metric-ton class, in which Deere offers two models. The 30G is equipped with auxiliary selector valves to allow versatility for customers running multiple attachments. These selector valves are available as standard on the 26G through 60G. In addition, mechanical pattern changers, quick-couplers and proportional auxiliary hydraulics are standard. Boosting operator comfort, the 30G offers a cab with heat and air conditioning, a seat with adjustable wrist rests for day-long comfort and foldable travel pedals to maximize foot room.
Earlier this year, John Deere announced a preferred supplier agreement with engcon, a global market leader in tiltrotators. Tiltrotators have become increasingly popular on its compact excavator models over the past few years. When equipped, a tiltrotator enables an excavator bucket or other attachments to rotate 360 degrees around the axis and tilt up to 45 degrees side to side. Customers can purchase engcon tiltrotators through John Deere construction and compact construction equipment dealers starting in the United States and Canada in the second half of 2021. Select engcon models will be available through John Deere dealers and match with John Deere's 26G through 60G compact excavator machines.

Advice to Buyers
"Customers often focus on the key specifications — operating weight, dig depth, lift capacity and attachments when considering a machine," explains Justin Steger, solutions marketing manager for John Deere. "Don't forget customer support as a top consideration. For purchasers that means dealer support for parts and service when you need it, period. We take pride in the level of support our John Deere dealers provide."
Tags:
John Deere
,
July August 2021 print issue
,
Spec Guide
,
Spec Guide 2021