Compact track loaders continue to be one of the most popular categories of small earthmoving equipment around. Similar to skid steers but engineered with a dedicated track undercarriage, compact track loaders can spearhead operations and navigate jobsites with extra flotation — especially in the wet weather months. A dedicated undercarriage also gives added tractive power (great in dozing operations), yet dispenses the weight of the entire machine through multiple track contact points for a lighter footprint. With extra power, lower ground pressure, less bounce and added flotation and traction, the advantages of compact track loaders are growing on all types of professionals. Vegetation management and grade control are two good examples of growing markets for these units.
Today, the market has at least 14 major brands offering a variety of product lines. With so many choices, how do you choose wisely?
That's the topic of our latest edition of Compact Equipment Conversations. CE publisher Keith Gribbins does a virtual sit-down with Buck Storlie, skid steer and track loader product line manager with ASV, discussing how to pick a compact track loader for all types of applications while touching on some of ASV's popular products.
ASV is one of the oldest brands of compact track loaders on the market (read about our visit to the company last year right here). Way back in 1990, ASV would apply its expertise in all-season machinery to its first construction unit — the Posi-Track rubber track loader— the first track loader in the American marketplace. Today, it has one of the largest lineups of track loaders on the market with nine units and variants. These folks know track loaders, but what have they been up to?
ASV's Been Focused on the Small Units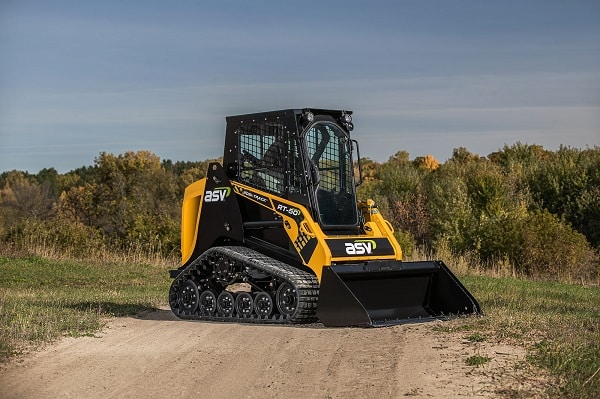 Over the last few years, ASV has been hyper-focused on pioneering the small side of the track loader marketplace. At The ARA Show and CONEXPO-CON/AGG earlier this year, the company was pushing its newest RT-50 to customers, another lightweight, sit-in compact track loader. The new RT-50 features an industry-leading performance-to-weight ratio for its size class and joins the RT-25 and RT-40 — two of the industry's smallest sit-in compact track loaders — as a powerful, lightweight machine.
All three of these small track loaders are ideal for rental houses, commercial businesses, weekend warriors or as an addition to landscape, construction or snow-clearing fleets. The RT-50, RT-40 and RT-25 let operators to do more in more places thanks to the industry's lowest ground pressures, the ability to be towed behind a 1/2-ton pick-up truck and compact statures allowing the machines to fit into tight areas.
Of course, ASV offers maybe the biggest lineup of compact track loaders on the market. Read about all of its units right over here.
Here's a Bunch of Others Stories to Help Choose a Track Loader
For those of you who prefer to read and instead of watch, we've compiled a great list of articles from our archives on the compact track loader market — from how to buy a budget-friendly unit to hydraulic health and maintenance. Do enjoy.
For more info about track loaders, click this link. You can do it!
Tags:
ASV
,
Compact Equipment Conversations
,
home