You want a compact track loader for your business or property — no, you need it — but it will be a budget-buster unless you can find a good deal on a durable machine. The usual consideration of a machine's features, functional capability and productivity must pass the price test. These loaders are a significant investment, after all, with price tags ranging from $40,000 on up to $80,000 or more. Those are base prices, too, meaning that attachments and optional features are not included. Suddenly, that air-suspension seat or climate-controlled cab loses some of its appeal as you weigh the necessity of paying for it.
We're talking real money here. Carefully evaluating and configuring a new track loader is not about saving a hundred dollars. Buck Storlie, ASV product line manager, says the cost between a base model and a fully equipped one might be $6,000 for a small loader and up to $30,000 or more for larger loaders. Those figures place a hard value on wise shopping.
So, where do you start your search for a new track loader? Having already decided that you prefer buying a new track loader under warranty to taking on the unknowns of a second-hand machine, where is your starting point? Some manufacturer executives say a buyer should begin to winnow his or her choices according to lift capacity — getting the most lift for the dollar.
"That's where I'd start. I would focus primarily on lift capacity," says Nathan Ryan, Wacker Neuson's global product manager for skid steers and track loaders. "Will it move what I need to move? Secondly, I'd look at bucket capacity and then the overall size of the machine, its dimensions."
To apply the lifting standard, a buyer must know precisely how he or she will be using the machine, day in and day out. It's one thing to scoop, load and dump topsoil in a landscaping project and something else altogether to pick up and move heavy pallets hour after hour. Storlie notes that the distinctions between track loader tasks can be subtle. "You have to understand the job. What are you lifting? What's the distance being traveled with a load? You may have to look at other accessories if you're moving some distance with loaded forks or a bucket."
If pallet-moving is the task, buying a loader to do it always comes down to what's riding on the pallet. "Pallets of sod could weigh 3,000 lbs," says Ryan. "For that work, I'd get a [Wacker Neuson] ST31. If you're going to be moving pallets of pavers, the pallets could weigh 4,200 lbs and for that you'd need an ST45 or ST50."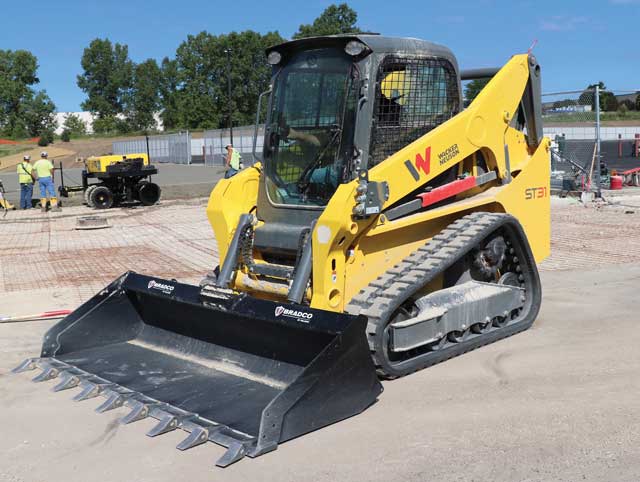 Mike Fitzgerald, Bobcat's loader product specialist, has a slightly different take on where to start evaluating a machine. "The very basic consideration," he says, "is the size of the machine. How much material are you going to carry and how high are you going to lift it? What size will let you work inside a building, maybe in demolition? Loading trucks? You'll want something that lifts a little higher. What size of truck or trailer do you have to transport the machine? Look at all those things, determine a size, then look at different horsepower machines in the same frame size."
Beyond size and lift capacity, a frugal buyer must think about how to configure a loader. If the machine will be regularly employed to dig holes for posts, for example, high-flow hydraulics may be required to keep the auger spinning — or may not. Fitzgerald points out that hydraulic decisions can depend on where you'll be digging the holes. "If you're putting in a fence where the land is flat and you aren't going to find a rock, a medium-sized skid steer might do for you. I worked with a guy in the hills of California and he had to go with a track loader because of the steepness of the terrain. What works great in Fargo might not work in Cincinnati or San Diego."
Paying extra for high-flow hydraulics is an imprudent buying decision if you aren't going to need the extra flow. By the same measure, getting a vertical-lift loader instead of a radial-lift is a cost consideration. Radial-lift loaders generally are best for ground engagement work — digging and scraping — and mid-range lifting. Whereas vertical-lift machines can lift higher with greater reach at the top of the lift and with better stability.
A buyer should know which lifting system is best for the intended work. "Think about your job," Storlie says — it can't be said too often — and recommends against a vertical-lift loader unless it will enhance productivity. "Vertical lift is more expensive. There's more linkage and more loader. A buyer will have less operating cost and less wear on parts in a radial machine with fewer components."
Operating costs are not an upfront budget consideration, but a prudent shopper doesn't ignore them. Take tracks, for example: They are a significant cost factor in track loaders. Storlie cites ASV's Posi-Track system with rubber-on-rubber contact points and a fully suspended frame that enhance traction, speed and productivity. Investing in a system like that means less cost down the road, he says. "You have to look at the total scope of cost."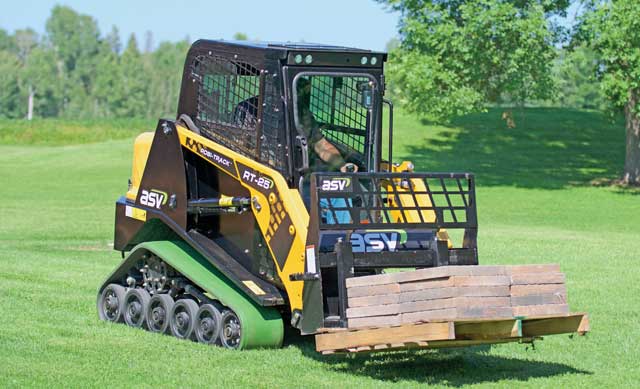 Fitzgerald believes the totality of an investment includes eventual resale. "That's the other side of the coin. If you buy a loader with optional features that make you more capable and productive, you also have a machine that, when it comes time to sell, has more value in it," he says. "A high-hour, open-cab machine might have less resale value in the secondary market than a machine that has more hours on it but also has a cab with air conditioning."
Creature comforts can add up but are justified in various ways. Ryan says he would always recommend an enclosed cab with AC and a handful of other options that are pretty low cost and benefit an operator day after day. His rationale for upgrading is an often-expressed one: productivity.
Fitzgerald cites an operation manager that had used open-cab track loaders. After a new loader with an enclosed cab was demo-ed, equipment operators were enthusiastic that the manager chose to upgrade to track loaders with environment-controlled cabs. Fitzgerald said the manager reasoned that, just as he buys an employee a soda that makes him happy for 10 minutes, he can justify investing in air conditioning that makes an employee more productive for long periods of time.
Price-conscious buyers looking for a basic loader really are not all that much different from any other loader shopper, according to Fitzgerald. "Every buyer should sit down, do his homework, analyze his needs and neither overbuy or underbuy. He should get the most cost-effective piece of equipment that will give him the best return on his investment."
In the end, some buying-day decisions are not irreversible. Unless a person purchases the absolutely wrong machine for his application — way undersized, for example — he or she can later decide to add features or accessories. "You can boost the hydraulics or swap out the seat for a better one," says Ryan. "You can upgrade some features on the machine. Get a variable speed cooling fan or some controls in the cab. It can all be relatively inexpensive and enhance operation and safety."
Giles Lambertson is a freelance writer for Compact Equipment.
---
The Five Smallest Track Loaders on the Market
OC = Operating Capacity at 35 Percent
• ASV's RT-25 (25 hp, 665 lbs OC)
• Gehl's RT105 (31.8 hp, 1,050 lbs OC)
• Mustang by Manitou's 105RT (31.8 hp, 1,050 lbs OC)
• ASV's RT-40 (40 hp, 931 lbs OC)
• Bobcat's T450 (58 hp, 1,400 lbs OC)
Tags:
ASV
,
Bobcat
,
home
,
October 2019 Print Issue
,
Wacker Neuson