For us, the beginning of the year is always a good opportunity to reflect on two of the biggest categories in small construction equipment — skid steers and track loaders. Skid steers are one of the oldest and most famous American-made equipment categories. Borne out of the Midwest farming industry in the 1950s, skid steers used to be the benchmark for compact hydraulic tool-carrier sales in the United States, but now its compact cousin — the compact track loader (basically a skid steer on a dedicated track undercarriage instead of wheels) — is quickly outpacing skid steer sales.
Serving this expansive market, at least 15 major brands of skid steers and track loaders are being sold in North America in 2020: ASV, Bobcat, Case, Cat, Gehl, JCB, John Deere, Kubota, LiuGong, Mustang by Manitou, New Holland, Takeuchi, Volvo, Wacker Neuson and Yanmar. Within these brands, product lines can be pretty big. For instance, Cat has eight different skid steers and eight different compact track loader models. With such a robust marketplace, brands are competing harder than ever to build great machines but also create differentiators from their competitors. This competition is pushing both skid steers and track loaders in bold new directions. Here are some of those trends.
Loader Tech Reaches Smartphones
Technology and automation have been a trend for most categories of off-highway construction equipment for quite some time, but we're seeing impressive progress for skid steers and track loaders. Last year, the CE team visited Bobcat at its brand-new 44,400-sq-ft training center in Denver. The original skid steer brand launched a metric ton of new products at the event, including the announcement that it would be revamping its skid steers and track loaders starting this year. In early 2020, the company plans to release two models, the S76 and T76. Among the many changes and upgrades will be a big focus on technology, including features like selectable joystick controls with drive response mode, speed management, steering drift compensation and horsepower management — all aimed at helping reduce operator fatigue. An optional touch display will feature everything from a full-color 7-in. picture to a USB power port to active noise canceling during phone calls.
Bobcat also hopes to release a phone app in 2020 called Bobcat MaxControl Remote Operation that allows remote-control operation of a loader using a smartphone.
"Available on select M2-Series and R-Series compact loaders with selectable joystick control, the Bobcat MaxControl app turns an operator's smartphone into a control unit for the loader with the ability to command machine functions and operate attachments from outside of the cab — up to 300 ft away," says Britta Kopp, marketing manager at Bobcat. "This means multiple operators can control multiple machines, one at a time. The app also has expandable technology to enable new features and capabilities with new releases. We're really excited about the potential this technology holds."
Many brands of skid steers and track loaders today offer a high technology experience on their units. Operator stations come with sophisticated digital control panels that allow for attachment and machine automation. Routine tasks such as boom settings, attachment speeds, hydraulic flows, wheel speeds, ride control and return-to-dig functions can be automated into your joysticks and engineered into the armrests, which can be adjusted for your perfect comfort level. Digital interfaces allow operators to individualize and save these machine settings, change languages and add security measures. Telematics systems can be installed to track and log all machine functions, spearhead maintenance schedules, perform security measures like geofencing and (eventually) help operators operate better. Backup cameras are even becoming more commonplace. Just like their bigger loader counterparts, skid steers and track loaders are rapidly advancing on the technological front.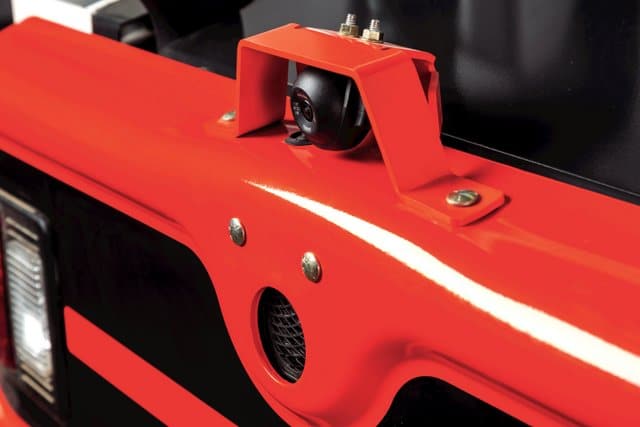 Caterpillar's just released D3 Series skid steers and track loaders offer advanced control features that include return-to-dig and work tool positioner to assist operators with repetitive tasks like grading, digging and loading. These items are now bundled together with the dual direction self-level feature so that even more operators will be able to take advantage of features that automate machine functions to allow these tasks to be completed with less user interaction and expertise. This is being paired with Cat's new Smart Attachments, which you can read about further on, and operated via Cat's cool display.
"We've changed our display with regards to its layout to make it more intuitive — with a more automotive feel," says Kevin Coleman, Cat product application expert for skid steers and track loaders. "Back when we introduced this technology about seven years ago, we had the first rearview camera in a skid steer and compact track loader, and that display is where that image is, but it also gives you the capability to have all these adjustments — languages and background colors but also adjustments in how the controls respond to you as the operator. We've got so much functionality in the display that we decided we needed to break those apart a little bit, so the menu structure is more intuitive. The display also has the capability to have up to 50 different operator codes, a master code and 49 users. That's a security feature, but it would also be a customization feature because you could have the display set in the language, background style and machine response settings and way you would like it, and it will remember these settings based on your specific operator code."
Attachments Are Getting Smarter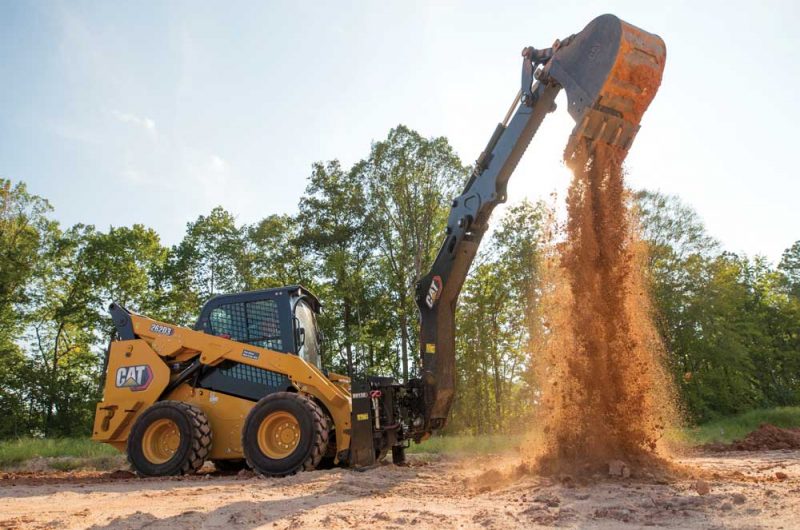 Implements are also embracing the call for more efficiency, power and accuracy through technology. A great example of this is the variety of automated grade control options that can be paired with a skid steer/track loader and a detachable grading attachment. John Deere made a big announcement last November that it was teaming up with attachment-maker Level Best to offer three new grade control-ready box blades for its loaders, available in Topcon-ready 2D precision grading and 3D precision grading options. Back in 2018, John Deere even introduced an exclusive on-board grade indicator designed to monitor and alter grade applications for water drainage, general site prep and clearing work. It's a factory or field kit option on the large-frame G-Series skid steers (330G and 332G) and the large-frame G-Series compact track loaders (331G and 333G).
"Deere has been focusing more on grade control solutions because customers are voicing concerns in those areas. Fewer and less skilled operators are available. Tighter margins and schedules, and the needs for minimizing material yield," says Gregg Zupancic, John Deere product marketing manager for skid steers and compact track loaders. "We also see demand for larger and higher-performing attachments. Some of these attachments range in price from $10,000 to $25,000, and they include larger cold planers and trenchers, rotary cutters and mulching heads for land clearing and grading attachments."
Technology can be complex, but manufacturers are using it to make things easier. At the fall Caterpillar press event last year, the famous yellow-and-black brand announced "Smart Attachments." The first one is a Smart Backhoe.
"There's a marrying between the attachment and the unit. The first thing is recognition," explains Coleman. "You plug in with the electrical control and you get recognition on the machine side — that this is a Smart Attachment connected. Then it's going to give you tailored controls that allow you to use the joysticks that are in the machine already to control that backhoe. By the way, it also gives the operator dedicated control and information screens in the display, because it's so smart, that allow the operator to choose between backhoe mode or excavator mode."
That is unique in the industry, as all backhoe attachments we're aware of require separate controls. The new Smart Backhoe can also be installed and uninstalled in 15 to 30 minutes with practice. Owners and operators can even use a thumb, breaker or other excavator attachment off the backhoe like a mini ex. This is the first of many new Smart Attachments for Cat's just released D3 Series skid steers and track loader models. The backhoe is the first, and we've heard that a dozer might be next.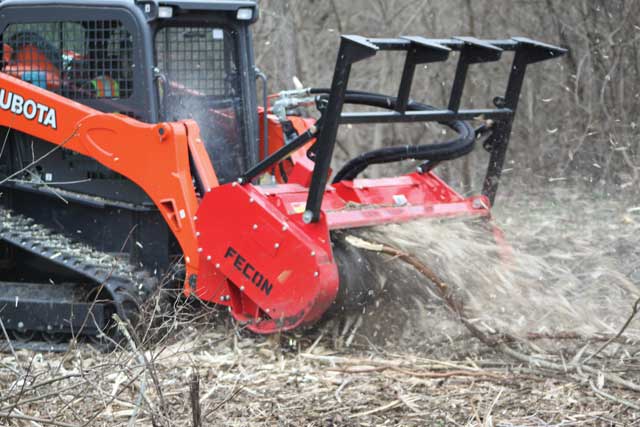 On top of smarter implements, the variety of attachments in general just keeps expanding into unique and niche options from Burly's clod-buster topsoil screener, which turns mountains of dirt into ready-to-grade topsoil, to Vacuworx's vacuum lifting system, which uses air to pick up pipe, concrete slabs or other objects safely.
Also of note: Brush cutter attachments specifically continue to be popular for track loaders in clearing applications. Many manufacturers even offer dedicated brush cutting units (like Caterpillar's 299D3 XE Land Management loader, ASV's RT-120 Forestry track loader and JCB's 325T Forestmaster). On top of that, we're seeing attachment experts like Fecon not only design next-level brush cutter attachments for track loaders but also aftermarket hydraulic coolers, which are designed to be mounted on unit rooftops, to enhance the performance of the carrier by maintaining the hydraulic fluid at optimal temperatures and the viscosity required of an intensive application like eating trees and thicket.

Track Loaders Are Shrinking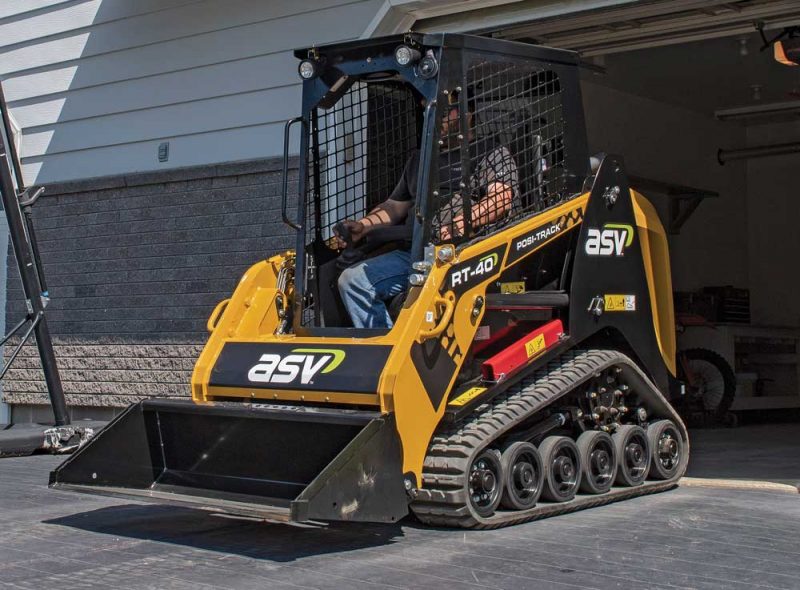 Compact track loaders have been traditionally bigger, heavier machines, but lately we're definitely seeing some options shrink in size with a focus on rental. ASV has the smallest track loader in the industry: The RT-25 is only 4 ft wide with a carrying capacity of more than 650 lbs and a lift height topping 8 ft. It can easily be towed behind a pickup truck and get into crowded jobsites, leaving barely a trace with those cool, green, low-pressure turf tracks. A slightly larger model, the ASV RT-40, boasts a just-under-40-hp Kubota engine that can move the machine along at 7.1 mph and lift more than 930 lbs. Both are great rental units.
"The size and ease of operation of small compact track loaders provides numerous opportunities, including significant rental appeal as well as applications such as landscaping, construction and snow clearing," says Buck Storlie, ASV product line manager. "These models can cost as much as 40 to 50 percent less than a mid-range loader, making them a great fit for homeowners and the rental industry. A small compact track loader may be a good fit for your business if the rated operating capacity fits, if you have a need to get the machine into tight areas and want to limit ground disturbance, and if you'd benefit from the ability to tow the machine with a 1/2-ton pickup truck."
Back in January 2019, Gehl introduced the smallest track loader to its lineup. The RT105 is a 34.7-hp, 4,720-lb operating weight loader with 14.5-gpm auxiliary hydraulic flow. Jump to this past September, and Gehl launched a bigger variant, the RT135, with an overall width of 57 in. and height of 76 in. The unit can lift up to 110 in. and 1,350 lbs (at 35 percent ROC).
"The RT135 provides track loader operators with a fully powered machine in a compact design," says Aaron Haynes, global product manager for track loaders, Manitou Group. "Expanding the track loader offering allows Gehl to provide solutions for more applications and more users. Equipped with pilot joystick controls and compact dimensions, the RT135 supplies operators with a highly responsive machine that can access tight jobsites."
Going beyond just track loaders, John Deere recently enhanced its entire lineup of five small-frame G-Series skid steers and compact track loaders, bringing a lot of premium features to smaller loaders. While the five models (312GR, 314G, 316GR, 317G and 318G) were introduced to the market more than three years ago, John Deere announced late last year that is was revamping the units with input from customers who wanted things like an optional rearview camera, Bluetooth radio option, redesigned manual control levers, improved cab pressurization and debris ingression, optional sets of counter weights and more.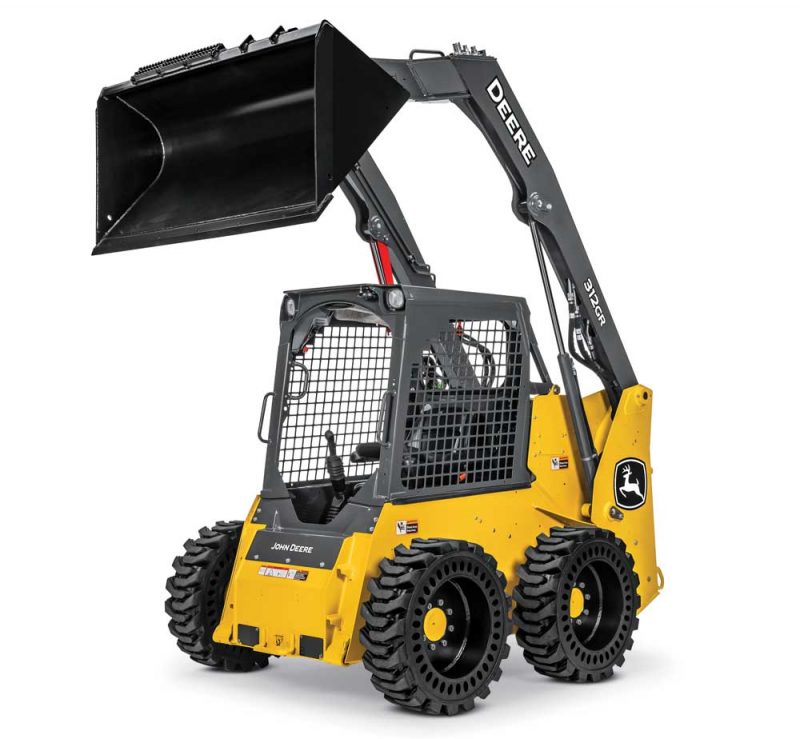 "We do see customers gravitating toward smaller units," notes Zupancic. "The demand for these sized units is growing because labor costs are rising and commercial real estate/housing in major metro markets is getting more congested. This means contractors need machines to replace men with shovels but also fit into places where larger machines will struggle, such as narrow roadways or places where traffic cannot be shut down for new construction or repairs or even when working in indoor areas. Small machines are needed to fit into housing projects with zero-lot line requirements. In many of these cases, there are only 60 in. between the housing foundation and the end of the lot line or just 4 to 5 ft of space to go through a gate to get into the backyard or existing parking lot. So, for some of these reasons customers are naturally asking for new features in a smaller machine that can keep them productive and comfortable for longer periods of time."
Marketing Differentiators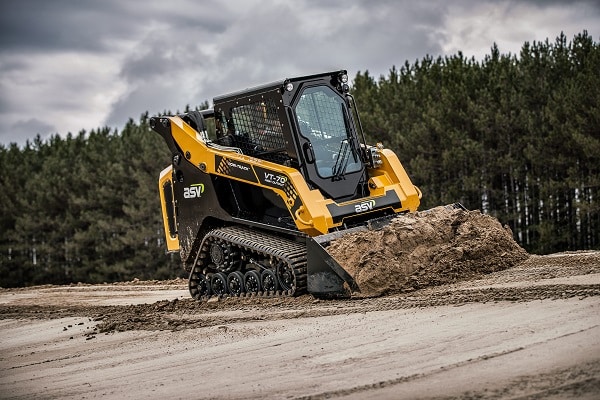 Because the industry is so busy, manufacturers are continually striving to find clever ways to make their units seem different. A great example of this is ASV's recently released vertical-lift VT-70 High Output Posi-Track loader. What does that high output mean? It means contractors have the option of a turbocharged 74.3-hp Deutz 2.2-liter diesel engine.
"We have a machine in the 2,300-lb size class currently in our VT-70," explains Storlie. "The High Output is just really bringing more performance to that class, giving customers another option who want a little more."
High output certainly sounds cool and stands out as an inventive title for a unit — in the same sort of way that Caterpillar's XE model designation indicates the highest performance and most advanced technology available in its lineup. We recently saw Bobcat revamp its track loader lineup to sport 5-link torsion suspension undercarriages (like ASV does) to showcase its units as higher quality. And last year, Kubota Tractor Corp. unveiled its new SVL65-2, highlighting an "advanced multifunction valve" that provides ultra-smooth operation when using simultaneous functions, such as auxiliary, boom and bucket circuits. These are all skillful ways for manufacturers to market their units as distinct and superior in some fashion, and it's interesting to watch these machine makers pioneering new techniques and technologies to sell these popular tool-carriers.
Keith Gribbins is publisher of Compact Equipment.
Tracks for the Snow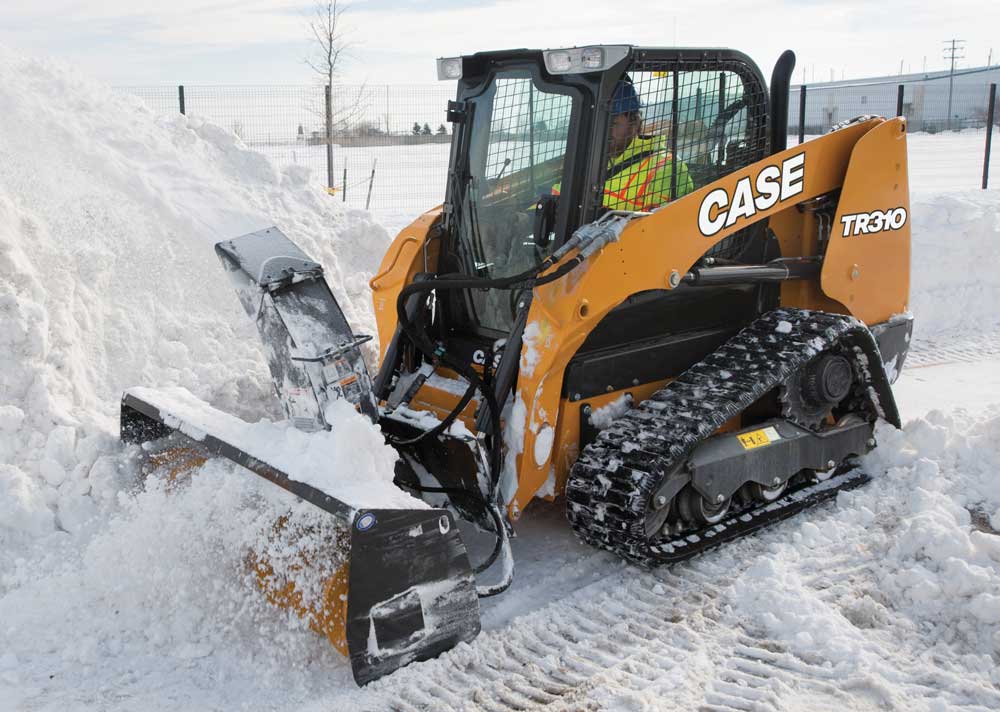 Today, there are many different tread patterns on the market for compact track loaders (turf friendly, smooth ride/low vibration, long-lasting, aggressive and multipurpose for starters). Snow tracks are wider and feature more aggressive tread patterns than most, providing both a smooth ride compared to the simple bar lug and superior traction. Snow tracks often utilize a tapered outside edge that allows for snow and dirt to shed off and move away from the rollers and idlers as the machine travels. These tracks also tout a shorter stopping distance, ideal on snow-covered surfaces. Many brands market these tracks as not just snow tracks but as an all-season-style option.
How do you operate on those tracks? When working in snowy conditions, implement the same operating procedures as when working in mud. Utilize three-point turns to protect sensitive surfaces and reduce stress to tracks. Operate on level terrain as much as possible. When on an incline, drive straight up or down. Do not make sudden changes in direction, always move slowly and always carry loads low to maximize machine stability. Even with snow tracks, track loader operation will feel differently.
Tags:
ASV
,
Bobcat
,
Case
,
Caterpillar
,
home
,
January 2020 Print Issue
,
JCB
,
John Deere
,
LiuGong
,
Mustang by Manitou
,
New Holland
,
Takeuchi
,
Volvo CE
,
Wacker Neuson
,
Yanmar America