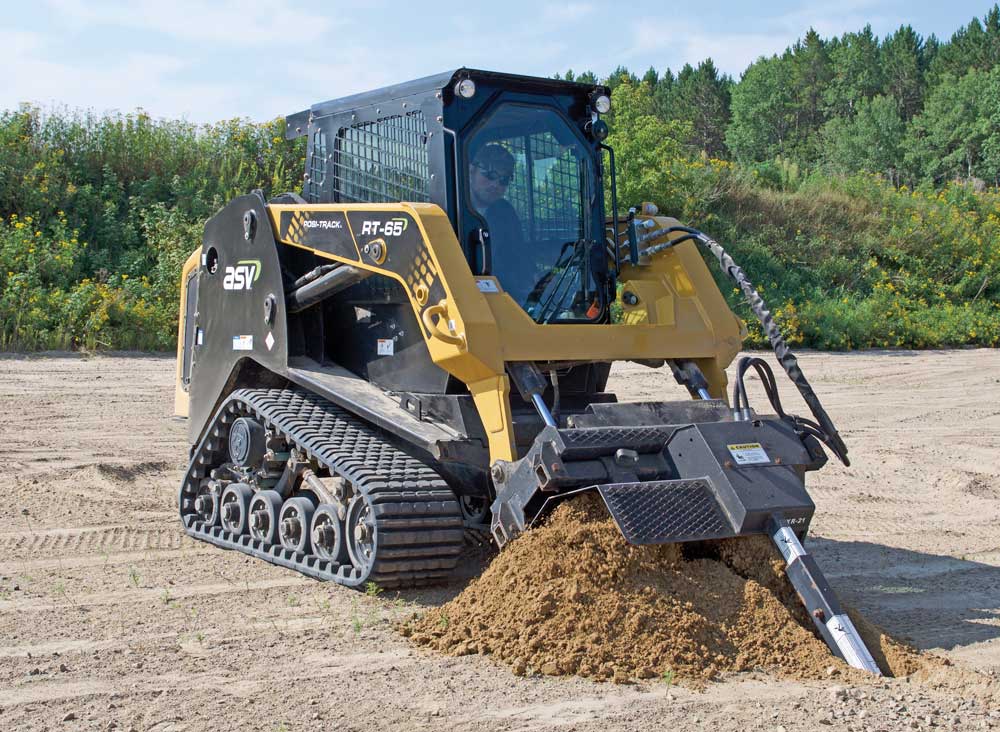 Forget the May flowers. April showers also bring slick jobsites that require the traction, flotation and power only a compact track loader can bring to the jobsite. Equipped with a dedicated undercarriage and usually rubber tracks, these machines can tackle slippery inclines and delicate work surfaces with ease. But tracks aren't a one-type-fits-all item. Tread patterns play a big role in the machine's operation and whether an operator is excelling on the job or sitting on the muddy sidelines. There are a few different patterns to choose from and each has pros and cons depending on the intended applications.
"The tread pattern is best determined by the type of application you're going to be using your compact track loader in," says Chris Trampush, JCB's product manager for skid steers and compact track loaders. "For example, you have the staggered tread pattern, and this is well suited for hard surfaces. The staggered tread pattern typically is the most durable and has the longest life expectancy. It's pretty common on compact track loaders across the board. You also have the C-lug tread pattern. The notches look like little Cs in the design of the pattern. The C is for muddy areas and sand. It's not really ideal for icy conditions or snowy environments, because of the tread being so big. If you're in icy conditions, your compact track loader would just spin in place."
The straight bar tread pattern offers maximum traction and is specifically made for operators who frequently need to operate their track loaders in wet or muddy terrain.
"The design of this tread will significantly reduce the risk of getting stuck in the mud as compared to the staggered block or C-lug tread patterns," says Bryan Maul, parts manager for Dominion. "Moreover, the straight bar tread design is the least likely to tear up finished turf thanks to its lower durometer rating and ground pressure, allowing the operator to pivot as well as operate at low or high speeds without scarring the underlying lawn. However, this increased traction does come with a downside. Straight bar treads provide rougher rides than staggered block or C-lug treads."
The zigzag tread pattern is another option, and Maul says it's the most appropriate choice when the operator needs to move back and forth between loose ground cover and hard surfaces.
"This tread design is able to switch quickly between the smooth ride that is desirable on paved surfaces and the increased traction that is needed on loose ground cover," he says. "As compared to the straight bar tread design, zigzag treads provide a smoother ride across terrain types. In addition, the zigzag tread design is tremendously popular for use in snow."
The Long Haul
Picking the right type of track can seem challenging enough, but making those tracks last is the true test (especially since they can range in price from $500 to $2,500). Typically, operators can expect a lifespan of anywhere from 1,000 to 2,000 hours for a set of tracks, and those numbers vary based on how well the track loader is operated and maintained. Having a well-trained operator in the cab is the best way to prolong the life of a set of tracks. He or she will know what terrain and obstacles to avoid and how to properly maneuver the track loader.
"Improper or aggressive operation is a major contributor to excessive wear," says Buck Storlie, product line manager for ASV Holdings Inc. "Counter-rotations, or sharp changes of direction, are a big cause of premature undercarriage wear. This is especially true when driving over highly abrasive material. Counter-rotations often lead to cuts in the track and can allow material to more easily get into the undercarriage and accelerate wear. Use three-point turns to reduce the risk. You should also avoid spinning the tracks, especially on abrasive surfaces. Like counter-rotations, spinning can result in cuts in the rubber and unnecessary undercarriage wear."
Maul says operators should be aware of their surroundings and avoid operating the track loader on hard rocky ground and areas with excessive tree stumps, sharp objects or concrete surfaces that can damage tracks.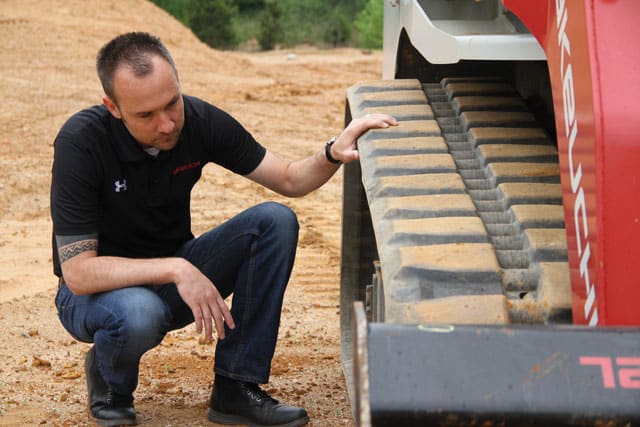 "On riverbeds or similar locations where there are large numbers of rocks of different sizes, rocks will get caught in the tracks and can cause damage or even cause the tracks to come off the roller," he says. "Do not let oil, fuel or chemical solvent get on the tracks, and do not travel in places where there is oil on the road surface. When placing a machine in long-term storage (three months or more), store the machine indoors where it is out of direct sunlight and rain."
Keeping the machine clean after use is one of the best ways to preserve the tracks. Storlie says that the most basic maintenance tip for tracks is to clean the undercarriage regularly since its cleanliness directly impacts the tracks' wear rate. It's also important to inspect for any deep cuts that expose the core of the track. Whether it's a high-strength fiber-reinforced or steel cord-reinforced track, exposing the core can cause premature failure.
"How much you have to clean depends on the applications and the materials operators are using the machines in, but daily cleaning is usually enough," says Storlie.
"Remove cohesive and abrasive material such as mud, clay and gravel as often as possible, even several times a day. This reduces wear to undercarriage components or material buildup that can increase track tension. Remember that cleaning off materials such as mud at the end of the day is easier than trying to remove it the next morning after it has dried.
"Pay close attention to cleaning around the front and rear roller wheels, where material can accumulate," he continues. "The most important items to remove are highly abrasive objects, such as sharp rocks and demolition material, including rebar, concrete and scrap metal. All of these can damage the inside of the track and undercarriage components."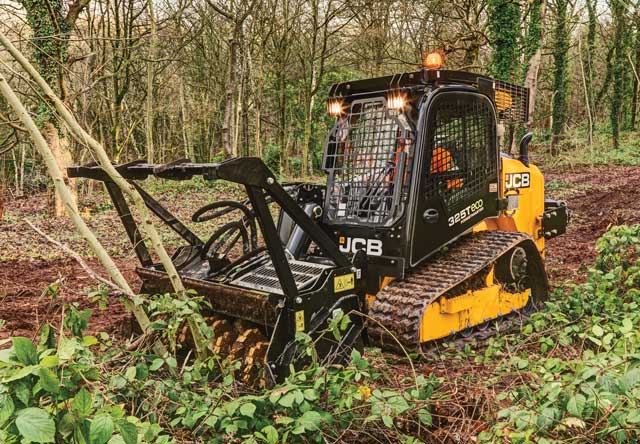 Keeping the proper track tension also helps increase track life and ensures the machine is running properly. Derek Charles, owner of Trojan Tracks, says to check out the machine's operator's manual for the right track tension specifications.
"The tension may be too tight if the operator feels like the tracks are binding up when turning," he says. "To check the tension, you need the machine propped up on one side so that the track will be tight across the top and hanging at the bottom. Depending on manufacturer specifications, you typically want two to four fingers, or a couple inches, in between the roller and the track."
---
Don't Be Down and Out
Derek Charles, Owner of Trojan Tracks, Says to Stay Ahead of Track Replacement and Avoid Downtime
"It's always easier to replace the tracks when it's on your own terms and not on the machine's terms. It's never ideal when a track breaks and you're down in a muddy hole and need to get the machine out. We always say, if you break one track, the other one is going to break soon. You should always replace them as a pair. If one is broken, but one still has a bit of life, toss the one and keep the other. Just keep it around in your shop, so you've always got that spare. That way, if you ever go down on a jobsite, you're never without a replacement and the ability to get that machine going again."
---
What's New?
Check Out Two New Compact Track Loaders from ASV and Kubota
ASV's RT-65 Posi-Track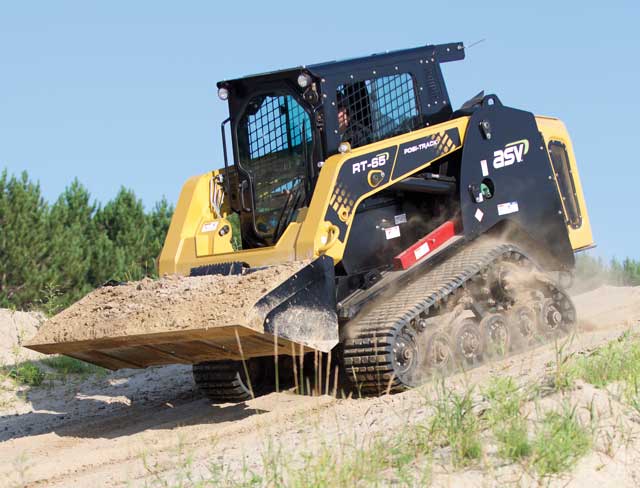 ASV Holdings Inc. recently introduced the new radial-lift RT-65 Posi-Track compact track loader, built with maximum serviceability, reliability, productivity and the company's patented Posi-Track undercarriage. The new track loader is ideal for digging and ground engagement work in construction, excavation, landscaping, snow-clearing and rental applications. The RT-65 boasts industry-leading serviceability so operators can spend less time maintaining the machine and more time on the job. These features include a swing-out radiator, top hood and side doors that allow access to all sides of the engine compartment, including filters and other daily checkpoints. The unit's cooler swings out with the door, giving operators total access for easy cleaning and improved machine performance due to the cleaner cooler. For more info, visit asvi.com.
Kubota's SVL65-2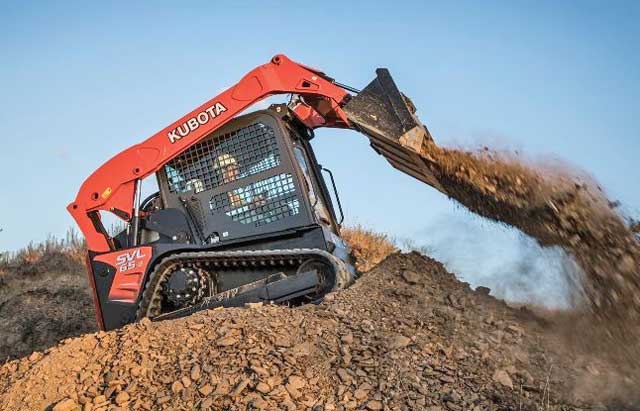 Kubota's new SVL65-2 is positioned in a lighter ROC weight class than its predecessors and features an advanced hydraulic multi-function valve, the line's signature slide-up overhead front door and on/off self-leveling capability. The new SVL65-2 features an Advanced Multifunction Valve (AMV Valve) that provides smooth operation when using simultaneous functions, such as auxiliary, boom and bucket circuits, allowing operators to be more productive. With the AMV Valve, the SVL65-2 makes running any attachment that utilizes auxiliary hydraulics even easier, especially attachments such as grapple buckets, 4-in-1 buckets and hydraulic augers. The SVL65-2 boasts a wide working range including a rated operating capacity of 2,100 lbs at 35 percent or 3,000 lbs at 50 percent, a reach of 34.9 in. and a hinge pin height of 118.5 in. For more info, visit kubotausa.com.
Tags:
April 2019 Print Issue
,
ASV
,
ASV Holdings Inc.
,
Dominion
,
home
,
JCB
,
Kubota
,
Trojan Tracks