Renting compact machinery and other equipment is here to stay. It has been an option for decades but became a virtual necessity for construction contractors when the 2008 recession struck. Now it is a habit no one is interested in kicking.
"Equipment rental is good in poor times and good times," says Jeff Jacobsmeyer, Kubota product manager for excavators, wheel loaders and TLBs. "In bad times, people don't want to have ownership because work is scarce and the equipment sits. Instead, they want to buy the use of a machine. Now with many jobs out there, they just bid to include the cost of the rental."
So comes the question: Where to rent? The choice is between independent rental companies, national rental chains and equipment dealers. Each choice offers advantages to a customer. Derek Betcher, John Deere Construction marketing manager for rental, summarizes the options this way:
"John Deere dealers are experts on John Deere products. Their inventory will typically be new or like-new, and they have invested heavily in training to service and repair John Deere products. They would be an especially good option for a renter that might be interested in a rent-to-own transaction."
On the other hand, Betcher says, "independent rental companies are experts on rental. Many shine in the speed and customer service they can provide to renters. The best of them also have well-maintained products, and most would be more likely to offer shorter rental periods, including weekend rentals."
Adds Jacobsmeyer: "Some rental houses may actually have more machine variety than a small dealer. Dealers are more in the business to sell whereas renting is the business of big rental companies, and they sometimes offer a broader inventory for customers to pick from."
Since January print is our skid steer/track loader issue of CE, we'll delve into considerations for renting those units specifically like a pro.
Brand Preference
While shopping for, say, a Case skid steer rental at a Case dealer is logical, many rental locations have Case loaders too. The standard brands for United Rentals, for example, are Case, Bobcat, Takeuchi and Deere. "We tell a customer who asks for a certain brand that the controls for the different machines are pretty much the same. So, if he can run a Deere loader, he probably can operate another brand just as well," says Derek Taylor, Arizona district sales manager for United Rentals.
Brent Coffey, product line manager for Sunbelt Rentals, says brands at local rental houses can vary. Sunbelt offers several primary brands of products, but "you can find different stores throughout the country with a different lineup. We focus on supporting the local market, so if there is preference for certain machine types or brand in a given area, we will cater to those needs."
Machine Features and Attachments
Before they shop, most rental customers know if they want tracks or tires on their loader. If not, agents can steer them toward the better choice. There are other considerations. Customers regularly ask about the width of a loader — Will it fit through my gate? — and inquire how much it can lift. Prefer a radial- or vertical-lift model? Most rental yards carry both and an agent can match a lift system to the job.
As for size, dealers and rental store agents say relatively small and towable loaders — machines with 1,600 to 2,200-lb lift capacities — are most often rented. The Deere 317G track loader is an example. "It's versatile, reliable and easy to operate," says Betcher. The comparable Kubota loader, according to Jacobsmeyer, is the SSV65 and slightly larger SVL75-2 track loader.
After buckets and forks, the most rented attachments seem to be grapples, brooms, trenchers and breakers. "The advantage of a rental store versus a dealer is that it often is a one-stop shop, having both machinery and attachments," Coffey notes. "Very rarely will a customer only use a skid steer. They might need a broom to clean up or traffic barrels for safety. A rental store is apt to have all that."
What's more, he says, if there is an issue with the machine on the jobsite, a national rental store can respond the unit quickly. "Having 24/7 service and support plus a fleet that spans North America allows us to support the needs of the customers regardless of time of day or location of the jobsite."
Taylor points out that demolition contractors sometimes ask for solid tires on their rented machines to eliminate punctures. Or renters sometimes ask for non-marking tires for inside work. These special requests occur frequently enough, he says, "that our stores have tires on hand to switch out."
Rental Convenience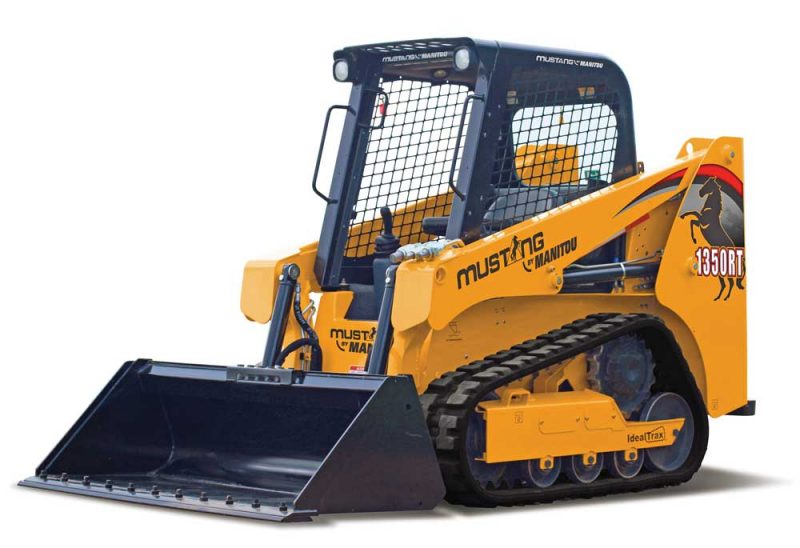 Where renters choose to rent has been nicely broken down in an American Rental Association report, according to Betcher. "It reported homeowners were more likely to rent from a local rental store or a home improvement store. The research found small contractors were more likely to rent from a local rental store. And finally, the report said national contractors were more likely to rent from national independent rental companies."
The ARA report makes sense. "Homeowner stores like Home Depot are open more hours," says Jacobsmeyer. "A homeowner can visit the store on a Sunday afternoon. It's more convenient. But a contractor will rent a machine during a dealer's regular business hours if he wants to build a relationship."
Operator Experience
People who have never sat in a skid steer operator's seat sometimes walk in and rent the machine. Seems a little dicey. How much legal responsibility do agents have to ensure the machine and renter are a safe combination? "Safety is a top priority, both for our employees as well as our customers," Coffey says. "We do our best to educate the customer on the safest operation of the machine before the customer uses it."
United Rentals operates United Academy, where novice operators can become certified. But Taylor says academy enrollees usually are preparing to operate more complicated machinery. "Some jobs require skid loader operators to be certified, but customers coming off the street very rarely take the class. We teach them basic controls, and that's pretty much it."
Notes Jacobsmeyer: "We highly suggest that an operator study an operator's training manual before operating. These machines can be dangerous, tearing up property and people. Some kind of training is highly recommended, but the fact is today everyone just Googles something to learn about it."
Renting to Own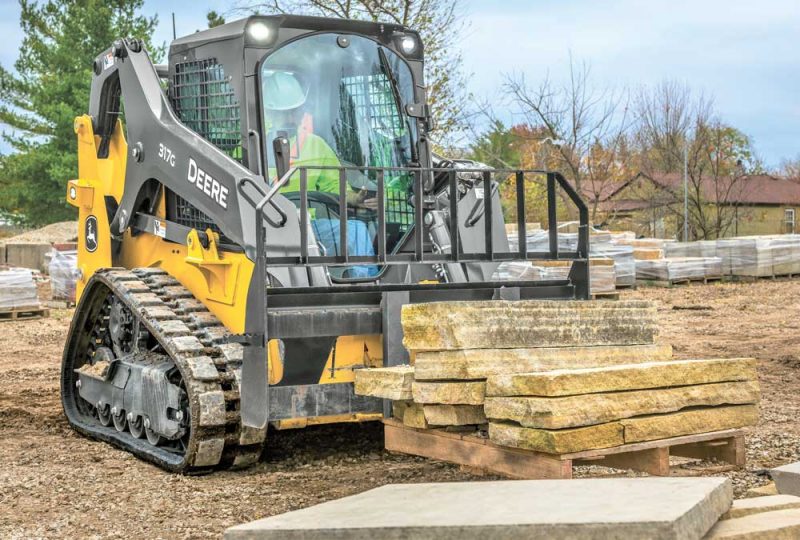 Both dealers and rental houses will part with a machine if a renter prefers to own it. "We'll entertain selling a piece of equipment if a customer wants to purchase it," says Coffey. "That's not uncommon in the case of skid steers." Taylor concurs. "We're always selling our equipment. The benefit of buying from us is all the service history the machines have. Other places you might not know if they've been maintained."
Betcher says selling rental fleet machines is actually a strategy. "When Deere dealers choose to rent their equipment, many do so to create price-point machines. A lightly used machine coming from a well-maintained dealer rental fleet may be a great bargain for the right buyer."
Cash or Card
In a credit society like the United States, the assumption is that a credit card is required to rent a skid steer. That's only partly correct. "There always is a credit card involved," says Taylor. "But when they bring a machine back, if they want to pay in cash, we'll gladly do so."
However, cash is still good enough at Kubota dealers. "We'll do both, cash or card," Jacobsmeyer says. "The rent fee always is paid upfront along with a deposit and a customer will be responsible for any damage, but we'll accept cash."
Giles Lambertson is a freelance writer for Compact Equipment.
Fecon Introduces Roof-mounted Hydraulic Coolers for Loaders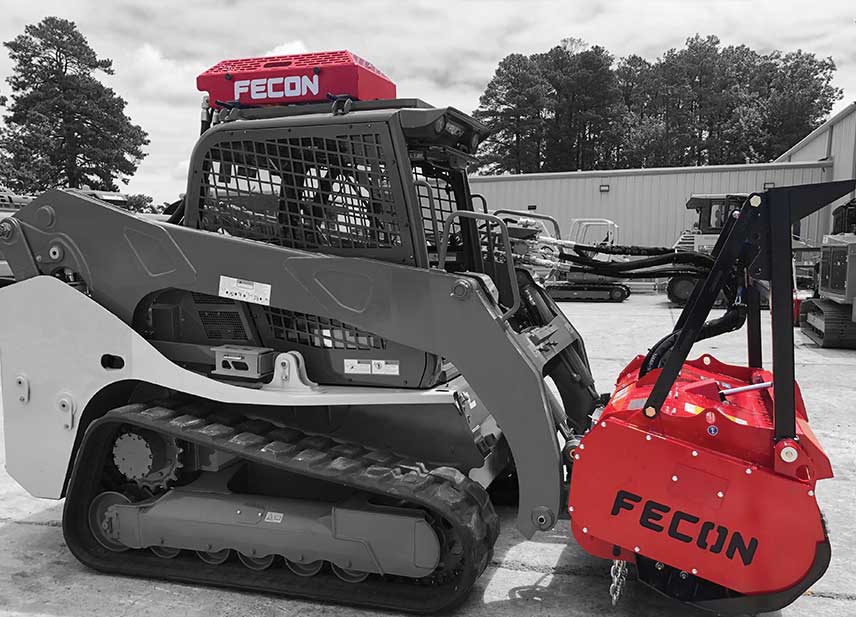 Track loaders in brush cutting applications generate a lot of heat in their auxiliary hydraulic systems. New Fecon hydraulic coolers, which are designed to be mounted on compact track loader and skid steer rooftops, enhance the performance of the carrier by maintaining the hydraulic fluid at optimal temperatures and viscosity. This durable all-steel design weighs approximately 185 lbs plus mounting brackets, with adjustable mounting rails for varying mounting positions. Two 11-in. thermostatically controlled electric cooling fans cycle on when needed to mitigate rising hydraulic fluid temperatures. A bypass relief is included for cold oil starts. These compact units fit atop virtually all skid steer and track loaders, handle flows up to 48 gpm and provide up to 120,000 BTUs per hour of cooling capacity. For more info, visit fecon.com.
Mustang by Manitou Adds 135ORT Track Loader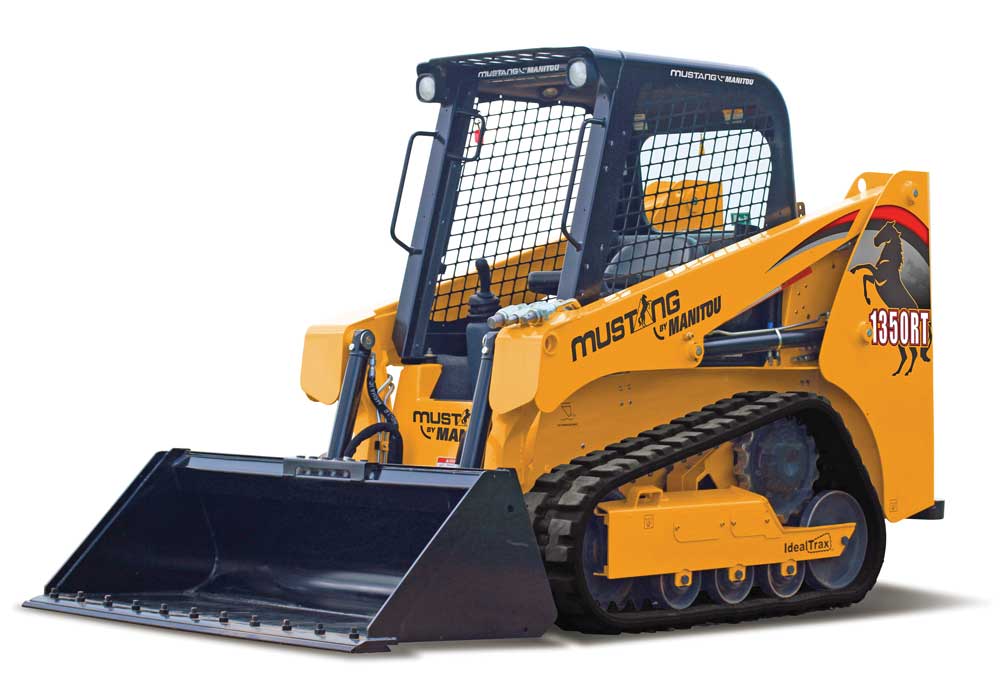 A new small frame track loader from Mustang by Manitou brings a 1,350-lb capacity option to customers in North America. The Mustang by Manitou 1350RT features an intuitive single joystick control, Level II FOPS and low maintenance engine for jobs from the construction site to the backyard. The Mustang by Manitou 1350RT punches above its compact dimensions with an overall width of 57 in., height of 76 in. and lift capacity of 1,350 lbs at 35 percent tipping load. The Mustang by Manitou 1350RT features a 46.6-hp Yanmar engine that utilizes automatic regeneration and zero fuel additives, providing clean emissions with little to no effort from the operator. For more info, visit mustang-by-manitou.com.
Tags:
ARA
,
Case
,
Case Construction Equipment
,
Fecon
,
home
,
January 2020 Print Issue
,
John Deere
,
Kubota
,
Mustang by Manitou
,
Sunbelt Rentals
,
United Rentals