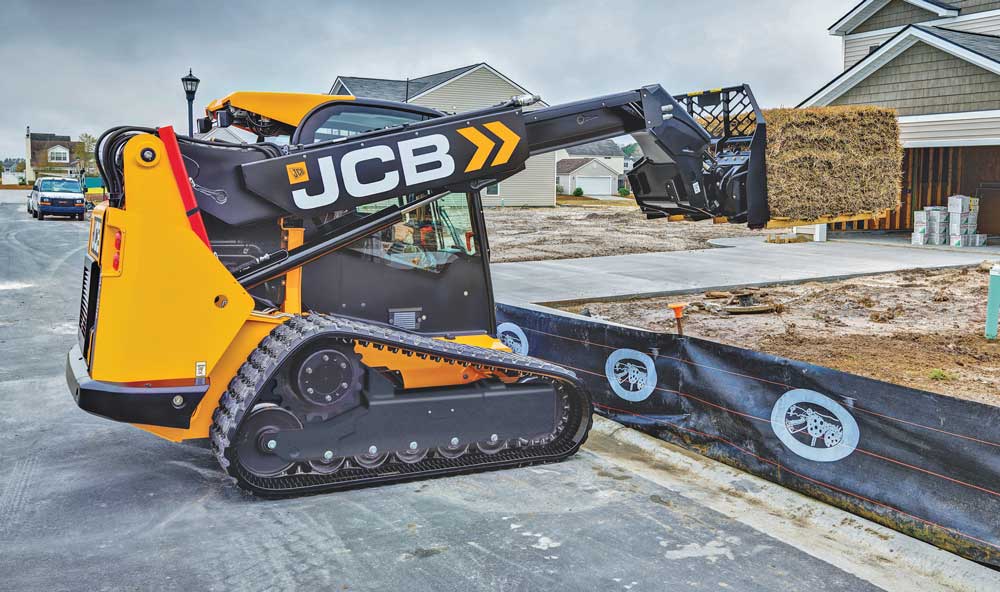 Skid steers and compact track loaders — they're building them bigger, smaller and more unique and nichey than ever before. The market today is enormous, but here's an interesting list of specialty skid steer and track loader models that stick out from the pack.
ASV RT25
Heavier than a stand-on or walk-behind loader, this smallest-in-the-industry seated machine is 4 ft wide with a carrying capacity of more than 650 lbs and a lift height topping 8 ft. It can be towed behind a pickup truck. Powered by a turbocharged 25-hp Perkins diesel, the RT-25's reputation is built on its Posi-Track low ground pressure (3.1 psi) undercarriage that doesn't play havoc with turf.
Introduced last year, the RT-25 is expected to steal sales from large walk-behind and stand-on models, says ASV product line manager Buck Storlie. "It already is. You can climb in, sit down and do a job faster, safer and more comfortably." A slightly larger model, the ASV RT-40, boasts a just-under-40-hp Kubota engine that can move the machine along at 7.1 mph and lift more than 930 lbs. The machine's frame is 10.8 in. from the ground, plenty of clearance for rock and rollin' in rough terrain.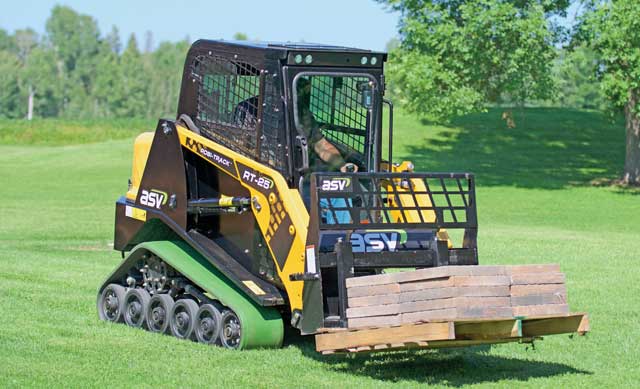 Bobcat A770 All-Wheel-Steer Loader
Bobcat operators have the option of taking the skid out of their skid steers. Flip a switch on the A770 and the four axles become steerable, the inside tires turning at a different angle and speed than the outside tires for optimal effect and minimal turf impact. Flip the switch again and the efficiency of skidding returns.
Combined with a two-speed feature that moves the machine up to 12 mph, the A770 is a nimble, quick loader that maximizes maneuverability and responsiveness. Those characteristics improve productivity when loaded-bucket turns come into play or the repetitious back and forth of snow removal is a factor — and when black marks on pavement and torn-up turf are no-nos.
The A770 is the latest version of a Bobcat all-wheel steer machine introduced in 2001, the A220, and a slightly larger version rolled out in 2002, the A300. The newest machine was the result of consumer feedback from owners of the earlier models, according to Jason Boerger, marketing manager.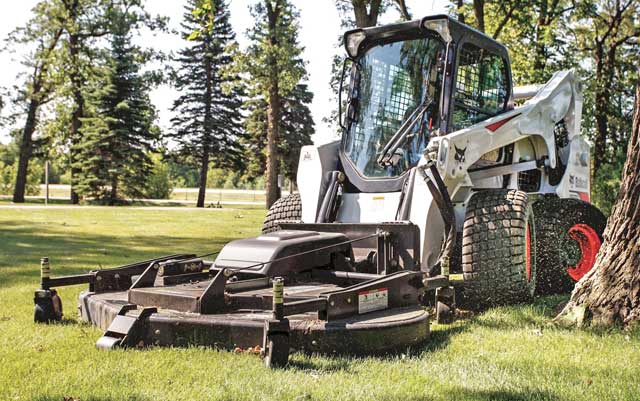 Case Project Minotaur
This brand-new engineered union of compact track loader and dozer, um, breaks new ground. The Project Minotaur's platform is what lets the machine be equally effective as a small dozer or a large track loader. The loader's dozer frame pins directly to the machine's chassis, removing stress from the loader arms for full dozing capability.
"Instead of beefing up a CTL, we started over with a heavy-duty dozer undercarriage and adapted the design to the Minotaur's smaller frame," says Ryan Ogg, one of the principal engineers on the project. When the dozer frame is removed, the usual loader attachments can be used. The loader-dozer's hydraulics are regulated by proprietary software so that the machine can switch between the steady flow required for dozing and the aggressive, higher-speed flow needed for CTL attachments. Project Minotaur's engineering copped more than 30 patents.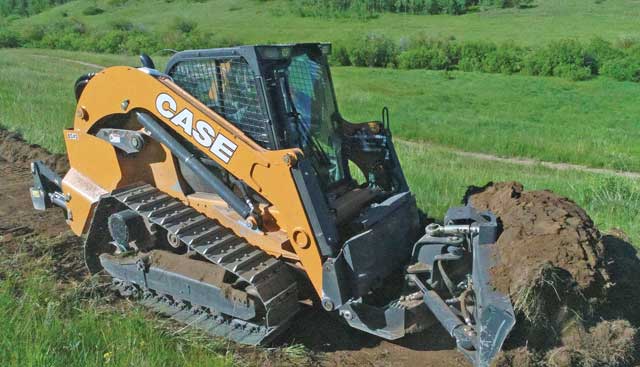 A Trio of Brush Cutters
The Caterpillar 299D3 XE Land Management is a purpose-built CTL for vegetation-clearing. The 110-gross-hp model has 40-gpm high flow hydraulics and a 58-gal fuel tank. It also won our Innovative Iron Award on page 32. "Customer feedback helped shape the Land Management package," says Kevin Coleman, product application specialist. Feedback led to greater protection for work lights, couplers, auxiliary hydraulic fittings and other components. A pre-cleaner helps prevent debris from clogging the engine's air filter.
The ASV RT-120 Forestry track loader is a 120-hp, 6-ton machine with a rated operating capacity of more than 3,700 lbs. Powered by a Cummins diesel, it runs on a Posi-Track suspension system with 20-in. flexible rubber tracks and boasts 15 in. of ground clearance. It can clip along between bushes at 10 mph and calls on 45-gpm high-flow hydraulics to run its bark-chewing attachments. The machine has a three-panel hood for easy access, which is important for maintenance.
The JCB 325T Forestmaster has an engineering advantage: its one-arm Powerboom. The single-arm technology gives an operator on a timber-obscured worksite extra visibility for greater safety. It also means an operator doesn't have to climb over a menacing mulcher head to enter the cab. On the rear of the Forestmaster is a winch with 15,000 lbs of pull force should the machine become bogged in debris or dirt. At 74-hp, the machine is underpowered compared to rival models yet has been engineered to have the torque of JCB's earlier 92-hp model.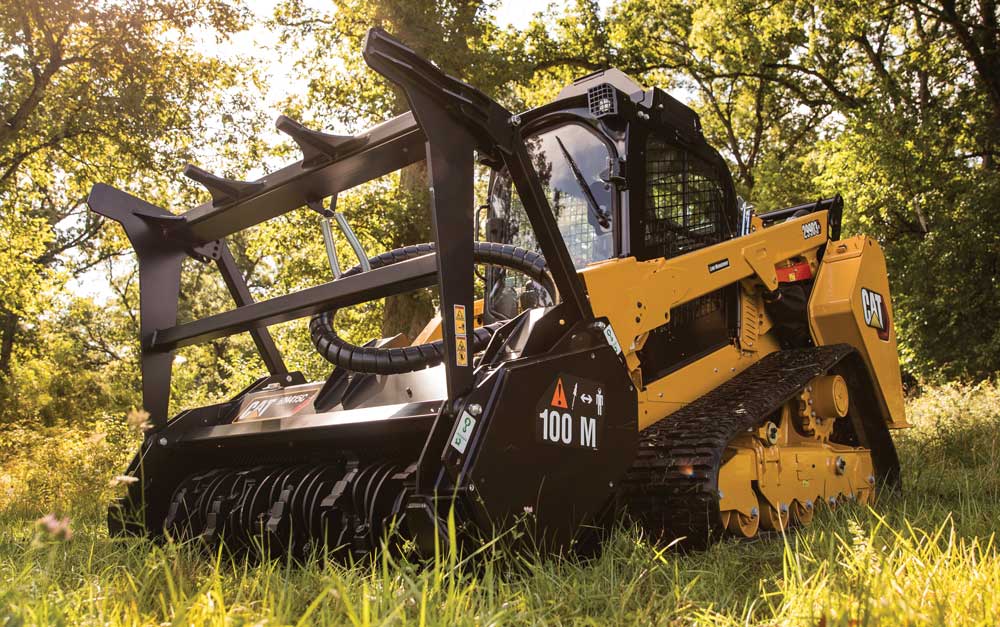 Gehl V420
Gehl has a penchant for offering the most powerful skid steer in the market, which happens to match the desire of contractors for big machines. "It is often the story in product development that customers struggle to envision the use for a product that does not currently exist in the market," says Aaron Haynes, global product manager for Gehl. "Customers needed more from their machines because they are using more dynamic attachments and had a need for more power, so the capacity of the V420 was increased by 200 lbs."
Haynes said this pattern of thinking large began in 2001 with the introduction of Gehl's 7800 model, which at the time was the industry's largest skid loader. The V420's 4,200-lb capacity again claims the "biggest" title.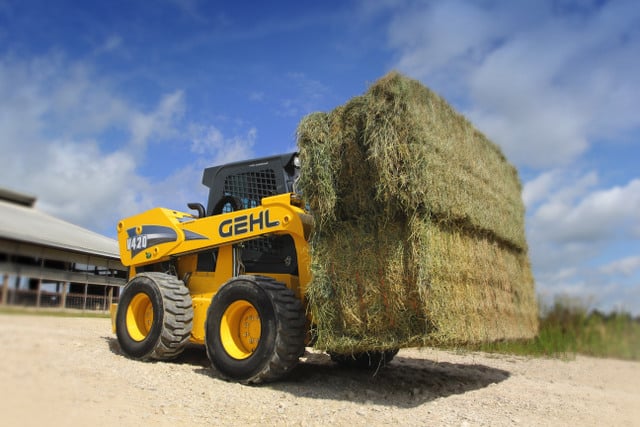 One-Armed CTLs
It only makes sense that two arms on a bucket are better than one. Except for the fact that one boom works just fine, thank you. JCB's compact loaders and skid steers have been proving it since 1993 with their Powerboom. The single lifting arm on the right side of JCB models lets an operator enter and exit the cab on the left instead of crawling through a bucket. It also greatly enhances visibility.
The engineering was borrowed from the company's time-tested telehandlers. Now the company has borrowed the telescopic feature itself in its new Teleskid model. "We wanted to first prove to the market that the single-arm skid steer design could deliver the stability, rigidity and durability the market demands. The logical progression was to add an extension capability," says Chris Trampush, JCB product manager.
The one-boom concept is catching on. Volvo C-Series skid steers and track loaders now feature JCB's patented single-boom design. "We fully expect that side entry will become the preferred choice for skid steers in the future," Trampush says.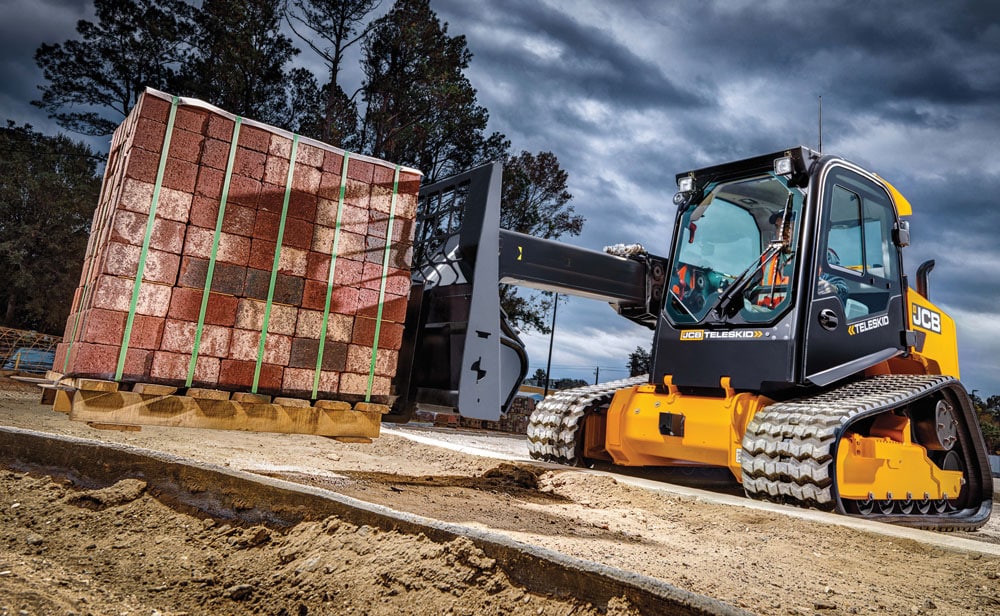 Takeuchi TL12V2 & TL12R2
These two 111-hp track loaders target heavy jobs in excavation, brush-clearing, truck-loading and road-building. The 12R2 is a radial-lift model with 8,200 lbs of breakout force for heavy excavation work. The 12V2 is a vertical-lift machine with a rated operating capacity of more than 4,100 lbs and targets load-and-lift operations. The vertical models boast a maximum dump height of more than 8 ft.
The pressurized cabs on these two machines were enlarged and fitted with easy-open overhead doors that roll up out of the way. The two models were a direct response to customer feedback, according to Lee Padgett, product manager. "There has been an ever-increasing demand from Takeuchi customers for a vertical-lift option, greater visibility and power in their Takeuchi loaders. Takeuchi answered the call with these two machines. Our design team values and listens to what our customers want from their loaders."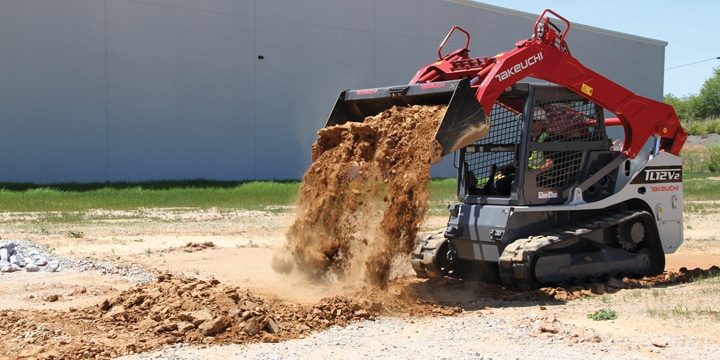 Giles Lambertson is a freelance writer for Compact Equipment.
---
Unique Coverage
Wacker Neuson's 3-4-5 Warranty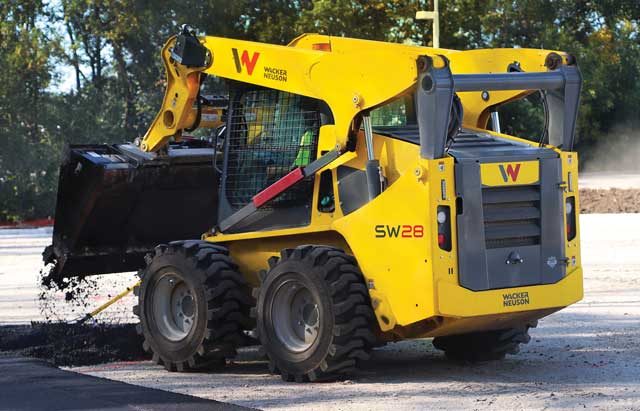 Skid steers and track loaders bounce, buck and swivel abruptly and constantly push their hydraulic systems to power an array of attachments. Can you say, stress? The rugged compact machines take a pounding. Yet Wacker Neuson has so much confidence in the integrity of its loaders that it offers a one-of-a-kind 3-4-5 warranty to cover them. To be specific, the Wacker Neuson machines are fully guaranteed against failure for three years or 3,000 hours, a four-year or 4,000-hour powertrain warranty covers failure of engine and hydrostatics among other components and a five-year or 5,000-hour electrical system warranty assures joysticks, switches, dash displays and so on will function as expected.
"The warranty package was created to set the brand apart in the crowded North American skid steer market," says Nathan Ryan, product manager. "We introduced it when we launched our medium frame series of loaders. Being relatively new to the skid steer market and knowing we had a world-class design, we were confident we could stand behind it with this industry-leading warranty."
In 2019, all new Wacker Neuson skid steers and track loaders are covered. For more info, visit wackerneuson.us.
Tags:
ASV
,
Bobcat
,
Case
,
Caterpillar
,
Gehl
,
home
,
JCB
,
November December 2019 Print Issue
,
Takeuchi
,
Wacker Neuson