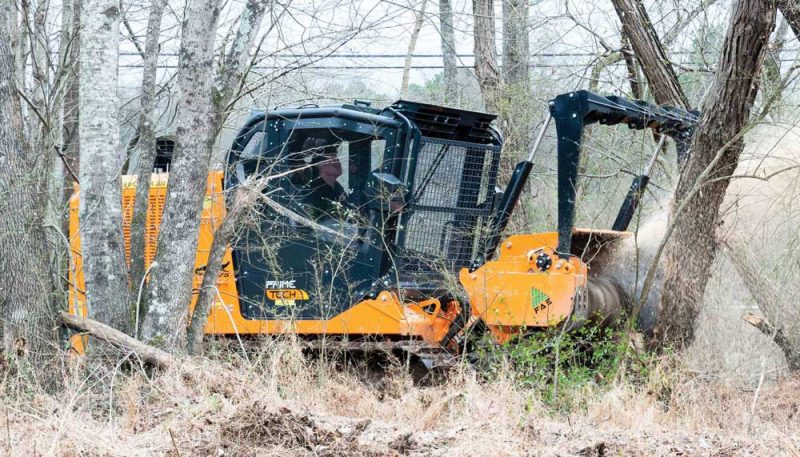 VS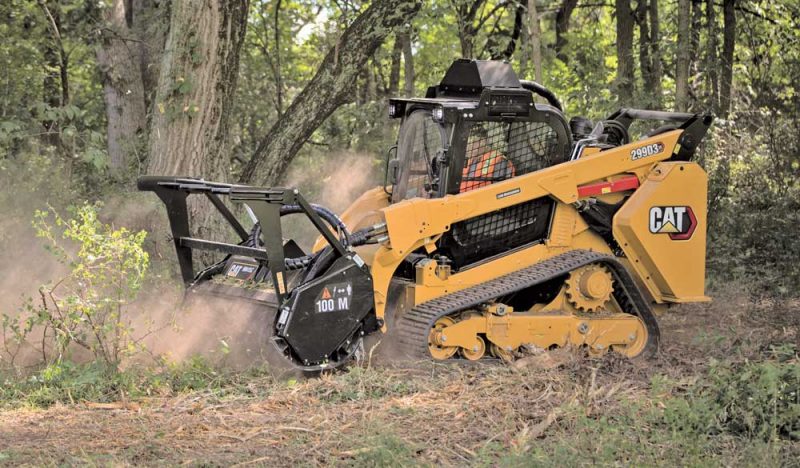 Over the last few years, compact track loaders have been finding more and more work in vegetation management applications. Aided by their dedicated track undercarriage (as opposed to wheels on a skid steer), track loaders can spearhead brush cutting jobs when equipped with extra safety guarding, high-flow hydraulics, a serious mulching head and maybe even a hydraulic cooler on top. Manufacturers like Caterpillar, ASV and JCB even offer dedicated forestry-style compact track loaders today as an alternative to high-end dedicated forestry mulchers or land clearing tractors from manufacturers like Fecon, FAE and Rayco. In this article, we'll compare the pros and cons of both categories.
FAE actually builds both mulcher head attachments for track loaders and high-end dedicated mulching units. It also makes mulching attachments for other tool carriers like excavators and tractors. FAE offers four mulcher attachments for compact track loaders, ranging from the PMM/SSL unit (an entry mulcher for loaders with 60 to 100 hp, ideal for underbrush, grass and brush piles) to the long-named UML/SSL-UML/SSL/VT-BL (a serious forestry mulcher equipped with a cool bite limiter rotor system for 75- to 120-hp loaders).
"The business would dictate the need for a compact track loader with an attachment vs. a dedicated unit," says Lee Smith, FAE product manager. "Somebody should always focus on the work that they have at hand and make sure that they have a workload that allows them to move up to a dedicated carrier. Dedicated carriers have more of an initial cost, but they allow you to do more jobs in a more productive and fast manner. The pro of the compact track loader with an attachment is that it allows you to use several different attachments as opposed to a dedicated unit which usually has one or two."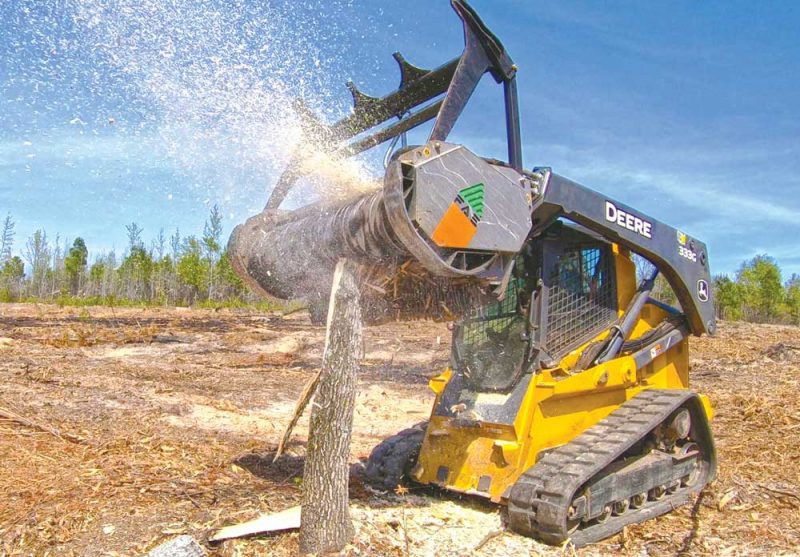 FAE then offers its PrimeTech range of multipurpose "tracked carriers" — specialized vegetation management vehicles designed to work on rough terrain in extreme conditions. The range of tracked carriers can also be equipped with different types of attachment heads like a track loader, but those heads are all specially developed by the FAE-Group.
FAE's smallest PrimeTech unit is the PT-175. It is less than 6 ft wide but has 173 hp under the hood. The unit comes with cool sounding tech like an "oscillating undercarriage," which guarantees awesome flotation and maneuverability in extreme hillside and forest work, and a "sonic" hydraulic transmission management system, enhancing performance by 30 percent. Customers can choose between steel track pads and rubber track pads, with the possibility to switch from one type to another. The PT-175 is mainly used for land reclamation, forestry maintenance, fuel reduction and cutting fire breaks and corridors.
Like FAE, Ohio-based Fecon also offers both dedicated vegetation management units, which it calls land clearing tractors, and its Bull Hog Series of mulching attachments for track loaders. The latter is a mix of rotor-style mulchers for track loaders designed to drop trees up to 8 in. in diameter, shred vines and bushes, grind stumps or intermix vegetation with soil. With large-diameter rotors and bearings and a full 1-in.-thick drum wall option, the Bull Hog line also comes with a variety of teeth configurations, which can be customized to the exact vegetation you'll be mulching.
"Let's say I recommend a Bull Hog drum rotor with double-carbide cutters," says Fecon product manager Mark Ferguson, giving an example of the subtle distinctions among the cutting teeth. "Then you get a job with sizeable trees to take down but still want to maintain the tool life of the double-carbide. I'd suggest you put some reversible knife teeth in the center one-third of the drum. They can cut faster than carbide teeth. You can take down the larger trees working from the center of the rotor and maintain the tool life of the cutters on the outside."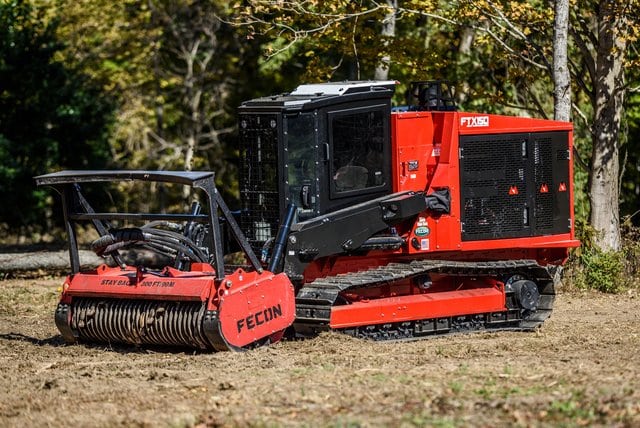 Ferguson acknowledges both the utility of compact track loaders (that can wield a zillion different attachments, not just mulching heads) and the efficiency of its dedicated land clearing tractors (its smallest being the FTX128L, FTX128R, FTX150L and FTX150R units): "In smaller diameter material, a purpose-built machine will not produce more than a track loader attachment. Just doing brush, you're not going to see more production out of the FTX150 — except that the 150 will stay cooler longer and operate for longer periods," he says. "But in larger diameter and more dense material, it will significantly outperform the track loader mulchers. There, the FTX150 will do the work of two track loaders."
Compact equipment expert JCB offers a wide range of compact track loaders, including the 325T Forestmaster, which boasts a 74-hp engine maxing out at 2,400 rpm. Like a high-end dedicated land clearing machine, the 325T comes with a comprehensive protection kit, which can include left and righthand mesh protection, rear cab glass mesh, steel tube guards for hydraulic hoses, front work light protection, cooling pack guards and more. It even has a rear-mounted winch to get operators out of sticky situations. The unit is typically equipped with JCB's 60-in.-wide mulching head, which boasts up to 45 cutting hammers.
"That attachment match is important," says Ryan Connelly, attachments manager at JCB. "If a track loader is outputting more flow than the attachment is calling for, you can have issues in the attachment, blowing out some components. And, vice versa: if your attachment requires greater flow than it's receiving, you can spin the drum but not get the performance."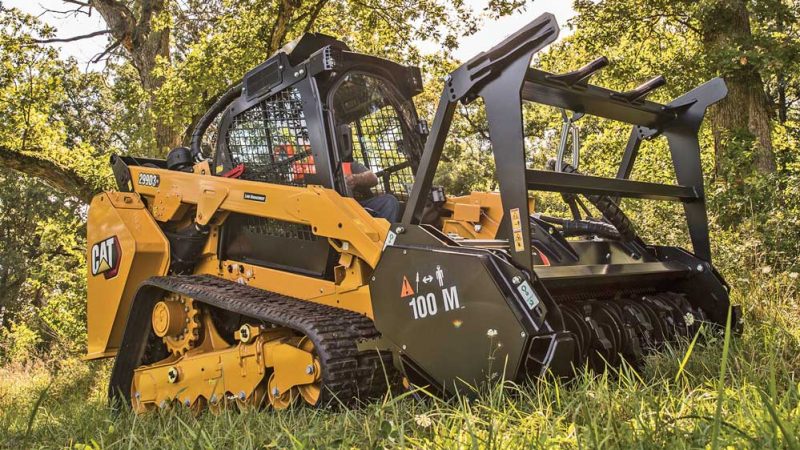 Caterpillar offers both a compact track loader forestry unit and a uniquely cool high-end dedicated mulcher dozer. Cat's 299D3 XE Land Management unit is a unique land clearing configuration of Cat's biggest 299D3 XE track loader. The 299D3 XE model won one of Compact Equipment's Innovative Iron Awards last year. The unit can be configured with either traditional steel embeded rubber tracks or optional full steel tracks (the latter option is rare on track loaders). The Land Management package comes standard with additional seals, protective covers and LED guards, but there's also a turbine-type pre-cleaner that ejects dust, dirt and debris from the engine-intake airflow before it reaches the filter. The unit also comes with an optional extra hydraulic cooling package that sits on top of the cab, and it boasts a turbocharged 110-gross-hp Cat C3.8 engine that combines with a 40-gpm, high-flow/high-pressure auxiliary hydraulic system. The unit even has a 58.1-gal fuel capacity, which is 80 percent larger than the standard model, sized to provide a run time of up to 12 hours.
"The 299D3 XE Land Management unit comes with customer-driven differences that make it better suited for land clearing work," says Kevin Coleman, product specialist at Caterpillar. He believes the advantage track loaders bring to land-clearing work is the machine's quickness and versatility. "The track loader's travel speed is an advantage, and it can perform so many different tasks."
Cat also produces a purpose-built D3K2 Mulcher. It's an 104-net-hp, 9-ton dozer with enough hydraulic oil flow to power a 6-ft-wide rotary mulcher head. It's marketed for land clearing on steeper, rugged terrain, but it's a full-fledged dozer too. A variable pitch, angle and tilt blade can be subbed for the mulching drum. "The inherent versatility of the D3K2, being able to use the machine as a dozer, is very beneficial," says Joel Fritts, product specialist with Caterpillar.
A dedicated mulching tractor can run more than $200,000, whereas a large high-end track loader will cost around $100,000 with a mulching head attachment costing between $20,000 to $40,000. If the attachment is purchased at the same time as a new compact track loader, the cost differential narrows even more.
Giles Lambertson is a freelance writer for Compact Equipment.
Shredder
Rayco C275 Forestry Mulcher Delivers 275 hp in a Compact, Low-Ground-Pressure Package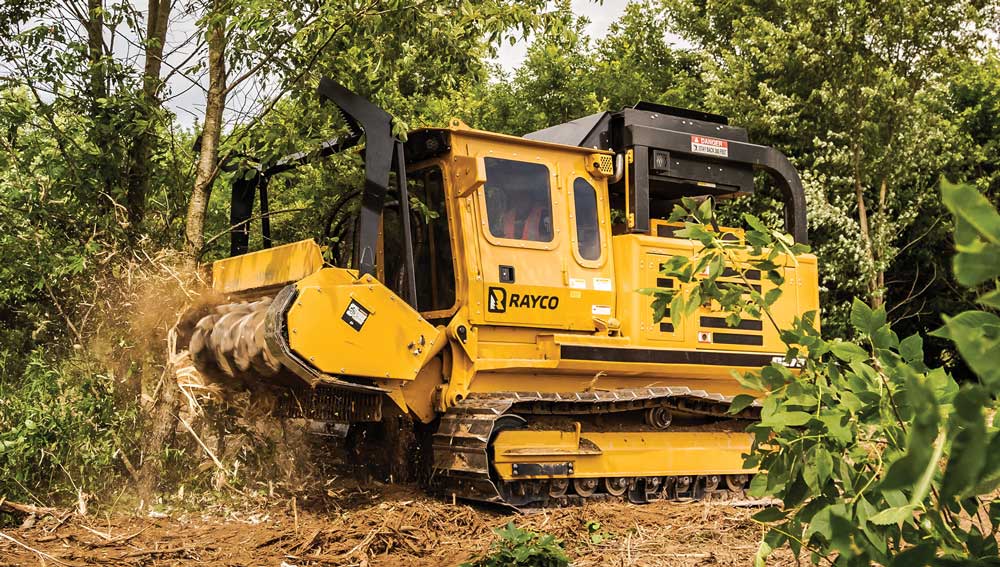 Perfect for clearing small trees, underbrush and a variety of unwanted vegetation across a wide range of environments, the powerful, mid-size Rayco C275 Forestry Mulcher delivers 275 hp in a compact, low-ground-pressure package. The C275's 109-gpm cutter system provides hydraulic power to the Predator mulcher head, which boasts a 77.5-in. cutting width, while the heavy-duty steel undercarriage and powerful final drives allow operators to tackle difficult terrain with confidence. The C275 also will accept a DENIS CIMAF mulcher head. Rayco's exclusive elevated cooling design keeps engine and hydraulic temperatures within their limits in even the harshest of environments. For more info, visit www.morbark.com.