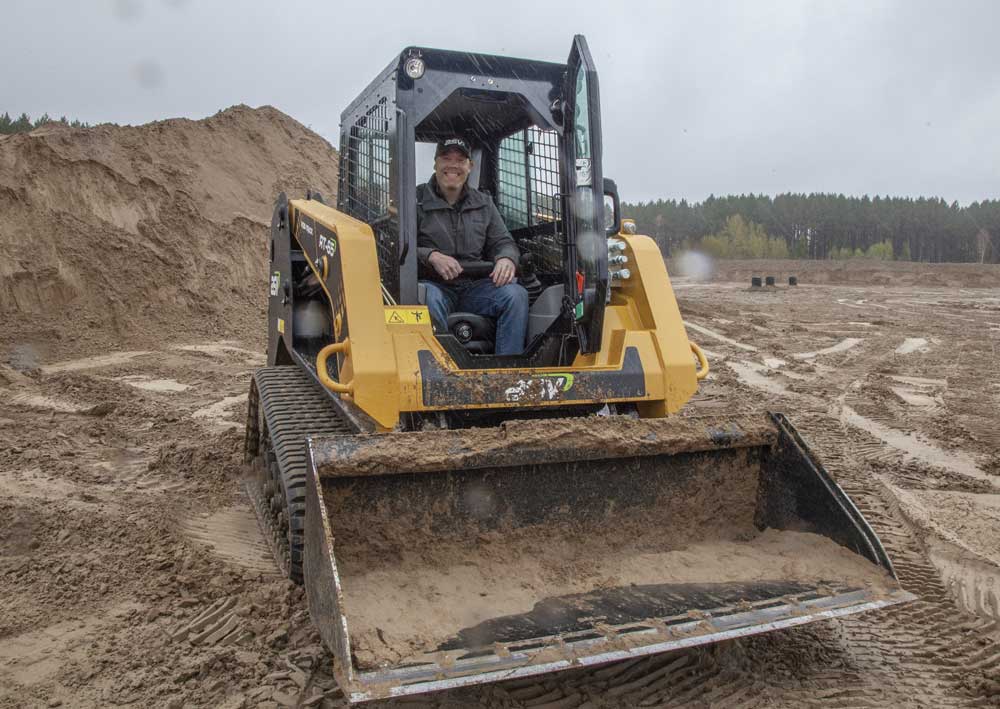 It's been an especially wet spring and summer in the Midwest. Minnesota in particular, already the land of 10,000 lakes, had its third highest precipitation total on record (from Jan. 1 through May 27, via Twin Cities weather history). In late May, I was enjoying the rain, fog and sunken scenery of northern Minnesota. This was not a bad thing. I was visiting one of the pioneers of the compact equipment industry — ASV — the first American manufacturer to dream up and sell a compact track loader, which is one of the hottest categories in construction machinery today. A lot like a skid steer, but engineered with a dedicated track undercarriage, a track loader is an ideal machine to traverse the marshy, muddy terrain of Grand Rapids, Minn., where ASV is headquartered.
"We want to give you unrestricted access to the people, to the facility, to the test track, to the products and anything else that you're absolutely interested in," said Justin Rupar, vice president of sales and marketing at ASV at the event. "We'll peel back the curtain and nothing is out of bounds."
Peeling back the curtain also meant the surprise reveal of a cool new entry in the compact track loader market — the vertical-lift VT-70 High Output Posi-Track loader — and the opportunity to operate the smallest compact track loader on the market (ASV's RT-25, boasting 25 hp and an operating capacity of 665 lbs). Most of all, I got to better understand ASV's 36-year journey while touring its facilities, meeting management, talking shop, eating BBQ and getting absolutely muddied operating more than 10 different loaders on a rainy Wednesday in May.
Before I Get into the Mud…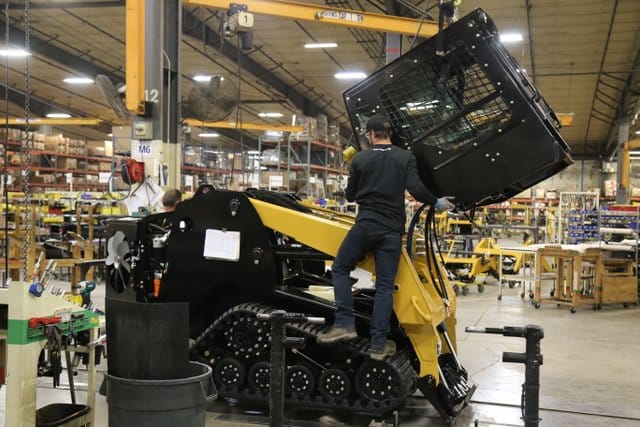 Let's catch up on ASV's story, because it's rapidly changing. In between actually going up to see ASV and writing this story, an email dropped into my inbox noting ASV Holdings Inc. had been acquired by global compact equipment player Yanmar through a statutory merger. Yanmar sells everything from engines and excavators to tractors and wheel loaders. This transaction is interesting — as sometimes there is some confusion surrounding the ASV brand and its acquisition, disappearance and re-emergence from its purchase and sale from Terex in the 2000s. What will this mean for the brand now?
"I think that all of those things will be worked out as this transaction continues, assuming it closes," said chairman and CEO of ASV Andrew Rooke via phone. "I think if we look at the Yanmar strategy and the rationale for the acquisition, they don't have manufacturing facilities in the construction compact equipment group [in the United States]. They don't have the people, resources and those types of things here. They certainly don't have the compact track loader and skid steer product lineup that we've got. As you probably know, they've historically used an arrangement with another company [Manitou/Gehl/Mustang], so we fit very nicely into their portfolio. But where the brand goes, where the business goes, all those things will be worked out as we go forward. I'm sure in the near term we won't see any changes moving forward."
The history of ASV dates back to the '80s when it was founded by Gary Lemke and Edgar Hetteen (the latter also founded Polaris and Arctic Cat). In 1983, the company launched its first innovation — the Track Truck — a rubber track crawler.
"Gary Lemke at the time was the largest Arctic Cat dealer in the country," explained Rupar. "So those two gentlemen were fiercely entrepreneurial, and they had a passion for the area, they had a passion for the climate and they had a passion for all four seasons that we deal with in Minnesota."
In 1990, ASV would apply that all-season concept to a construction machine — the first Posi-Track rubber track loader in the American marketplace. Like a lot of great ideas, it would take some time for market acceptance. The turning point seemed to come in 1998 when ASV teamed up with global equipment conqueror Caterpillar, helping to launch Cat's track and multi-terrain loader line. ASV still OEMs some undercarriages for Cat.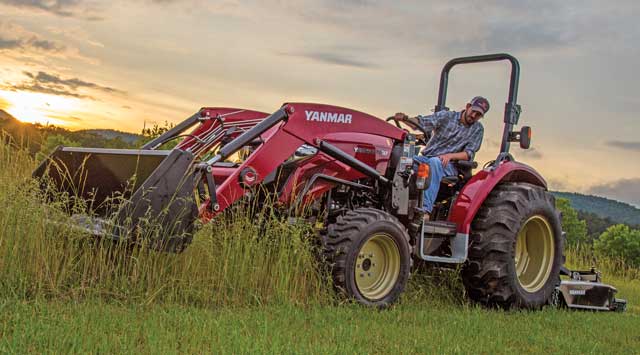 Speaking of undercarriages, since the beginning, ASV has engineered arguably the most comfortable and durable suspension system on the track loader market — torsion axle-style suspensions. ASV still custom builds that undercarriage (a single-level suspension system) for Cat's 257D multi-terrain loader, and last year Bobcat (one of the biggest brands in small equipment) introduced the T870 — a compact track loader boasting a 5-Link torsion suspension undercarriage — again proving the system's place in the market next to ridged and roller systems.
"It's amazing to me that we still buy track loaders without suspensions," said Buck Storlie, product line manager and 24-year vet at ASV. "ASV features the industry's only dual level suspension system. We have torsion axles across the machine that suspend the undercarriage from the machine. The second level is where we have suspended wheels. The wheels are suspended so we can, at the first level, absorb the object with our axle and at the second level absorb it with the wheels. There are manufacturers with either suspended torsion axles or suspended wheels, but we remain the only one with both."
This is the kind of cool tech that attracted Terex to buy ASV in 2008, which unfortunately led to the disappearance of the brand into Terex-branded loaders for a few years. Manitex International purchased 51 percent of ASV in 2014, returning with the ASV brand front and center. ASV Inc. went public in 2017, and now it is in the process of being purchased by Yanmar.
After touring its manufacturing plant in May and meeting the homegrown talent (many still there from the Lemke days), it felt like ASV's big second chance was well on its way to succeeding. The transaction is expected to close in the third quarter of 2019, and Yanmar will acquire 100 percent of ASV's outstanding shares of common stock for $70.70 million or $7.05 per share.
Let's Get Dirty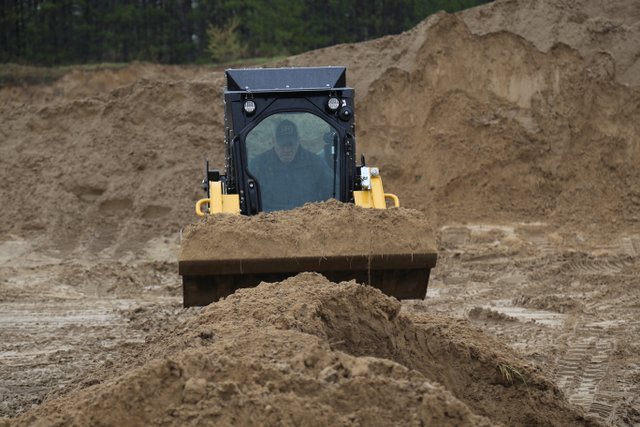 Minutes away from company headquarters in Grand Rapids, ASV has a test track that is perhaps beautiful on a sunny day. This day it was a pasture of serious, sink-to-your ankles sludge, arranged with bigger piles of mud and dirt for loading and a series of obstacle courses. At these proving grounds ASV puts prototypes through the paces, brings in dealers to showcase machines and occasionally allows journalists to get behind the joysticks. Inside the test track event space and shop, ASV revealed its newest entry, the VT-70 High Output Posi-Track loader. What does that high output mean? It means contractors have the option of a turbocharged 74.3-hp Deutz 2.2-liter diesel engine.
"We have a machine in the 2,300-lb size class currently in our VT-70," explained Storlie. "The High Output is just really bringing more performance to that class, giving customers another option who want a little more."
The new VT-70 High Output features 207 ft-lbs of torque. That higher torque allows for maximum performance, high speeds and minimal engine bog down in heavy, dirt-focused applications — the sort of stuff I was slogging through. ASV's overall product line proved excellent at tractive efforts in thick piles of dirt. The company has nine track loaders (summary on page 44) and two skid steer models (page 26), most of which I operated. From the RT-25 to the RT-120, units easily traversed an incredibly muddy ASV test track, moving piles of dirt, rolling over moguls and actually digging beneath ground level. The suspension was the second thing I noticed. The ride was smooth with a full load, traveling at high two-speed over half-buried obstacles. To prove it wasn't intimated, ASV also allowed journalists to operate competitive models from Kubota, John Deere, Cat and Bobcat.
"Please burn as much fuel as you possibly can this afternoon," encouraged Rupar. "I'm excited that you all are going to have a chance to operate our equipment and, well, some of our competitors' equipment too."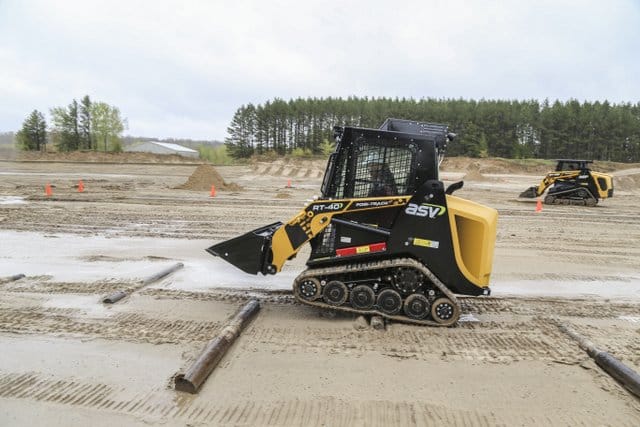 Speed and balance stuck out. The VT-70 and its High Output option travel as fast as 11 mph, and some of the competitors seemed slow in comparison. The balance of ASV units was also noteworthy. Skid steers and track loaders should have different weight balance perspectives, according to ASV. On a skid steer loader, it's a common industry specification to have 70 percent of the weight roughly on the rear tires and about 30 percent on the front tires. On a track loader, it should be more 50/50.
"Why do you want a 50/50 weight balance?" asked Storlie. "As you turn a skid steer with an empty bucket, it's going to be pivoting on the back wheels and actually skidding or sliding the front wheels. Contrarily on a track loader, I don't want to slide that track all the way around like those back wheels. I want to pivot it on the middle. If I can pivot a track on the center point, I actually wear on the tread less. So, we need weight balance."
There was a lot more that I don't have space for in this feature (ease of maintenance, impressive cooling packages and sweet green tracks), so please go explore the brand at a local dealer. After some solid hours of operation and two-days of great discussions, I realized ASV is still quietly making amazing track loaders that are ahead of the curve.
"We're always going to be on the forefront, and we always want them chasing us with regards to how capable each one of our machines are," said Rupar. "We're a challenger company."
---
First Look: Cat's New 299D2 XHP Land Management Compact Track Loader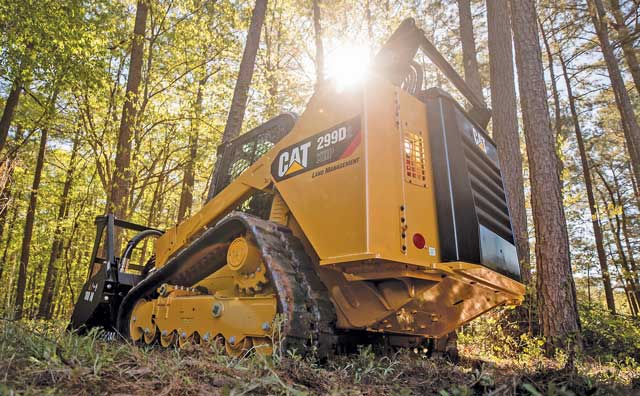 Compact track loaders continue to eat up market share in specific applications — like brush cutting. The Cat 299D2 XHP Land Management compact track loader is purpose built for the demands of vegetation-management applications, ranging from mulching, brush cutting, vegetation control and mowing. The 299D2 XHP Land Management unit has a powerful Cat C3.8 engine, rated at 110 gross hp, combined with a high-flow/high-pressure auxiliary hydraulic system — 40 gpm at 4,061 psi for a calculated hydraulic-horsepower rating of 94. To provide longer intervals of uninterrupted work, the 299D2 XHP Land Management unit has a 58.1-gal fuel tank, which is 80 percent larger than the tank on standard 299D2 XHP with estimated run time of 11 to 12 hours. Cooling and cleanliness is important in land management. The unit's cooling system's hydraulically driven Demand Fan operates only when required, saving fuel and reducing sound levels. The reversing fan clears intake screens and can operate in both automatic- and momentary-purge modes. Learn more at cat.com.