Skid steers and track loaders are by far the most commonly used machines in North America's construction and agricultural industries, with close to 100,000 units sold in 2018 and 2019. Their impressive versatility appeals to an equally diverse workforce, from the weekend warrior laying pavers in a backyard to roadwork crews and farmers. The hydraulic system and wide range of attachments are the key components for making the skid steer and track loader the convertible workhorse for which it has become so well-known. As with any machine, utilizing best practices and sustaining routine maintenance allow for peak functionality and ease of use.
Routine Maintenance
"The maintenance of skid steer hydraulics and attachments depend on the type of machine, so it's important to refer to the operator manual for daily, weekly and monthly checks," says Ryan Connelly, attachments sales manager at JCB North America. "It's important to note that operators should perform workplace safety measures before starting the machine to keep attachments in good working condition. For example, if forestry cutting heads are being used, it is best to clear out any debris in the work area to protect the blades from hitting large rocks or other potentially damaging material."
Other practical maintenance measures include checking the tightness or torque of attachment hardware and lubricating the grease points. If high-stress attachments are being used, performing fluid sampling is recommended. It may be necessary to change the oil more frequently than the owner assumes in order to maximize machine reliability and extend equipment life.
Best Practices for Attachments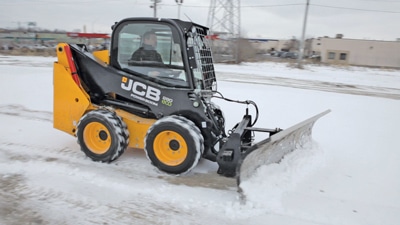 A key feature that makes the skid steer and track loader an exceptional solution for a multitude of applications is its quick and simple attachment function. "In terms of attachments, fastening and removing is a simple process, but the important thing to keep in mind is that the machine must be able to handle the output — the attachment size must match the machine size," says Chris Trampush, JCB skid steer product manager. "An attachment with a greater gpm flow rate than the machine can cause excess heat or other problems."
For example, if an operator is using a heavy-duty brush cutter for clearing dense undergrowth, the attachment will require 14 to 30 gpm flow and a skid steer with an equal gpm flow. If a loader with a low gpm flow is coupled with a heavy-duty attachment requiring a higher gpm, it will place stress on the machine and decrease its efficiency, resulting in problems that will ultimately reduce the usability and life span of the machine.
Matching hose length is another important consideration. If the hose is too long for the machine, it can snag on a nearby object and potentially cause a jobsite accident. Conversely, if the hose is too short, the machine will not have full rotation for ideal performance. "JCB skid steers feature couplings on the right-hand side to eliminate accidents and increase operator visibility and efficiency," Trampush explains. "This design element has benefited our owners and operators, contributing to a safer, more productive work environment."
Proper storage and cleanliness are important factors, as well. "A simple wipe of a cloth over each attachment after every use, along with proper storage that eliminates dust and dirt exposure, keeps attachments clean and allows for easier fastening because of the absence of corrosion," says Connelly. "When the attachments are not cleaned, dirt builds up, making it more difficult to engage during fastening and ultimately putting the operator at risk of injury."
These best practices are uncomplicated steps that will contribute to the safe use of attachments, as well as save the owner time and money in the long run with simpler servicing and decreased down time.
Solutions for Common Wear and Tear
As with any hardworking machine, normal wear and tear is expected due to repetitive use and frequent friction, but proper upkeep will diminish excessive wear as well as extend service intervals and, possibly, the overall life of the machine. The most common wear parts typically include ground engaging tools, such as bucket teeth and cutting edges, as well as other wear items like cold planer picks and brush cutter blades. "It can't be stressed enough that referring to the operator manual for proper engagement and utilizing those procedures will ensure the best performance of the loader and its attachments," says Trampush. "Reviewing the manual is often a skipped step, but taking the time to read it is a worthwhile investment in the long run. Manual instructions that are applied in daily use save operators and owners time and money while ensuring safe operation."
Hydraulic System Health
The heart of every skid steer is the hydraulic system which drives the machine, operates attachments, powers the tracks and keeps certain components cool. Contamination is the most common cause for the hydraulic components to fail, but this costly problem can be easily avoided. Hydraulic levels should be checked daily for proper flow and operation. Filters should be kept clean, and operators should follow OEM service interval recommendations for filter replacement. It is also imperative to use the OEM oil recommended in the owner's manual — different brands of oil contain specific additives required for optimum performance.
"Temperature range and oil thickness are important factors to consider when choosing hydraulic fluid," explains Connelly. "The wrong fluid could cause valves and other components to work improperly. Oil manufacturers engineer oils to meet certain specs."
Properly changing the oil is just as important as using the right type. When filling the tank, the operator should make sure the area is clear of debris and ensure that dirt and dust did not pollute the oil during transfer. If debris gets into the oil, it will contaminate the machine and cause damage to its components. With proper handling and awareness, oil contamination can be easily avoided, allowing the hydraulic system to operate at maximum efficiency and performance.
Avoid Overheating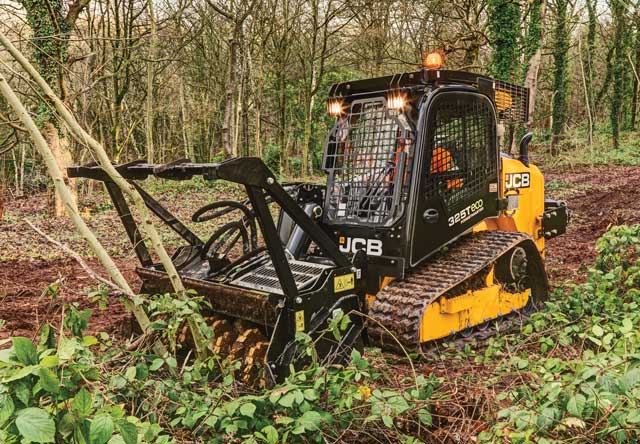 Just as a car owner wouldn't run a car engine endlessly without turning it off, the overheating of skid steer and track loader attachments can be avoided by not running the attachment over extended periods of time. In addition, the operator should know the specs of the machine and match the machine's flow rate with the attachment's flow rate to avoid damaged seals and hydraulic pump failures.
Skid steer and track loader owners benefit immensely from the wide range of applications these units can tackle. With proper care and use, the hydraulic system and attachments — the power and versatility behind these impressive machines — will function at optimum levels, increasing the productivity and efficiency of these go-to workhorses.
Tags:
home
,
JCB
,
JCB North America
,
March 2020 Print Issue