I dream of space. Not stars necessarily but the possibility of actually seeing stars far away from the porch lights of my neighbors. I've always wanted a little acreage in the countryside where I could stretch out and enjoy nature instead of other houses. Woods. Pastures. River. Farmhouse. Alpacas. It's a dream. During the pandemic, lots of folks fulfilled life goals to own rural property for whatever reason. Garrett Davis has loved the country since he was kid.
"The whole time I was growing up, every week, I can't tell you how many times on a Wednesday or Thursday night, I would make my dad call his mom and I would beg her to come pick me up from school on Friday and take me to the farm — all through school until I was 16," said Davis, marketing manager of compact utility equipment at Massey Ferguson. "[My grandparents] loved it. It was free labor. They had Massey tractors. They had some purebred Simmental cattle. That was kind of their passion, and so I grew up cutting, raking, bailing hay, feeding hay, all that sort of stuff with the tractors."
Davis was sold on country living before the pandemic. Garrett and his wife Jennifer Davis bought 25 acres of beautiful rolling hills in the Piedmont of northeast Georgia in 2019. Machinery is a big part of owning property and the rural lifestyle experience. Davis gravitated toward working with global tractor manufacturer Massey Ferguson right out of college. Today, Davis and his wife own two Massey tractors — a 2607 H Series utility tractor and a 1969 Massey Ferguson 135.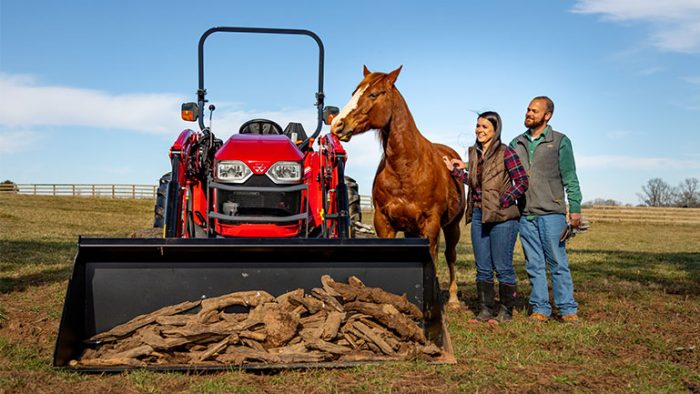 During the pandemic, the couple spent a lot of time at their rural estate — as it is 74 miles away from their office (see the video above) — and the idea clicked to share their experiences of living the country life with the help of a utility tractor. That's the storyline of Massey Ferguson's excellent video series At Home (episodes spread throughout this post).
"It's literally people just like my wife and me," said Davis, describing the viewership over a Zoom call. "They want to have a few chickens. They want to have a small garden. They want to have a horse, which I don't know why in God's name anybody would want one of those [he has two], or maybe a few cows, goats, whatever, you know. They just want to live that country life. I don't really see that going away."
For a majority of sundowners, a utility tractor is the essential piece of do-it-all machinery — mow the pasture, spread gravel, plow snow, install a fence, clean the horse stalls, whatever. To help showcase the trend of suburbanites going rural and the importance of tractors in doing it, Massey Ferguson released eight episodes of At Home with Massey Ferguson last year, detailing the country life of Garrett and Jennifer Davis. With a new season in the works, I got together with Davis to talk about the show, his projects and tractors.
Machines Connecting People
Can you imagine driving two hours to work? In the first episode of At Home, Davis contemplates his decision to live 74 miles away from his office. "It was all this beautiful scenery," he says in the video. "Giant oak trees, you could hear the cows mooing, the fresh air, and I started to see it you know. And then just go out and walk around the property with a cup of coffee on a Saturday morning. It's like, this is heaven."
Davis will also tell you that keeping heaven looking beautiful takes a lot of work. The dream of owning a large property comes with the reality of maintaining it. At Home does a nice job of highlighting the serious amount of work that goes into owning land, raising horses and enjoying country living. This is best exemplified in Episode 7 when the Davises installed a half mile of fence for their horses, digging posts every 7 ft.
"I grew up installing what I would consider cattle fencing," said Davis, "so I had to learn a lot about wood fencing. We did 7-ft centers. A lot of people said you could do 8-ft centers, but it's that extra foot that made the two-by-sixes bow more than I liked. I was afraid that if something pushed against them, they would pop. So, initially we started augering the holes, and after about 40 posts I almost died. I said, 'I think we're going to need to either call in some help or get a piece of machinery that's going to make this easier.' That's when we got the Shaver hydraulic post pounder, and then we were cooking with gas."
These are some of the cool insights viewers can glean from the show. At Home also does a good job of showcasing how machinery can connect people. Episodes 4 and 5 detail meeting the neighbors. Davis helps a local farmer mow his pasture. He goes around Oglethorpe County talking with neighboring homesteads, discussing the importance of community.
"We want it to be very down-home feeling, very approachable, very relaxed," said Davis. "Something that people would be at home and actually want to just pull up YouTube just to see if a new video has released."
There's a lot to enjoy with At Home. Watch all eight episodes right here. The backdrop is beautiful, the Davises are affable and there's a lot to learn about utility tractors. Let's continue that journey.
Utility Tractor Tips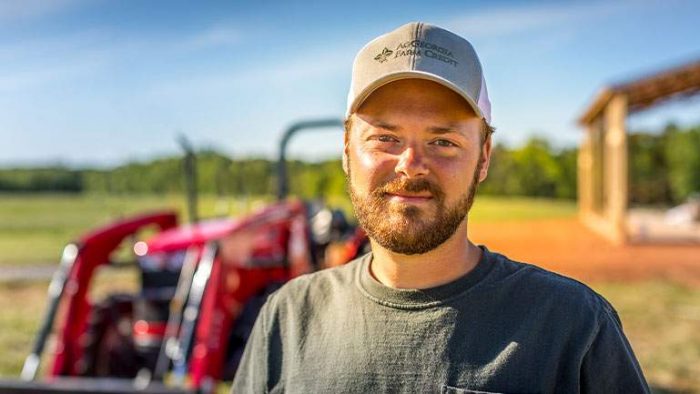 Massey Ferguson is celebrating its 175th anniversary in 2022. Over those decades, the company produced a lot of amazing firsts in the tractor industry — the first three-point implement hitch system, the first mass-produced self-propelled combines/combine harvesters and some of the first four-wheel-drive tractors.
"I think what really makes us stand out from the competition is our long history and heritage in the market," said Davis. "You need to really be sure that when you buy, whether it's from Massey Ferguson or from someone else, I would recommend buying from somebody that's been around a long time. If you're not going to buy from us, please buy from somebody that you know is going to stand behind their product and have the parts availability because that's super, super important."
There is a lot to understand when picking and choosing a compact tractor or attachment for your large estate. Let's start with your applications.
"We have an old 1969 Massey Ferguson 135, which is a very, very popular model," said Davis. "With no loader, my wife uses that unit to drag her horse arena to smooth the dirt up. I drag the driveway with it as well to smooth the gravel out to get the hump out of the center. I also mow with that using a finish mower. We have a 5-ft finish mower. We also have a 4-ft zero turn. So, usually, I'll be on the tractor mowing and she'll be on the zero turn because … I don't even know how many acres we keep mowed, but it just looks so much better and we both enjoy doing it. Then we have the 2607, which is a 74-hp, four-wheel drive tractor with a loader. That's been in the videos. We've got a hydraulic post driver and 8-ft brush hog rotary mower."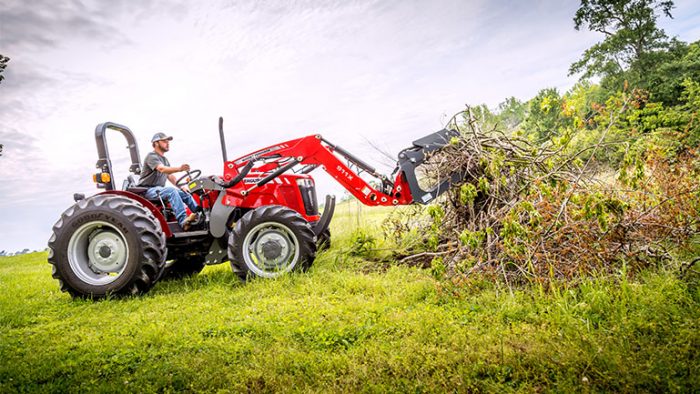 Attachments can be mounted on the rear or front of the unit, and categories abound — augers, buckets, brooms, backhoes, pallet forks, mowers and ever onward — noting each attachment purchase will be its own research project.
"First off, what kind of conditions are you going to be mowing?" asked Davis, giving advice on buying the attachment. "If it's just going to be grass and you're going to keep up with it fairly often and not let it get too overgrown, a light-duty mower will probably suit your needs. I have 25 acres and it's all grass, and I chose an 8-ft mower because I felt like a 10 ft would scalp and gouge too much because we're not on very even ground. If I had gone any wider, I would've needed a bat wing."
Attachments are just the beginning. Attachment systems, tires, cabs, ROPs, creature comforts, maintenance protocols, operational features, size dimensions and power specs are all a part of the formula. I highly suggest you read some of these articles. For instance, there are loads of transmission choices. Traditional gear variants (slide, synchro, collar shift and power shift) are increasingly being replaced by hydrostatic transmissions (HST).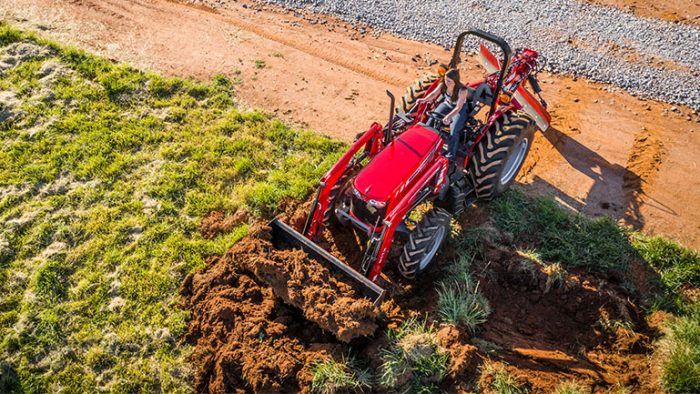 "[Our 2607] has an eight-by-eight shuttle shift transmission," said Davis. "Would I like a 12 by 12? Yes. But this is an economy tractor, and that's the only transmission that's offered on the one that I have and it works well for us. The main thing that I did appreciate, and I probably wouldn't buy a tractor without, at a minimum is shuttle shift. I grew up on tractors that didn't have the shuttle, and you'd be working in low and then you'd go to reverse, and it'd take you a week to back up, so I appreciate the shuttle features."
The operator experience for utility tractors continues to change with intuitive controls, cabs and automotive-style environments. These utility tractors can be decked out with cab, heat and AC, heated seats, stereo systems, charging stations, automation (like self-leveling) and high-powered lighting configurations. Of course, that stuff costs money.
"No cab is fine even though it is hot as fire here," said Davis. "I'm inside working, you know, at my desk in the air conditioning all day and you feel like a lab rat. It's like at the end of the day when I can get outside if I sweat, that's good. You know, if I feel that hot sun beating on me, that's good. You know, like I need to feel alive and not so coddled, cushioned and weak. I feel like more of a man if I'm getting out and sweating and bugs are hitting me in the face. Plus, it's $10,000 cheaper so that always helps."
Utility tractors can find plenty of work around a large estate. That's certainly at the heart of At Home with Massey Ferguson. The Davises can attest. Over the last few years, they have cut a driveway with a 40-ft entrance for trailers, drilled a 300-ft well, ran 1,000 ft of water line and built a half mile of horse fence. The couple constructed both a shop with a lean-to for equipment, tools and temporary living/office space and a 200-by-150-ft riding arena and 40-ft round pen for their horses. Their utility tractors were in the background of all those projects. It's become a popular choice for people with property.
"Over the last five years, we have seen our volume of CUE sales, so 100 hp and down [tractors], more than double," said Davis. "We had dealers that had waiting lists in their office, and they would have a tractor come in and they would have 20 people waiting on this particular model. They would start crossing off from the order of when they came in and just call'em up. 'Hey, I got your tractor. If you still want it, let me know. If not, I'm going to go to the next guy.' It was just something we've never seen before. It's cooling off now, but it's been a wild, wild ride for the last few years."
Keith Gribbins is publisher of Compact Equipment.
10 Winter Maintenance Tractor Checks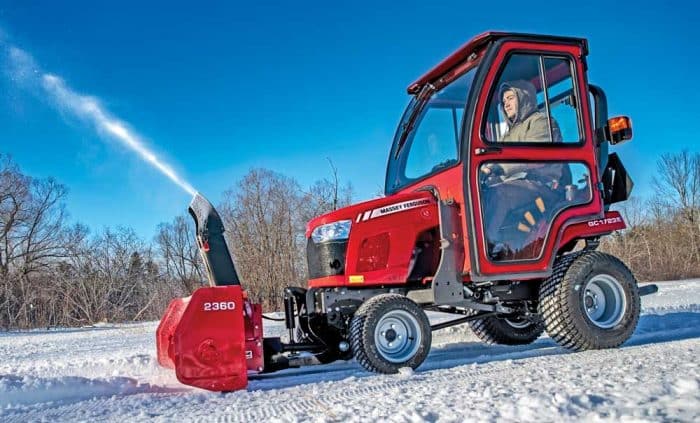 Check fluids. This includes checking, refilling and replacing fluids as needed. Check the condition of your coolant and make sure it is has the proper mix to prevent freezing.
Grease the tractor at all grease points. It is also a good idea to apply a light coat of grease to all exposed cylinder rods to help prevent corrosion. The elements get a little more extreme in the winter and greasing will help protect the machine.
Verify that your battery is in good working condition.
Make sure your fuel is winterized before the cold weather begins.
Check your tires. This includes checking for proper tread depth, proper inflation and making sure there is no tire damage. Also, check the wheel lug nuts for proper tightness.
Check that all lights are functioning properly. Days are rapidly getting shorter and you'll rely on these lights more in the winter.
Check all safety devices such as ROPS to make sure they are in place and secured properly. If you are not storing the compact tractor, do not fold or remove the ROPS.
Install any hitches or other devices that may be needed to attach snow removal equipment.
Check all hydraulic hoses for damage or leaks.
Verify that your air filter for your engine (and your cab, if equipped) is clean and free from damage.
Not to toot our own horn or anything, but we recently won a national gold award for the best how-to article in America. Wanna read it? Click here.