Need to move some dirt? Mow a field? How about carve a trench for an irrigation system? Look no further than a compact tractor.
"Compact tractors can do just about everything," says Kelcey Cockrell, product manager at Kubota. "With all the implements and attachments available for compact tractors these days, the list of tasks a customer can do is virtually endless. Some of the most common tasks that compact tractors are used for are mowing, gardening and material handling."
Thanks to their versatility, compact tractors are sought after by a variety of operators. Finding the right machine to conquer your jobs is important.
"A compact tractor is a do-it-all workhorse for homeowners with acreage, farmers, landscapers and grounds maintenance crews," says Angie Ryan, marketing manager for Bobcat. "With many sizes and configurations on the market, there's a compact tractor to match any work style. Plus, the learning curve is easy. Whether operators are new to tractors or seasoned veterans, they are accessible to all operator levels. Seven features to consider when selecting a tractor include: tractor size, implements and attachments, cab comfort options, PTO types, hitch categories, tire options and transmission options."
While all seven of those features are important, let's focus on transmission options available for compact tractors.
Gear
A gear-drive transmission is designed to lock a tractor into one speed and is typically better suited for sloping and rough terrain. It's an affordable option that allows for maximum tractor PTO performance. Joel Hicks, senior product development manager for Kioti Tractor, breaks down the four different gear-drive variants that are available for compact tractors:
A sliding gear transmission uses a shift fork to put gears into position and comes at a lower cost than many other options.
A collar shift uses a fork and collar between each set of gears instead of sliding the gears directly into place. With this added component, the collar gear transmission may be more expensive but also increases reliability.
The synchro transmission is similar to the collar with the addition of a synchronizer. This component acts as a brake or drag to "synchronize" the speeds between the gears when shifting to prevent grinding and provide a smoother, quieter shift.
Power shift transmissions use clutch packs instead of collars to lock gears into place. Without the need for a clutch, power shift transmissions make shifting effortless and seamless by moving a lever or pushing a button to shift up or down.
Gear-drive transmissions are a great option if you're experienced in operating them. However, Cockrell points out that one disadvantage to the gear-drive transmission is the ease of use.
"This transmission option does require some practice to get used to," she says. "Another disadvantage is the lack of precise speed control that a hydrostatic transmission can provide."
Power Shuttle
Next up are power shuttle transmissions. According to Hicks, this particular transmission combines hydraulic clutch packs with electronic controls to offer a clutch-less option to engage the transmission for repetitive forward and reverse maneuvers.
"This option offers the strength, power and reliability of a mechanical transmission without all the manual input involving hands, feet and legs," he says. "While great for multipurpose applications such as loaders and drawbars, a power shuttle transmission is slightly more expensive than a standard mechanical or shuttle transmission."
Hydrostatic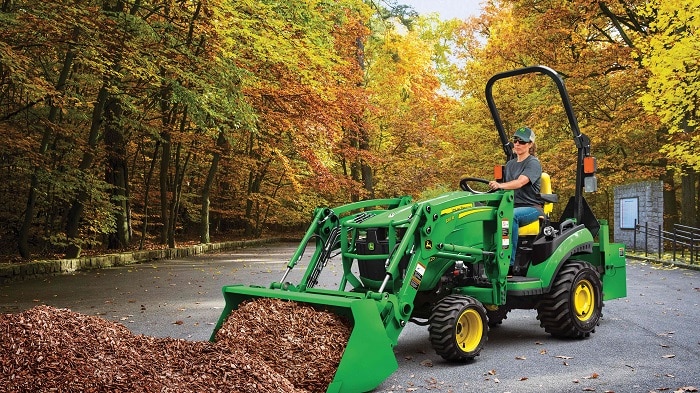 Hydrostatic transmissions use hydraulic fluid to power drive gears and axles. This type of transmission is the most popular among compact tractors particularly thanks to its smooth ride and ease of use.
"Customers with little experience operating tractors or manual transmissions may be more confident operating a tractor with the hydrostatic transmission [HST]," says Ryan. "Its similarity to the automatic transmission of a car makes it a good choice for novice tractor operators."
Ray Gherardini, John Deere's product marketing manager for compact utility tractors, adds, "These transmissions are smooth, efficient and easy to operate. This type of transmission is optimal for loader work and any task where the implement doesn't require it be maintained at a constant speed."
Speed control is another notable advantage of hydrostatic transmissions. Cockrell explains that with an HST, operators can enjoy precise speed control and are able to utilize a cruise control feature. Also, within this segment there are both mechanical and electronic HST options.
"Being the most premium option, an electronic HST can provide many premium features to really maximize the performance of the tractor," says Cockrell. "Using Kubota's Grand L60 series or L3560HSTC-LE models, which offer the electronic HST Plus transmission, this technology boasts features such as Throttle Up, Stall Guard, Hydraulic Dual Speed and much more to allow the tractor to handle heavy-duty applications and really get the most power out of the machine."
CVT
A continuously variable transmission, or CVT, offers operators the best of both worlds — a mix of a hydrostatic and mechanical transmission. With CVT, operators seamlessly shift through the ranges by pressing down on the pedal or handle, without ever having to shift ranges.
"It combines all the power and durability of a mechanical transmission with the smooth, easy operability of a hydrostatic transmission," says Gherardini. "The many benefits of the CVT include better fuel efficiency, longer transmission life and ease of use."
Although a CVT sounds like a great option, it can be difficult to find this transmission on smaller tractors.
"While this type boasts really neat features, these transmissions are not common in the compact or smaller utility segments, mainly due to the affordability as these come in at a premium price over the HST options, which typically still offer a lot of the same ease of use, but at a more affordable price," says Cockrell.