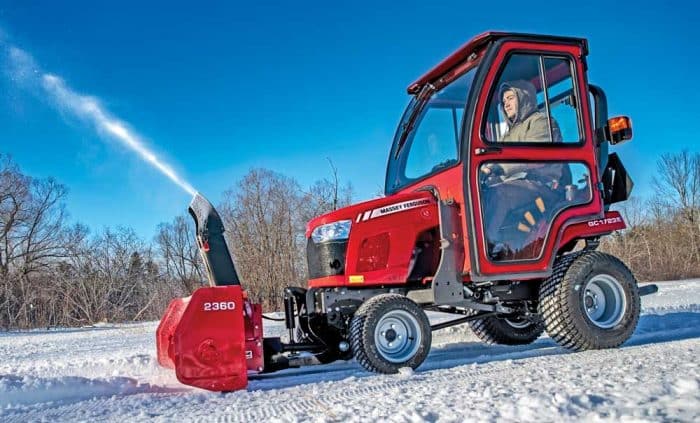 You wake up to that familiar chill in the air. Winter is on the horizon, and so is the snow. But with the right tools and your straightforward, dependable compact utility tractor, you can blow through the chores and get on with the rest of your day. Here are some tips and tricks to make your property a winter wonderland, whether you're just clearing the driveway or need to dig yourself out of a once-in-a-century storm.
Best Compact Utility Tractor Implements for Cold Weather
If you have or are considering a compact utility tractor, it's a safe bet you've got a good amount of snow to clear. These compact workhorses have enough power to deal with heavy snow while providing top-notch maneuverability that lets you work where you need to. Work with a reliable manufacturer to make sure you've got everything you need in one machine.
For example, are you looking for an agile machine in the 22- to 24-hp range that can clear narrow sidewalks, long driveways, courtyards and other similar spaces? For big properties, long driveways, parking lots and more, it makes sense to bump up into the 36- to 40-hp range. You're more likely to find a cab in this size tractor, as well, a definite plus for snow removal applications.
When it comes to snow tools, there are a couple things to consider. First, what tools do you need? For many, the loader bucket might be the perfect snow clearing choice. Should you decide to use this option, just be sure to keep the bucket slightly off the ground, running parallel. This helps you avoid digging into the ground or hitting any raised objects like uneven concrete, roots, rocks and more.
Sometimes you'll need more than a bucket, though. Leading manufacturers offer a range of implements that pair perfectly with their tractors, providing efficiency and ease-of-use. Don't overlook how important that is when you're trying to hook up a snow blower in sub-zero temperatures. Depending on your location, you could be looking for a front broom, snow blower or front blade.
Tips for Getting Started in Cold Weather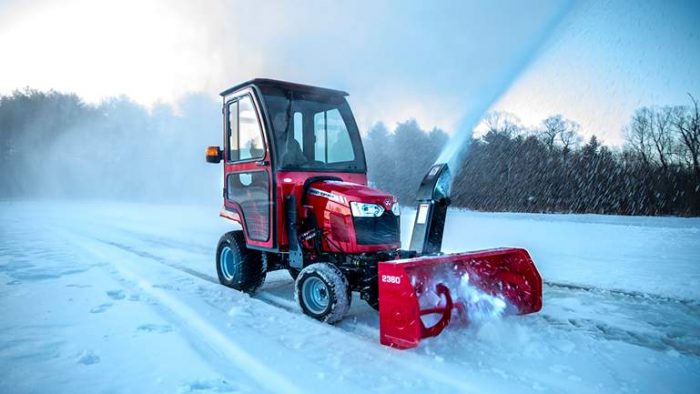 You've got the right tractor and snow tools, but how do you make sure you're ready to go when the winter weather comes? An engine block heater can help ensure your tractor will start in frigid conditions. Using the right oil for cooler temps can also ease starting. And for those really chilly days, the right fuel helps prevent cold-related problems in the fuel system. When it comes to driving in snowy/icy conditions, don't neglect tire choice and be sure to have a set of chains on hand if the weather gets really bad.
Cold Weather Maintenance Tips
The job's done and you're ready to warm up with a hot cup of coffee or cocoa. Before you head inside, make sure your tractor is squared away. If you ran a snow blower, you'll want to make sure the auger and impeller are cleared out. If snow or ice remains, the blower may be difficult to turn on next time. It's also a good idea to frequently clean your tractor to remove any traces of salt. At the end of the season, grease all fittings, lightly coat the auger an impeller with oil to avoid corrosion, and wash your tractor to remove any remaining salt you might have picked up while working or in transit.
Four-Season Compact Utility Tractors
Keep in mind, for most of us, snow is only a bother a few months out of the year. When you're looking for a compact utility tractor, make sure it's one that will perform in all four seasons. The best way to ensure the right fit — for your needs and your budget — is to talk to your local equipment dealer.
You can also find advice from the experts at Compact Equipment here and here.
Garrett Davis is the tactical marketing manager for Massy Ferguson's CUE lineup. He is also the host of At Home with Massey Ferguson, a YouTube series for CUE owners.
Winter is coming! You need to be prepared. For more snow-focused articles, click this link. You can click, right?