Protect Your New Investment with These Expert Tips
Alright, so you bought a shiny new compact tractor, and it's time to get to work. Not so fast. Before you hop on the machine, the first step to maximizing the lifetime of your new purchase is educating yourself about the tractor, its maintenance routine and safe operation. Knowing how to properly operate and maintain the machine will add years to its life and boost your productivity.
"As you familiarize yourself with your new tractor, spend some time reviewing the owner's manual and recommended maintenance routine," says Joel Hicks, senior product development manager, Kioti Tractor. "Your dealer is also a great resource when it comes to understanding and maintaining your equipment and can help you with any questions or concerns. Understanding how your tractor works and how to best care for it is critical to not only your project's success but also the machine's longevity."
In addition to the machine's manual, James Crouch, Bobcat's senior product manager for compact tractors, suggests getting online. He points to YouTube as a great source of information for those getting started with their tractors.
"YouTube is an absolute black hole of information. You can spend days just looking around, and there are really good resources on there," he says. "Aside from Bobcat's channel where we film our own content, there are thousands of unbiased end-users out there who love making content about what they can do with their machine and how to make it last forever — troubleshooting, how to check your oil, how to store it. It'll inspire you to do more with your new tractor and make you enjoy it more. Get online and look around."
Safety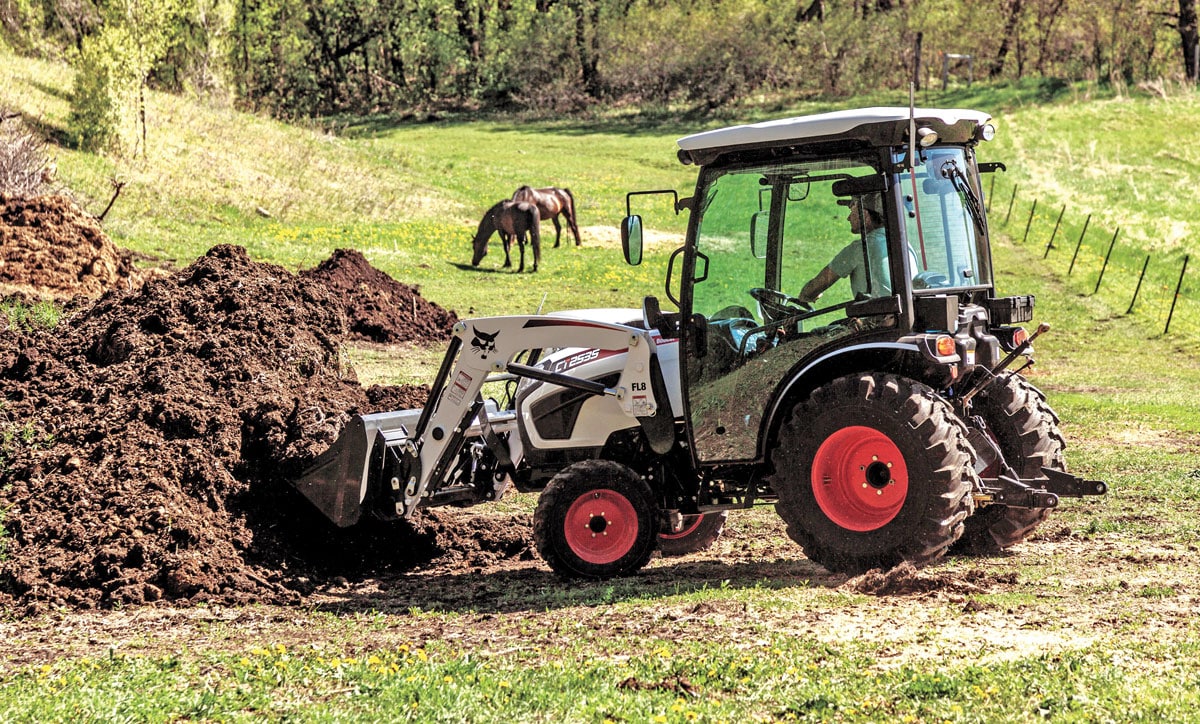 Make sure safety is first when operating a tractor. As an operator, you should always be aware of your surroundings, wear a seatbelt and maintain two points of contact when on the machine.
"Always make sure you're grabbing something on that tractor at all times when you're running it," says Crouch. "You'll see it in our operational videos and in our user manuals — it's a Bobcat standard. You always have your hand, or two, on the steering wheel. If that second hand's not on the steering wheel, have it firmly secured to something else like the loader joystick or the fender handle."
Crouch also recommends using a ballast box on your tractor for additional safety and productivity. Ballast boxes go on the back of the tractor to counterbalance the weight from the front-end loader.
"You'll want to make sure you have weight on the back to counter the load on the front, so you maintain contact of all four tires on the ground at all times," he says. "You never want to have less than that. From a performance standpoint, ballast boxes take a lot of the load off the bearings and gears on the front axle, helping to extend the life of those parts."
Attachments
As with any piece of small equipment, attachments play a big role in a compact tractor's productivity. New tractor owners often opt for the traditional front-end loader when making their initial purchase.
"I'd have to say that about 97 percent of our tractors are sold with a front-end loader," says Crouch. "They can do so much and make chores more enjoyable. It's a lot easier for a homeowner or landscaper to scoop, move and dump a full bucket of mulch in a flower bed versus having to haul 20-lb bags back and forth out of your pickup."
Other popular attachments include brush cutters and box blades. Brush cutters are great for tackling thicker material and keeping your property maintained. Crouch says box blades are incredibly useful with chores like smoothing out gravel driveways. Mid-mount mowers — which are attached to the bottom of the compact utility tractor — are intended for properties under 5 acres and are also popular among landscapers and athletic turf managers. The most common cutting widths range from 54 to 72 in. These mowers are great for property maintenance and can cut grass along fences and other landscape boundaries. Rear-end mowers, backhoes and grapples are also popular choices.
"Grapples are a useful addition to a wide variety of jobsites, allowing operators to grab, sift and move material with ease," says Hicks. "In fact, our customers at Kioti Tractor find grapples such a valuable tool that we launched our first-ever line of grapples late last year. And if you're working on a project with more specific requirements, there are a wide variety of three-point or quick-attach implements to suit your needs."
Maintenance
One of the best ways to maximize the life of your new compact tractor is by becoming familiar with the machine's owner's manual and recommended maintenance routine. Hicks says a daily maintenance check on your tractor is key to spotting any potential issues before they become serious — and expensive — problems.
"Before climbing into the operator's seat each morning, take just a few minutes to walk around the machine and check for signs of possible maintenance issues," he says. "Look for loose hardware, tire punctures, fluid leaks and anything else out of the ordinary. If you spot a potential issue and aren't sure how to best address it, reach out to your dealer for assistance. Catching maintenance issues early is critical to extending your tractor's lifetime and getting the greatest return on your investment."
Since every compact tractor is different, be sure to consult your owner's manual for the machine's specific maintenance regimen. Crouch says the maintenance plan for Bobcat tractors is conveniently located right under the hood.
"If you're standing in front of the tractor and pop the hood, there's a big decal that has all the regular service intervals in there," he explains. "Just follow those regular service intervals, and it'll maximize the life of your machine. It'll tell you when to check the engine oil, grease the machine, perform hydraulic fluid changes — everything is right on that decal. Just follow that guide."
In the Market for a Compact Tractor? Check Out These Offerings
Kioti NS Series
The Kioti NS Series of tractors were designed to meet the needs of value-conscious customers who require a powerful tractor and a larger platform. Engines range from 45 to 58 hp, and all models come standard with features like power steering, rear remote hydraulic valve, rear PTO, as well as an independent PTO with auto and manual selection. The series also boasts the option for a synchro shuttle or HST transmission. For operator comfort, the series comes standard with a deluxe suspension seat, an ergonomic operator station and LED projection head and working lamps, allowing for both daytime and evening use. Plus, the CDRI KIOTI diesel engine offers improved fuel efficiency with reduced noise levels and powerful performance. For more info, visit kioti.com.

Bobcat CT2025
The economical CT2025 compact tractor offers rugged performance, power, comfort and all-around versatility for small farms, ranches and acreages. The 25-hp machine is strong enough for big jobs but small enough to fit in tight areas. It features an open workstation with ROPS and a Category 1 three-point hitch for using implements. The CT2025 is available with both manual-shift transmission or hydrostatic transmission options. An integrated loader joystick lever makes front-end loader work easier. Bobcat's senior product manager James Crouch says, "The CT2025 is perfect for someone who needs to maintain a couple acres and wants something that's powerful and stable. Hands down, it's what I would put in my own garage." For more info, visit bobcat.com.
Storage
When you're not using your compact tractor, it's important to store it properly. Whether you're taking a lunch break, calling it quits for the day or wrapping up a work season, the machine should be stored covered the best it can be to prevent weathering, discoloration or rodents setting up shop for the winter. Crouch urges operators to keep their tractors under cover and make sure the bucket is down, relieving the machine's hydraulics.
"When you park your machine at night or get off of it at any time, make sure your bucket is down," he says. "Make sure your bucket is on the ground and your bucket cutting edge is flush with the ground. It removes the tripping hazard, and it takes a lot of pressure off the hydraulics."
Kioti's Joel Hicks offers a few additional helpful tips for short- or long-term storage:
Top off the fuel tank to prevent moisture buildup.
Use a trickle charger to the keep the battery fresh.
Add a fuel additive to help reduce contaminant buildup and boost the fuel cetane.
Keep the tires properly inflated to minimize flat spotting issues.
Pam Kleineke is managing editor of Compact Equipment.
What can we say? We love rental. So much so that we published a Digital Rental Guide covering everything you need to know when renting a machine. Check it out here!