Tip #1: Find the Right Mower
If you're looking for a landscaping mower attachment for a compact utility tractor, two main options include mid-mount mowers and rear-mount mowers. Both mowers are great for tackling grass 6 in. or less, but each has their own features that make them stand out for certain applications.
"One of the first questions that you'll want to answer is, what kind of finished cut are you looking for? Do you want a well-manicured lawn look, or are you simply trying to cut down some pasture and light brush? Depending on a yard's type and size, there are two options: mid-mount or rear-mount mowers," says Mark Davey, John Deere's go-to-market manager for compact utility tractors. "A rear-mounted rotary cutter might be a great option for pasture and light brush, whereas a rear grooming mower or a mid-mounted mower can both be options for a more manicured lawn look. Mid-mount mowers, which are attached under the compact utility tractor, are ideal for mowing turf and creating a professionally manicured look, while also maintaining great maneuverability. Rear-mount finish mowers are either pulled behind the tractor or are integrally attached to the rear 3-point hitch, and are ideal for large, open areas."
Mid-mount mowers — which are attached to the bottom of the compact utility tractor — are intended for properties under 5 acres and are also popular among landscapers and athletic turf managers. The most common cutting widths range from 54 to 72 in. As Davey mentioned, mid-mount mowers are ideal for a clean cut and the ability to maneuver around obstacles. "If you have more trees or tight spaces, a mid-mount mower design will likely help you work around these tighter areas to mow with ease," he says.
Rear-mount mowers are perfect for large, open areas and are attached to the tractor via a three-point hitch and pulled behind the machine. They typically come in larger width options than mid-mount mowers (sizes range from 42 up to 84 in.) and are offered with two discharge options — side and rear. Side discharge is the most common, however, rear is gaining popularity with landscapers hoping to contain clippings and limit cleaning out surrounding areas.
"The tapered rear discharge of the Land Pride models direct debris toward the ground eliminating the need for chains and provides a more even distribution of clippings," says Dee Warren, Land Pride's marketing manager. "Rear discharge disperses the clippings across the entire width directly behind the mower. The 3-point models are also typically easier to hook and unhook. The cut is as good as a zero turn but allows for the versatility of a compact utility tractor instead of a dedicated mower."
Tip #2: Maintain Your Mower (and Tractor)
Like any attachment, both mid-mount and rear-mount mowers need some TLC to stay productive.
"These mowers will last for many years with proper maintenance and care," says Warren. "Keep them clean — caked-on grass or grass and debris on the deck can hold moisture and cause rust that will shorten the life of the deck."
You should always start with the tractor and attachment's operator manuals. John Deere is also looking to simply tractor maintenance through its new Smart Connector and TractorPlus App for compact utility tractors.
"The Smart Connector establishes a connection between tractor and smartphone via Bluetooth technology for easy access to tractor information, like service intervals, diagnostic codes, fuel level, engine hours and maintenance information," says Davey. "The TractorPlus App provides owners with convenient access to key parts of their operator's manual, parts diagrams and more. Owners can also keep track of maintenance and service intervals for optimal machine performance and see diagnostic codes in an easy-to-read list."
Tip #3 Operate Safely
Prior to operating any machine, it is always important to read the operator's manual and follow the directions outlined by the manufacturer. Warren offers some safety pointers.
"Safety should always be your first thought," he says. "Wear a seatbelt — the rollover protective structure (ROPS) on the tractor cannot protect you if you are not on the tractor. Make sure the area is free of debris that could become a thrown object. If the operator is mowing a new area, inspect it before mowing. It's also good practice to keep others away from areas where mowing is being done. If any safety shields are missing or damaged, replace them — they are there for not only your safety, but the safety of others."
Easy Install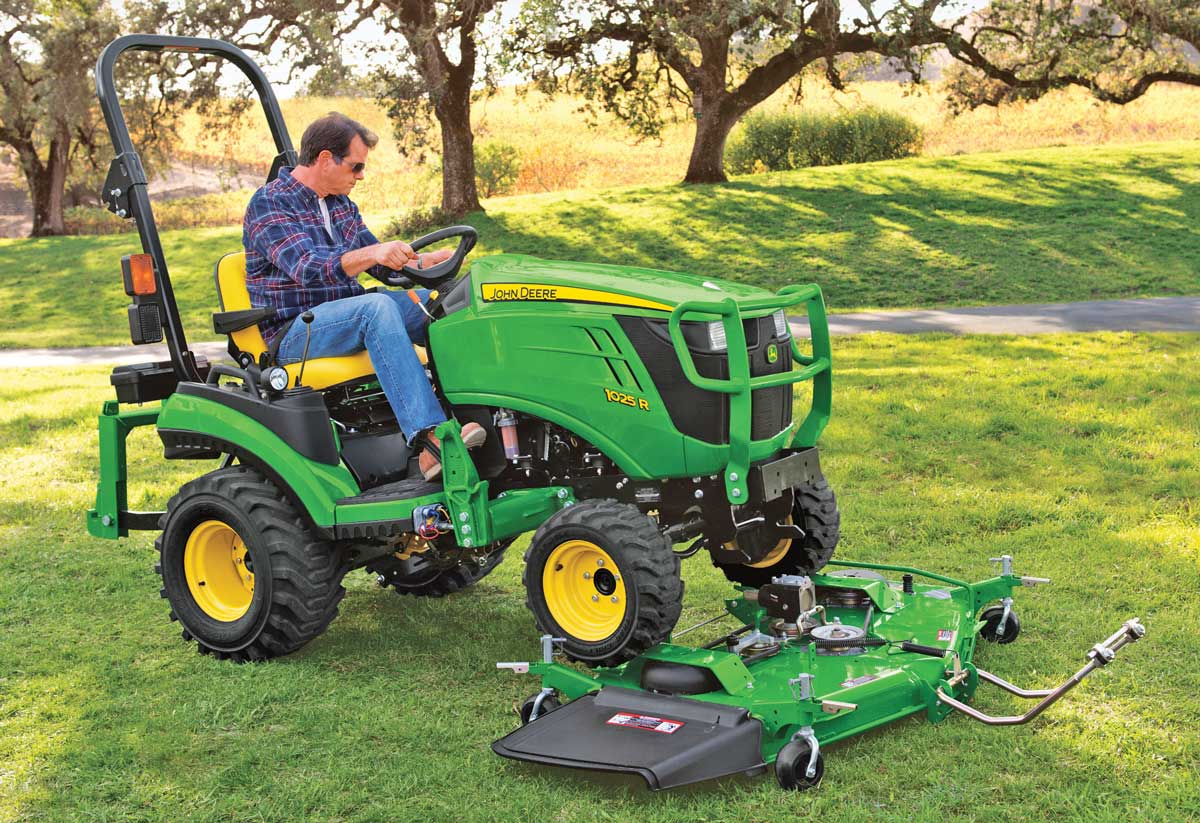 Given the placement of a mid-mount mower, one disadvantage of some models may be putting the deck on and off since that task often requires the operator to be on the ground and reaching under the tractor. However, John Deere remedied that issue with the introduction of its Autoconnect mid-mount mower decks.
"The Autoconnect mid-mount mower decks are a key differentiator and advantage for John Deere," says Mark Davey, John Deere's go-to-market manager for compact utility tractors. "With this application, you can drive over the mower deck and easily connect the tractor to the deck without leaving the driver's seat — a feature that is a prime example of creating customer efficiency. If you also have loader work tasks, it's easy to disconnect and drive back off the mower deck to quickly remove it."
Pam Kleineke is managing editor of Compact Equipment.
Tags:
Kubota
,
Land Pride
,
October 2021 Print Issue