Utility tractors can trace their lineage back to the 19th century. These early "traction engines," designed for ag applications with a primitive quick-hitch at the rear that could quickly accommodate a wide range of farming implements, proved to be so durable and versatile, contractors wasted no time putting them to work on jobsites as the Industrial Age dawned in America. The machines proved to be so successful that, by the middle of the 20th century, prominent OEMs from John Deere to Case were offering trade-specific versions of these ag tractors, optimized for a variety of jobsite working conditions and users.
These utility tractors went through a steady progression of upgrades and enhancements as technology and ergonomics improved, moving to wider-stance wheel configurations for better stability, improved operator stations, increased versatility via attachments and ever-more powerful PTO, engine and hydraulic systems. Eventually, OEMs began to make versions of compact utility tractors to fill a wide variety of application niches from cattle ranches to supply yards. Honoring that rich tradition, let's see how utility tractors are trending today.
If You're in the Market…
Contractors today use compact utility tractors in a bewildering array of tasks on jobsites. "The evolution of technology on small utility tractors has allowed operators to become even more productive over the past several years," says Mark Davey, go-to-market manager for compact utility tractors at John Deere. "Now more than ever, units are delivering the high performance that customers demand, in an even more compact and easy-to-use package."
Earning the badge "utility," these do-everything tractors can be used for a variety of projects, making them versatile options across various industries including lawn care, landscaping, farming, snow removal, dirt removal, livestock maintenance, food plots and ever onward.
"Construction and other trade professionals are increasingly viewing tractors as not just a machine built for use on a farm, but also as a get-it-all-done workhorse with unmatched versatility," says Joel Hicks, product development manager at Kioti Tractor. "From clearing up around a construction site or hauling materials to mowing, gardening or landscaping, the tasks professionals can accomplish with a small utility tractor are nearly endless."
Hicks says the demand Kioti Tractor has seen over the past couple of years reflects a clear need for compact tractors across several industries. "With versatility in mind, we developed the Kioti CX Series tractors, with a new model, the CX2510 CH, to release this year," he says. "The CX Series is built for pros who seek the power, efficiency, adaptability and maneuverability needed for a variety of jobs."
Post Hole Diggers
Need to dig a precise hole quickly? Fit your utility tractor with an auger or post hole digger and install mailboxes, signs, trees or deck or shed footings. Augers come in various sizes depending on your tractor's horsepower. The smallest units, designed for sub-compact tractors, can feature an auger that is a mere 30 in. in length to help with the maneuvering of a smaller tractor. Post hole diggers can be three-point mounted or bucket-mounted. The bucket-mounted unit runs off the tractor's hydraulics so adequate flow is required. Auger options for most diggers typically range from 6 to 18 in. Tree augers can range from 24 to 36 in. Rock augers, designed to bore through rocks and hard sediment, are available in 6-, 9- and 12-in. diameters. The length of standard augers is 48 in. Typical pricing on a quality post hole digger from a reputable manufacturer will start at around $1,000, slightly less for the sub-compact model, and go up to about $2,000-plus for a big three-point model. Auger bits are extra and range from $250 to $700 depending on size.
Choosing the right utility tractor involves a similar variety of choices: size, weight, power, transmission, attachments, operator station, PTO, tires and way more. Just considering transmission systems, buyers can option out a gear, power shuttle, hydrostatic or CTV. Just considering gear transmissions alone, buyers can choose between sliding gear, collar shift, synchro or power shift. The point is there are tons of options (too many to list in this article). High-tech attachment systems, cab environments, impressive warranties, automated operational features and connection to the cloud are changing the experience of owning and operating a utility tractor, which we'll randomly categorize as units 75 PTO hp and below.
Since these tractors are often purchased by owner/operators, they tend to be increasingly spec'd out. According to Matthew Carrigan, Kubota product marketing specialist for the company's BX-MX Series, the new L3560HSTC-LE tractor is a great example of how these machines are used today.
"We launched this tractor last year, based off of needs from the market for an affordable, deluxe cab," Carrigan says. "Since the release of that unit, Kubota has taken notice the customer needs for a tractor that encompasses the quality, comfort and affordability that the L3560HSTC-LE offered. That is where we have added three more units to this L60LE Series to fill these market-driven needs, with various sizes and power options."
Attachments and Maintenance
If versatility is key to a compact utility tractor's effectiveness on a jobsite, then fast-change capabilities for implements, buckets and powered attachments is a critical feature, and one that OEMs have really focused on.
"New attachments and implements are constantly being developed that add to the list of tasks a utility tractor can accomplish," Hicks says. "What this means for professionals is that versatile utility tractors purchased now will only become even more useful in the years ahead. And when you take care of your tractor to extend its lifespan, you'll be hard-pressed to find another machine that provides more value than a utility tractor."
Mowers, soil cultivators, backhoes, brooms, snow blowers, seeders, blades and buckets are powered off the tractor's power take-off attachment system (PTO) or via a hydraulic system or kit that runs hydraulic implements (like a backhoe).
"Attachments can be instrumental in making a unit more versatile," says Davey with Deere. "That's why we have built our compact utility tractors with great features like Drive Over and Auto Connect mid-mount mower decks to make it easy to mow and then remove the deck to do loader work. The same goes for our easy park loaders. With the addition of a single point hydraulic coupler, removing a loader has never been quicker or easier."
Ease is being matched with automation. Last year, John Deere announced the launch of the Mechanical Self-Leveling Loader (MSL) as an attachment option for the small tractor lineup. The MSL system allows the operator to maintain a level bucket or pallet position from the bottom of a lift to the top. This provides increased stability for the materials that are being lifted and reduces the potential for materials to fall back toward the tractor. In addition, MSL loaders provide an increase in lift capacity of up to 40 percent when compared with John Deere's non-self-leveling loaders, so operators can move more with every load.
Compact track loaders are the most popular category of compact equipment in America. Learn why with loads of track loader features right here.
Automation is being matched with cloud connectivity. Davey says tractor maintenance can be even further simplified through the new John Deere Smart Connector and TractorPlus App for compact utility tractors.
"The Smart Connector establishes a connection between tractor and smartphone via Bluetooth technology for easy access to tractor information, like service intervals, diagnostic codes, fuel level, engine hours and maintenance information," he notes. "The TractorPlus App provides owners with convenient access to key parts of their operator's manual, parts diagrams and more."
Carrigan says Kubota also offers a full lineup of Land Pride Performance matched implements to match Kubota's compact tractors in order to meet customer expectations. "Additionally, with Land Pride's three-point quick hitch, attaching and detaching three-point implements is quick and easy, saving you a lot of time and, often times, frustration," he adds. "You combine these different Land Pride Performance matched implements with the different tire options that are offered, there is a various range of work that could be completed with this L60-LE Series."
Building on a timeless design, compact utility tractors have become vital machines that allow contractors to tackle any job that comes their way with a minimum of fuss and maximum efficiency. Given their overall utility and ease of use, it's no wonder this tried-and-true design has done so well as a compact utility machine.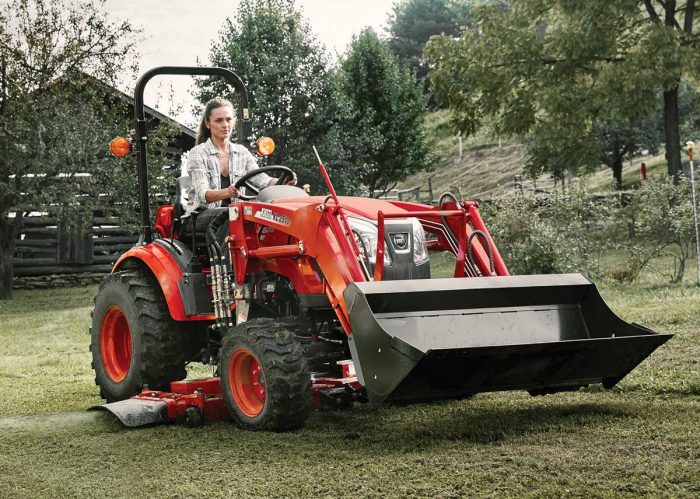 If You're in the Market…
Generally speaking, compact utility tractors are broadly defined. They could be small, subcompacts with just over 20-hp engines utilizing 14 PTO hp to tackle projects around the house — like John Deere's 1 Series. Or, they could be beefy commercial tractors like John Deere's 4066M Heavy Duty, sporting 65.9 engine hp and 52 PTO hp, designed for poultry houses and cattle operations. Regardless of size, amenities seem to be the sweet spot.
While many feature open-air operating stations, new cab options, with comfortable seating, air conditioning and heat as well as other amenities are gaining in popularity as more and more contractors — particularly company owners who still work on jobsites — stay on the machines throughout a workday. Building on that trend, Carrigan says Kubota's L60LE Series boasts a wide range of deluxe features and functions to reduce fatigue and maintain productivity.
Daily Maintenance: This Five-Minute Walk-Around Will Keep Downtime at Bay
Check for any loose bolts and hose connections, frayed hoses or oil leaks, and make sure the tires are properly inflated.
Clean out the radiator screen and air filter with a
low-pressure air hose.
Check the oil and, if necessary, top it off.
Grease the loader (if you have one).
Finally, make sure you use clean fuel. Debris or water in the fuel can damage your fuel system and even the engine.
"With reduced noise and vibration levels, and equipped with the advanced HST Plus Transmission, deluxe high-back suspension seat with armrests and large, spacious operator station, you can rest assured that comfort and productivity comes first," Carrigan says "Any operator, no matter the experience level, can look and feel like an operator as units are packed with many advanced features such as Auto Throttle Advance, Stall Guard, Hydraulic Dual Speed and HST Response Control."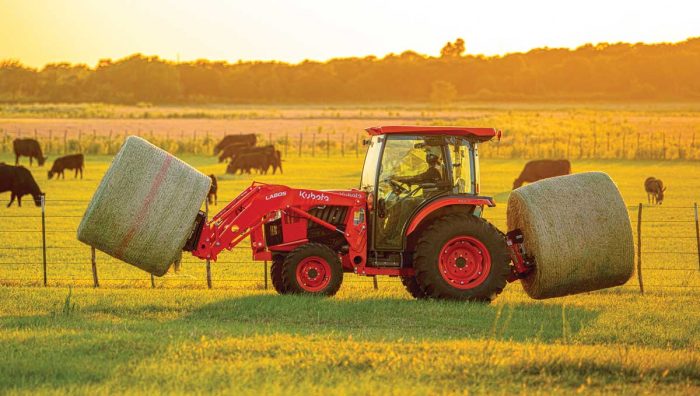 "The small utility tractor market is constantly evolving to meet the needs of its expanding customer base," agrees Hicks. "Given their rising popularity in regions across the country, utility tractors with factory-installed cabs or a field cab option to allow for a comfortable work environment are becoming more popular."
There are so many options, where do you start?
"When determining the best model and potential attachments for your needs, there are several key things to consider," advises Davey. "First, what type of property are you working on? The size and terrain of this property will determine the appropriate model needed. Second, determine what type of work you will be doing. Units will vary across industries such as construction vs. landscaping. This will help to identify the right engine horsepower and hitch lift capacity for the tasks you are tackling on a daily basis. More likely than not, your property size, type of terrain and expected usage will determine a specific type of compact utility tractor that is right for you or your business."
Jack Roberts is a freelance writer for Compact Equipment.