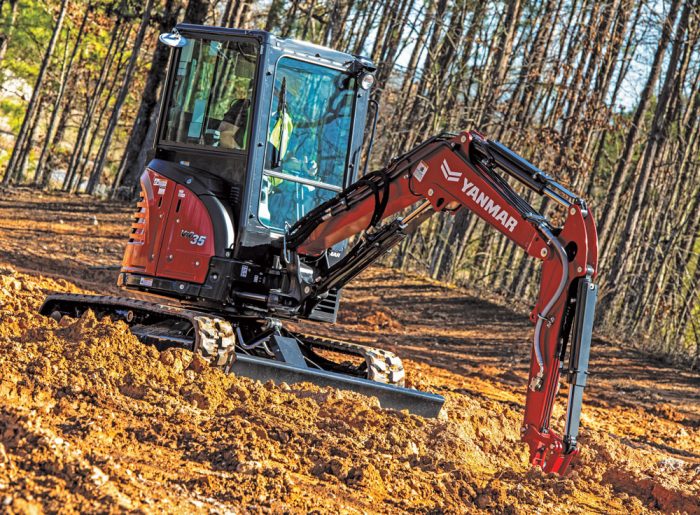 Editor's Note: The 2023 version of this story is right here, but this version is nearly as useful. Enjoy either way!
Excavators are cool. My three-year-old son has confirmed this. He screams every time he sees one, and he screams a lot. Small attachment-taking excavators specifically are one of the hottest markets in off-highway construction machinery right now (sales in the United States are somewhere between 45,000 and 50,000 units), which is why we see them on every corner, which is why my days are filled with audible excavator alerts.
"It seems like everybody wants a mini hydraulic excavator these days, which is driving growth in all segments. It's become the go-to tool," confirms Greg Worley, product application specialist with Caterpillar. "I do not see any segments declining anytime soon." A lot of manufacturers agree. Compact excavators are so popular that around 20 major brands are selling them in America, from Bobcat and John Deere to Takeuchi and Sany, offering a crazy array of models. Consider Cat's mini hydraulic excavator range alone has 15 units, and you'll begin to wonder where to start. Continue reading.
This feature will be one of the most comprehensive overviews of the U.S. mini excavator market in 2021: detailing size and tech trends; describing the manufacturers, popular machines and product differentiators; outlining options and attachments; and dispensing buying and renting advice from eight experts in the industry (including myself). It should be a great refresher for old pros and the perfect primer for new kids on the block.
30,000-ft View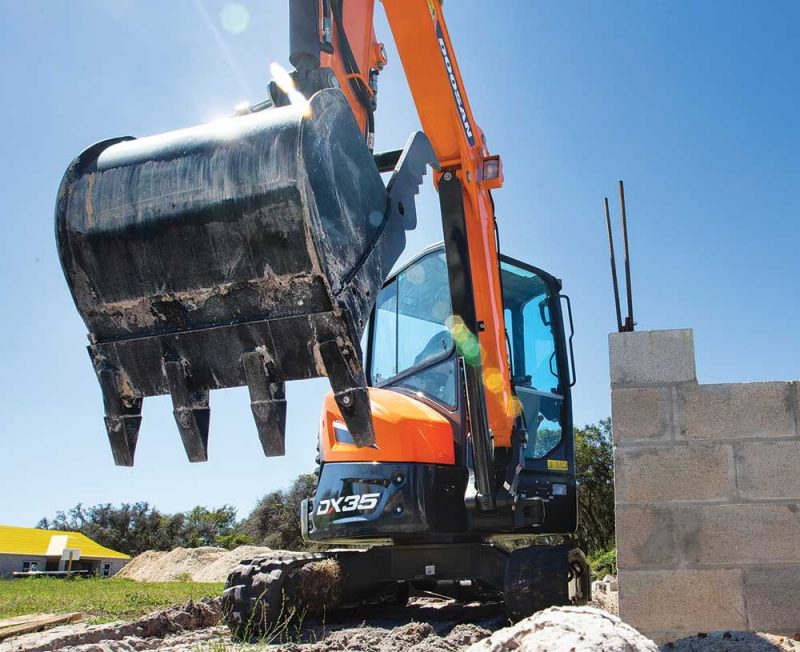 Defined as excavators under 6 metric tons of operating weight (some brands go as high as 10 tons), compact excavators look just like their big dig counterparts — undercarriage, tracks, cab, boom, bucket, attachment, engine, onward. For some basic definers, compact excavators have dig depths between 5 and 20 ft, cabs or ROPS operating stations, various tail swing configs, the ability to use attachments and diesel engines ranging from 13 to 70+ hp. Most capitalize on rubber track undercarriages that are great for navigating terrain with high flotation and a light footprint, fitting into cramped worksites to A) give precise and powerful dig performance, B) wield attachments like thumbs, grapples and brush cutters or C) all of the above and more.
"As mini excavator popularity has soared during the past 30 years, the machine's versatility has also increased," explains Aaron Kleingartner, product and dealer marketing manager at Doosan Infracore North America LLC. "Customers today often purchase more than one attachment to increase the machine's utilization. Owners can add a hydraulic thumb to a bucket and easily grab and lift objects. Other popular hydraulic attachments include augers, breakers and grapples."
One of the best parts of small equipment is the variety of attachments. From buckets and breakers to mowers and plows, click here to see what's out there.
Attachments have made these units increasingly attractive, especially on rental lots, appealing to a variety of different contractors. Applications range from digging basements and trenching service lines to augering holes for trees and grappling obscenely big rocks. The competition is fierce on the OEM side with many players in the market — Bobcat, Case, Caterpillar, Doosan, Hitachi, Hyundai, IHI, JCB, John Deere, Kobelco, Komatsu, Kubota, Liugong, New Holland, Sany, Takeuchi, Volvo, Wacker Neuson, Yanmar and very likely other brands that have failed to get my attention. Which units are the most popular?
"Anything between 3 and 4 tons is the hotspot," explains Brad Mace, product manager for compact excavators and forklifts at Case Construction Equipment. "Machines in that size class offer a manageable operating weight and footprint, while providing lifting and digging capacities that are comparable to larger excavators. That's also the size class where you'll really start to see cabs with heat and AC, Bluetooth radios and all the adjustable seats and ergonomic joysticks with proportional controls."
The 5- to 6-metric-ton class is also growing quickly (attractive because of their step up in volume and capability to run bigger and more varied attachments). "Our Next Gen 306CR is very popular at the moment, and until this past year we had never had a true 6-ton model," said Worley. Unit sales overall continue to grow. As noted in previous features, U.S. compact excavator sales in 2019 were about 46,000 units compared to 42,800 units in 2018.
"It's hard to forecast the year ahead, but we predict that in the industry there could be more than 50,000 units in North America alone," says Justin Steger, solutions marketing manager of site development and underground at John Deere. One of the major drivers of this increase is the volume of mini units heading right into national, regional and local rental fleets. Homebuilding is also aggressively pushing sales of excavators for varying trades.
"I believe the 2021 compact excavator market will see continued growth in residential construction, landscaping, rental and utility applications," says Patrick Baker, Kubota product manager for construction equipment. "I do not foresee any market decline but possibly watching trends level out. 2020 was a record year and 2021 may see some of those spikes come back to earth."
Know Your Numbers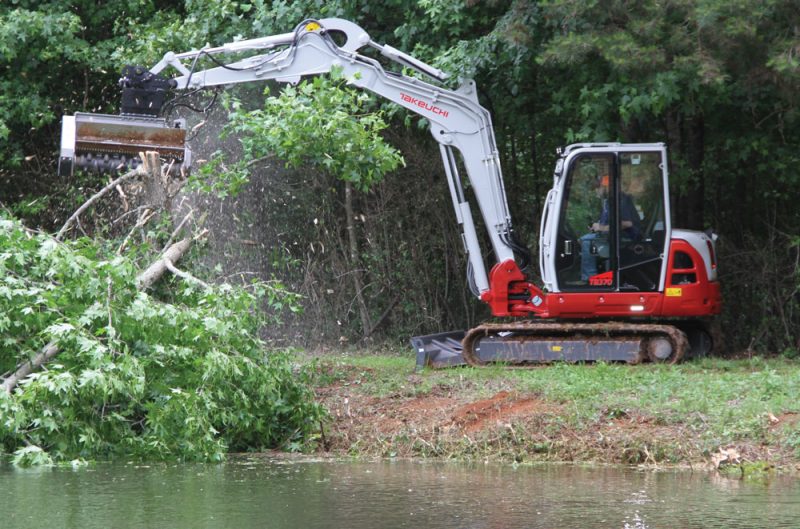 Specs and project figures are important steps in narrowing down a search. Most applications for compact excavators are project-based, so what will the dig depth of the job be and what are the installation specs of the product (drainage pipe, tree transplants, coffins)? Also: "Determine the amount of material you are going to be moving and the time frame you need to move it in," advises Keith Kramlich, national product and training manager with Takeuchi-US. "Then, match those measurements to a machine by determining the capability of the machine."
If a crew is utilizing an attachment (say, breaker or grapple), properly match the size and hydraulic power of the implement to the job and the host unit and prepare that host unit for that specific attachment work (say, proper guarding for hammering or a tiltrotator coupler for a grapple app). Consider that the attachment is sometimes chosen before the machine.
"If you're breaking up concrete, you need to determine what size breaker you need before determining what size machine you will need," says Kramlich. "You will need a machine that is spec'd for that size breaker. Mulching trees or cutting brush, you will need an excavator with high-flow auxiliary circuits. To move rocks or concrete, you will need an excavator with an auxiliary circuit so you can operate a grapple or thumb."
Popular mini ex specs include operating weight, dig depth, bucket breakout/digging force and maximum reach. To give some perspective: Bobcat's micro E10 excavator, engineered with a retractable undercarriage to operate in backyards and indoors, has an operating weight of 2,593 lbs, max dig depth of 6 ft and bucket digging force of 1,865 lbf. Bobcat's large but still compact E85, ideal for dirt work with precision automation, sports an operating weight of 18,977 lbs, max dig depth of 15.5 ft and bucket digging force of 16,269 lbf. That is quite a range.
"Breakout force, dig depth and auxiliary flow are the important features when matching a compact excavator to an application," says Erik Coyle, product specialist with Yanmar. "Remember to also match attachments with the auxiliary performance of the machine. Never match an attachment based on machine weight. Additionally, if a customer is concerned about obtaining a commercial driver's license [CDL], which is required for pulling loads of more than 10,000 lbs, they could choose a lighter model that would exempt the CDL requirement. Yanmar provides five excavators under 10,000 lbs."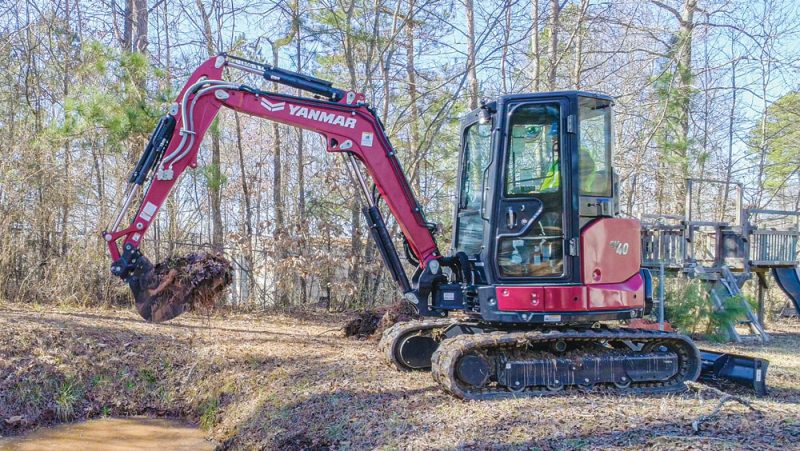 Customers will need to know the weight of the machine for applications and towing purposes. Machine dimensions are another factor. If you're a contractor working in backyards with tight access points, height, width, reach and swing will need to be calculated and perhaps a zero tail swing model will be required (more on that later). If you're planning on using attachments, oil flow should be another point of consideration. Auxiliary hydraulic power to the implement is measured in gallons per minute (gpm) and pressure (psi), and each excavator will have max gpm and psi. On the high end, a unit like Cat's 309.CR boasts high-flow hydraulics to the attachment up to 37 gpm at 4,134 psi to run serious implements like brush cutters and hammers.
"Attachments create versatility for the machine and can allow for the opportunity to get more done quicker, using hydraulic couplers, tilt couplers, thumbs, mowers and mulchers," explains Worley. "Mainly customers require the most powerful mini excavator possible, in the smallest package possible, that meets their requirements for reach, dig depth, weight, width and transportation"
Cab and Tech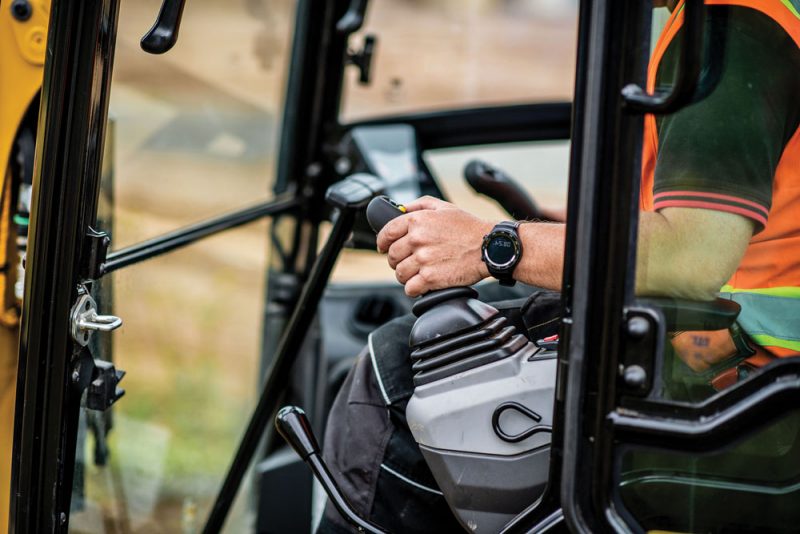 The operator station of a compact excavator has come a long way, and today they are especially customizable — for long days, short rents and specific applications. Do you want an enclosed cab with heat and air conditioning or is an open-air roll over protection system (ROPS) just fine? "Newer mini excavators are designed with larger cabs and offer deluxe adjustable seats to improve comfort for all day work," says Kleingartner.
First, that seat. A vinyl or cloth suspension seat with lumbar support and limitless adaptability will immediately enhance comfort and probably production. You can get that seat heated too. The overall size of the cab is important, including the door opening, shoulder room and foot and floor space. Check for ample storage. Work the ergonomic controls, adjustable wrist rests, adjustable windows, windshields and automotive-style climate controls. Ensure that switching from pilot controls to traditional backhoe configurations (ISO to SAE) is simple. This writer is old and prefers backhoe pattern. Also, a radio with Bluetooth technology can enhance an operator's groove.
From the cab, explore how the machine sounds and travels. Does the unit have a solid construction that absorbs vibration? How loud is it? Does it have an auto idle or eco mode feature to automatically rev down, lower noise and save fuel costs? How does it travel? Mini excavators can move pretty slowly, so some manufacturers offer innovative travel tech. Case boasts its Auto-Shift travel system for varying terrain.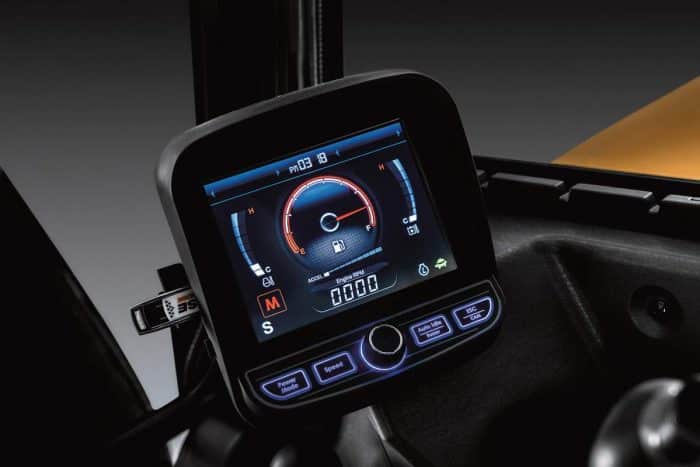 "Cat's No. 1 differentiator in our Next Gen range is Stick Steer," explains Worley. "This cruise control feature will allow you to operate the excavator like a skid steer with travel in the right joystick and the blade functions in the left hand."
LCD touchscreen digital displays are now the command centers for the most high-tech excavators. Through these sophisticated control panels, operators and mechanics can access machine maintenance vitals, service manuals and security and language protocols. Operators can access the pattern changer or hydraulic quick-coupler with the push of a digital button. Attachment automation features are also available, often via these digital displays. Adjustable auxiliary attachment flow or continuous flow can be dialed in precisely from the command center. Dual-direction detent provides more functionality for using different attachments.
"Kubota even offers new technology features like keyless start and a backup camera on the -5 excavators," says Baker.
Grade control automation systems are more widely available on small excavators in 2021, installed at the factory or through aftermarket OEMs like Trimble and Topcon. Grade control systems help operators dig precisely, measuring the position of the bucket and boom and controlling certain parameters set by the operator (depth, slope, elevation control) or even using a 3D model to dig and sculpt. Applications such as trenching for footings, grading ditches or digging out basements might require a consistent grade, sustained slope or precise design.
"1D and 2D grade control solutions are becoming very popular with mini excavators," says Mace. "These solutions have become more and more readily available to business owners, and the lower price-point on these systems has also significantly lowered any perceived barrier to entry for machine control technologies. These systems are very easy to use and require less manpower on the jobsite. It's as simple as setting the laser, setting the sensor and the operator is hitting grade every time — without the need for another guy down in a trench taking measurements."
Not exactly in the cab, but telematics is another feature that excavator owners are adding for a monthly fee or often getting for free for the first couple of years of ownership. Telematics is an umbrella term for a variety of technologies and services that monitor a unit, collecting and sharing digital data on everything from systems analysis (think maintenance) to location (think theft). A telematics monitoring device would be installed on the unit or multiple units, and vested parties would be able to monitor those machines via smart devices like a computer, phone or tablet.
"Telematics is another technology definitely pushing manufacturers to evolve," says Coyle. "Owners want better visibility of their machines in the field. This technology offers them the ability to monitor productivity, maintenance and location through geofencing. Yanmar is proud to offer our SmartAssist Remote telematics solution free for the first five years of ownership for the VIO25-6A through the SV100-2A."
What Are Some Popular Mini Ex Units?
Yanmar's VIO35-6A is a favorite among customers. The true zero tail swing, eco-mode and auto-decel features make it ideal for residential work. It also comes standard with Yanmar's patented quick-coupler and best-in-class, four-year/4,000-hour warranty.
John Deere's 30G and the 35G offers customers a variety of machine options to suit their needs. Dig depth, operating weight, easy of transport and options from long arms to suspension seats are some of the key factors customers consider when choosing the 30G and 35G.
Doosan's DX35-5 is a zero tail swing model that's ideal for construction and landscaping projects that require a compact machine that has a dig depth up to 10 ft, 2 in. The 33.5-hp mini is available with an optional long arm, adding dig depth, reach and less repositioning.
Case's CX37C is its best-selling model. With bucket digging forces of 6,900 lbf, a dig depth of over 10 ft and an operating weight of 8,300 lbs, it delivers the greatest power and performance of any Case mini that can still be towed behind a 1/2-ton pickup truck without a CDL.
Cat's Next Gen 306CR is a popular model at the moment. Featuring a fuel-efficient engine, heavy-duty structures, load-sensing hydraulics and exclusive Cat Stick Steer system, the 306CR elevates performance with its leading lift of up to 7,839 lbs at a 9.8-ft radius.
Takeuchi's ultra-popular TB240 comes in both canopy and cab versions. This model is popular for rental due to its lightweight but powerful design which allows for easy transportation while maintaining maximum productivity. It's easy to use, service and maintain.
Kubota's KX040-4 is its most popular digger, combing exceptional strength with premium comfort. Available in a canopy or cab, the KX040-4 has a 6-in-1 dozer blade offering. Operators will also find easy one-sided maintenance, a spacious cab and proven hydraulic performance.
Tail Swing, Counterweights and Backfill Blades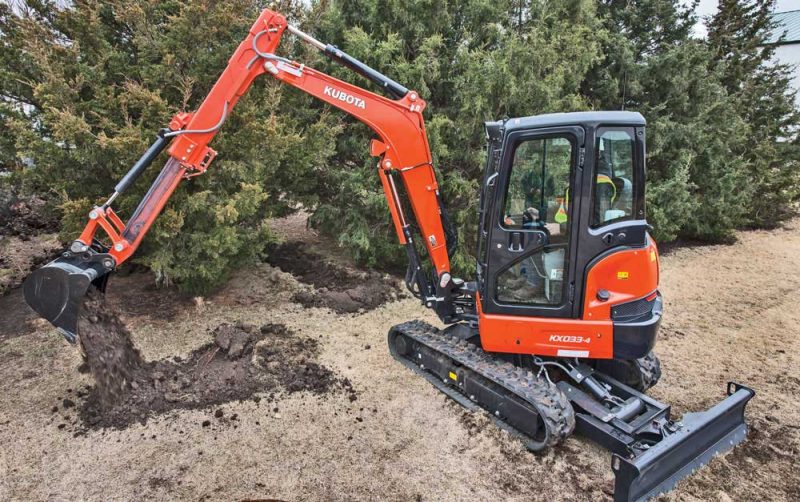 Compact excavators are designed to work in tight quarters — next to a house or busy lane of traffic. With this in mind, manufacturers offer three main tail swing configurations. Zero tail swing means that the counterweight does not extend past the outside of the crawler track pads when the machine is swung over the side. Minimal tail swing usually means, under the same condition, the counterweight might extend a few inches outside the width of the lower track pads. Third, there are conventional tail swing machines where the rear of the machine extends over the track width.
"Kubota's excavator lineup features both a reduced tail swing and conventional tail swing model offering from the 2-ton weight category up to the 6-ton weight category," says Baker. "The availability of both reduced and conventional tail swing models gives owners and operators a unique flexibility to find the perfect excavator for the job."
Attached to the undercarriage frame, a backfill blade is an important part of the compact excavator's arsenal. The blade is used to backfill spoils into a trench, grade material, add stability while digging and help prop up a unit for undercarriage work. There are some unique backfill blade options out there. Blades can come in simple push configurations or angle versions. Blades on the smallest micro units will have the ability to fold in with a retractable undercarriage. There are also four-way and six-way angle backfill blades on bigger, higher-end units.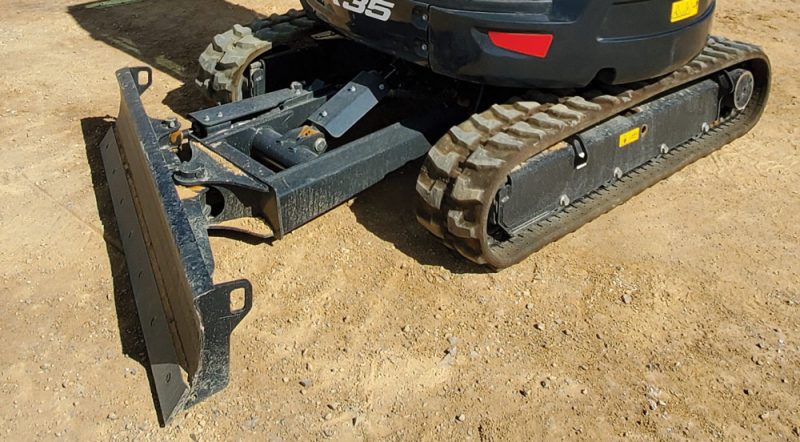 "An angle blade option is available for the DX35-5, DX42-5K and DX50-5K," notes Kleingartner. "This popular option allows the mini excavator operator to backfill trenches with more accuracy than a standard dozer blade. Operators can angle the backfill blade 25 degrees left or right. They can push spoil from one side of the blade to the other without forming windrows on both sides of the dozer blade."
Varying counterweights can also be added to the rear of a mini excavator, adding stability for lifting and digging.
Rental Rules!
"Yanmar projects continued growth in the rental market. Cost of ownership, which includes initial purchase, routine maintenance and concerns of depreciation, lead some customers to prefer rental, long-term rental and leasing options. The rise of do-it-yourselfers in the mini excavator market means that many users only need the equipment for a limited time which doesn't always justify a machine purchase. Contractors with occasional equipment needs also appreciate rental options." — Erik Coyle, Yanmar product specialist.
Hydraulics and Attachments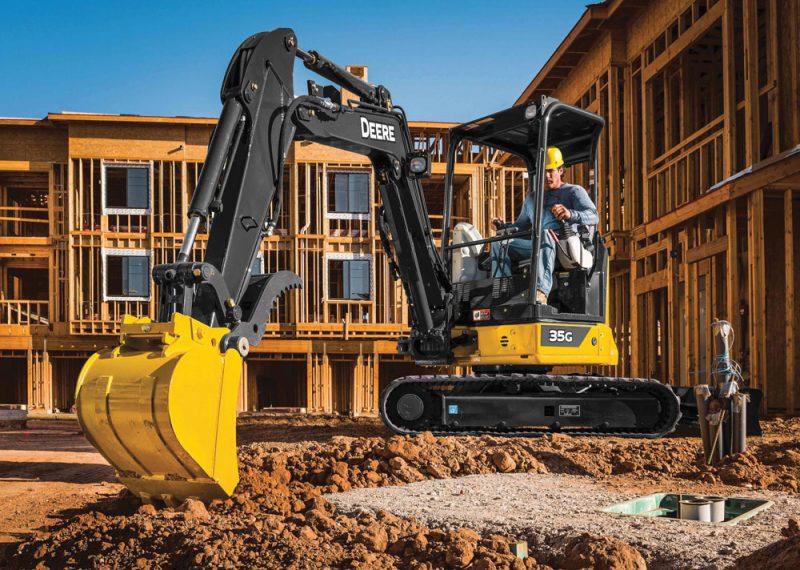 Compact excavators are made powerful from the gallons of fluid coursing through their hydraulic veins. Using up to four pumps, mini excavators use pressurized oil to propel tracks, swing the house, move the boom, run attachments and basically move the machine. Hydraulic efficiency has been a big concentration point for manufacturers. Efficiency is a result of improved system designs that are capable of higher pressure, increased cooling and optimized use of the available oil flow. An example of the latter…
"Over the last few years, we have seen selector valves for auxiliary hydraulics become popular in the industry," says Steger. "John Deere offers these selector valves, which are mounted to the arm of the machine, as a standard feature on our equipment. This allows a machine with a hydraulic thumb to also use other auxiliary hydraulic-powered attachments without the need to connect and disconnect auxiliary hydraulic hoses. All the operator needs to do is simply turn the valve to select where to route the hydraulic fluid, attachment or thumb, and that's all, getting them back to work sooner."
"On our larger C Series models you'll find easy-to-use settings that allow the operator to set presets for hydraulic flow rates to match with certain attachments, and you can switch them with the push of a button," explains Mace. "So, one preset could be configured to match with a hydraulic hammer, and another could be set for a lower flow rate to match with a plate compactor."
As mentioned, a mini excavator's auxilary hydraulic system specifications — gpm and psi — will help determine the size and power of attachments available. Depending on the excavator model, attachments range from buckets and rock wheels to augers and thumbs. In order to run attachments like augers and grapples, excavators can be plumbed with two-way hydraulics and/or equipped with a diverter or selector valve. Inside the cab, operators can control flow exactly.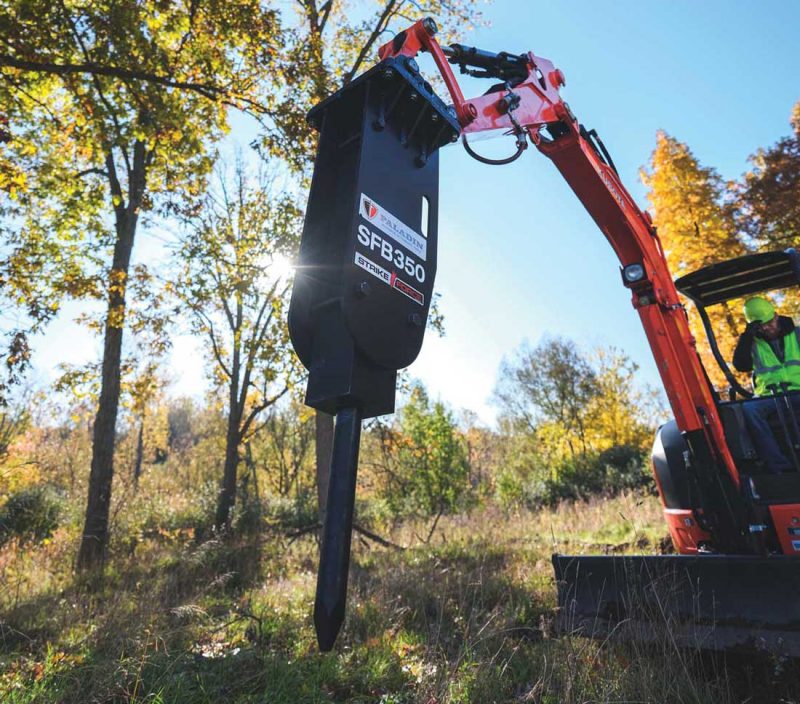 Buckets are obviously enormously popular, ranging from general-purpose and heavy-duty to ditching and rock buckets. Thumbs and grapples are ultra-popular for picking up loose materials such as scrap, waste and brush. Quick-couplers and tiltrotators have been growing in acceptance — the former for quickly and safely changing attachments from the cab and the latter for the ability to spin the attachment (like a bucket or grapple) for precise, angled applications.
"Another growing market for excavators is land and vegetation management," says Kramlich. "Excavators are fitted with mulchers and mowers that are used to control dead vegetation, overgrowth and right of ways to reduce the risk of fire and to keep right of ways open and accessible for utilities."
Long Arms or Extendable Booms
Reach is ever important for compact excavators that also take attachments like grapples and thumbs to move and place objects. There are specific compact excavators that can come with a long arm option or extendable or telescoping boom option to give extra reach. Long or extendable arm excavators are ideal for contractors in applications where space constraints on site require a very compact machine footprint coupled with increased bucket reach and dig depth, commonly found on larger class machines. Utilizing a long arm reduces the operator's need to reposition the undercarriage, minimizing disruption to established turf and landscape. Long and extendable arms often get matched with a heavier counterweight on the back.
Engines and Electric Variants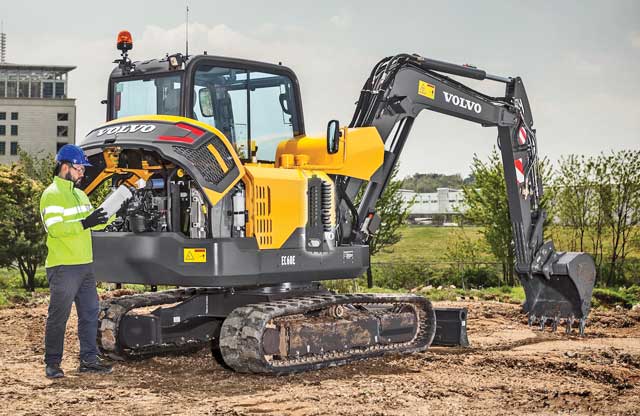 For the most part, off-highway diesel engines power compact excavators, ranging from around 13 to 70+ hp. All newly sold excavator engines will meet EPA's newest standards for off-highway diesel engines known as Tier 4 Final. These diesel power plants are smarter, more complex and cleaner-burning and may include new technologies, maintenance and fluids (but also more advanced features, better fuel efficiency and greater eco-friendliness).
One of the best parts of small equipment is the variety of attachments. From buckets and breakers to mowers and plows, click here to see what's out there.
Many small excavator units rely on emissions-reducing exhaust filters in aftertreatment systems, also known as diesel particulate filters or DPFs, which require periodic cleaning called regeneration. Bigger units require SCR technology, which stands for selective catalytic reduction. It's a Tier 4 Final system aimed at cleaning up emissions too, and it requires the use of an extra liquid (diesel exhaust fluid or DEF) at about 2 percent the ratio of fuel. NOTE: Most compact excavators won't require DEF. In fact, most manufacturers have a mission to stay below a 25-hp threshold on popular units like those 3- to 4-tonners, which allows them to bypass EPA regulations. It's all about downsizing.
"Improved engine technology is creating engines that are smaller but more powerful and efficient than ever before, making it possible for smaller machines to do a wider range of tasks," says Kramlich.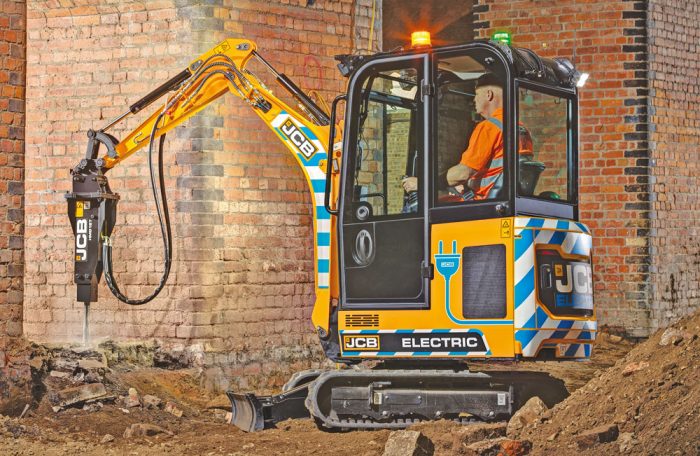 Electric-powered variants are starting to creep into the American market, boasting big upfront price tags but also zero fuel costs (or at least reduced). Bobcat just announced a partnership with Green Machine (an equipment electrification expert) to make electric mini excavators. Takeuchi has worked with Green Machine for years. JCB just announced its electric-powered 19C-1E will be the first e-unit available with a cab. Volvo Construction Equipment has teased an electric mini ex for a couple of years. Of note: There are fully electric mini excavators on the market, utilizing rechargeable lithium-ion batteries to power units for a full eight hours, while others are hybrids. A hybrid would include Cat's 300.9D VPS (Versatile Power System) unit, which in conjunction with a separate hydraulic power unit can work either with its diesel engine or from a remote electrical power source.
Undercarriages, Tracks and Wheels
The compact excavator undercarriage can be broken down into many components and systems. A sprocket is a profiled wheel with teeth that meshes with the compact excavator's tracks. Idler wheels are at the front of the track frame that guides the rubber track. Rollers are metal wheels that are mounted to the top and bottom of the track frame, which support and guide the rubber track between the sprocket and the front idler. There is also a variety of tracks. Owners and operators can choose between aftermarket tracks or OEM tracks, the latter coming from the mini excavator manufacturer. There is usually a budget-friendly alternative aimed at less abrasive applications, and there are always higher-grade options.
Discussion points might include rubber quality, resistance to punctures, cable corrosion, detracking, tread life, vibration, correct sizing and the "carcass." There are also pattern choices, which vary by name and design, but popular patterns include: turf (light footprint); slick surface (traction on snow/wet surfaces); zig-zag (mud); all-terrain (from rocks to mud to lawns); and the C-pattern (a standard OEM tread). There will also be straight rubber tracks (most popular), steel tracks (for bigger diggers in aggressive applications) and hybrids which are a mix of steel and rubber usually with detachable pads.
The smallest units often come with retractable undercarriages, enabling models to shrink and expand their footprint to fit through doors or tight jobsite challenges.
Instead of tracks, wheeled models are also becoming available in America, but they are usually on the larger end of the compact realm, aimed at applications that require roading (competing with backhoe).
Buy or Rent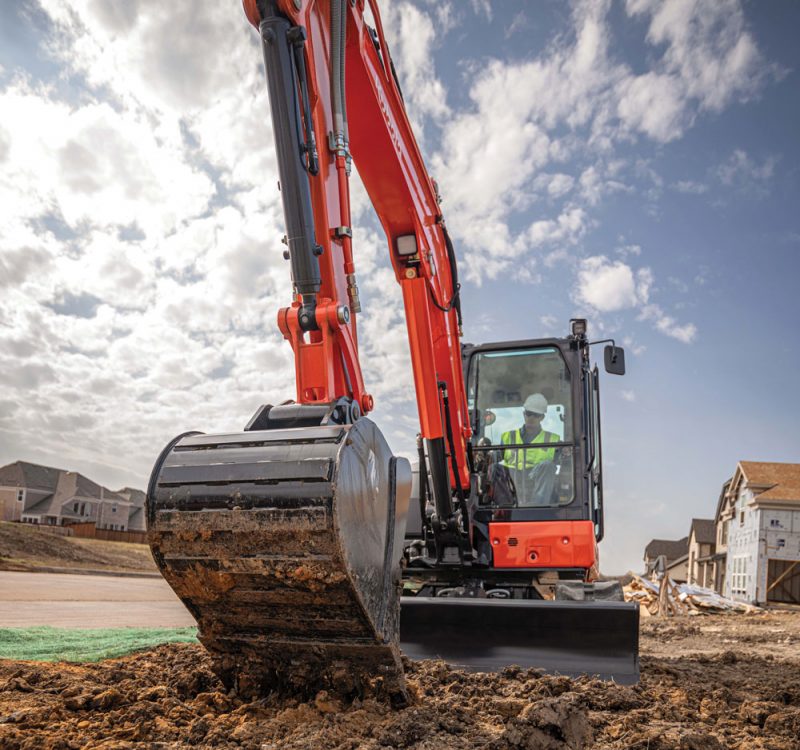 To complement all of this great information, demos will be required. A great way to experience multiple units is to rent machines from local lots, but remember, rental units are usually barebones and often do not have a lot of the high-end features mentioned in this article. Dealers are always happy to let potential buyers run a unit through its paces as well, so take the opportunity. Demo multiple brands and models.
"It all comes down to applications and workload," says Mace. "If a business owner has jobs lined up and can keep the machine busy year-round, then it makes financial sense for them to purchase a machine with the most versatile capabilities that will meet their needs. If they need a mini ex for a one-off trenching or landscaping job, then it makes more sense to rent. You have to consider total cost of ownership, resale value and lots more."
Keith Gribbins is publisher of Compact Equipment.
What Are Some Brand Differentiators?
Kubota excavators feature the world's No. 1 selling compact equipment Kubota engine. The new -5 excavators (U48-5, U55-5 and KX057-5) feature a 7-in. LCD color display, larger cab, optional keyless start, backup camera and air ride suspension seat.
Takeuchi's patented side-to-side shift boom on two model classes (TB257FR/TB280FR) allows full offset digging on both the left and right sides. Also, three full sets of hydraulic auxiliary circuits plumbed to the arm come standard on exs 6 metric tons and up.
Caterpillar's Stick Steer and Cruise Control feature allow operators to move like a skid steer with travel in the right joystick and the blade functions in the left. Also, the Next Gen LCD Monitor is packed with features.
All six of John Deere's G-Series models come standard with mechanical-wear compensating couplers for buckets and attachments, interchangeable with its D-Series buckets. John Deere also uses oil-impregnated bushings in the front joints of the boom, arm and bucket.
Doosan mini excavators come standard with an enclosed cab and air conditioning and heat, which are often an option on other mini excavators. Operators who spend long days in mini excavators are typically less fatigued when they're not exposed.
Case's smallest model (the CX17C) has a retractable undercarriage, variable-width blade, low-profile canopy and bucket digging forces of 3,490 lbf. The CX57C sports best-in-class horsepower for a 6-ton machine.
Yanmar offers its SmartAssist Remote telematics solution free for the first five years of ownership for the VIO25-6A through the SV100-2A. Yanmar offers a standard factory warranty with coverage of four years or 4,000 hours.
Tags:
Bobcat
,
Case
,
Case Construction Equipment
,
Caterpillar
,
Doosan
,
Doosan Infracore North America
,
February 2021 Print Issue
,
home
,
John Deere
,
Kubota
,
Takeuchi-US
,
Yanmar