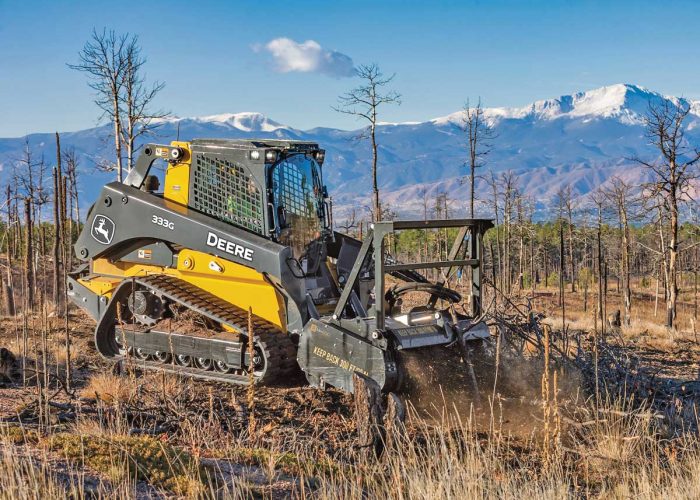 When a property has been allowed to return to a natural state of twisted grasses, thick-barked brush and trees grown well beyond the sapling stage, it might be time to call in some compact equipment fitted with a brush-buster attachment. Equip a mini excavator or compact track loader with the right brush cutter, and contractors can tackle all types of land clearing and land management tasks.
There are numerous types of brush cutters on the compact equipment market. Rotary blade cutters, which are like giant, gnarly lawn mowers, ideal for cutting wild grass, shrubby and saplings up to like 3 in., and then there's the drum mulchers, which use drums (also called rotors) equipped with teeth or knives to blast trees, branches and shrubland to mulch. Drum mulchers are the more powerful units, gaining a lot of popularity lately for their usefulness in land management when paired with a compact track loader (see photo below). Units come with options for the rotors, teeth and more. Drums can range from smooth rotor surfaces with spiral tool patterns (good in deep snow and when ground engagement is desired) to low-profile rotor bars with staggered tool patterns (well known for durability).
When choosing a brush cutter attachment, first consider the size of material. If it is less than 3 in. in diameter and not too dense, then a rotary cutter may do the trick. However, rotary mowers do not mulch up material as well as drum mulchers do, so if you are hoping for a park-like finish you may want the drum version. If the material you need to attack is 4- to 8-in. diameter, then a drum mulcher is your better bet. If there is a significant quantity of 8-in. or above diameter material, you'd likely be best to consider a dedicated forestry mulcher. Here are some options to get your thinking.
John Deere RE40 and RE50 Brush Cutters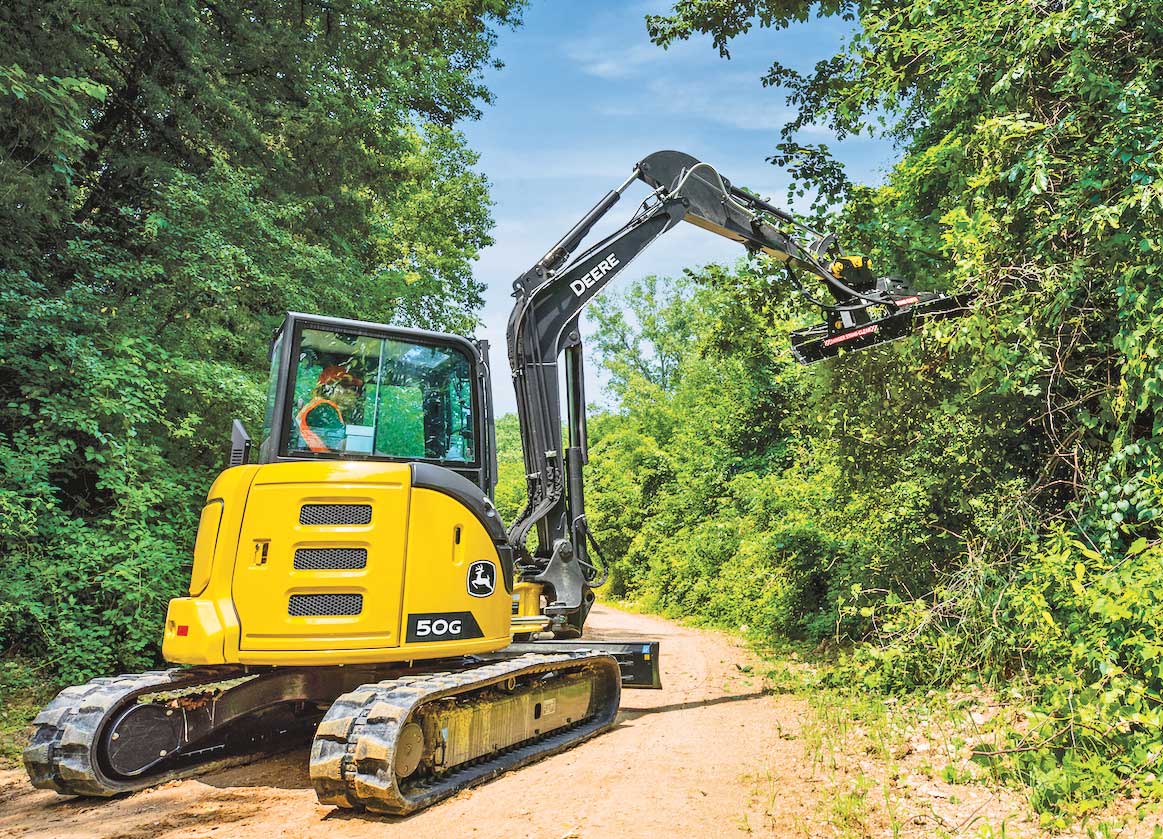 Vegetation management is a hot market right now, and John Deere came prepared with its RE40 and RE50 rotary brush cutters. The RE40 and RE50 brush cutters come equipped with three swinging blades mounted to a blade carrier that can fell and cut material up to 6 in. in diameter. John Deere kept operator safety and efficiency in mind and designed the cutters with a heavy-duty hinged debris shield that retracts when the head is engaged with trees — exposing the blades and allowing for aggressive cuts. Bonus: The blades are reversible and can be flipped over for a fresh cutting edge. These innovative beveled blades can also push material into the head of the cutter, creating fine debris for recycling. For more info, visit johndeere.com.
Fecon's Disc Hawk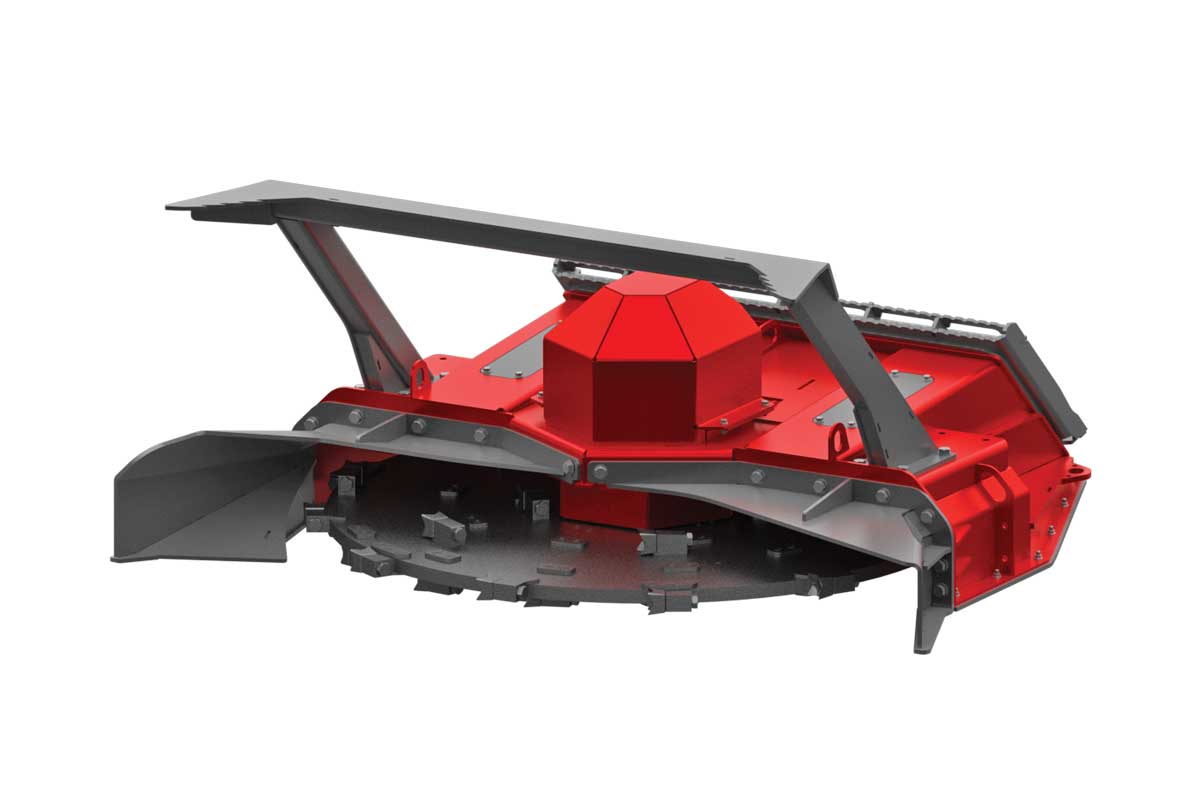 Operators have another tool in their mulching equipment arsenal to efficiently shred forestry and vegetation material with Fecon's new Disc Hawk disc mulcher attachment. Specifically designed for high-flow skid steers and compact track loaders, the attachment increases efficiency where speed and acreage are more important than material size. The disc mulcher boosts productivity with a faster, rougher cut either for first-pass vegetation removal or in instances where maximizing material dispersion without fine chip size is ideal, such as in fire fuel prevention or for agriculture or farm site preparation. With a working width of 60 in., the disc mulcher is purpose-built for 75- to 132-hp skid steers and compact track loaders that operate with as little as 30 to 50 gpm of auxiliary hydraulic flow. At a third of the operating cost of a drum mulcher, the Disc Hawk complements an existing mulching fleet as an ideal high-production alternative for tackling jobs that may not require finely shredded material. For more info, visit fecon.com.
We'd love to keep in touch! Check us out on Facebook, Twitter and LinkedIn!
Takeuchi Closed-Front Rotary Brush Cutters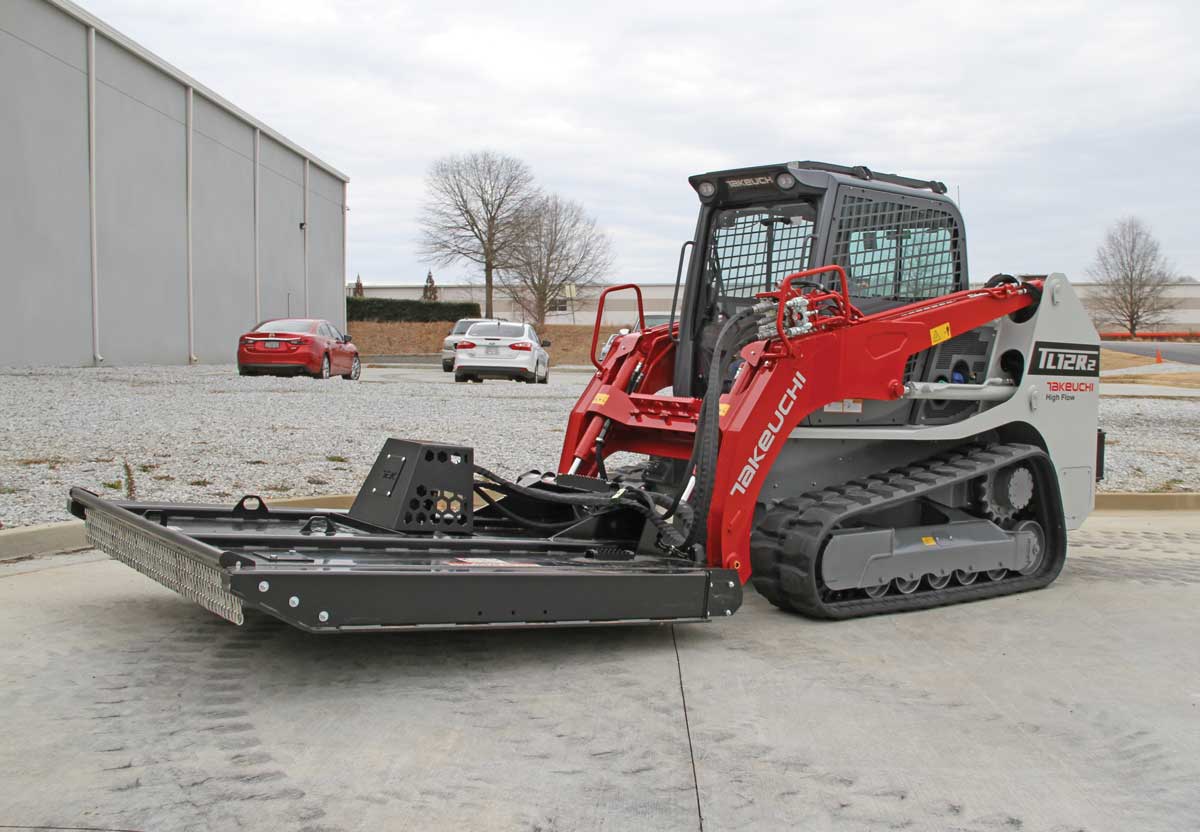 Takeuchi's closed-front rotary brush cutters are designed to effectively and efficiently clear grass, weeds, undergrowth and small trees. Their closed deck produces excellent mulch while keeping debris contained. Three closed-front models are available in 66- to 78-in. cut widths with four motor options ranging from 14 to 25 gpm (standard flow) and 25 to 42 gpm (high flow). Minimum cut height is 1.8 in. with a cutting capacity diameter of 4 in. Under the deck, three 1/2- x 4-in. updraft blades provide efficient cutting and mulching. Blades are mounted to a large, circular flywheel, ensuring the flywheel bounces off stumps rather than catching on them and potentially damaging the brush cutter's components. Dynamic braking stops the 170- to 225-lb flywheel in less than 10 seconds. An optional rear roller features 360-degree rotating swivel casters that produce a better cut by creating a smoother ride with less gouging and scalping. For more info, visit takeuchi-us.com.
As Seen at CONEXPO: FAE BL4/SSL Forestry Mulcher for Track Loaders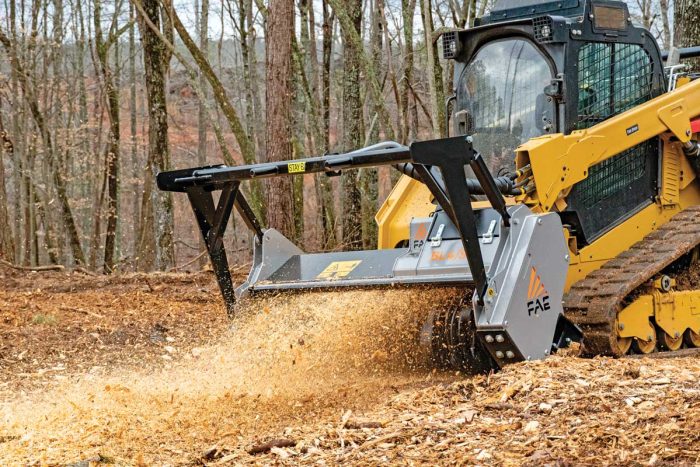 According to FAE, its BL4/SSL forestry mulcher features the most powerful bite limiter system currently available in the market, complete with the new, ultra-high performing BL Max Blade. This head delivers high productivity and shredding capacity in vegetation management and is ideal where the agility and compactness of a skid steer is required. The BL4/SSL is available in a VT version and with FAE's exclusive Sonic technology, which optimizes performance by up to 30 percent and offers easy calibration, setting and monitoring through a dedicated FAE app for smartphones. For skid steers or track loaders from 90 to 135 hp, the BL4/SSL is available in two working widths — 62 and 72 in.— and boasts a 12-in. shredding diameter. For more info, visit fae-group.com.
Diamond Mowers' SK Brush Cutter Pro
Available in a 72-in. cutting width, Diamond Mowers' SK Brush Cutter Pro excels at processing thick grass, small trees, branches and brush. Ideal for maintaining farmland, ranches and recreational properties, it delivers a continuous cut capacity of 3 in. and can slice through materials up to 5 in. in diameter. This versatile attachment for skid steers and compact track loaders boasts four hydraulic motors that optimize blade speed for safe operation and features Diamond's Dual-Hex Cutting Disc. Made to provide greater inertia in harsh conditions, two hardened steel blades swing and break away around rocks to keep operators and bystanders safe while delivering some of the toughest blade retention in the industry. The Brush Cutter Pro has a flow range of 17 to 41 gpm and is intended for five hours of weekly use or about 260 hours of annual use. For more info, visit diamondmowers.com.
Virnig Mini Skid Steer Brush Cutters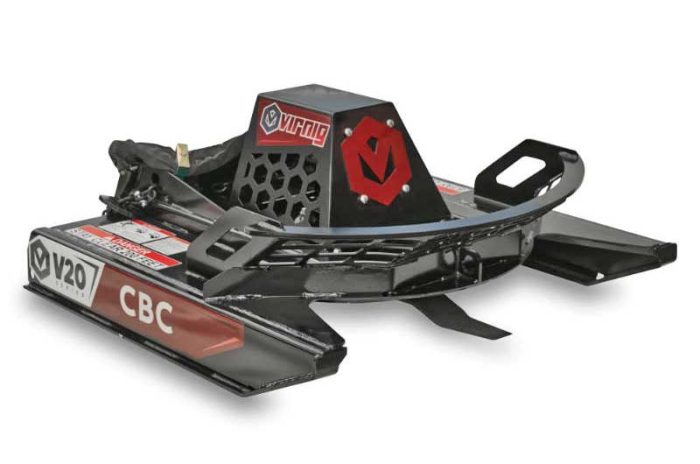 Virnig Mfg.'s new open front and closed front mini skid steer brush cutters are designed to cut down up to 3-in. diameter trees and clear grass and brush for a maintained finish. The mini brush cutters are equipped with three 1/2- x 4-in. updraft blades and a 100- to 150-lb flywheel. The flywheel bounces off stumps rather than catching and damaging components. Available widths include 42 and 48 in. with a direct drive Eaton motor (11 to 18 gpm) to ensure optimum performance and longevity. A universal skid steer quick-tach mount isn't available. Mini skid mount options include Toro/Mini-Universal, Ditch Witch, Kubota, Vermeer, Bobcat and ASV. (Note: the 42-in. model is not compatible on ASV). For more info, visit virnigmfg.com.
Enjoy Some Other Brush Cutting Articles
Tags:
Brush Cutters
,
Diamond Mowers
,
FAE
,
Fecon
,
John Deere
,
May June 2023 Print Issue
,
Takeuchi-US
,
Virnig Manufacturing