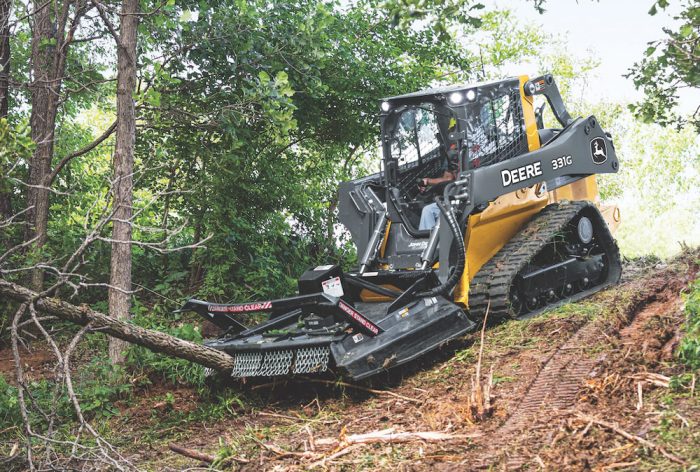 Offering operators convenience on the job, rotary cutters are a versatile tool that help tackle challenging tasks in a variety of applications, from clearing brush-covered worksites to managing wooded lands. Given the wide variety of vegetation that rotary-style cutters and drum-style cutters can maintain, it is imperative to know what kind of material you are trying to process in order to select the best attachment for the job. Each cutter style provides optimal use for a particular type of environment and educating yourself on ideal applications for each style can help reduce downtime and increase productivity.
Rotary-style cutters and drum-style cutters both offer the operator the opportunity to take down materials of different sizes depending on the requirements of the job. These attachments can be added to a multitude of different compact machines ranging from entry point to high end and standard- to high-flow compact equipment.
From a lineup perspective, there are several different styles of cutters including rotary-style cutters, drum-style brush cutters and deck-style cutter attachments. Breaking it down by application, rotary-style cutters are ideal for large-scale vegetation management including right-of-way clearing and property maintenance. On the other hand, drum-style cutters are ideal for heavy-duty clearing of trees and brush, which makes them a great option for undergrowth and quick brush removal.
When selecting a cutter attachment, there are a few key things to keep in mind: What type of material will you be cutting? Will you be operating a high-flow machine? How fine do you want your clippings to be? All of these questions can lead you to choose the perfect cutter attachment for the job at hand. While rotary-style cutters and drum-style brush cutter attachments are both designed to break down a variety of materials, they have dissimilar end results and should be operated in different environments.
If you are looking for a cutter that will leave a finer chip size, the drum-style cutter is perfect for the job. With the ability to take down material up to 8 to 10 in. in diameter, drum-style cutters are best suited for woody applications. These high-end attachments are also compatible with high-flow compact equipment.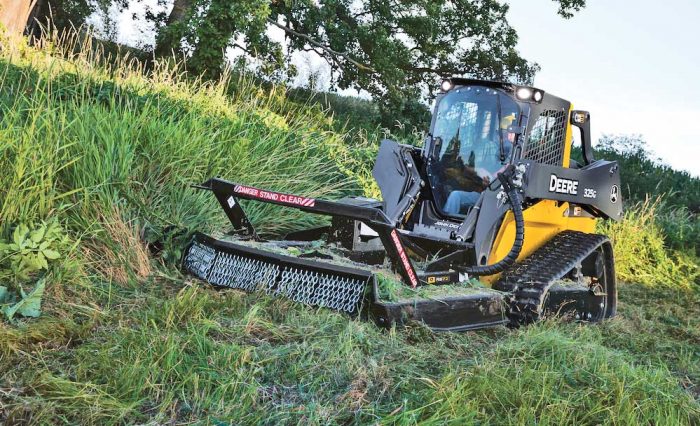 If the job at hand is more centered around small materials such as grass and weeds, the rotary cutter is the best fit with its ability to cut material that is 3 to 4 in. in diameter. Rotary cutter models are an entry point attachment often used on standard-duty equipment. The optional gauge wheels offer additional control of the height of your cut. Extreme-duty rotary cutters are even more equipped for wooded applications, cutting and processing wooded materials effortlessly. If you are looking for mass-production, the rotary cutter will make you more productive, offering more brushes per pass. Rotary cutters also offer more opportunities with a wider range of machine sizes.
When looking at deck-style cutters, different models offer a variety of options. Deck-style cutters can be specified by the operator to perform jobs in specific areas, whether that be in grass, weeds or a wooded application. Deck-style cutters also offer a wider cut than a mulching head and are compatible with just about any compact machine.
For those interested in working with a cutter attachment, there are many opportunities to buy or rent your attachments. Before tackling a job, be sure to select the proper cutter for the job at hand. Typically, operators within the vegetation management industry find brush style cutters as a great tool to own due to their versatility, however, researching the full lineup beforehand is incredibly beneficial.
In addition, when choosing the right cutter for your desired application, be sure to consider the type of hydraulic system the cutter needs to operate properly. Rotary cutters and drum-style brush cutters come in both standard- and high-flow configurations.
Standard models use between 16 and 25 gallons per minute (gpm) of hydraulic fluid, whereas high-flow models use between 26 and 42 gpm. High-flow machines offer the operator enhanced versatility and durability. An additional advantage of operating high-flow machines compared to standard-flow equipment is that they have the ability to recover faster and can continue their rotation even while making other adjustments to the boom or bucket height. This offers less downtime on the job and gets the operator back to work sooner.
When identifying the most important aspects of operating a machine with a cutter attachment, safety is the highest priority, as there are lots of possible hazards surrounding a jobsite. That's why having the right machine protection package on your equipment is crucial. It is recommended that operators avoid having just a standard machine out in the field due to the potential risk of damage, so selecting the right protection per the manufacturer's recommendations is imperative.
For all operators, it is crucial to know your environment. If working in a condensed area, flying objects pose a threat to those in immediate surroundings. It is fundamental that you try to get all the material you are processing on the ground before shredding. The key to a successful shredding job is to ensure your machine brings all materials to surface level to help mitigate excess debris, as well as protect the undercarriage of your equipment.
Additionally, cutters often feature a chain mechanism on the front or rear covers to help mitigate flying debris. Operators are required to leave those features intact for safety reasons. They can help protect not only the operator but other members on the jobsite.
To further ensure operator safety, operators should make sure the machine is configured correctly and take all required safety measures including having the correct poly door and guards recommended or provided by the manufacturer. All operators and managers are encouraged to read the equipment manuals and follow proper maintenance cycles to ensure ideal performance.
This story was provided by John Deere.
Tags:
John Deere