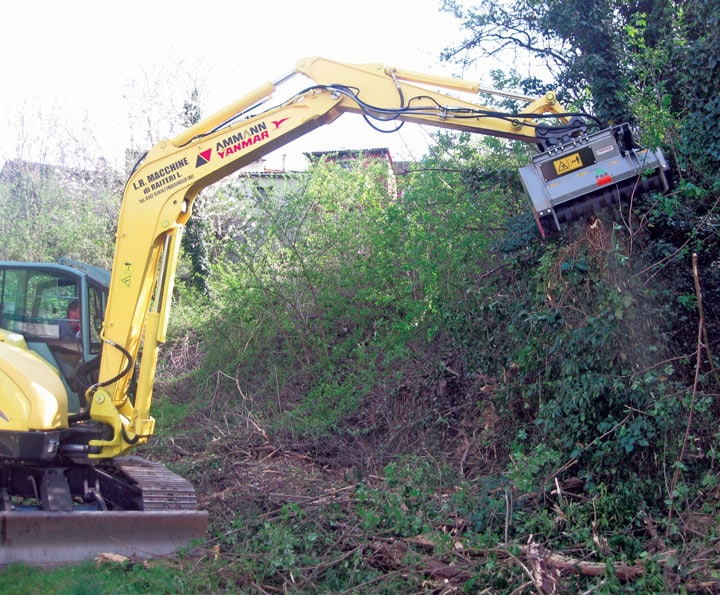 Mini excavator is almost a misnomer these days. Excavators of all sizes are being used for more than just actual excavation. Take mulching applications for instance. With the right hydraulic attachment, compact excavators can make for fairly gnarly buzz saws in vegetation removal projects, cutting over rails on roadsides, navigating near waterways and lakes, adding flotation and reach in forest cuttings and capitalizing on nimble mowing maneuverability in high reach jobs and congested work areas.
For simplicity's sake, we'll create two main categories of mulcher attachments for compact excavators: a) brush cutters and b) flail mowers. Sometimes manufacturers use these terms interchangeably or use totally different terms (like rotary cutters, cutting drums or just plain "mulchers"). For this article, picture a brush cutter as a horizontal, heavy-duty mower deck with two or three blades spinning beneath that deck, bearing down on saplings and heavy brush and grasses. Picture a flail mower (or look above) as a large spinning cylinder (cutting head), engineered with lots of removable/interchangeable teeth or knives, that you can drop down or up against thicker trees, cut at odd angles and mulch hard-to-reach vegetation.
"Applications do not differ that much between the two types of cutters, but they perform better in different applications — similar to a brush cutter and flail mower on loaders," explains Tyler Zima, Bobcat attachment product specialist. "A flail mower can cut brush just fine, but I would say its limited to moderate use in that application. If you really need to clear a lot of brush, you purchase a brush cutter. The flail does a much better job in tall grass and thick vegetation."
Giorgio Carera, CEO of FAE USA Inc. (an attachment manufacturer specializing in land clearing applications), suggests getting with your dealer to discover which option is right for you.
"First, consider all aspects of the excavator in question, but in particular the flow and pressure so the mulcher can be equipped with the right hydraulic pump, pulleys and belts," he says. "The main application for which the mulcher is used is also important — even if we all know that the machine may work in several different applications during its life cycle."
Whether it's eradication of an invasive plant species or wildfire fuel reduction in drier climates, new uses and opportunities for brush cutters and flail mower attachments are constantly surfacing. Many factors such as size, weight, horsepower, hydraulics and cost must be considered to make sure the appropriate selection is made. Let's dive into some details.
Sharp Teeth for Flail Mowers
One of the most important tips is to keep the cutting teeth in good condition. Make sure to sharpen and replace the teeth as necessary to maintain high performance from the mulching head. Also, brush cutting attachments work best when they are eased into the material being cut. Trying to cut too much material at one time can reduce the efficiency of the machine.
— Bill Schafer, product development supervisor for Loftness
Excavator Specs
First off, determine your compact excavator's lifting capacity and auxiliary hydraulic system. A mini excavator's auxiliary hydraulic system specifications — gallons per minute (gpm) and pressure (psi) — will determine the size and power of attachments available. Excavator hydraulic specs range from 5 to 40 gpm and 2,700 to 4,100 psi. Rated lifting capacities for mini excavators can range from 527 lbs on ultra minis like the Bobcat 418 and a whopping 9,327 lbs on the large Bobcat compact E85. Focusing on lighter weight brush cutters and flail mowers for a mini ex will be important to ensure maneuverability, safety and fuel economy.
Of course, before operating, the compact excavator itself should have a comprehensive protection kit (brush cutting requires serious safety precautions). Here's a common checklist of safety equipment: an exhaust cover to prevent debris entering the engine bay; cab-glass reinforcement and metal mesh covers; front work light protection; hydraulic hose and auxiliary coupler guards; FOPS guard with side protection; and even a cooling pack guard.
"The excavator must be equipped with impact-resistant shielding [like half-an-inch-thick Lexan glass], due to the possible danger of flying debris," says Bill Schafer, product development supervisor for Loftness (an attachment manufacturer out of Minnesota). "Also, do not operate the equipment near people or property that may be damaged by flying debris."
Brush Cutters
Working like a traditional lawn mower, a brush cutter (sometimes called a rotary mower) can clear dense brush and saplings usually up to 2 or 4 in. in diameter via two or three spinning steel blades. Cutting widths for brush cutters on compact excavators usually range from around 36 to 66 in., and actual attachment weights usually fall between 600 to 1,500 lbs.
"We offer standard, low- and high-flow models to meet the needs of most excavators," explains Chad Ekeberg, national sales manager at Cross-Tech Mfg. (makers of Brush Wolf brush cutters). "Our high-flow models are rated to cut up to 4-in. brush."
The major components to inspect would be the hydraulic motor, gearbox, blades, hose arrangement and deck construction, noting things like side chains, welded collars and how the housing dampers shooting debris. Technologies like stump jumpers, cushion/relief valves, case drains and blade shut-off protection systems are often engineered into brush cutters to protect the engine, gearbox and workers.
"Another thing very important when specing out an excavator brush cutter versus a skid steer cutter is trying to determine the gpm on the auxiliary hydraulics once it gets to the cutting head," says Ekeberg. "As an example, say an excavator is rated for 20 gpm. When you start to cut, swing your stick and travel — doing all three functions at once — it will draw away from the rated 20 gpm, and you will probably only see around 15 to 16 gpm at the cutting head. Each manufacturer is different on how much gpm is actually drawing away from the rated gpm. Try to determine that exact number when matching up a brush cutter."
Clear trails or construction sites with a brush cutter. Mow along awkward slopes or riversides. Control brush in right of ways or just mulch branches and saplings on your large estate. Most big brands of compact excavators (Bobcat, Volvo, Kubota, Case, Cat, JCB and beyond) will offer brush cutter attachments for compact excavators. There are also a ton of attachment manufacturing experts like Brush Wolf, Dymax, Diamond Mowers, Paladin and others that offer brush cutters in all shapes and sizes (deck designs range from squares to circles to something in between). Other considerations include direct drive versus motor gearbox combinations, three blades versus two blades, bidirectional operation and length of warranties (usually one to three years) .
Flail Mowers
While brush cutters are used more for heavy brush and mass acreage, flail mowers are more geared toward thicker trees, stump removal, hard-to-reach vegetation (ditches and around water) and elevated shrubbery (around power lines or near buildings), along with just general brush cutting.
"Right-of-way vegetation management is a very large and growing market for this type of product," says Schafer. "Compact equipment excels in this industry, due to its ability to access tight areas where larger equipment cannot reach. In fact, Loftness just recently introduced the Battle Ax flail mower for compact excavators. There are three models with 41-, 51- and 61-in. cutting widths. The Battle Ax features the latest mulching head technology, like our unique rotor design, direct-drive hydraulic motor with vibration protection and two-stage cutting chamber."
There are a variety of sizes, options and brands on the flail mower market. For small excavators, the key is finding light-weight models that allow for easy maneuverability and precision cutting. For instance, FAE has more than 10 models of flail mowers, but its smallest (model PML/HY) is designed and built for 1.3- and 3.5-ton mini excavators, comes equipped with either an 8- or 16-cc hydraulic motor and the option of hammers or Y-blades for the cutter head. Y-blades (which look like a Y) are great for cutting tall weeds and overgrowth. Hammer blades are used to mulch trees and destroy serious foliage.
Other common options on excavator flail mowers include size of hydraulic motors, dynamic braking and safety functions, custom-made attachment plates (some with self-leveling), flow control valves that allow easy mounting, protection hoods, adjustable skids and even integrated thumbs to help hold vegetation. Look for units that are light weight in design, have good boom reaction and stability even at full reach over the side, utilize high efficiency cutters that consume minimal power and are capable of super-fast spooling. Attachment experts at FAE, Loftness, Rockhound, Paladin and Torrent Mulchers make great flail mowers for excavators (along with most major excavator manufacturers). Cutting widths range from 30 to 60 in., and hydraulics required ranges from 12 to 32 gpm. FAE actually breaks its flail mowers down into two categories.
Operational Advice
Correctly match the mower to the machine to get maximum performance. Run the excavator at full throttle for maximum performance. Run the mower in detent continuous flow. That makes it easier to operate. Over the side, it's important to have the correct mower so the machine does not get tippy. Also, if the machine is too big for the mower, you can over flow the motor.
— Tyler Zima, Bobcat attachment product specialist
"We say flails are definitely for lighter applications and underbrush up to 3 in. in diameter and are mainly for hobby farmers with light maintenance work," says Carera. "The fixed tooth mulchers are definitely for more professional and heavier-duty applications where you need a high production up to industrial production. As far as FAE pricing, it is between $6,000 and $10,000 for a flail mower and $20,000 to $28,000 for a fixed tooth mulcher."
Tags: Bobcat, Brush Cutters, Case, Caterpillar, Cross-Tech Mfg., Diamond Mowers, Dymax, Excavator Specs, FAE, FAE USA Inc., Flail Mowers, home, JCB, Kubota, March 2017 Print Issue, Mulcher Attachments, Paladin, Volvo, Yanmar