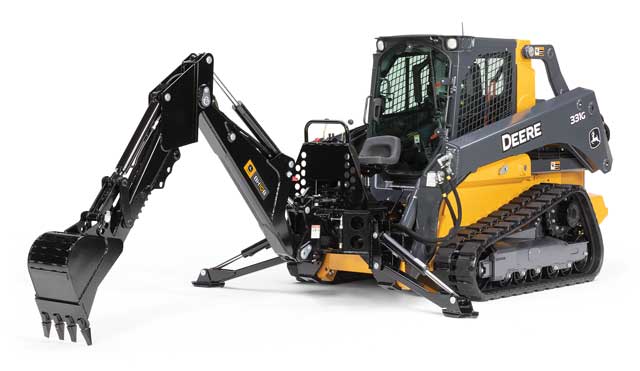 The magic of a skid steer or track loader comes from its ability to run a variety of attachments using compatible quick-attach plates. Augers, backhoes, brush cutters, stump grinders and even grade control systems can be powered via sophisticated oil-pressurized hydraulic systems (standard- and high-flow configurations). In fact, skid steers and track loaders can operate so many attachments it's impossible to own them all. For the ones you don't own and probably don't want to own, rental is always a great option. To help, we asked four manufacturers for their quick insights into five different popular rental attachments for skid steers and track loaders.
Auger
Digging a hole? For a fence? Tree? Footing? To bury evidence? Then you could always rent an auger, a drill attachment that consists of a prime mover mount, a drive head and an auger bit. For all these attachments (I'll mention this just once), understand your skid steer's or track loader's hydraulic requirements (flow and pressure and standard and high flow). For augers specifically, understanding your ground conditions and what type of auger bit to use is highly important. The two most common types of auger bits are simply referred to as dirt and rock bits. Dirt bits are more widely used, more economical and can corkscrew through easy-to-moderate soil conditions like black dirt or compacted sand. Rock bits are made for, well, rock, and asphalt and concrete, using carbide-tipped teeth that can drill holes in hard surfaces.
Direct drive and planetary drive will also be something to consider. A direct drive auger is a balance of price and power, torque and rpm, and a gear-driven planetary auger is for high-powered applications that require tons of torque (like coral or clay). Hydraulic requirements for augers overall range from 6 to 35 gpm and up to 3,000 psi.
"In selecting an auger attachment to rent, it's most important to pick one that's right for your vehicle and your digging conditions," says Shane Kincaid, customer service representative for Danuser. "If there are multiple auger drive options for your vehicle, then consider your digging conditions. If you'll be digging in less compacted soil, flow and pressure will be important because they determine the speed at which the auger bit rotates, as well as the torque produced by the drive unit. An auger drive with a planetary gear reduction will provide better torque than a direct drive unit. Be sure to plan out your digging so that you know if you will need to rent accessories like different auger types or diameters or auger extensions. Most rental houses will keep common auger sizes, like 9, 12 and 18 in. on hand. Be sure to have the staff guide you through correct operation and safety instruction before leaving the rental yard, and read the operator's manual before using the system."
Backhoe
Don't break the bank to dig a few big holes. Might I suggest renting a hydraulic-powered backhoe attachment for a skid steer or track loader, which can take your tool carrier to new levels of excavation operations. Most units fit two main configurations today — operated either outside the cab or inside it. The latter incorporates the loader's controls and is usually like an extended arm attached to the boom, offering like a 6-ft dig depth. For bigger outside-the-cab options, operators will need to exit the cab and saddle up onto the seat provided by the backhoe attachment to operate joysticks, but dig depths can go up to an impressive 11 ft. Other options or features might include vertical stabilizers and stabilizer pads for outside-the-cab units, buckets ranging from 8 to 40 in. and boom attachments like thumbs or even auger mounts. The backhoe also doesn't require a crazy amount of hydraulic power either, usually only 11 to 22 gpm and 3,000 to 3,500 psi.
"Knowing what the dig depth of the backhoe attachment models can help operators identify which model will meet their needs," explains Gregg Zupancic, product marketing manager for skid steers and compact track loaders at John Deere Construction and Forestry. "Backhoes tend to be one of the heavier attachments compared to others. Operators should consider the weight of the attachment, in addition to the weight of their skid steer or compact track loader. If an operator rents a backhoe model that is too heavy for a smaller skid steer or track loader, the machines will not have the capacity to handle the backhoe's weight and complete the task. While using a backhoe attachment, operators should assess the terrain they are working on, and if working on sloped land, use the stabilizers to keep the machine steady. These attachments don't have falling object protection within the design so wearing protective gear such as hard hats and closed-toe shoes are important to prevent injury during use."
Brush Cutter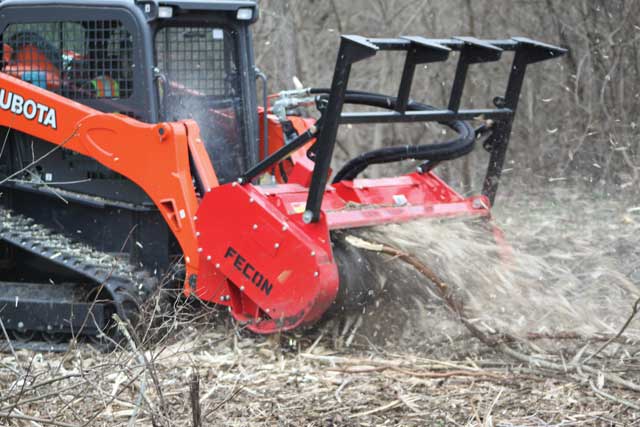 There are numerous types of brush cutters on the skid steer and track loader market. The two main ones I'll discuss are rotary blade cutters, which are like giant, gnarly lawn mowers, ideal for cutting wild grass, shrubby and saplings up to like 3 in., and then there's the drum mulchers, which use drums (also called rotors) equipped with teeth or knives to blast trees, branches and shrubland to mulch. Drum mulchers are the more powerful units, gaining a lot of popularity lately for their usefulness in land management when paired with a compact track loader (see photo below). Units come with options for the rotors, teeth and more. Drums can range from smooth rotor surfaces with spiral tool patterns (good in deep snow and when ground engagement is desired) to low-profile rotor bars with staggered tool patterns (well known for durability).
Drums can be equipped with knives (above ground, clean material), carbide cutting tools (long lasting), severe condition tools (severe-duty conditions) and more (lots more). Picking the right combination is very important, so prepare with a long discussion with your renter. Many brush cutting applications require loaders to be reinforced with special protective guarding to protect from flying debris. Perks like a reversible fan and perhaps extra cooling for the amount of heat generated is always nice. High-flow hydraulic requirements range from 27 to 45 gpm and 3,000 to 4,500 psi; low-flow variants are available.
"When choosing a brush cutter attachment for rent, first consider the size of material," says Mark Ferguson, product manager at Fecon. "If it is less than 3 in. in diameter and not too dense, then a rotary cutter may do the trick. However, rotary mowers do not mulch up material as well as drum mulchers do, so if you are hoping for a park-like finish you may want the drum version. If the material you need to attack is 4- to 8-in. diameter, then a drum mulcher is your better bet. If there is a significant quantity of 8-in. or above diameter material, you'd likely be best to consider a dedicated forestry mulcher.
"Whichever attachment you choose, make absolutely certain that there is no one near you when working," adds Ferguson. "Commonly, a 300-ft safety zone in front, behind and at least 150 ft on each side of the working machine is considered to be the safe area where no one should enter."
Stump Grinder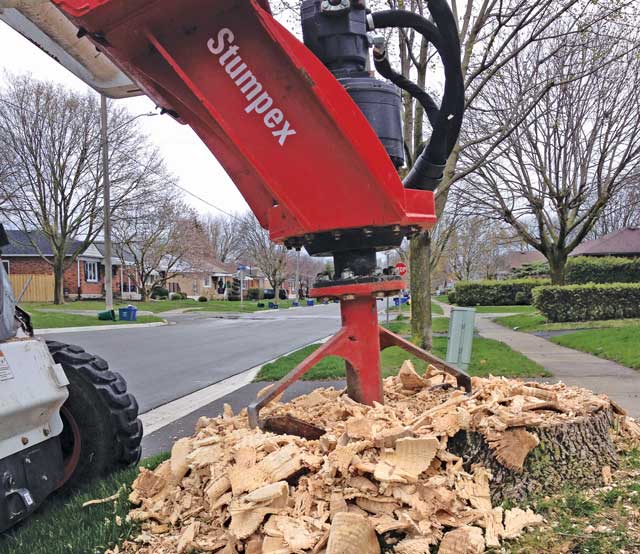 If stump removal isn't an everyday occurrence, renting a stump grinder attachment is a solid way to remove occasional unwanted tree remains. There are traditional wheel saw variants that use a grinding head with carbide teeth, usually able to cut up to 45-in. stumps and 12 in. below the soil. Some of these units grind while moving the loader forward, some while moving backward and some in both directions. They often come with deflector shields and screening to protect from flying wood chips, which they tend to produce. There are also auger-type stump grinders, which boast higher-torque, lower-speed operation and are able to remove stumps safer and with less cleanup (as the auger doesn't shoot wood everywhere). It should be noted that traditional wheel saw-type stump grinders typically cost less.
"Stump grinders have become a popular rental tool among Fecon dealers," says Ferguson. "The slow speed-high torque design of auger grinders allows for skid steer or compact track loaders with hydraulic flow ranges from 20 to 42 gal per minute and provides a very safe environment as it spins at slow speeds and does not create airborne debris as it works."
What to consider?
"When choosing a stump grinder for your application you should consider the amount of stumps, the size of stumps, the type or species of stumps, the surroundings and terrain of the jobsite, the proximity of the jobsite to traffic or foot traffic and other operating machines," he adds. "You should consider the cost of the rental, the cost of maintenance of the rented equipment and attachment, the match of the stump grinder to the machine carrier you have or are renting, the cost of the replacement tools, the soil type, the potential for contaminants in the soil like rock or steel and all aspects of the rental contract. There is probably more to consider, but that is a good start."
Graders and Grade Control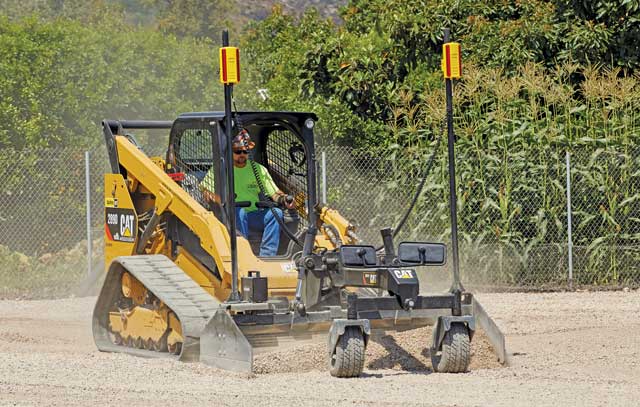 Grading has become increasingly popular for track loaders specifically. Attach a grader blade to a skid steer or track loader and perform cursory or extremely accurate grades, controlling the box via in-cab hydraulic controls or a having a grade control system do it for you. Systems can get high-end and expensive, so rental is an interesting alternative. Grade control systems for attachments include 2D systems that are guided by a rotating laser or sonic tracing. These can use a single or dual grade rotating laser and laser receiver to control the lift and tilt of the grading attachment. This technology is ideal for leveling parking lots, building pads or sports fields where everything's on the same slope.
3D machine control systems are a step up in terms of the sources that are used for elevation references and corrections. Additional infrastructure is needed to run these systems, like a total station or base station and a 3D design of the project. 3D machine control can be guided by single GNSS, total station/base station or dual GNSS. Universal total station is generally the highest price point and provides millimeter-level accuracy by measuring the exact position, very accurate cross slope and the heading of the grading attachment. The advantage of 3D is that contractors can take on more complex designs, including building pads, roads and fine grading applications using this more precise tech.
"There's a common misconception in the construction industry that you have to spend a lot of money to begin using grade control systems on small machines," says John Boss, product manager for compact machine solutions in Trimble's Civil Engineering and Construction Division. "There are a few options to consider here. The first is renting a grade control system. Thankfully, a number of Trimble Sitech dealers offer the option to get started with grade control technologies through renting ready-to-use grading attachments with grade control already installed. If the customer is still worried about the amount of time it will take to learn the new grade control technology, this is where dealers step in yet again. They will not only provide the technology needed to supercharge the grading attachment but also provide the necessary training to minimize downtime, especially if the customer is interested in a 3D grade control system that eliminates the stakeout process on the site."
---
Cool Tool of the Month: Danuser Introduces a New and Improved Mega Mixer
Attachment experts at Danuser introduced a newly enhanced model of its Mega Mixer material handling bucket designed to mix, scoop and dispense a wide variety of materials ranging from livestock feed to bag-mix concrete. New and improved features include: an easy-to-operate discharge end; 8-in. diameter with 8-in. pitch steel auger for faster mixing and dispensing; and a 22.8-cu-in. motor for improved torque. The unit is also capable of dispensing 3/4 yd of material in 26 seconds (up to 1-in. diameter rock). Mounts on both sides allow the operator to dispense on either the right or left side of the host vehicle to better meet each project's specific needs. The Mega Mixer includes pin holders, easy-to-read yardage markers and two 2-ft multi-link chutes that store conveniently on the bucket. Additional accessories include 24- and 36-in. chutes, a toolless hopper extension and a funnel with 6-in. hose adapter. A closable discharge end limits spilling and allows for faster material mixing. For more info, visit danuser.com.