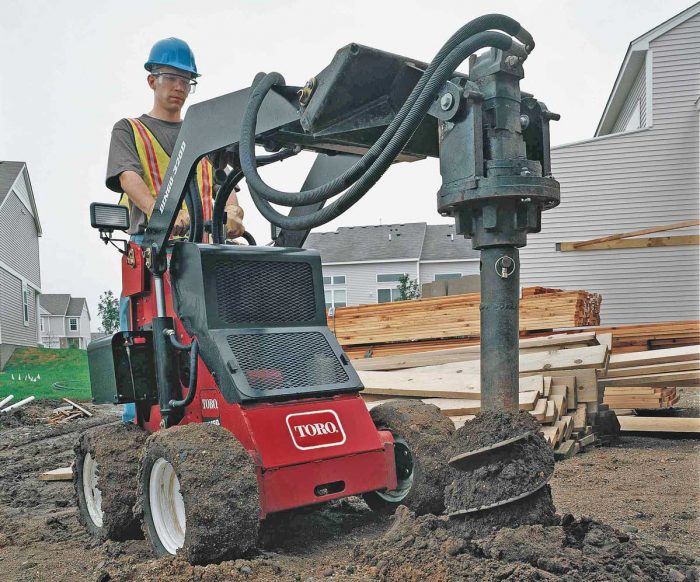 Stand-on and walk-behind compact tool carriers are perfect for on-and-off work. Move a bucket full of mulch. Jump off and spread it. Auger a hole for a tree. Switch to tree forks and haul in a young hardwood. Hop down with the crew and ensure perfect placement. Time for lunch. Jump back on that compact tool carrier and head out to the truck and trailer.
As one of the smallest attachment-takers in the industry, CTCs offer a unique mix of advantages: A) extreme versatility via attachments (maybe over 60 different implements, depending on the model), B) hard-to-beat size and nimbleness (most units can easily fit through a backyard gate, electric variants do indoor work); C) a light footprint (most units are sold with low psi tracks); and a quick type of flexibility (that aforementioned on-and-off work). These advantages have attracted a variety of manufacturers in the American marketplace.
Brands such as Toro, Bobcat, Ditch Witch, Ramrod and Vermeer are all selling compact tool carriers today. Think of them as skid steers or track loaders without a cab. They use a similar universal quick-attachment plate (some can even take a skid steer quick-attach plate), they come on wheels and tracks and they have a zero turning radius that's ideal for tight quarters. Buyers have a bevy of options: stand-on and walk-behind units; hydraulic flow rates from 8 to 16 gpm; gas, diesel and electric engines; wheels or dedicated track undercarriages; and a zillion different attachments. To learn how to buy one of these units, click this article:
If you'd like to know how to rent a compact tool carrier, click this article:
If you want to know how to maintain one of these walk-behind/stand-on units, click this article:
To help you even further, we contacted nearly every compact tool carrier manufacturer in the industry to share some advice for owners, operators and potential buyer/renters. Here's what they came up with…
Vermeer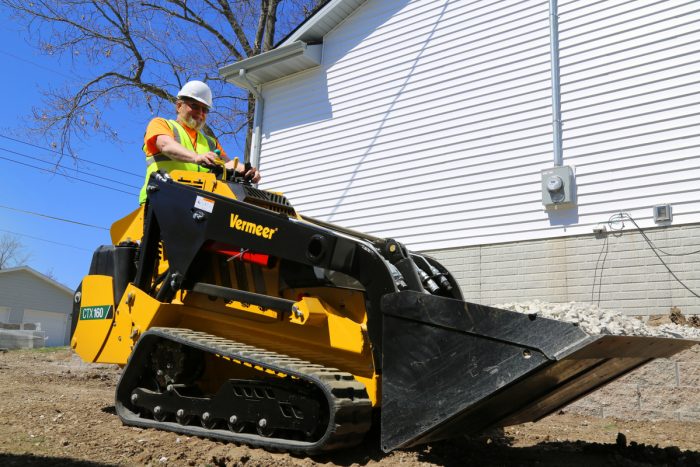 "There are more options of mini skid steer available to buyers than ever before with new models that have been introduced offering more horsepower and lifting capacity," says Trevor Koolmees, sales manager for Vermeer Environmental Equipment. "However, it's important to keep in mind that a bigger machine isn't always better. This category of equipment was founded on giving contractors a machine that efficiently maneuvers in areas where other equipment is either too big to be productive or where the added weight of a large unit could result in significant remediation work. For buyers looking to purchase a mini skid steer, choosing the right size model for your needs helps optimize production and keeps costs in line. It is also important to try before you buy and work with a local dealership that has expertise in matching a model to the correct application.
"At one point or another, every operator was a new operator," continues Koolmess. "We recommend that people new to any machine start by familiarizing themselves with the operator's manual, so they have a good understanding of the controls and the features of that particular machine. Once that's completed, new operators should take the time to get used to the machine controls in a safe, secure environment under the supervision of a trained operator. Once they have the basics mastered, it's essential to give them plenty of time and space to develop their skills. Also, anytime an operator uses a new attachment for the first time, it's important to start slow and work their way up to regular production rates. Also, if a contractor needs additional training support, they should contact their equipment dealer. Many construction equipment dealers have expanded their services to include operator training."
Ditch Witch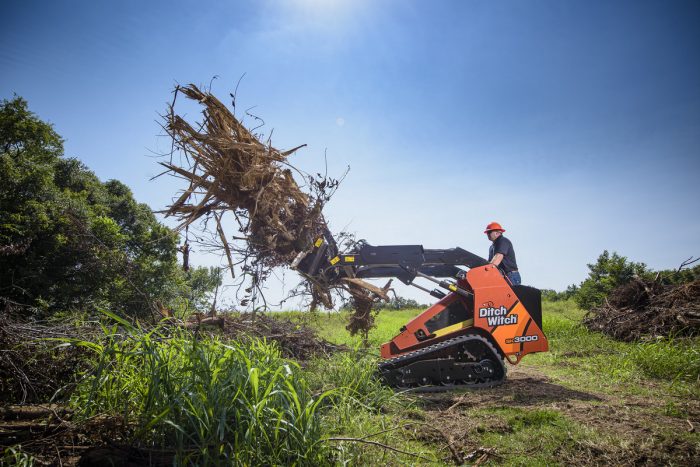 "Whether you are purchasing a mini stand-on skid steer for the first time or have been using the equipment for years, make sure to talk to your local dealer," says Brant Kukuk, Ditch Witch product manager, compact equipment. "Not only do local dealers understand the equipment that a contractor will need, but they have years of experience working directly with contractors across a variety of industries. They are a vital resource for questions surrounding jobsite conditions, local regulations and industry insights. Visiting your local dealer allows you to try out different equipment and receive unmatched advice."
Kubota
"Understanding your organization's needs is a critical part of a machine purchase," says Patrick Baker, product manager at Kubota Construction Equipment. "Some customers utilize stand-on compact loaders to replace a wheelbarrow and shovel, while others are heavily dependent on the machine's hydraulic capabilities in order to power skid rakes, concrete breakers or trenchers. No matter what side of the spectrum you are on, comparing machine features and specs is always a good place to start."
Bobcat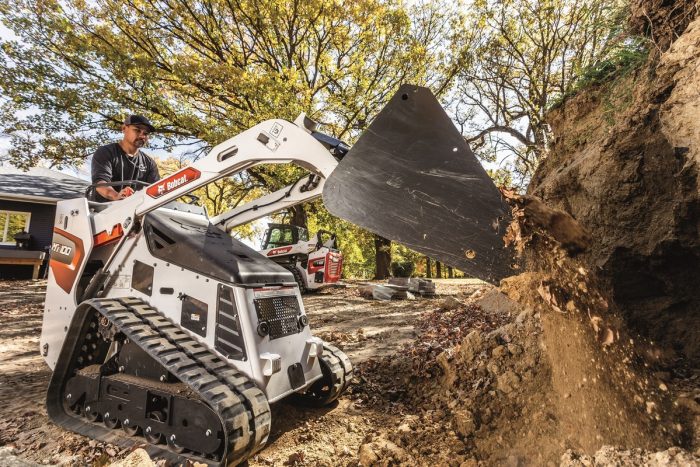 "Consider purchasing versus renting attachments for use with mini track loaders," says Mike Fitzgerald, marketing manager for Bobcat. "Not only will various attachments have the versatility to work on both a mini track loader and also on select larger compact loaders, but an attachment will pay for itself after only a few projects because of increased productivity and time saved versus doing the work by hand."
I hate to be the bearer of bad news, but sometimes you can't have it all… unless you rent. From finding the right dealer to scoring the perfect rental machine, we have you covered!
Toro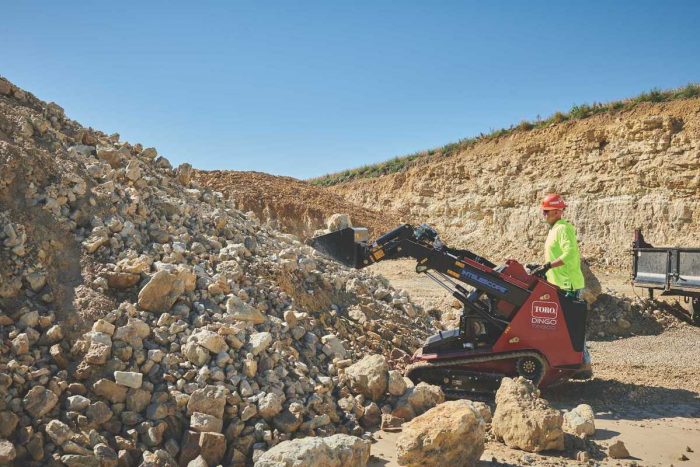 "Once reserved for small-scale projects, compact utility loaders are now considered essential to the jobsite," says Kyle Cartwright, marketing manager, Toro. "The capabilities of these machines continue to grow as rated operating capacities increase and diversify. The introduction of new units, such as the Dingo TX 1300, opens the door to new applications, while battery-powered CULs allow contractors and construction professionals to bring these workhorses indoors. Gone are the days of expensive, dedicated equipment."
Kanga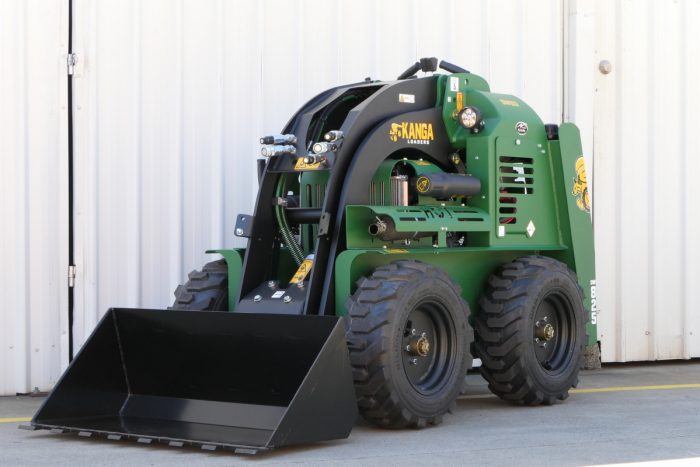 "As compact utility loaders vary highly in their models and application, some questions before buying might help guide you in the right direction," explains Rod Lehpamer, Kanga Loaders general manager. "For example, what is your typical work environment? Will tracks or wheels be more suitable for your application and how much ground clearance does the machine have? Does the loader have advanced engineering features such as self-levelling, and what are the ergonomics and safety features? What is the overall cost of maintenance?"
Giant by Tobroco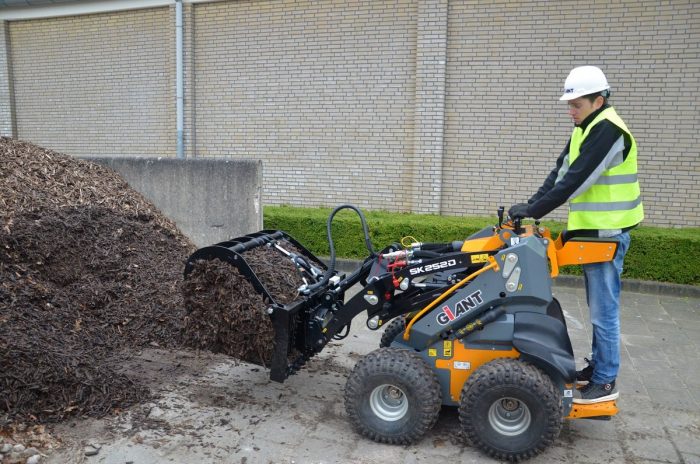 "Mini skid steers are in short supply in the market right now, so many contractors are looking for machines through dealers or manufacturers they haven't done business with in the past," says John Bostwick, territory sales manager for Giant by Tobroco. "Adding to this, many companies will bring in a mini skid steer as their first machine purchase. We advise doing your homework, which is fun in this case. Try out a few different machines before you buy with an idea on where your company spends most of their time. Look into servicing requirements and make sure you take the time to pick a machine that is easy to use, easy to service and will be easily sold when you're done."
Ramrod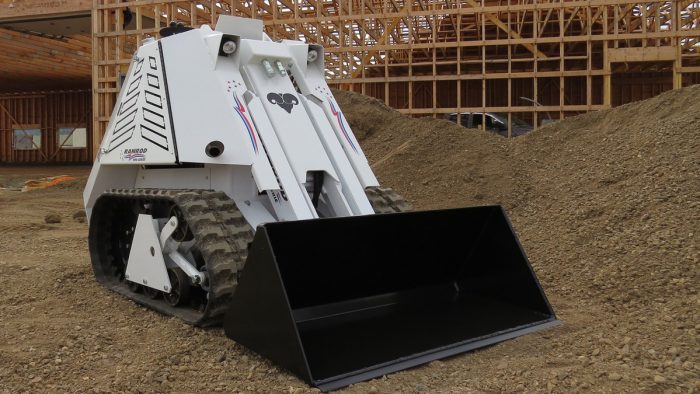 "It's important to get everyone who might use the machine involved in the decision-making process," explained Devin Wilger, advertising and promotions coordinator with Ramrod Equipment. "The more people are involved, the more you can consider different applications, and the many ways it can change how you approach work. It could lead to a different mix of attachments or different machine specifications. It will definitely mean your investment pays off immediately, as the team will have a clear idea of how they want to use it from the moment it arrives."
Wacker Neuson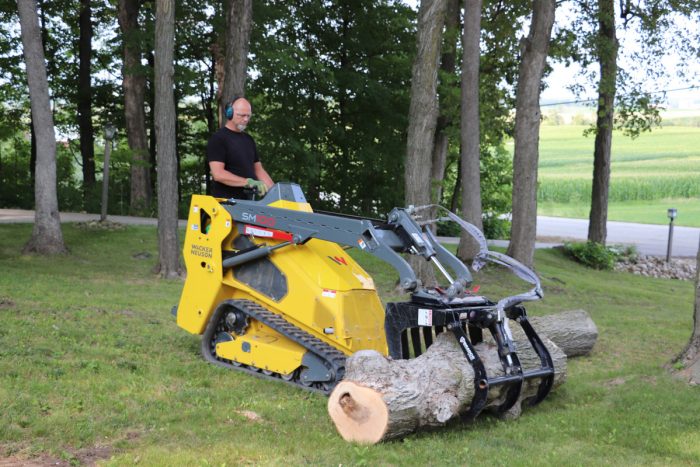 "We may be a new player in this class of machine, but we did our homework during development and understand what contractors need," says Adam Devins, product manager for skid steers at Wacker Neuson. "When looking to buy a utility track loader, it's important to understand jobsite access. If you need to fit through a standard yard gate, a narrow model is the perfect solution. With tracks, you don't have to sacrifice on ground pressure."
Keith Gribbins is publisher of Compact Equipment.
For reprint and licensing requests for this article, please click here.