We want more power in a smaller package. It's a challenging trend that's popular in a lot of industries. In off-highway construction equipment, the quest for more power or at least equal power in a reduced size can be found in everything from engine designs to complete machine concepts. One of the smallest categories of diesel-powered attachment takers is the compact tool carrier (big photo above). Sometimes called mini skid steers or compact utility loaders, depending on the manufacturer, compact tool carriers personify that big power and small footprint trend. Even more so, over the last 20-plus years compact tool carriers have morphed from wheeled, medium-power supplemental equipment to track-driven, spec heavy jobsite project leaders.
"Compact operators are consistently tasked to do more with less," says Chris Thompson, compact equipment product manager for Ditch Witch. "The machines have evolved to meet this demand. Compact tool carriers have evolved from an accessory on a jobsite to being the core machine on the jobsite. In this new role, higher horsepower was expected from operators. As higher horsepower classes and improved technology were introduced, the machines achieved increased gpm and pressure. Pumps began to be built with higher-grade materials and that enabled the pumps to spin faster. Today, hydraulic systems also deliver more power to the attachment, enabling operators to run a variety of attachments more efficiently."
The size, power and versatility of compact tool carriers have significantly increased sales over the decades to somewhere in the 10,000 units sold range in 2018. These walk-behind or ride-on units can be seen everywhere — as nimble earth and mulch movers on your neighbor's landscape project, brawny demo units on that grocery store parking lot job or dedicated fence or footer machines preserving expensive lawns at that big office building.
Compact tool carriers are impressively versatile because they operate a family of non-hydraulic attachments like forks and buckets and hydraulic-powered implements like trenchers and tree spades. This being the Attachment Buyer's Guide, we'll delve into the hydraulic capabilities and health of these machines, but first…
A Market Overview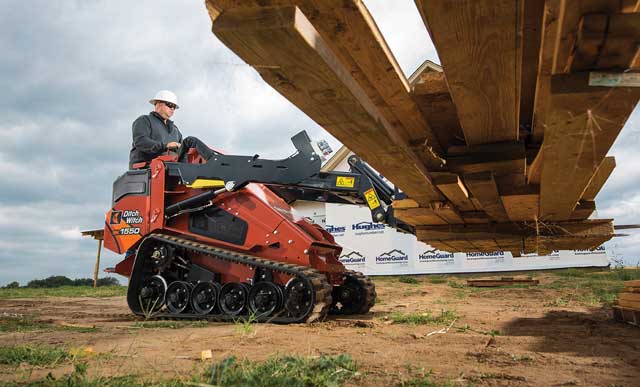 Manufacturers such as Toro, Bobcat, Ditch Witch, Boxer, Triple E Equipment, Ramrod and Vermeer are all selling compact tool carriers today. Think of them as skid steers or track loaders without a cab. They use a similar universal quick-attachment plate (some can even take a skid steer quick-attach plate), they come on wheels and tracks and they have a zero turning radius that's ideal for tight quarters. Buyers have a bevy of options: stand-on and walk-behind units; hydraulic flow rates from 8 to 16 gpm; gas, diesel and electric engines; wheels or dedicated track undercarriages; and a zillion different attachments.
The American market has a wide variety of sizes and options. The Boxer 320 mini skid steer is a gas-powered unit that offers a 20.5-hp Kohler engine, 1,088-lb tip capacity, 1,760-lb operating weight and a 34.5-in. width to fit through a standard gate. Because of its size, the 320 is ideal for the rental industry. Ditch Witch and Vermeer boast some of the biggest units with 40-hp engines, 16 gpm of hydraulic power (3,000 to 3,700 psi) to the attachment, lift heights above 7 ft and big tip capacities from 3,000 to 4,400 lbs plus. Bobcat, Boxer and Toro offer a lot of units in the middle range of the market.
The Toro Co. did shake up the industry last year with an enormous entry called the TXL 2000. A unique machine to the industry, the TXL 2000 is the biggest compact tool carrier on the market with telescoping loader arms that go over 10 ft, a rated operating capacity of 2,000 lbs and all the benefits of a standard compact tool carrier. Toro's Dingo compact utility loader line (the company's name for its CTCs) turned 20 years old in 2018. The first Dingo in the early '80s (long before the Toro acquisition) was a 10-hp machine that was closer to a powered wheelbarrow than a compact tool carrier. In 1995 when Toro acquired the rights to the Dingo, the latest model was a non-Toro branded Dingo 950, which featured a twin-pump hydraulic system and a 20-hp engine. Despite the growth in size and power of today's units, these are still intuitive machines to operate.
"One of the key features we take pride in regarding the Toro Dingo product line is the simplicity of the controls on all of our units," explains Kyle Cartwright, associate marketing manager at The Toro Co. "From the wheeled 320-D unit, all the way up to the new TXL 2000, controls are intuitive and easy to use. Compact tool carriers haven't reached a point where a digital interface and autopilot functionality is necessary, practical or even desired. Most contractors who put their trust in compact tool carriers are looking for a powerful, reliable machine that even the most novice crew member can jump on and accomplish a specific task quickly and easily."
Some manufacturers like Boxer allow you to jump on, using only spring-cushioned, ride-on platforms on its units. There are also walk-behind units. Toro Dingos come with or without dedicated platforms, and Bobcat offers ride-on platforms that can be detached for walk-behind operations. Most of the market utilizes diesel engines from the likes of Kubota and Yanmar, but gas and electric options are available. The Triple E Equipment brand specializes in battery-powered compact tool carriers, and Toro displayed an electric concept unit at The ARA Show in Anaheim, Calif., in February. All of these machines have impressive attachment hydraulic systems.
"Today, most compact tool carriers operate between 12 and 16 gpm [of hydraulic flow to the attachment]," says Thompson. "Some larger compact tool carriers, such as the Ditch Witch SK1550 mini skid steer, allow operators to select between low [3], medium [13] and high [16] flow. For example, operators would select low flow when using a clamp or grapple attachment. A higher flow is best suited for more advanced attachments like a trenching or plow attachment to improve performance and productivity."
Of course, the name of the game is attachments and implements. Compact tool carriers are built to run hydraulic and non-hydraulic attachments like buckets, breakers, brooms, blades, backhoes and box scrapers (and that's just the Bs). There is a universal compact tool carrier mounting plate and quick-attach system to quickly and easily switch between any standard attachments, and there are adaptor mounting kits on the aftermarket for proprietary attachment systems from brands.
"Before purchasing a machine, operators can also select a standard mini plate or a full-sized attachment plate for their model based on the type of work and attachments they will most likely be running," says Thompson. "The difference is really just dependent on the type and size of the machine. A mini plate is used for most compact tool carrier attachments and a full-sized plate is most likely used for larger skid steer attachments."
Hydraulic Health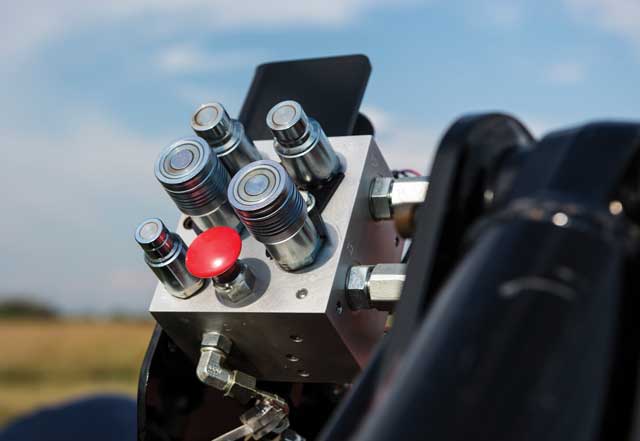 Today's CTC hydraulic systems require routine maintenance and operational best practices to ensure efficiency and longevity. First order of business: Before a project even begins, match the flow rate of the hydraulic system with what is needed to operate the attachment. An incorrect match can reduce the efficiency of the attachment by decreasing how quickly the machine operates or how well the attachment works. These systems have evolved a long way since the first American models in the late '90s, but there is still a lot you can break.
"The first CTCs were wheeled machines that utilized single or dual gear pumps for all functions and were fairly simple in terms of hydraulics," explains Cartwright. "Today, most machines are tracked units that utilize independent piston pumps for traction while retaining gear pumps for loader and attachment functions. As far as sizing, the trend has been to pack as much power and lift capacity as possible into a similar machine footprint due to the requirements of the jobs they do in tight areas. The newer systems offer improved ergonomics and easier operation with features like pilot operated or electronic controls."
According to Cartwright, today's compact tool carriers can feature anywhere from a two-pump to a four-pump system, which delivers hydraulic power to various systems. Most compact tool carriers still utilize gear pumps to provide flow for loader and auxiliary functions, but sometimes the flows of two pumps are combined to maximize flow to the attachment and other times the loader and attachment flows are kept separate. "It depends on the flows needed for each for getting a good lift or lower speed on the loader while maximizing horsepower to the attachment," says Cartwright.
A good place to learn about the hydraulic workings of your compact tool carrier is the operator's manual, which will detail proper operation and safety and regular maintenance to optimize performance. The unit will require routine hydraulic health inspections.
"Contractors should check the hydraulic fluid levels on their compact tool carriers after every 25 hours of use," suggests Cartwright. "To do this, contractors should first remove all attachments and park the machine on a level surface. After raising the loader arms, installing the cylinder locks and shutting off the engine, the technician will want to clean the area around the filler neck of the hydraulic tank. They will then want to check the hydraulic fluid levels and add fluid, if needed."
Low fluid levels might indicate a leak. Another maintenance recommendation that could be done daily is checking hydraulic hoses for leaks. Before powering the machine, operators should visually inspect the hoses for frays. After a visual inspection, the machine should be powered to visually inspect the hoses again. If an operator thinks there is a leak, they should not test the hose with their hand, which can cause a hydraulic cut. A piece of cardboard or other surface can reveal whether the hose is releasing fluid.
"Keeping the quick-connect system clean and free of debris is important too," says Thompson.
After 200 hours, contractors should replace the hydraulic filter, which helps ensure the integrity of the hydraulic fluid and protect important components. To do this, technicians will want to place a drain pan under the filter and replace it. After replacement of the filter, technicians should allow the engine to run for about two minutes to purge all air from the system. A visual inspection with the engine turned off is an important step at this point.
"At 400 [to 500] hours or after a year of use, whichever comes first, it's important to change the hydraulic fluid in the machine," says Cartwright. "After parking the machine on a level surface and accessing the inner components, technicians will want to place a large drain pan capable of holding up to 15 gallons under the drain plug. On Toro compact tool carriers, this is conveniently located on the front of the machine. Technicians can then remove the drain plug and allow the fluid to drain into the pan. Once completely drained, technicians should tighten the drain plug, refill the tank with hydraulic fluid, start the engine and let it run for a few minutes. After idling for a few minutes, it's important to shut the engine off and re-check the hydraulic fluid levels and add fluid, if necessary."
---
Four Hydraulic Maintenance Tips for CTCs
By Kyle Cartwright, Associate Marketing Manager at The Toro Co.
Read, understand and follow the instructions in the machine's operator's manual. By understanding the operator's manual, not only will the contractor gain a better understanding of how best to service the machine but will also learn how to operate the machine in a way that can minimize issues with all of the machine's components, not just the hydraulic system.
Perform all recommended routine maintenance at designated intervals. This is an important step with all machinery, not just compact tool carriers. Following the old saying, "an ounce of prevention is worth a pound of cure," can help contractors reduce downtime and costly equipment repairs down the line.
Keep the service points and attachments clean to avoid liquid, dirt and debris from entering the hydraulic system. This is another general tip for all machinery but important for compact tool carriers in particular. Hydraulic systems are sealed environments, but by failing to keep the couplers and areas around the service points clean, it's possible for debris to enter the system and create problems for the operators during use.
Remember that these tips are not to be followed in place of following an operator's manual.
---
Vermeer CTC Swivel Log Grapple
The Vermeer SLG46 swivel log grapple is the newest addition to the Vermeer mini skid steer attachment lineup. Weighing in at 515 lbs, the swivel grapple helps haul materials around a landscape or tree care jobsite. Equipped with maximized reach and swivel capabilities to help efficiently load brush chippers, the Vermeer log grapple gives operators the ability to pick up and transport material in a fluid and productive manner. For more info, visit vermeer.com.
Tags:
Bobcat
,
Boxer
,
Ditch Witch
,
home
,
March 2019 Print Issue
,
Ramrod
,
The Toro Co.
,
Toro
,
Triple E Equipment
,
Vermeer