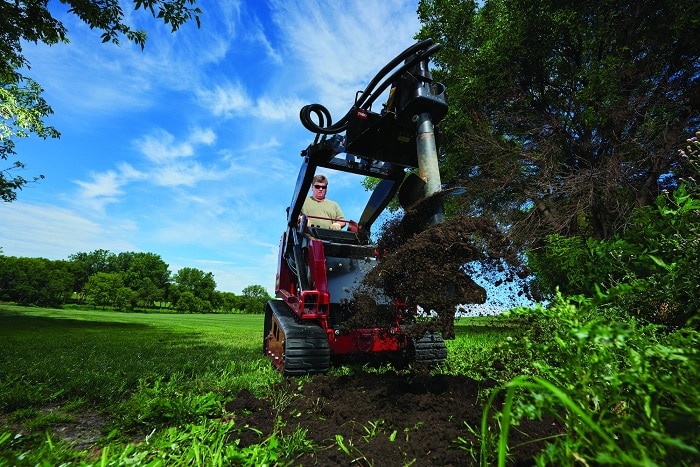 Need a little extra muscle on your next project? Consider renting a compact tool carrier (sometimes called a compact utility loader or mini skid steer depending on the brand). Whether you're a homeowner doing some landscaping or a seasoned contractor who needs to supplement his fleet, this machine can wield dozens of different attachments to complete any job.
"Compact tool carriers occupy an important gap between manual hauling methods like wheelbarrows and equipment classes that include skid steer loaders and compact track loaders," says Jay Thaker, Toro's rental marketing manager. "Using the right equipment brings efficiencies that can help reduce overall costs and complete jobs quicker. Renting the equipment eliminates capital investment costs, storage costs and maintenance costs and time. The line separating a CTC or mini skid steer loader from the standard skid steer loader is blurring, but there are some definitive benefits to using a CTC, including better visibility and maneuverability, intuitive controls and the ability to mount and dismount the machine with ease. Compact tool carriers are incredibly versatile and can simplify tasks like landscaping, hardscaping, utility installation, demolition and general construction projects."
Aside from filling a need for an extra machine, rental also allows potential buyers the chance to test out different brands and models before purchasing one.
"Rental is a great way for contractors to try out a new machine to see how it fits with the type of work they do and their existing fleet," says Brett Newendorp, landscape market manager at Vermeer. "Contractors should track what they are renting and if they are using one particular type of compact tool carrier often enough, it likely makes sense to add it to their fleet."
What to Look For
The first step to renting a compact tool carrier is finding a reliable rental house and communicating your project requirements and equipment needs to the staff. This will ensure you get the right rental for your job.
"It is important to be as transparent as possible with the rental store," says Thaker. "Let the staff know about what the intended task is and any other tasks you think the equipment may be able to help with. Communicate any site requirements and limitations. Ask questions and be open to suggestions. Rely on the expertise of the rental store about their equipment and best practices. The staff will know the possibilities and limitations of the equipment."
When you've found the right rental house, next up is selecting the right compact tool carrier. That search begins with knowing your application and what duties the machine is expected to perform. This helps the dealer select a compact tool carrier that's powerful enough to meet your needs.
"The first thing anyone looking to rent a stand-on skid steer should consider is the rated operating capacity of the machine," says Brant Kukuk, Ditch Witch's compact equipment product manager. "Understanding what type of work you'll be doing and making sure the machine is capable is step one. Another consideration is the hydraulic flow requirements for the attachments you'll be using. Ground engaging attachments typically require more flow, so check the gpm of hydraulic flow on the machines. Matching attachments with their recommended flow rates will help ensure renters have what they need to get the job done."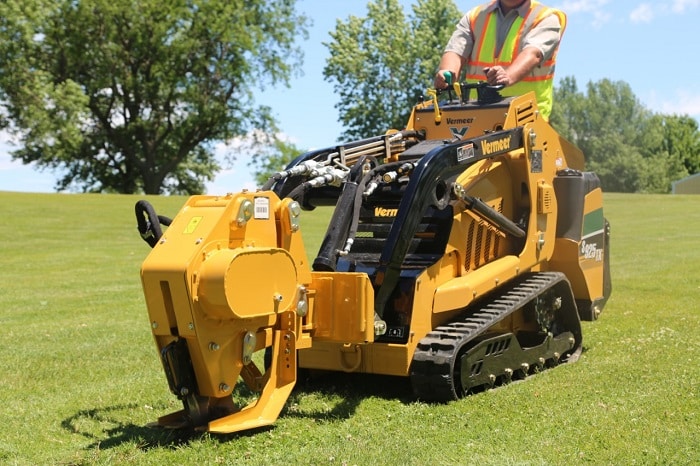 Other important considerations to make include what size of machine you may need as well as if you prefer a ride-on or walk-behind model.
"Size is an important thing to keep in mind," says Brent Kuchynka, vice president, Corporate Fleet Management at United Rentals. "Can you haul the machine? Will it fit within the project parameters once you add buckets or attachments? Consider the project area in total when looking at using the machine. You can usually choose between tracks or wheels and ride-on or walk-behind. It all depends on what you're looking to accomplish and what the project area looks like. For example, tires give you more speed but tracks usually have better traction and improve the machine's overall stability. Consider the maintenance options for both in your decision."
Both Toro and Ditch Witch (now the same company) have been upping the size factor of the industry. Toro has an enormous entry called the TXL 2000, with telescoping loader arms that go over 10 ft, a rated operating capacity of 2,000 lbs and all the benefits of a standard compact tool carrier. Ditch Witch has the K3000, now the largest and most powerful unit on the market with an operating capacity of 3,100 lbs. With the option of 8, 14 and 22 gpm of hydraulic flow to the attachment, a whopping hinge pin height of 118 in. and a weight of 7,600 lbs, the Ditch Witch SK3000 can be easily trailered, allowing these big units to compete with traditional skid steers and track loaders with the advantage of operators being able to jump on and off with ease. That's good for rental.
As mentioned above, compact tool carriers can use all sorts of attachments from buckets and breakers to brooms and blades. Be sure to discuss attachment options with your dealer.
"Don't forget about the attachments," says Newendorp. "Rental stores will typically stock the most popular and widely used attachments contractors use. So, contractors should be sure to ask about what attachment options are available when renting a tool carrier and choose one or few attachments that will deliver the best productivity."
Price is obviously important when selecting a compact tool carrier rental. Rental houses can help find a quality machine that fits within your budget.
"Compact tool carriers are certainly a cost-efficient option when labor is hard to get," says Newendorp. "There are several factors that can impact the rental rates of compact tool carriers like location, time of year and the day of the week. For the most accurate rental rate estimate, a contractor should contact their local rental store."
Rental Ready Units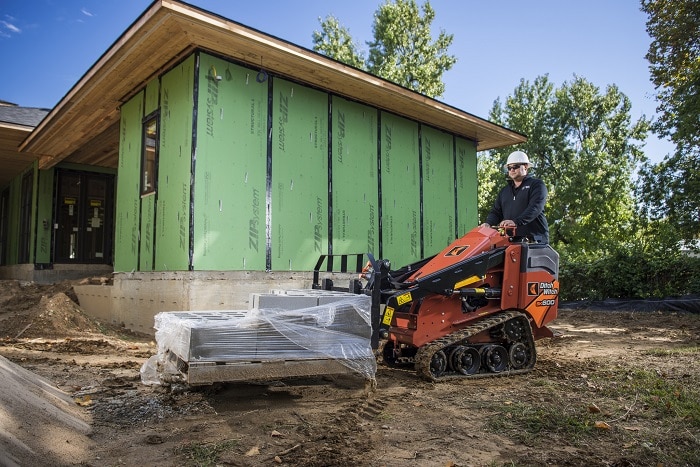 Rental lots are typically stocked with compact tool carriers from a variety of manufacturers such as Ditch Witch, Toro, Vermeer, Bobcat and more. Equipment makers understand that these machines attract renters and keep that in mind when designing their lineups.
"Rental units make up a good portion of the stand-on skid steers Ditch Witch manufactures," says Kukuk. "The SK600, our smallest unit, for example, is built to be able to fit through 36-in. gates for access to backyards and other places renters might need to get. While this machine has a narrow frame, it packs a good punch with 600 lbs of operating capacity and directs the most power to the attachment in its class for more efficient and productive use of hydraulic attachments, such as augers and trenchers."
Toro offers a variety of Dingo configurations — including narrow track, wide track and wheeled models — that can be equipped with or without dedicated platforms. The company's lineup boasts rated operating capacities ranging from 500 to over 2,000 lbs, giving renters plenty of options to choose from.
"For rental-specific equipment, Toro typically designs for rental first, because if it can withstand the demands of the rental industry it will be able to withstand virtually anything," says Thaker. "Outstanding rental equipment requires a high level of durability and ease of maintenance, not to mention intuitive controls. Toro also works to provide rental stores with more options for their customers, bringing innovative, practical solutions to rental so everyone wins."
Renters have lots of options: stand-on and walk-behind units; hydraulic flow rates from 8 to 16 gpm; gas, diesel and electric engines; wheels or dedicated track undercarriages; and a zillion different attachments. That's good news for finding your perfect rental unit.
Tags:
Digital Rental Guide
,
Ditch Witch
,
home
,
Rental
,
Toro
,
United Rentals
,
Vermeer