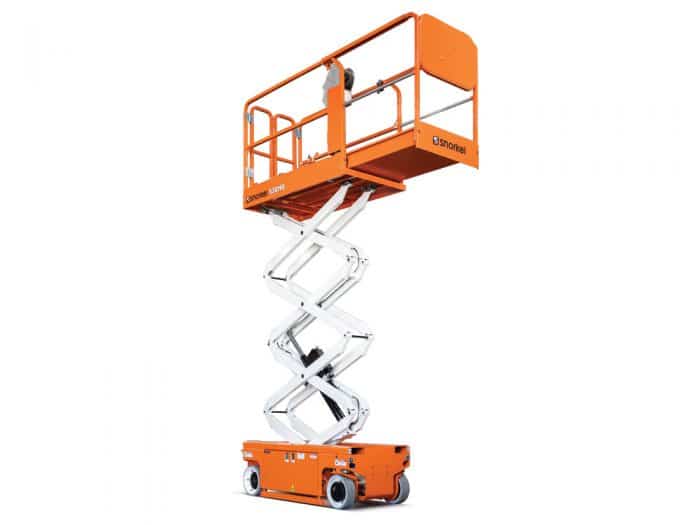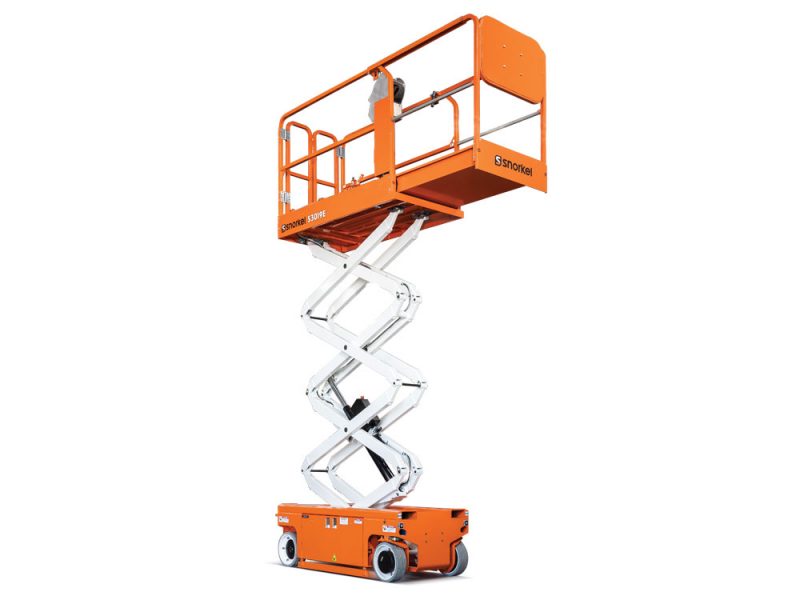 Hanging drywall, installing plumbing, performing electrical work, scissor lifts are the preferred MEWP of choice for a variety of aerial applications. MEWP standing for mobile elevating work platforms. Scissors come in a variety of sizes and configurations to tackle specific work environments.
Rough terrain scissors are specifically engineered for outdoor and/or rugged terrain usage. Rough terrain scissors are often bigger with large platforms, equipped with outriggers for stability, foam or solid tires (vs. air filled) and four-wheel drive. Electric scissor lifts are ideal for working at height in indoor commercial applications on projects requiring plumbing, hanging drywall, electrical work, painting and a multitude of other tasks. Those are just two examples, but in general there are a variety of key considerations when choosing a scissor lift:
Will the job be indoors or outdoors?
Will the terrain be rough or smooth?
Does the jobsite have floor loading restrictions?
Does the jobsite have narrow hallways or finished walls that cannot be damaged?
What is the working height of the project?
That's just for starters. Each of these questions is just the entry point for choosing the correct scissor lift. For more insights, we gathered expert advice from three major manufacturers in the aerial lift industry — JLG, Genie and Hy-Brid Lifts — and to top that off we've embedded a variety of scissor lift articles (how to rent, maintain and onward) to help continue your journey. Let's begin with…
3 Keys to Scissor Selection
Bob Begley, Director of Product Management — Scissor Lifts, Vertical Lifts and Low-Level Access Lifts at JLG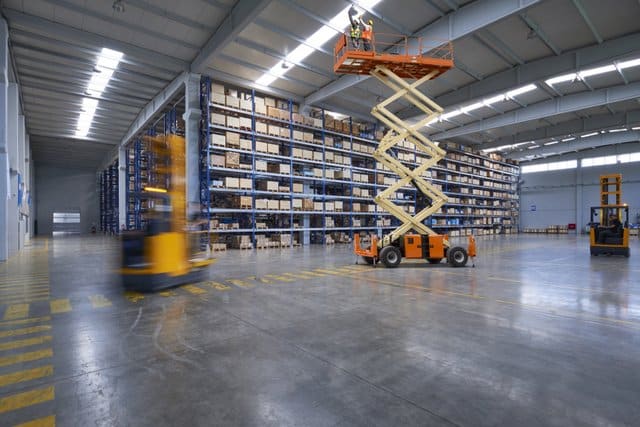 Understand the work to be done. Knowing how long these machines need to run each day to complete the work is essential to choosing the right model. For example, will the scissor lift need to run on continuous shifts, or will your operators have the opportunity to charge the machine between shifts?
Know the lift height and capacity needed. The demand for greater lift heights and capacity is growing. Look for models that offer improved productivity and increased range of operation to meet jobsite needs.
Equip your fleet to get the work done. Knowing the type of work that needs to be completed and having the accessories and options available on the units will help boost productivity. Consider popular features like tool trays, power to the platform, panel cradles and pipe racks.
What to Consider when Choosing an Electric Scissor Lift
Bob Begley, Director of Product Management — Scissor Lifts, Vertical Lifts and Low-Level Access Lifts at JLG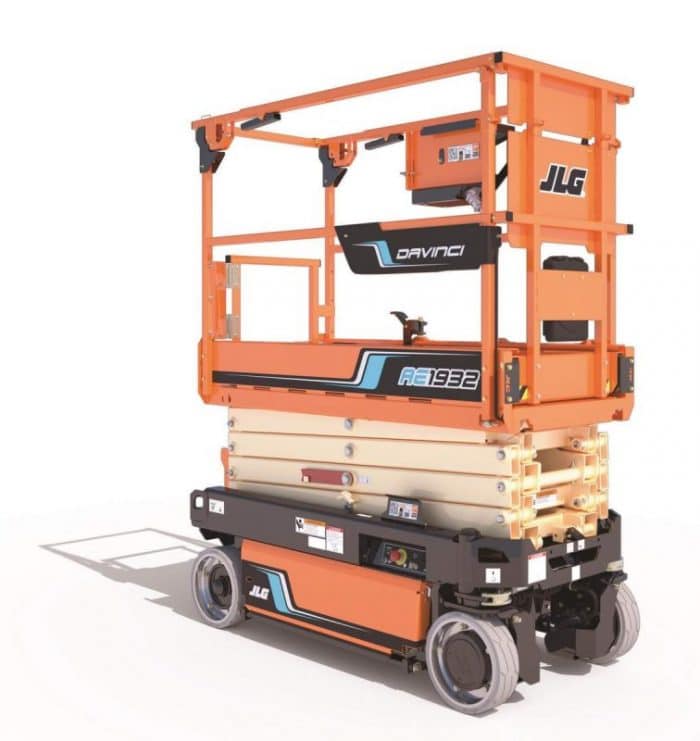 Before investing in electric scissor lifts, it is important to think about how these machines will be charged once on a jobsite. One of the biggest roadblocks to the mass adoption of electrified products remains a lack of electrification infrastructure to support charging. For equipment, this proves even more of a challenge during early-stage construction when power is not yet available. In these instances, companies will require some type of portable power to charge the electric lifts.
A beneficial tip we can offer to increase the utilization of electric-powered models is for rental companies to embrace advances in battery monitoring. Tracking battery use and recharge cycles will not only ensure maximum machine uptime but also reduce the machine's total cost of ownership due to prolonged battery life. JLG offers an advanced battery monitoring system (ABMS), a digital tool designed to help equipment owners and operators monitor the charge status of their scissor lifts for this reason.
Recommended Models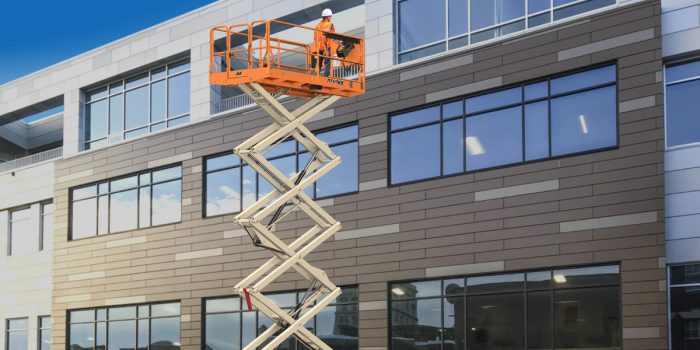 The JLG 4069 and 4769 RT (diesel)/ERT (electric) scissor lifts feature class-leading platform size and an 800-lb capacity to carry more to height, as well as full drive at height capability. The tallest machines in their class, the RT4769 and ERT4769, provide users with access to five-story heights — an industry first. These models are designed to get users closer to the work area while allowing them to bring more people, tools and materials to height, delivering 28 percent more platform working area and a zero-platform offset to minimize the distance users have to reach to access work on buildings or other structures. New technology focuses on integrating data that allows operators to better understand the machine's performance and capabilities. It also includes JLG's exclusive LiftSense technology, an evolution of variable tilt, which shows the users the maximum height they can achieve, before they elevate, based on side-to-side and front-to-back tilt and weight in the platform.
I hate to be the bearer of bad news, but sometimes you can't have it all… unless you rent. From finding the right dealer to scoring the perfect rental machine, we have you covered!
Consider Capacity, Rail Height and Materials
Justin Kissinger, Hy-Brid Lifts Marketing Manager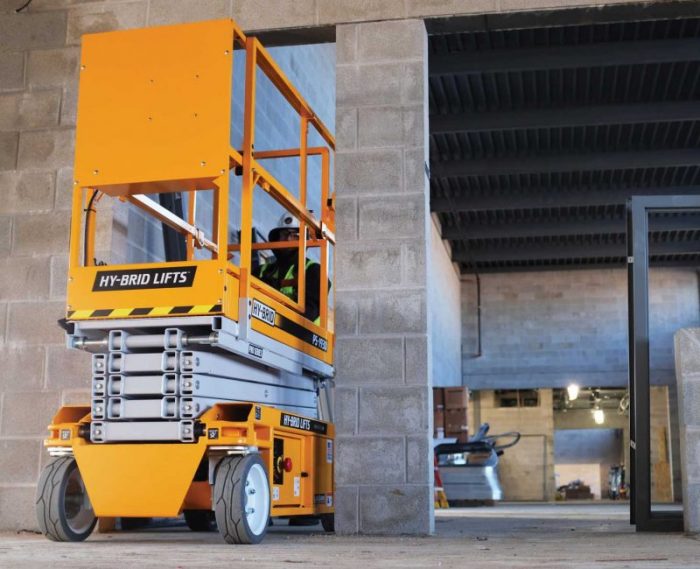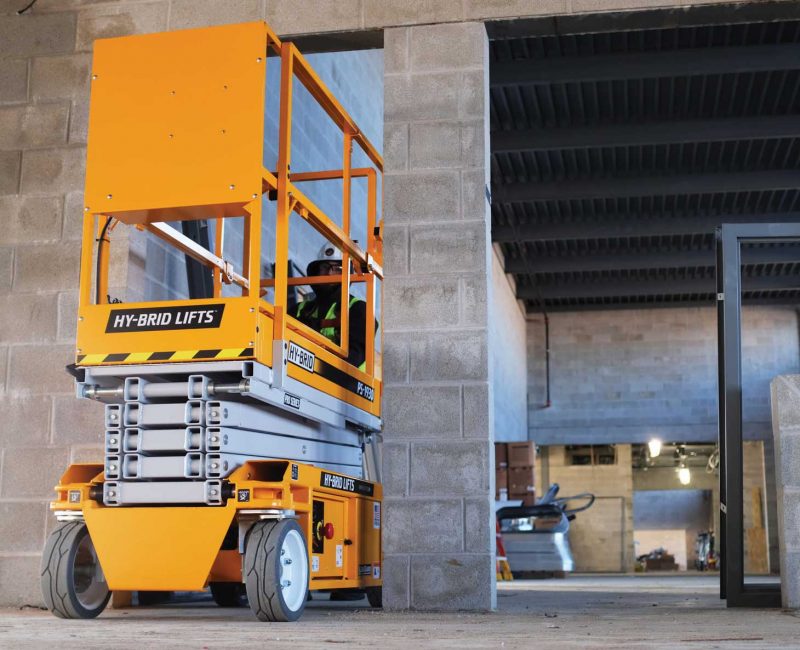 Scissor lifts have long been recognized as a safer alternative to ladders and scaffolding. However, not all lifts take the same approach to fulfilling safety requirements. It's important to look for lifts that are manufactured with efficiency in mind. One example is railing height. Look for lifts that can fit through standard doors without fold-down rails. This enables operators to efficiently move to the next location without wasting time folding down the rails and setting them back up.
Another factor to consider is capacity. Modern lifts come with load sensing, which will prevent a lift from functioning when overloaded. Make sure to select a lift that has a high lifting capacity so more materials can be brought up or down at one time to increase productivity. Contractors should factor in the materials required and the number of operators needed on the platform, so they can complete the job safely without overloading the platform.
Recommended Units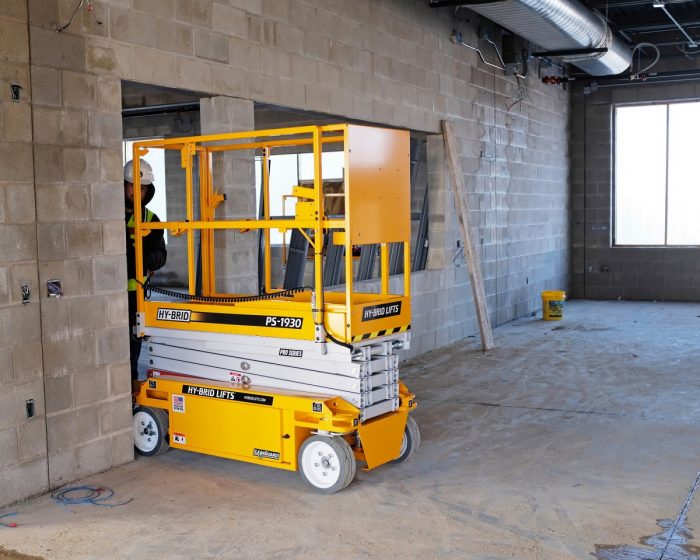 The Pro Series lineup of self-propelled scissor lifts from Hy-Brid Lifts provides capacities up to 800 lbs within a lightweight, compact design while maintaining the lowest floor load pressures in the industry. This enables access to green concrete and delicate surfaces earlier or permits multiple lifts in a zone to increase productivity. Pro Series lifts are ideally suited for professional trades. With three models and a working height range from 16 to 25 ft, contractors can match the best lift to a variety of applications, including construction, maintenance, drywall, plumbing and electrical jobs. The lifts are lightweight and compact enough to fit in a standard elevator and offer unique features such as non-fold-down rails to navigate complex work zones more quickly through standard doors. In addition, intuitive load-sensing and a two-person rating protect the operators and the job deadline.
Accessorize Your Scissor
Christian Dube, Genie Product Manager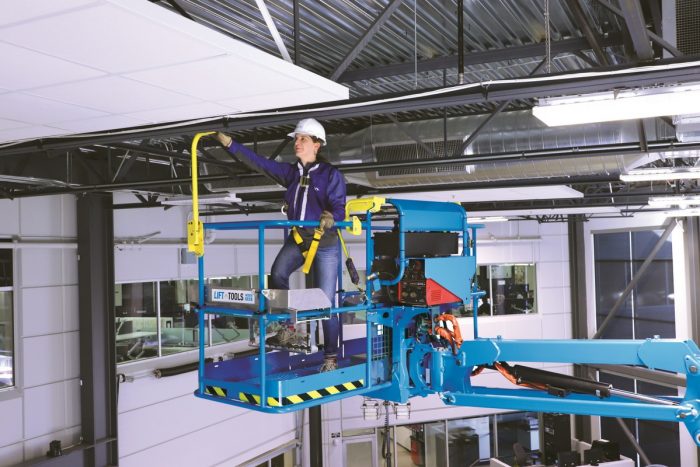 Accessories certified for use with scissor lifts can deliver task-specific benefits. Tool trays and attachments for storing materials on the platform are two examples. The right accessory can help an operator get the most out of the equipment, enhancing efficiency and productivity. When working in space-restricted areas, Genie Lift Tools Access Deck provides a secondary surface that elevates operators 22 in. above the platform floor. This extra boost can be just what is needed to help operators reach the work. In addition to improving jobsite efficiency, accessories like Access Deck can reduce equipment rental costs because they could, in some cases, eliminate the need to rent a second lift with a smaller platform and/or lower occupancy for those hard-to-reach areas. When the right scissor lift is paired with a task specific accessory, the job can be so much easier. Contractors should remember to ask their rental provider about available options.
We'd love to keep in touch! Check us out on Facebook, Twitter and LinkedIn!
Recommended Units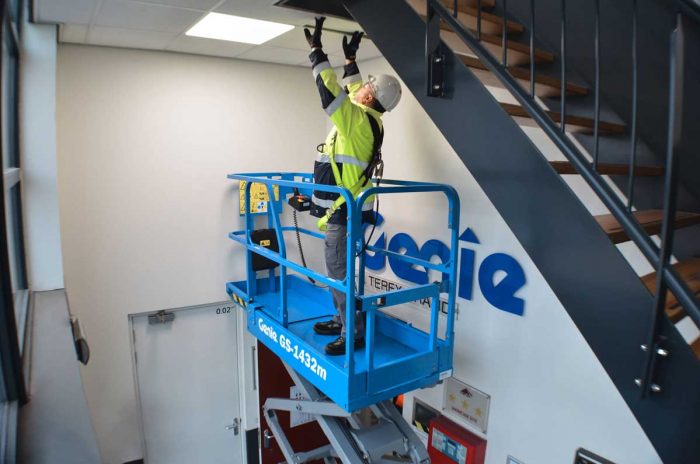 Full-sized performance in a compact, lightweight footprint, along with a low total cost of ownership make Genie GS-1432m and 1932m micro scissor lifts versatile options for nearly any work-at-height application up to 19 ft. These micro scissors are compact enough to drive through doorways with standard fixed guardrails and lightweight enough to be transported in standard elevators. Powering by eDrive, both models feature brushless, fully-sealed and maintenance-free AC electric drive motors that deliver real-world 25 percent gradeability and powerful traction for loading and unloading. The GS-1432m weighs less than 2,000 lbs and is rated for both indoor and outdoor use. The GS-1932m has an indoor platform height of 18 ft, 2 in. and an outdoor platform height of 17 ft. With a 500-lb platform capacity, the new micro scissors are rated for two workers and feature a 2-ft extension deck, ensuring good access to work locations.
For more great insights into scissor lift selection, maintenance, rental and more, try these articles:
Keith Gribbins is publisher of Compact Equipment.
For reprint and licensing requests for this article, please click here.