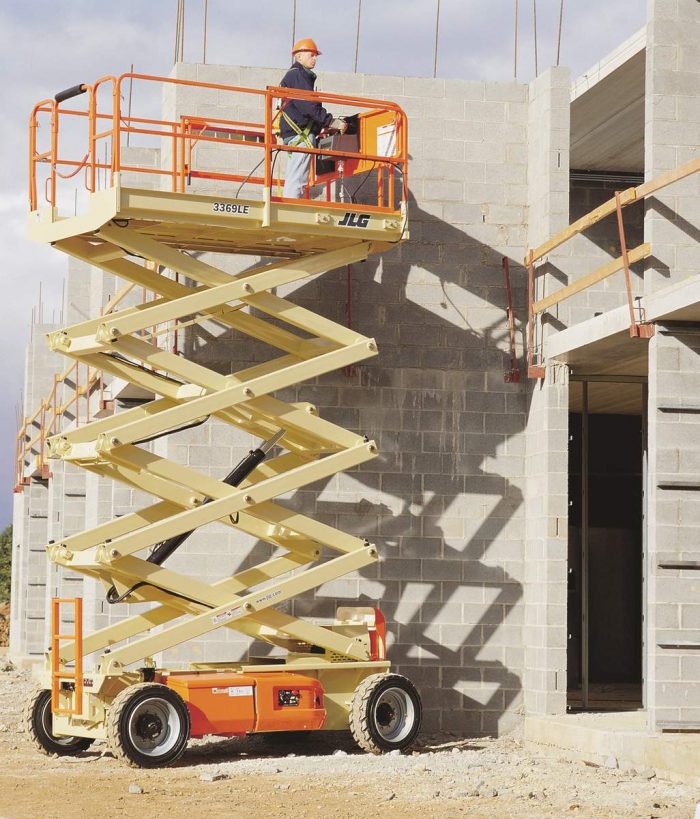 Scissor lifts are essential aerial platforms, ideal for spearheading projects at height. Rough terrain scissors are specifically engineered for outdoor and/or rugged terrain usage. Rough terrain scissors are often bigger with large platforms, equipped with outriggers for stability, foam or solid tires (vs. air filled) and four-wheel drive. Rough terrain scissors offer competitive lift speeds and large platforms to increase efficiency with handling and capacity, enhancing productivity by providing better traction, speed and gradeability. They're the perfect machines for big outdoor jobs where platform workspace is critical. To learn more, enjoy this article from our archives. Then, consider these top units in the industry.

JLG 2669 and 3369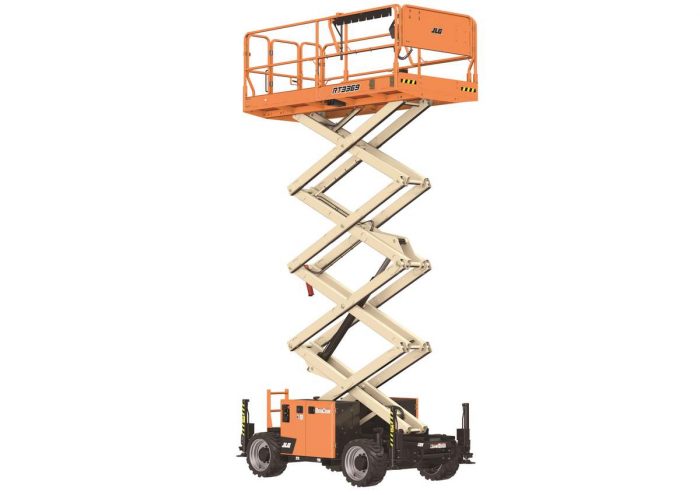 The new generation JLG 2669 and the 3369 rough-terrain scissor lifts, are now available in diesel engine or electric drive models. The platform on these lifts deliver 28 percent more work area, class-leading capacity and a zero-platform offset, allowing users to get closer to the work area while bringing more people, tools and material to height. The units also have full drive at height capability both indoors and out, allowing the lifts to operate along the length of a building at a fixed height. And, these models come with LiftSense, a feature that monitors both the weight in the platform and the machine's tilt to determine the allowable work envelope, showing the operator the maximum height they can achieve before elevating. QuikLevel Advanced is an available option that allows the stowed machine to level on side slopes up to 4.5 degrees then elevate and drive at full height under certain conditions. For more info, visit jlg.com/stacked.
Genie GS-4069 RT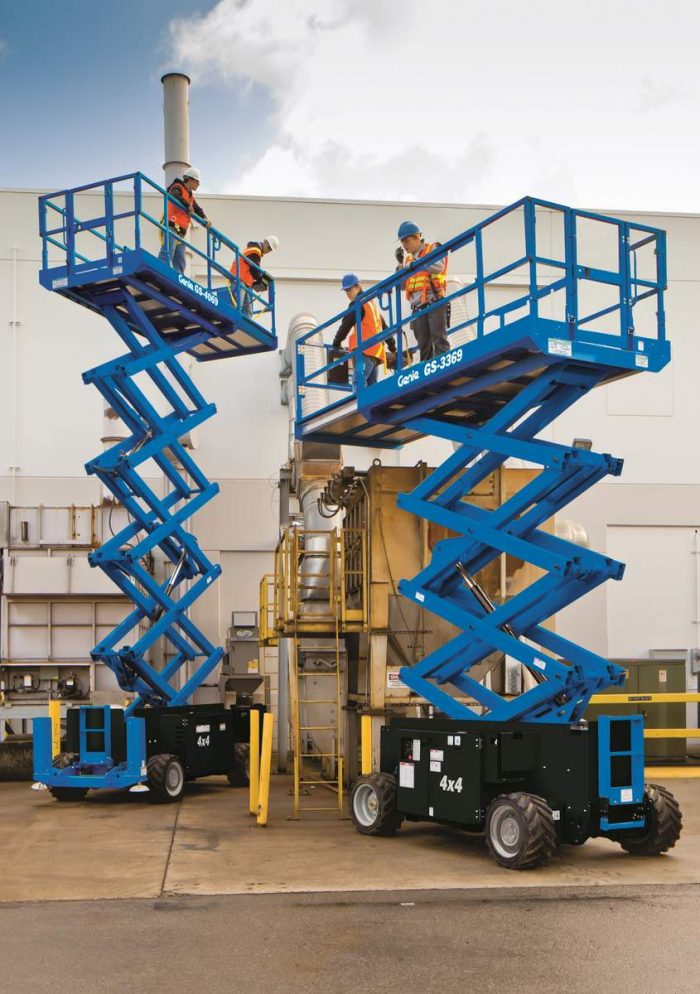 The Genie GS-4069 RT was the industry's first 40-ft rough terrain scissor lift in this class able to drive at full height. It is available with a 24.8-hp Kubota Tier 4f diesel engine or in DC version (GS-4069 DC) for quiet, emissions-free performance. Four-wheel drive and positive traction control enable up to 40 percent gradeability on slopes. To maintain stability, the oscillating axle senses the terrain and adjusts the axle position based on ground conditions. Optional auto leveling outriggers deploy simultaneously to level the lift on uneven ground. The 110 x 63 in., 800-lb capacity platform is large enough to accommodate multiple workers and tools. A slide-out platform extension adds another 5 ft of workspace. A built-in, hydraulically driven 120V AC generator supply power to the platform for operating tools. The Genie Lift Tools Material Carrier is ideal for holding lumber, pipe, siding and plate. For more info, visit genielift.com.
Snorkel S2755RT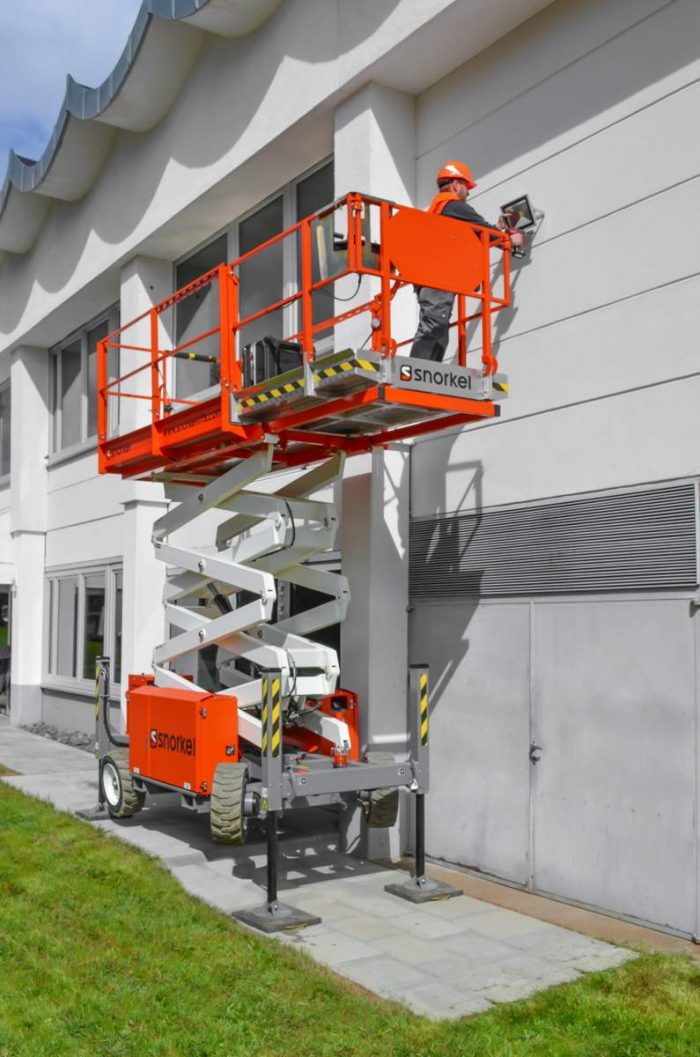 The ultra-narrow Snorkel S2755RT delivers all the rough terrain capabilities of a compact RT scissor, yet can easily access tight spaces thanks to a 4-ft, 9-in. overall width. Equipped with four hydraulic outriggers with auto-leveling, which feature an inverted design to protect the cylinder rod from damage, the Snorkel S2755RT has powerful four-wheel drive and a Kubota diesel engine. Reaching a maximum working height of 33 ft, 1 in., the S2755RT benefits from a 3-ft, 11-in. roll-out deck extension for reaching over low-level obstacles. Weighing just 6,062 lbs, the Snorkel S2755RT can be towed on a trailer between jobs and is also available as the S2755BE, with a bi-energy power source, enabling the lift to be easily switched between its diesel engine, or zero emission battery power. It is also available in an electric version as the S2755RTE powered by lithium-ion batteries, with full rough terrain capabilities. For more info, visit snorkellifts.com.
Skyjack SJ9664 RT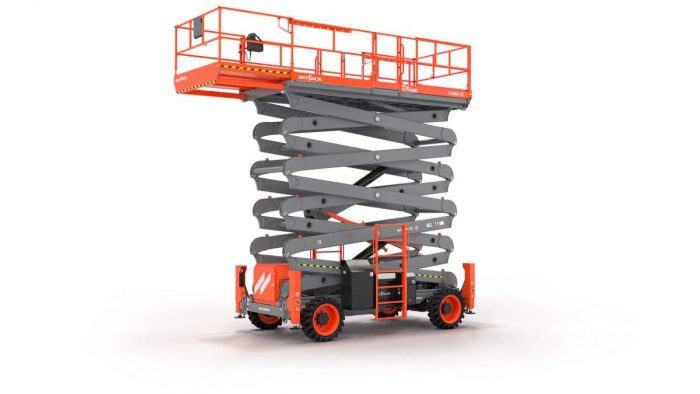 An enhanced version of prototypes previously introduced, this 70ft working height scissor lift is Skyjack's tallest to date and rounds out its new full-size rough terrain scissor offerings. Using SMARTORQUE technology, the SJ9664 RT offers an optimized balance of engine horsepower, torque, and hydraulic performance, creating a cost-effective solution for emission regulations and controls. The SJ9664 RT is a middle ground between traditional classes and niche markets as it makes work at seven stories possible without having to jump to a specialized class. Like all Skyjack Next Generation products, the SJ9664 RT is supported by ELEVATE telematics. When equipped with ELEVATE, operators can see engine faults and other machine health metrics in addition to the familiarization material provided by the standard ELEVATE Live QR code. For more info, visit skyjack.com/news/SJ9664-RT.
Keith Gribbins is publisher of Compact Equipment.
Tags:
Genie
,
JLG
,
Rough Terrain Scissors
,
Skyjack
,
Snorkel