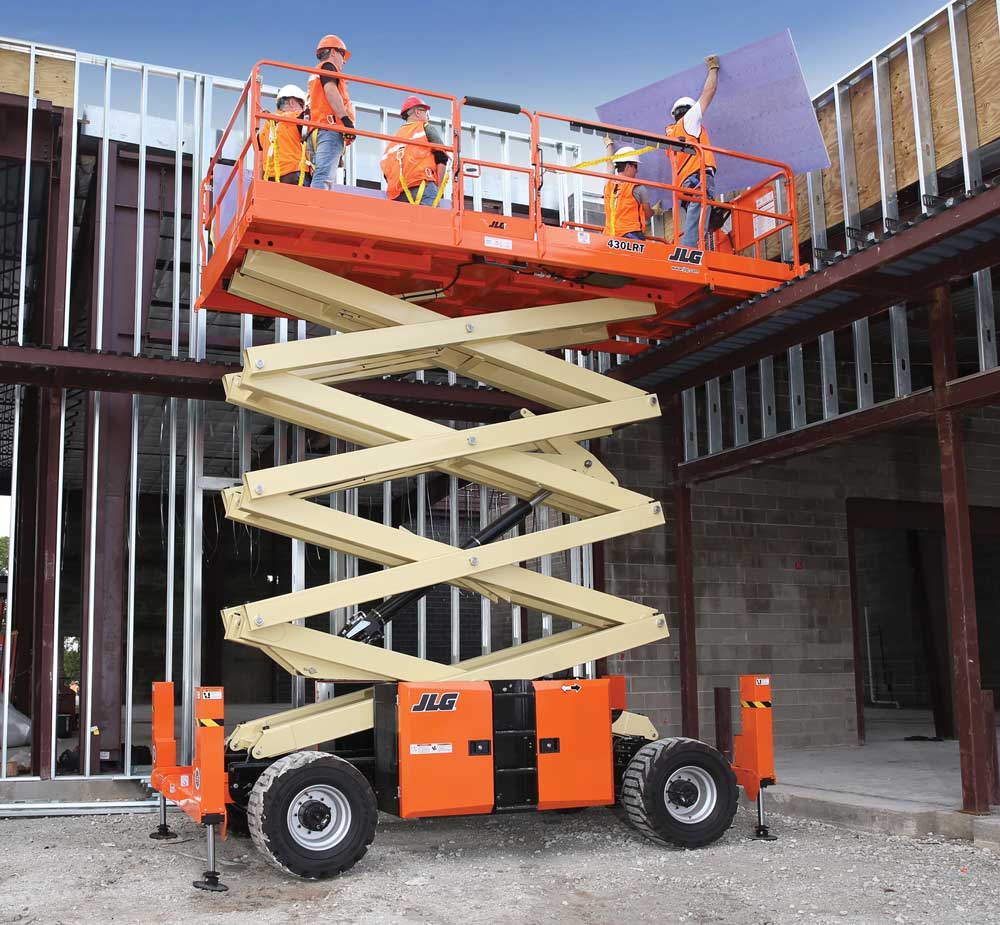 When the job to be done is overhead, and materials, tools and several workmen must be up there to do it, aerial work platforms are the solution. Scissor lift platforms are a first choice because their capacity and stability enhance the task. Rough terrain scissor lifts bring this capability to less-than-ideal ground conditions.
JLG began to manufacture the driveable scissors-style lifts 40 years ago and remains a market leader in a market dominated by rentals. Its upgraded LRT Series of rough-terrain models is the latest rendition, and the 530 LRT is its largest model. This is a large lift by just about any measurement. It is 10 ft high when sitting at rest and raises its work platform 53 ft into the air. Seventeen ft long and just under 8 ft wide, the 530 can lift 1,500 lbs to its full height in just under a minute. Other models can lift 2,250 lbs.
"This machine is used mostly in construction," says Rafael Nunez, senior product manager at JLG. "It is 91 in. wide and weighs quite a bit [17,000 lbs]. Once you have a building outfitted and fully constructed, it is tough to get machines of this size in there for maintenance work. In a construction setting, you can get a lot of materials and a lot of people on this platform."
Big but rugged, that's the 530's calling card. It is designed to traverse uneven worksites so crews can tighten bolts on the underside of a bridge superstructure or affix panels to the side of a new building. Riding on 12- by 16.5-in. foam-filled tires, the driveable scissor lift has a foot of clearance beneath its frame and sufficient power to move steadily through mud and rough footing to a setup site. Oscillating axles help level out movement in such conditions, an engineering feature introduced way back in 1981.
The platform need not be lowered clear down to move the 530LRT. The driver can steer the machine from position to position while standing on the platform raised 30 ft in the air, thereby reducing time spent lowering and raising the platform and increasing productivity. At 30 ft, speed is limited to .5 mph compared to 3.5 mph with the platform down. The operator 30 ft in the air is probably ok with taking it slow.
Foam-filled tires, by the way, now are required on scissor lifts as a consequence of new American National Standards Institute (ANSI) regulations in effect this year. The ANSI standards are bringing the U.S. market into compliance with rules already established elsewhere. "North America has been a little bit behind Europe and Australia and some Asian countries where standards are more stringent," Nunez says. "We already sell in those regions and have compliant technology in those regions. We're just bringing those machines into this region."
Manufacturers have until the end of 2019 to rid themselves of noncompliant lifts, but any new models must meet the standards. Other new ANSI standards include load-sensing systems to keep weight within safe parameters and safer rail designs.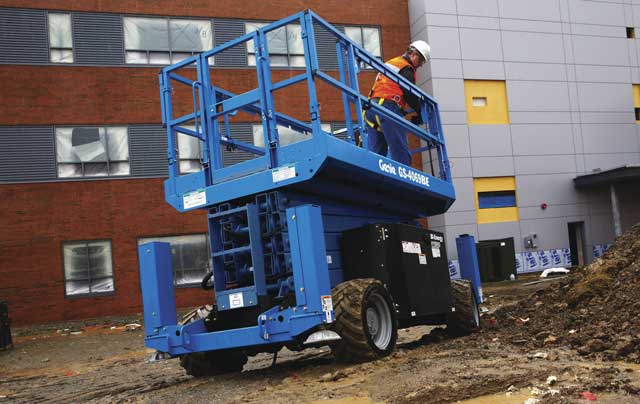 "The load-sensing solutions enable a machine to sense how much weight is placed on a platform," says Mike Flanagan, Genie product manager. "The sensors will shut down a machine when the load exceeds the platform's rated capacity." The new standards are non-negotiable for manufacturers, of course, but the cost of the additional engineering is expected to be modest. Flanagan says the expense for a buyer of a newly compliant lift will only "slightly increase."
Genie's rough terrain scissor lifts concede nothing to site conditions. Riding on 12-in. by 26-in. tires, the lifts are four-wheel drive with positive traction controls and oscillating axles for gripping slippery slopes. "Up to 50 percent gradeability is possible, depending on the model, when crossing terrain with the lift in the stowed position," Flanagan says. For incremental repositioning of a lift, he adds that "the GS-4069 is the only rough terrain scissor in the industry that is capable of being driven at its maximum 40-ft platform height, increasing efficiency in high-height applications."
In a similar vein, JLG engineers have upgraded the company's rough terrain lifts beyond what ANSI required of them. Digital controls have been tweaked for quicker and smoother responses. In addition, machine calibrations — think tilt, drive, load-sensing, etc. — have been simplified in the lift's analyzer so that multiple adjustments are made in what is termed "one-click calibration." Says Nunez: "We spent a lot of time upgrading that. While we were refreshing the rough terrain line, it seemed a good time to go in there and change how people needed to calibrate the machine."
Engines to power these sophisticated and rugged scissor lifts give buyers options. Because some rough terrain scissor lifts end up working inside commercial or industrial buildings, manufacturers offer battery-powered models to reduce emissions. More often, the scissors are powered by diesel engines — with Genie lifts coming in 25- or 49-hp units.
A third option manufacturers offer dual fuel engines that can operate either on gasoline or natural gas. JLG's dual version is a 31-hp Kubota engine. "There is a fair mix of engines in the lifts, either diesel or dual fuel," Nunez says. Battery models have an onboard generator option for recharging the batteries.
At the top of the machines is where the work gets done. The work platform generally measures 6 ft by 13 ft with platform extensions available. In February, Genie introduced what it calls a "tools material carrier and side-exit platform" option. Described as a high-capacity carrier, the platform is suitable for bulk lumber, pipe, siding or other materials. JLG also now offers a large material rack for its rough terrain models as well as dual extension decks.
"The Genie side-exit option was designed for jobsites where operators need to exit the platform at height," Flanagan says. "Operators are permitted to exit provided they follow the guidelines in our 'exiting at height' approval letter, which includes 100 percent tie off of the platform and exiting from a manufacturer-provided exit." The procedures are a reminder that while the workers are on a stable platform, it nevertheless is 30, 40 or 50 ft above the ground.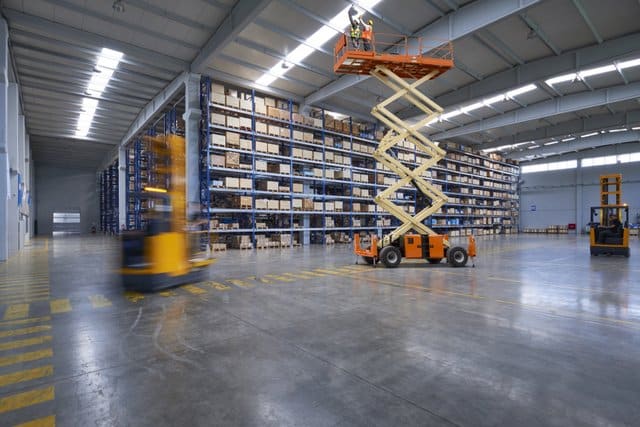 Hydraulic systems to raise these platforms vary from machine to machine. The Genie GS-69 lift, for example, has a 16-cc pump that produces 13 gpm at 3,100 rpm. Nunez notes that the JLG pumps scale up as the machines do. "Some have one pump, some have three pumps for steering, lift and so on."
Scissor lifts have leveling jacks to fine-tune the equilibrium and to stabilize the machines. These systems have grown more sophisticated, according to Nunez. "The sensor used to consider a machine was level when it was plus or minus one to three degrees. Now the jacks level automatically at .5 degrees. The sensor also detects how out of level a machine is and changes leveling speed accordingly. For example, if it determines the machine is sitting on a 7-degree slope, it increases the leveling speed so that it can reach level quicker."
With such refinements as that, it's no wonder the construction industry has become reliant on scissor lifts for second-story work at worksites. "Rough terrain scissor lifts are often one of the first machines on a jobsite and the last off," confirms Flanagan.
Giles Lambertson is a freelance writer for Compact Equipment.
---
Check Out Skyjack's New RT Range of Scissor Lifts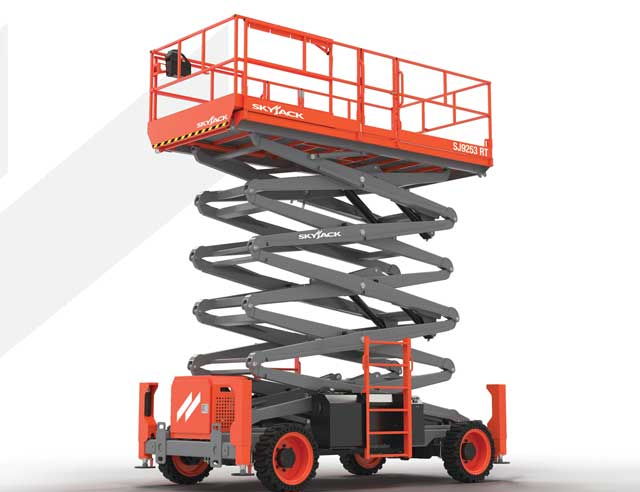 Skyjack's newly redesigned full-size rough terrain scissor lifts will be making their way onto rental yards starting Q4 2019. This new range replaces Skyjack's existing 88- and 92-in. models and consists of the SJ9233, SJ9243, SJ9253 and SJ9263 RT. Skyjack also has plans for an even larger rough terrain scissor lift that would make work at six stories possible, increasing the number of applications these machines could be used for. The SJ9263 RT with a working height of 69 ft is in its final design phase. These models boast increased working heights, increased capacities, faster function speeds, all along with the market's largest work platform across the range.
---
What is Level Enough?
Tilting scissor lifts are not a welcome sight. The lifts are designed to operate more or less vertically — straight up, rather than angling upward. Worker safety at height depends on establishing and maintaining this verticality.
Rafael Nunez notes that earlier versions of JLG's scissor lift automatic leveling system were not as refined as today's systems. "You would hit auto-level. and it would bring the lift level enough but sometimes not quite level enough," says the JLG senior product manager.
"Level enough" means that the base of the machine is within a degree or two of horizontal so that the scissors can rise perpendicular to it. The newest leveler actually shoots for .5 degree of level, but engineering of the lifts gives some latitude in finding pure vertical. Nunez says the leveling system can correct a side-to-side slope of up to 5 degrees and a front-to-back slope of 11 degrees. "A grade steeper than 11 degrees is not suitable."
"Rough terrain scissors must only be elevated when the machine is level and on firm terrain," reiterates Mike Flanagan, Genie product manager, so Genie, too, offers leveling help. "Automatic leveling hydraulic outriggers are an optional accessory on most Genie rough terrain scissor lifts. This feature can enable operation on up to 12-degree slopes, depending on the exact model and the orientation of the lift to the slope."
Contractors try to increase the useful range of sloping terrain by doing what is called "cribbing." Essentially, a slope is truncated by constructing an artificial plywood floor on the lower end of the slope, and the lower leveling jacks then rest on the plywood. While cribbing does increase the capability of the lift to work on a slope, it is deemed an unsafe procedure. Manufacturers do not recommend it.
Tags:
Genie
,
home
,
JLG
,
June 2019 Print Issue
,
Skyjack