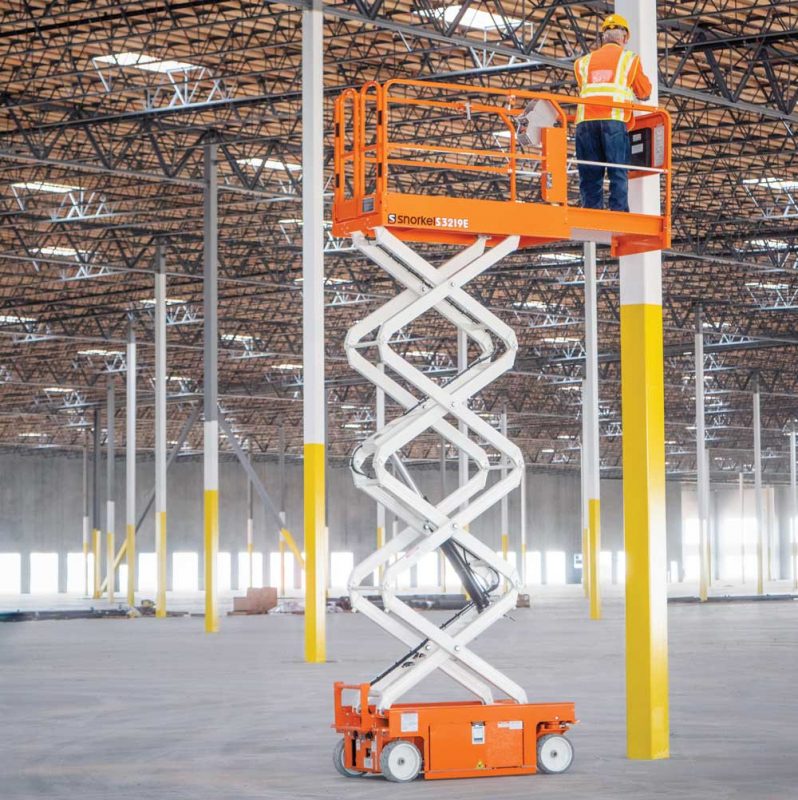 When a job finds a crew working overhead — whether it's indoors or out — scissor lifts are a popular equipment option thanks to their capacity and stability. These versatile and efficient machines provide a safe platform for materials, tools and workers. They're a great alternative to ladders and scaffolding, and 19-ft lifts in particular are great for just about any application where extra reach is needed. General contractors, electricians, painters, drywallers and many other construction professionals can all benefit from the most popular category of scissor lifts.
"Scissor lifts are predominantly designed to safely reach working areas at height in confined spaces," says Matthew Elvin, CEO of Snorkel and Xtreme Mfg. "Specifically, 19-ft electric scissor lifts are designed to be able to pass through a standard doorway, are easy to maneuver, have a good lifting capacity for taking materials to appropriate work heights and usually have an extendable platform to reach out over obstacles. They are also easily transported on lightweight trailers and vehicles."
All the features mentioned above makes these machines attractive to a variety of rental customers. Luckily, there are plenty of 19-ft scissor lift models to consider from companies like Snorkel, JLG , Hy-Brid Lifts, Skyjack and Genie. However, it's important to select the right machine for your needs. Justin Kissinger, Hy-Brid Lifts' vice president of marketing, says when selecting a scissor lift, take a look at the jobsite and the project at hand. Here are a few key things to consider:
Will the job be indoors or outdoors?
Will the terrain be rough or smooth?
Does the jobsite have floor loading restrictions?
Does the jobsite have narrow hallways or finished walls that cannot be damaged?
What is the working height of the project?
"Considering each of these questions is a good starting point for choosing a scissor lift," says Kissinger. "Many manufacturers make a dual-rated lift for indoors and outdoors, but not all of them. So be sure to check the wind rating to confirm the lift can be used where it's needed. Additionally, if the terrain is going to be uneven, a rough terrain lift will be required."
If a job is indoors, a battery-powered electric scissor lift is the ideal choice thanks to the fact it doesn't emit hazardous emissions. Electric lifts can also be used outdoors, depending on the jobsite. However, if an operator plans to encounter uneven or muddy surfaces, a rough terrain lift — powered by a gas or diesel engine — should be considered.
Renters should be sure to check if there are any floor loading restrictions. A lot of newer buildings feature lightweight flooring that may be susceptible to damage with heavier equipment.
"Sensitive flooring or delicate finishes might restrict the ground pressure allowed onsite, so choose a lift that will meet those requirements," says Kissinger. "An indoor jobsite might also have finished walls or narrow hallways that restrict the lift size. While a 19-ft lift can provide ample reach, it does no good if the lift itself doesn't fit down the hall to complete the job. Hy-Brid Lifts' compact size — just 30 in. wide — eliminates the amount of jobsite damage to door frames and finished construction typically seen with larger lifts."
Lift capacity is another consideration. The lift capacity of a scissor lift determines how many people can travel in the machine, as well as how much remaining capacity is available for tools and materials. Elvin cautions that renters should be sure to check both lift capacity ratings for indoor and outdoor use, as this can vary on certain machines. A scissor lift should also be easy to use and have intuitive controls, plus have ease of entry in and out of the platform. This is especially important for renters who may not be as familiar with a scissor lift as someone who owns one or is a seasoned operator.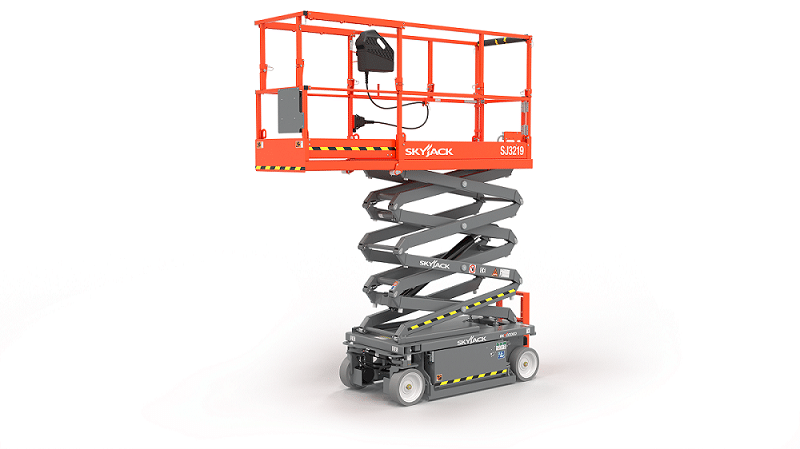 "These features all help to reduce risk of accidents and increase productivity on the job," says Elvin. "Other safety features to look for include an overload system, which cuts-out the machine operation should the platform become overloaded beyond its approved capacity, and a tilt sensor which monitors the operating slope that the lift is working on, and limits some functions if the slope exceeds the machine rating."
Skyjack product manager Kristopher Schmidt says that renters should also check the availability of manufacturer-approved accessories like pipe racks and board carriers. Schmidt adds that these manufacturer-approved items help operators safely complete work at height without compromising the integrity of the equipment — making for a safer operating experience.
And you can't forget price. Kissinger says rental costs vary widely, depending on the market and companies offer daily, weekly and monthly rates. Elvin adds that renters can expect to pay a range of $225 to $300 per week for a 19-ft model.
Education Is Key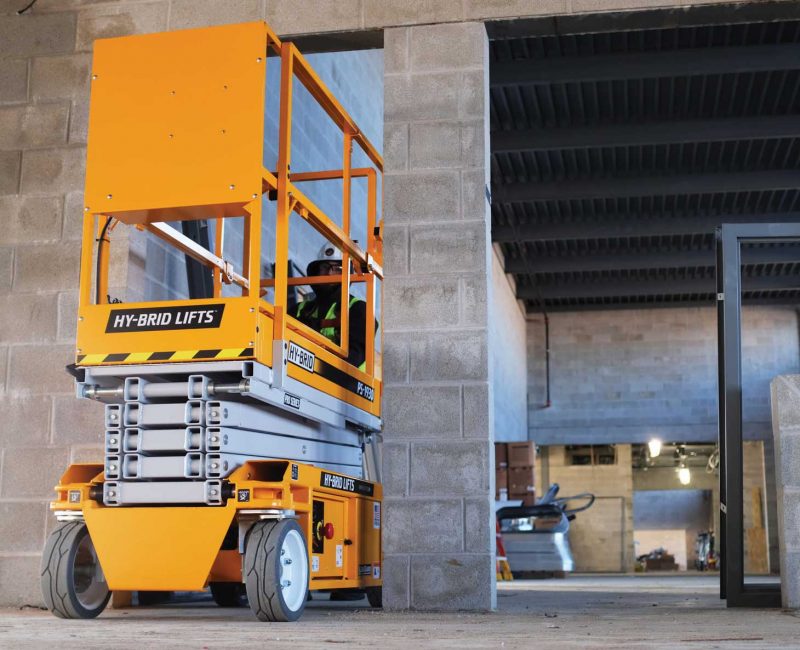 All three manufacturers we surveyed agree that education is an important aspect of renting and operating a scissor lift. Fortunately, there are a variety of up-to-date training resources from manufacturers and rental centers — ones that address the new ANSI A92 standards. (Head to compactequip.com to learn more about the standards.)
"Operators or users must know how to safely and properly use equipment," says Schmidt. "This means being trained by a certified organization and familiarized with that specific machine. Training varies depending on the region, but typically consists of knowledge of safety requirements, stability factors, risk assessments, maintenance requirements and much more."
In addition to operator training, equipment familiarization on a jobsite is key to preventing unsafe situations. Kissinger says operators should take time to become familiar with the scissor lift's upper controls, lower controls and have a general understanding of that lift brand and model. Operator manuals and other sources like QR codes are ideal for becoming familiar with a particular machine.
"Hy-Brid Lifts just introduced QR codes on our machines, which makes access to this information even easier," he says. "QR codes allow jobsite workers to quickly access all manuals, familiarization documents and product specifications."
Pam Kleineke is managing editor of Compact Equipment.
JLG Releases 26- and 33-Foot Rough-Terrain and Electric Rough Terrain Scissor Lifts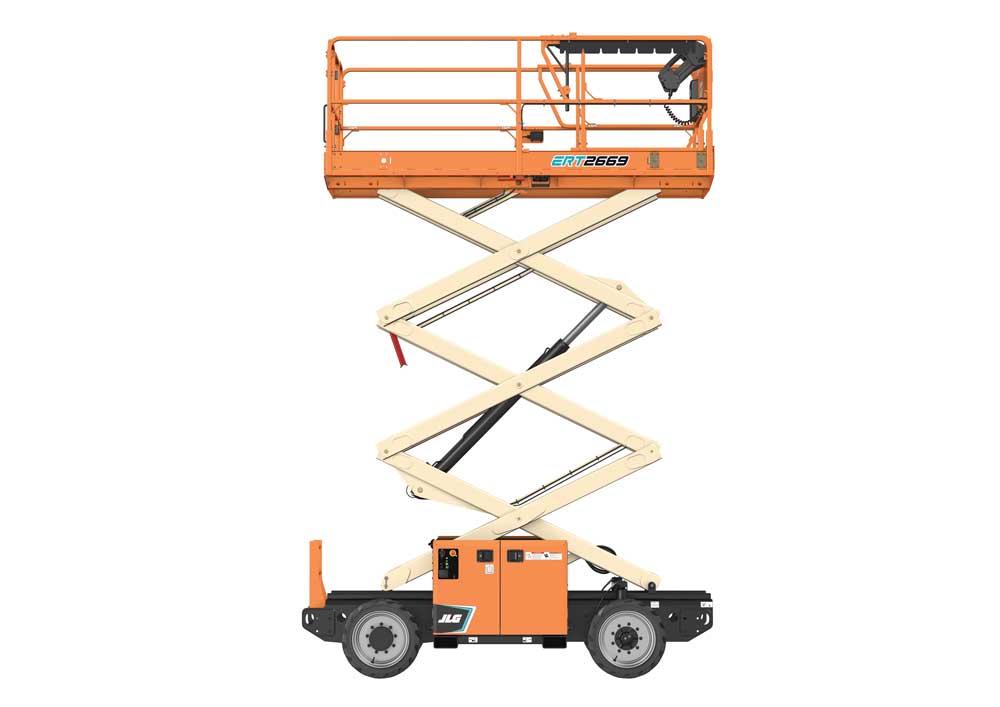 Looking for reach beyond a 19-ft scissor lift? Check out two new models from JLG. The global manufacturer of mobile elevating work platforms and telehandlers recently introduced the first models in its new generation of rough-terrain (RT) and electric rough-terrain (ERT) scissor lifts. The 26-ft, 69-in. wide 2669 and the 33-ft, 69-in. wide 3369 are the first to market and come in diesel engine or battery powered AC electric drive models. These completely reengineered scissor lifts include many new features and technology that deliver enhanced versatility, greater productivity and intuitive data for improved performance on the job.
The platform on these new rough terrain lifts deliver 28 percent more work area, class-leading capacity and a zero-platform offset, allowing users to get closer to the work area while bringing more people, tools and material to height. And when it comes to height, the units have full drive at height capability both indoors and out. This allows the lifts to operate along the length of a building at a fixed height, eliminating the need to ascend then descend as work is being performed for improved efficiency and productivity. The new line comes with LiftSense, an evolution of JLG variable tilt, which monitors both the weight in the platform and the machine's tilt to determine the allowable work envelope. This industry JLG-exclusive feature sends information to the industry's first platform control box with LCD display, showing the operator the maximum height they can achieve before elevating. For more info, visit jlg.com/stacked.
Tags:
Genie
,
Hy-Brid Lifts
,
January 2021 Print Issue
,
JLG
,
Skyjack
,
Snorkel