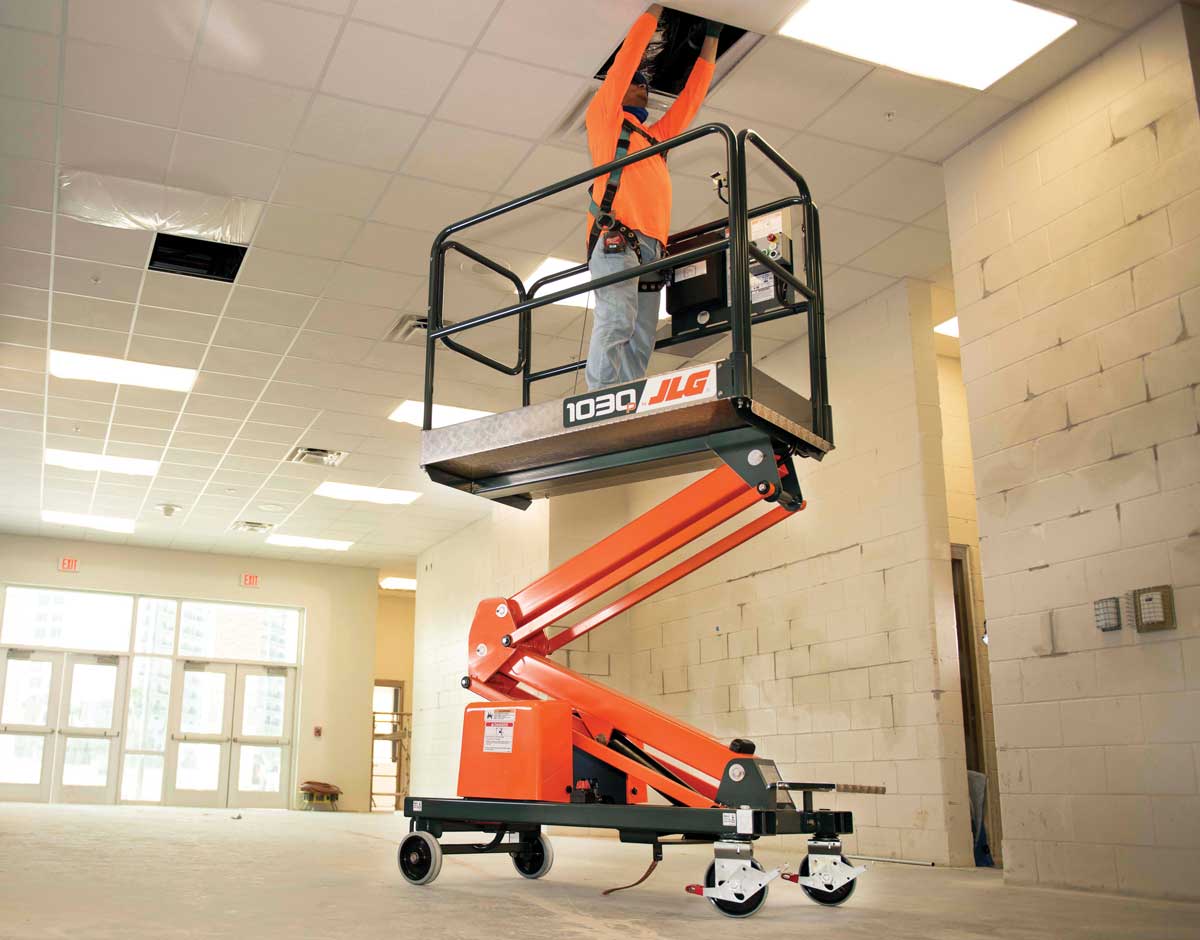 Did you know that every time you or one of your workers uses a ladder, you're risking racking up thousands of dollars related to construction injuries? Keep in mind, there is a wide range of ladders being used on jobsites today, including single-sided stepladders, twin stepladders, podium stepladders and platform stepladders, as well as stationary and rolling scaffolding. Construction injuries can result in downtime, overtime, insurance premium increases or OSHA fines for safety violations for businesses. And for an injured worker, it can mean medical treatment expenses, time away from work, rehabilitation and the possibility of needing to find a different role or job — or it may prevent working at all in the future. In the worst-case scenarios, ladder accidents or misuse can lead to worker deaths. Today, more and more companies are looking to replace ladders and scaffolding with products that offer a safer, more productive way to work at height.
Ladder Alternatives
Safety and technology have come a long way since ladders were invented. For decades, since the introduction of the world's first boom lift in 1969, JLG 1, construction professionals have used MEWPs (mobile elevating work platforms), like boom lifts and scissor lifts, to access overhead work more safely and efficiently. That said, even the smallest-sized traditional scissor lifts on the market (19-ft models), aren't always the best fit for completing low-level indoor work. They are often too big to fit into tight spaces and reposition easily, and some models are too heavy for use on sensitive flooring and don't fit into elevators to be moved between floors.
So despite there being other alternatives available, the reality is that many mechanical and electrical contractors, plumbers, painters, drywallers and facility professionals still commonly use ladders for overhead work at heights below 20 ft.
The Rise of Low-Level Access
With less open space and buildings getting narrower and taller, there is a greater need for compact, lighter-weight lifts that can be moved between floors. This has led to the advent of low-level access lifts. Like their larger MEWP counterparts, low-level access lifts are designed to put people at height — even if it's just a few feet off the ground. However, these types of lifts are engineered with smaller footprints, delivering a maximum work height of 20 ft and weighing less than 2,000 lbs. This means that they can be used in many applications where one would historically use a ladder or scaffolding due to site weight or space restrictions. They are also built to be pushed or rolled into place, or between work areas, with no assembly or disassembly required. This allows workers to access catwalks, landings and other hard-to-reach areas that they may not be able to with a traditional-sized MEWP. This makes it easier, as well as takes less time, to perform multiple tasks with one machine throughout a building or facility.
What can we say? We love rental. So much so that we published a Digital Rental Guide covering everything you need to know when renting a machine. Check it out here!
Driving the Demand
In addition to their productivity benefits, low-level lifts are also designed to reduce strain on the body and lessen the risk of musculoskeletal injuries caused by repetitive movements, such as climbing up and down a ladder to get tools or materials. It can be exhausting work and can lead to injuries associated with fatigue. Safety-conscious companies, including JLG's parent company Oshkosh, are committing to the elimination of ladders when another alternative exists.
And, many low-level access lifts are equipped with trays to stow needed tools and materials at height, enabling work to get done more efficiently by reducing cycle times going up and down. Once elevated in a low-level access lift, operators can use both hands comfortably to do work safely at height, a full 360 degrees. This isn't the case with ladders, where workers often must use one hand to stabilize themselves at height, leaving only one hand free to perform a task.
.
Where to Use Low-Level Access Lifts
Low-level access lifts are purpose-built for indoor construction applications like putting in mechanical and electrical components, installing HVAC and ductwork or hanging drywall. And, since they are smaller and lighter than other types of MEWPs, they are great for fit-out and finish work too, such as installing fire alarm or sprinkler systems, putting in (or replacing) lighting and dropping in ceiling tiles. They are also right-sized for use in retail settings, refitting large retail displays and updating seasonal décor, as well as in manufacturing environments for maintaining production equipment.
These smaller MEWPs can be heavily utilized in general maintenance applications too, like painting and cleaning, in all types of buildings and facilities. They are ideal for healthcare facilities (hospitals, clinics and laboratories), educational centers (schools and universities), clean rooms, data centers, warehouses and office complexes, as well as production plants, airports and high-rise buildings.
How to Choose a Low-Level Access Lift
Before making an equipment selection, first look at the jobsite and answer a few questions:
What are the height requirements?
What materials and tools will be needed when elevated?
How many workers will be needed at height?
Then, take note of any and all constraints in the work area, such as narrow doorways, elevators, sensitive flooring and/or noise and emissions sensitivity. Also, know if any of the work will need to be done outdoors — or if the machine will only be used indoors. Finally, look specifically at the machine's specs to make sure the lift will meet the site requirements. The most important ones are:
Rated operating capacity
Maximum platform height and working height
Weight and ground-bearing pressure specifications (for floor loading)
Indoor/outdoor rating (JLG low-level access lifts are only rated for indoor use)
Power source (human-powered or battery-powered)
OEMs, like JLG, offer non-powered models that do not need batteries, hydraulics, oil or controls to operate. These sustainable, eco-friendly lifts are leak-free and operate quietly for work in environmentally sensitive areas, particularly where noise restrictions exist. Battery-powered low-level access lifts are also available when operators have a high frequency of up and down cycles. Powered lifts will improve efficiency in these type of applications.
The Future of Low-Level Access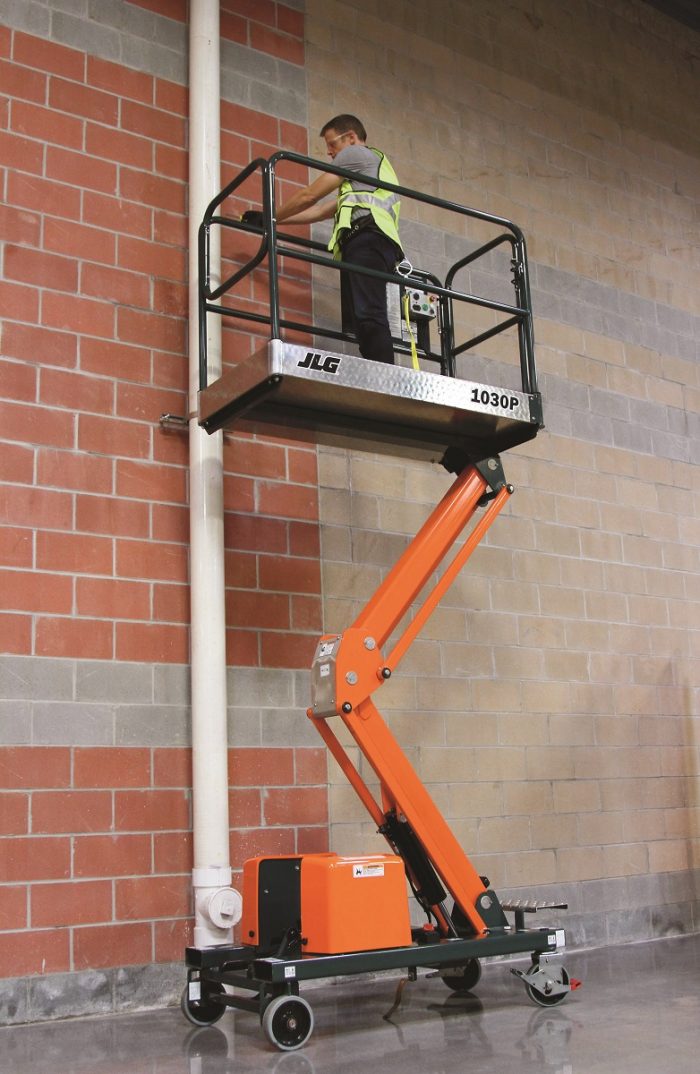 Advancements in these smaller MEWPs have been solely focused on enhancing the operator's experience through productivity-focused features like work trays for the convenient storage of tools at height. Future accessories will be focused on helping operators complete more tasks, like lifting pipes and wall panels or pulling cables. And as demand continues to increase, OEMs' product ranges will likely expand to include more height, weight and platform configurations to get operators into even smaller, tighter spaces, like in aisleways barely wide enough for a person and/or in between racking systems and ceiling tiles. Looking at what is needed to do overhead work at lower levels and comparing that to how much can be accomplished with a small MEWP, it's possible to replace ladders with these types of lifts in a wide variety of applications.
And by understanding how these lifts can mitigate the risks associated with working at height and worker fatigue while promoting more ergonomic working positions, the market opportunities for these machines are rapidly increasing.