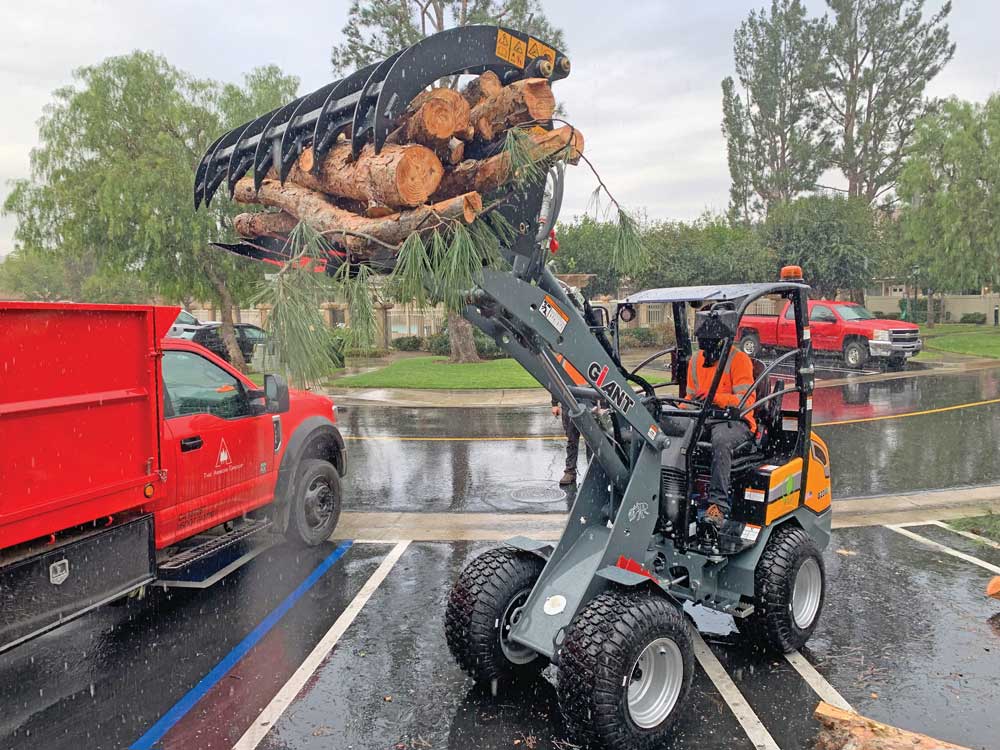 Small wheel loaders continue to grow in popularity across North America, and more and more expert European equipment makers continue to sell and service this maturing U.S. sector — from Wacker Neuson and Mecalac to Volvo and Avant Tecno. Compact wheel loaders are big in Europe, you see. Germans love them — the way Americans love skid steers and now track loaders. Recently, a new-to-me Euro brand from the Netherlands called Giant by Tobroco has been pushing cool new compact wheel loaders into America. What caught my attention foremost was Giant's impressive lineup, living up to its brand name.
"Today we offer 28 variants [on eight main frames] ranging from 25 up to 75 hp, with service weights from 1,800 lbs up to 10,140 lbs," explained John Bostwick, territory sales manager, USA West Coast, at Giant. "Our machines use universal skid steer attachment plates, allowing compatibility with the majority of attachments available in the North American market. We currently offer three telescoping models with two new telescoping models arriving this year and nine additional telescoping models in various stages of research and development, including zero emissions EV machines for the very near future. We also offer a compact telehandler with an exceptional turning radius and a unique and powerful stand-on mini skid steer with a track version coming soon."
That's a progressive portfolio. The brand also has one of those classic equipment back stories that I love. Giant by Tobroco was founded in 1996 by Toine Brock who saw a unique need and began designing and building manure spreaders for stables out of his family farm in Haaren, Netherlands. In 2001, Toine designed and built the first Giant compact wheel loader while still manufacturing out of that same family farm. The business moved to Oisterwijk, Netherlands, which remains its global headquarters, in 2003. That original factory has since doubled its production capacity, and "we are very close to finishing another expansion to this factory, doubling capacity for a second time," said Bostwick. Today, Giant is a global brand and can be found in 61 countries, but what about its American network, you ask? Its North American headquarters is in Cedar Falls, Iowa, and it includes a dedicated parts personnel department. Dealers?
"We are in a state of constant growth, as our network consists of over 140 dealers in North America, and we continue to add new dealers," explained Stewart Gordon, territory sales manager, Southeast USA, for Giant. "Like any quality manufacturer, we're always looking to grow. We take a very pragmatic approach to our North American growth, looking for the right fit for both the prospective dealer and us. It's much easier to grow if you have like-minded dealer partners in your dealer network. Parts and maintenance are exclusively through our North American Giant dealer network. We support our dealers with online technical information, a dealer portal and in-house technical personnel that travel throughout North America training and supporting our products."
When it comes to compact wheel loaders, Giant offers one of the largest compact lineups I've seen. Here's the scope. The tiny Giant G1200 has an operating weight of 2,400 lbs, a three-cylinder 25-hp Kubota diesel engine, 9.5 mph speed, 2,400 lbs of tipping load and a hinge pin height of 7+ ft. At the opposite end of the spectrum, the Giant G5000 is a beastly compact wheel loader powered by a four-cylinder, 75-hp Kubota diesel, utilizing DPF and DOC tech. This machine features a standard two-speed gearbox and heavy planetary final drives that deliver a high pulling force, quick acceleration and a top speed of 12.4 mph. The G5000 even offers a gearing option with more pulling force and driving speed up to 22 mph. The G5000 also has an optional cab with air/heat, high-flow hydraulics, traffic lights and either a Z-bar boom or an X-Tra boom config (the latter offering better visibility and lifting capacity but sacrificing some height). The G5000 also comes standard with a universal full size skid steer/track loader hydraulic quick-attach plate. Overall, the company offers a wide selection of sizes, tech and amenities for those looking to invest in a small wheel loader/tool carrier.
I hate to be the bearer of bad news, but sometimes you can't have it all… unless you rent. From finding the right dealer to scoring the perfect rental machine, we have you covered!
"Giant loaders are very well positioned for today's market due to our focus on maximum performance from very compact machines," said Gordon. "An example is our Pro-Inching option, allowing the operator to control the throttle separately from the drive function, which allows full range of hydraulic pressure while using the machine in place or creeping. Several machines offer cruise control for effective operation. We have several machines that boast tipping loads close to what their operating weight is. All Giant wheel loaders feature articulation and oscillation. Our machines are rear seated, allowing the oscillation joint to move the front and rear of the machine independently, up to 8.5 degrees for superior ground contact and reducing terrain damage. Other compact wheel loaders place the operator on the front of the machine, in front of the articulation joint, usually requiring a larger turning radius and forcing rigid frame operation, limiting the reduction in ground damage. There are times and jobs that call for a solid articulation joint without oscillation, which we have with our patented Stabilo system, locking the oscillation if needed."
Tips on Buying a Wheel Loader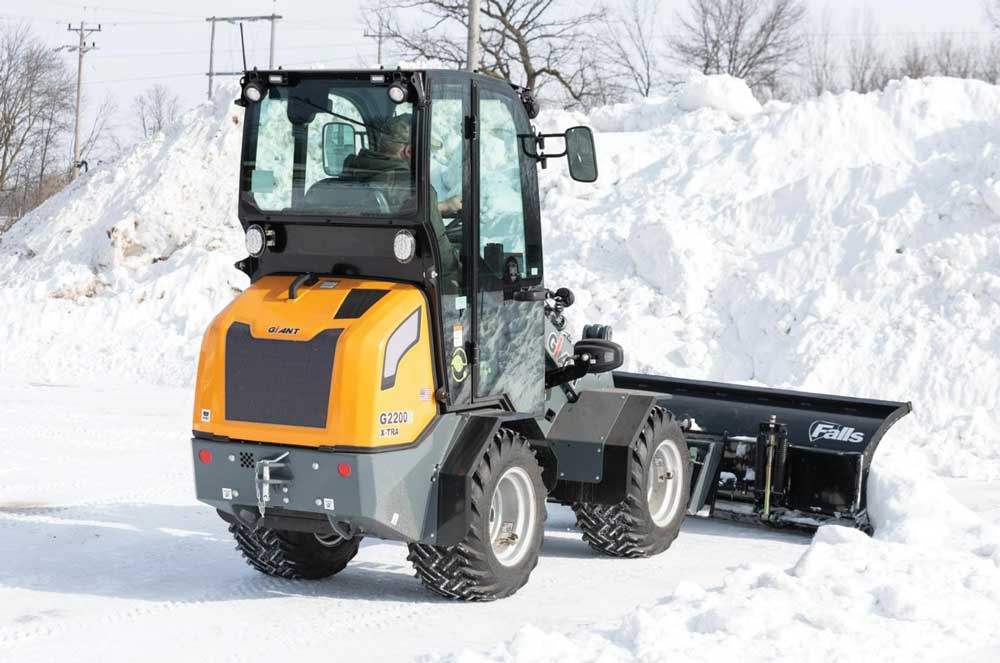 "Select a compact wheel loader that is suited for your working conditions. This isn't simply: Will this do the job? Here are some factors to consider when choosing a compact wheel loader. Would a tandem auxiliary hydraulic pump help with the contractor's uses? What about boom configuration? Does the machine need to lift more or lift higher? Does the machine in question offer different tire choices? Does the machine offer different auxiliary hydraulic options? Does the machine have or can be counterweighted? Social media outlets like YouTube are an easy way to check out different compact wheel loaders. There are several contractor/machine owners that post about their machines in the field and what they're capable of. What several contractors may not think about is how cramped today's jobsites are becoming and the true footprint size of a wheel loader they're looking at." — John Bostwick, territory sales manager, USA West Coast, at Giant
The company has a lot going on, and it's not just with wheel loaders. Giant has expanded its product range with the SK-Series of stand-on mini skid steers. The SK 252D capitalizes on a three-cylinder, 25-hp Kubota diesel powerplant, driving four heavy-duty hydraulic wheel motors. The unit comes standard with an adjustable hip bracket, a double acting hydraulic function, cast iron counterweights and a universal mini skid attachment plate. It has a tipping load of 956.8 lbs, a lift height of 6.9 ft and aux hydraulic power of 9.2 gpm to the attachment.
"Our SK-Series is increasing in popularity due to its simplicity of operation and performance for its operating weight and size," explained Bostwick. "All the controls are directly in front of the operator for easy operation. The other advantage is easy maintenance, with all service points available without having to open the engine compartment cover. At this segment, we're currently in the prototype development of our tracked SK machine. Look for the production of our SK and G1200 [wheel loader] machines to start in Iowa within the next two years."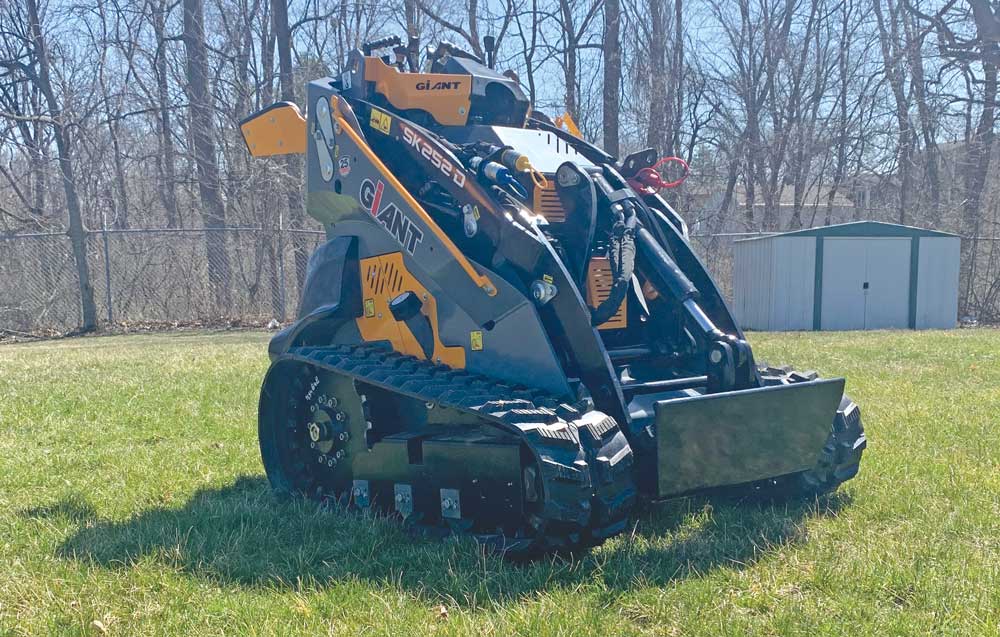 Giant also makes the GT5048 compact telehandler. It comes standard with four-wheel steer with the option of crab steer. The Giant GT5048 is equipped with a strong, three-cylinder, 50-hp turbocharged Kubota diesel engine and has a top speed of 15.5 mph. The telescoping boom provides a hinge pin height of 15.7 ft. This machine also comes standard with a universal full size skid steer/track loader plate and hydraulic quick-attach, and it can be equipped with an optional heated cab with AC.
Whew. That's quite a lineup, right? Well, there's more to come.
"We touched briefly on our Giant factory expansions. This includes several model expansions as well," Bostwick said. "We will offer new zero emissions small, medium and larger EV machines, with different boom configurations including telescoping booms. Look for a larger telehandler and EV telehandler from Giant in the near future also. Giant's other expansions will be in compaction equipment. This is being introduced to the American markets this year. These will include vibratory rammers, electric rammers and compaction plate machines."
All of these equipment categories are growing on American pros — especially small attachment-taking wheel loaders. These machines offer advantages in everything from safety to comfort.
"Compact wheel loaders offer better fuel efficiency, higher ground speed, lower noise levels, easier entry and exiting, less tire wear and greatly reduced ground damage, especially on sensitive terrain," said Gordon. "Couple this with the strong performance in relationship to the operating weight of compact wheel loaders, especially with Giant models. Add all the above with the ability to transport a more efficient machine easier to and from jobsites, yes, the small articulated wheel loader is growing in a number of American markets like agriculture, construction, infrastructure, landscape and nursery, municipal and tree service."
Keith Gribbins is publisher of Compact Equipment.
What can we say? We love rental. So much so that we published a Digital Rental Guide covering everything you need to know when renting a machine. Check it out here!