A Full Line of Articulated, All-Wheel Steer and Telescopic Wheel Loaders
Wacker Neuson first introduced wheel loaders to the North American market in 2007, after the machines experienced popularity in the European construction and agriculture segments. These versatile material handling products were a natural extension to Wacker Neuson's widely known compaction, concrete and jobsite light equipment products. The offering began with a couple of smaller articulated models, and today the company offers a full line of articulated, all-wheel steer and telescopic wheel loaders that work in a variety of industries including construction, agriculture, landscape, snow removal and recycling.
In 2019, Wacker Neuson introduced its first heavy-duty model, the articulated WL95. The WL95, with a 2-cu-yd bucket and straight bucket tipping load up to 14,394 lbs, offers performance with a high payload that allows operators to load, move and place materials more efficiently. Keeping with the Wacker Neuson tradition of offering machines with a compact design, the WL95 offers a compact package for a loader this size, which enables a tight turning radius and generous steering angle.
The WL32, WL34, WL38, WL52, WL60, WL60T and WL95 are designed with an articulated joint, allowing the machine to pivot. When working in confined areas with tight turns and uneven terrain, these articulated wheel loaders are an excellent choice. The articulation joint allows the machine to access and operate in areas such as residential spaces, greenhouses and barns. The high degree of maneuverability and stability allow materials to be transported efficiently.
The all-wheel steer wheel loaders, the AWS 5055, 8085, 8115 and 8085T, are designed with a rigid one-piece chassis that prevents shifts in the center of gravity at full turn. This ensures excellent stability, even when working on uneven ground and maintains a constant payload. The AWS has a 40-degree steering angle on each axle that allows a high degree of maneuverability which helps to reduce transit and cycle times. Most AWS models feature three steering modes: four-wheel, two-wheel and crab steer.
Advice to Buyers
"Because of the popularity of skid steer loaders in the United States, wheel loaders are sometimes overlooked," says Jay Quatro, field application and training specialist, Wacker Neuson. "They offer some great advantages such as excellent visibility, higher travel speed, additional lift height and comfortable operation. Contractors may not realize that our machines come with a universal skid steer plate, so any of their current or new attachments will work on the machines, which provides additional versatility and lower cost of ownership."
[prettyPhoto title="Wacker Neuson Specs" link="https://compactequip.com/wp-content/uploads/2019/07/wacker-neuson-wheel-loader-specs.jpg" type="link" ]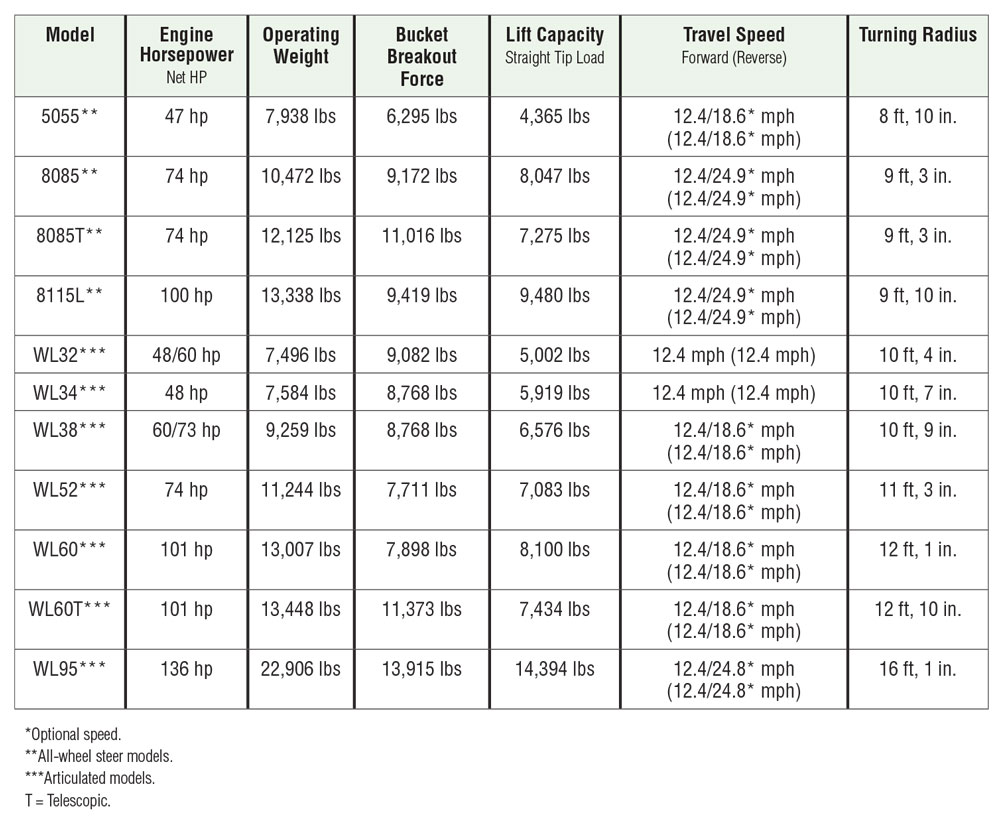 [/prettyPhoto]
Tags:
2019 Spec Guide
,
2019 Spec Guide- Wheel Loaders
,
July/August 2019 Print Issue
,
Wacker Neuson