Let's broadly break down the utility vehicle or side-by-side market into four divisions: sport (like those used in racing); pure recreational (units with high speeds, engineered for trail riding); work-focused (a safe 24 mph tops, options of diesel engines and work packages); and crossover or "utility" vehicles (those made for both fun and work). That last crossover category continues to gain traction.
Higher speeds. Solid work specs. Options galore. Choices of color schemes, premium audio systems, LED headlights, branded floormats, fancy rims and onward. That consumer automotive experience is a part of the attraction of crossover utility vehicles, and the market has shown enough promise that manufacturers more known for their commercial construction equipment are dabbling in the action. Some examples include Bobcat's 3400 and 3400XL, Caterpillar's CUV82 and Yanmar's Bull Series just for starters.
Most recently, Kubota entered the crossover category with its gas-powered RTV-XG850 Sidekick. The famous engine and tractor brand, also known as a compact equipment expert, entered the utility vehicle market in 2004 and basically built the diesel sector. Its brand equity is with tough-minded work models, but that changes with the XG850, which goes up to 40 mph. Kubota invited Compact Equipment down to Lake Lanier (a sprawling resort in Georgia about an hour outside of Atlanta) to test drive its most recreational vehicle to date.
"When we look at our Sidekick and we look at our X Series [a set of eight diesel work UTV variants], they really are two different customers," explained Kubota product marketing manager Roger Gifford. "When we look at the X Series, you have tractor technology. You have multi-disc wet brakes. You've got fully hydraulic power steering. You have the same technology you'd have in a tractor. That customer's really buying that for business-to-business or heavy commercial work. This Sidekick isn't designed for that heavy commercial work, and it's not really designed for pure recreation. It's designed for both."
The dualism of the Sidekick gives dealers and customers the ability to really customize a Kubota RTV in a big new way. The large headline is, of course, the 48-hp gas engine (a Subaru) that can deliver speeds up to 40 mph, compared to the top speed of 29 mph for Kubota's RTV-X models. But maybe an even bigger deal is that the Sidekick ushers in a whole range of options for Kubota — roofs, windshields, doors, strut kits, heater kits, snow blades, winches, strobe lights, rotating beacons, LED light bars, headrests, soft grip handles, brush and lamp guards, toolboxes, Kubota-branded rubber cargo mats and nine different tire and alloy wheel assemblies that come in cool colors like green, black and silver.
"This is the first time we've delivered 50 new accessories — 50 plus actually," said Gifford. "These accessories are not on our other machines. These are all only for the Sidekick."
The Sidekick will also be offered in four distinct colors — another first — Kubota Orange, RealTree AP Camo, green and black. The uber cool black version is already attracting tons of attention. "We kind of did it as our special edition, our upper model, kind of our flagship," said Gifford. "You get a little bit more aggressive look with that machine."
Kubota is encouraging customers to build their ultimate customized utility vehicle with the Sidekick, but it's also reassuring those customers that this off-roader is made to work as well. Kubota quickly notes that the Sidekick has a class-leading 2,000-lb towing capacity, and it's standard equipped with a trailer hitch, so go haul something already. The Sidekick's cargo capacity carries up to 15.2 cu ft or half a ton of gear, tools, spoils, firewood, camping supplies or whatever you can fit in there. That cargo box comes with an optional electric hydraulic lift for fast and effortless dumping. The unit's high tech too: The regulator and fully-shielded generator are controlled by a microcomputer to ensure stable power for any attachment, including work lights, LED headlights, heaters or winches.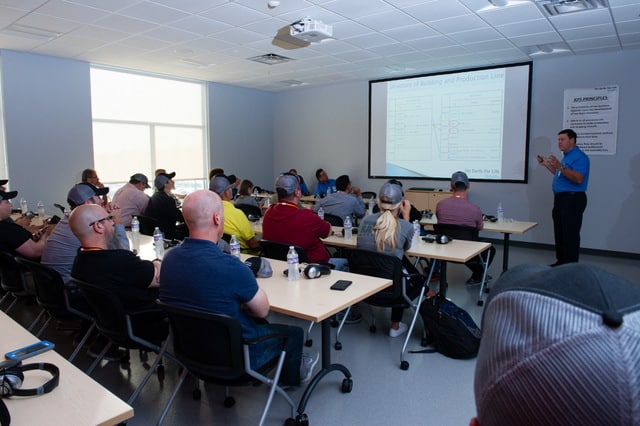 How Does It Drive?
During operation, the most immediate impression of the Sidekick was the smoothness. Acceleration and speed were quick, fluid and featherable. Units are equipped with a continuously variable transmission with centrifugal clutch (CVT Plus) that provides plenty of torque for quick and smooth bursts of speed. Tuned front and rear independent suspensions offer smoothness, and engine-assisted braking allows for less fatigue and increased safety during descents. The Sidekick comes with selectable full-time four-wheel drive, and electronic power steering (not hydraulic power steering) improves both handling and stability.
Even at high speeds, the Sidekick absorbed big bumps and rugged terrain. As I whipped around an old, out-of-commission golf course on the shores of Lake Lanier, I challenged my unit over moguls at 35 mph, and it barely registered in the cab and steering.
"The geometry is so smooth on it," said Gifford. "We've changed our geometry in the front suspension. Then we made a speed sensitive motor, so as speed increases, power decreases to the steering. It becomes manual as you go forward. The result is you get a better feel, better control and greater stability at higher speeds. With our new geometry, as you drive them out there today, as you steer into a corner, and you let go of the wheel, it will track right back to center."
The innovative steering geometry is one of a number of standout features on the new Sidekick. As the UTV market matures, new market segments are emerging with more options. The crossover space, which lies between lower-cost, entry-level machines and high-power recreational machines, is bringing real utility to the medium-duty market with heavier payload capacities, more reliable engine offerings, quicker speeds and lots of accessories. Farmers, large estate owners, park services and customers with the need to move product and people over long distances quickly are turning to these multipurpose utility vehicles.
"Speed, cargo, towing," rattled off Gifford. "We did a survey, and that's what people wanted the most. Our customers really set that bar high for us to really bring them the best-balanced multi-purpose machine out there. And what we learned during our surveys and studies is that the competition may give them one, maybe two of those, but not all of them. So our team went out there and developed that machine that delivered the customer the complete package."
---
Visiting Kubota Manufacturing America in Gainesville, Ga.
Kubota Manufacturing of America, or as everyone called it on my trip KMA, is the U.S. manufacturing hub for Kubota's zero-turn mowers, sub-compact tractors and utility vehicles. It employs more than 1,600 and is based in Gainesville, Ga. I got the opportunity to tour the KMA facility after test driving the company's new RTV-XG850. The facility just opened up in April 2017 and is still beautifully new. KMA expanded its operations with a new 502,000-sq-ft facility just three miles from its existing operations. The facility has the capacity to produce up to 75,000 units annually. Kubota has been operating in the state of Georgia for more than 40 years. Today, KMA is in Gainesville, and its National Distribution Center (NDC) and Kubota Industrial Equipment (KIE) facility is in Jefferson, producing Kubota equipment and implements including loaders and backhoes.
Learn even more about Kubota here.
Tags:
Editor at Large
,
home
,
Kubota
,
October 2018 Print Issue