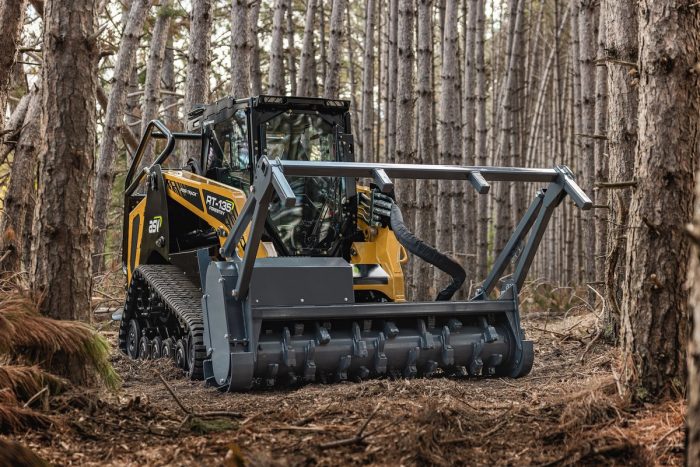 Compact track loaders continue to trend. These skid steers with a dedicated rubber track undercarriage (on rare occasions steel) are one of the most popular categories of off-highway construction equipment on American dealer lots today. Over 80,000 units will probably be sold in 2021, and one of the hottest classes of CTLs are the largest of these loader tool carriers.
"We are seeing heavy growth in the 3,000-plus-lb [rated operating capacity] compact track loader segment," explained Buck Storlie, ASV Holdings Inc. product manager, in a virtual press conference last week. "Right now, it's the fastest growing segment — to the extent that AEM [the Association of Equipment Manufacturers] added another class this year — the 3,500-plus-lb class and started tracking those differently. You're seeing more and more manufacturers strive for that biggest, strongest, most powerful title, and, you know, at ASV we take that seriously. We want to make sure that we're leading on that front."
Enter ASV's just announced RT-135 and RT-135F forestry variant, replacing ASV's current RT-120 and RT-120F. Both machines boast an industry-leading 132-hp Cummins diesel engine that's combined with a head-turning 50-gpm maximum auxiliary flow — also the industry's highest — and an oversized auxiliary pump capable of 66 gpm, allowing the RT-135 and 135F to power gnarly high-flow implements like brush cutters, asphalt planners, trenchers and augers. That also directly translates to more productivity from the 50-gpm Loftness mulching head that is sold with the RT-135F. This is a radial-lift unit, since forestry is a focus.
For now, contractors can use the RT-135 and RT-135F a lot longer with a new 52-gal fuel tank. That's 22 gal more than the RT-120, which is impressive. In fact, the whole package is impressive: the RT-135F features a 4,150-lb rated operating capacity; 10-mph top speed; 10-ft, 4-in. lift height; thick, clear poly guarding; and the expansive Max-Series cabs and tech amenities from a 7-in. touchscreen display to an escape hatch on the roof. The 135 base model has a 3,535-lb ROC and glass sides.
"We've been working on this unit for about four years now," said Storlie. "Maybe it started out as some skunkworks project just to power up an [RT-]120. Ultimately it was the cab designs we were making for the Max-Series at the forestry level. We really redid that frame, making more room for the engine, hydraulics, etc. More reliability, you know, having to beef up some parts to lift more weights and then a focus on the undercarriage redesign — new wheel hubs, new axles, new undercarriage componentry to make sure that the extra weight we were carrying around was really going to have the longevity we needed. Over the course of those years, it went from let's just add an engine to we're going to remake this whole thing. But yeah, we're pretty pumped now to finally have it out."
Big CTLs for Forestry, Grade Control and Beyond
It's not just ASV. Only just a few months ago, Case Construction Equipment and sister company New Holland Construction introduced the TV620B and C362 compact track loaders — both 114-hp, 4,340-lb rated operating capacity CTLs delivering best-in-class breakout forces (12,084 lbs bucket and 12,907 lbs lift) — stuffed with loads of standard features (adjustable electro-hydraulic controls, high-flow hydraulics, auto ride control, one-way self-leveling, hydraulic coupler, auto-reversing fan, LED lights and a one-year subscription to SiteWatch telematics). These Case and New Holland units are specifically designed for use with heavy-duty attachments such as mulching heads, cold planers and the all-new Case grading blade (and hence 2D and 3D grade control automation).
In 2021, John Deere has been heavily promoting its heavy-duty 333G SmartGrade compact track loader — a variant of Deere's biggest 333G unit integrated with mastless grade control technology at a factory level. Overall, tons of big brands are selling into this big CTL market from Cat's 299D3 XE unit (110-gross-hp engine, 40-gpm aux flow, advanced display monitor and onward) to Gehl's VT320 (114-hp Deutz engine, 37.7-gpm aux hydraulic flow and a 130-in. hinge pin height). At this level, units tend to get more application specific.
"That large class of machines — that 3,500-plus-lb ROC — this year will be up around 7,000 units," said Storlie. "I can't say overall how many machines in that class specifically go into forestry work, but for ASV I will just say it's a very high percentage. We significantly outpaced dirt with forestry in that class of machine."
ASV custom-built the RT-135F for harsh forestry work. Its frameless door uses 3/4-in. polycarbonate with enough strength to allow the elimination of the cross beam — improving visibility over the RT-120. The side panels are manufactured with 1/2-in. polycarbonate. A limb riser is also built in for additional guarding. Because of the reinforced cab and high-strength polycarbonate, the RT-135F is the only compact track loader in the industry to meet the same safety standards as dedicated forestry equipment. These include operator protective structure, impact, falling object and rollover ISO standards. In addition, the inclusion of a roof escape hatch helps to improve safety. ASV is the only manufacturer to include an escape hatch on its compact track loaders and skid steers.
Guarding around the light and radiator improves durability. The hoods are now built from heavy-gauge steel, offering maximum protection to the engine area. An optional back screen adds additional protection. Debris has fewer places to get in due to a fuel tank that intersects with the cab for a tighter seal. Plus, there's a reversing fan as a standard on the forestry model. Double plus, that crazy aux flow.
"For the RT-120, we were at 45 gpm, and we're going up to 50 gpm [4,060 psi]. That's 10 percent more," said Storlie. "So, for our new mulcher head, we've regeared it and reset the shift point pressures on the motor to maximize that 50-gpm output, but we still have a universal design. We believe that regardless of what mulcher head you choose, we can give you the best driver. We've got adjustability within that too. You can set that flow anywhere from 30 gallons per minute all the way up to 50 gallons per minute."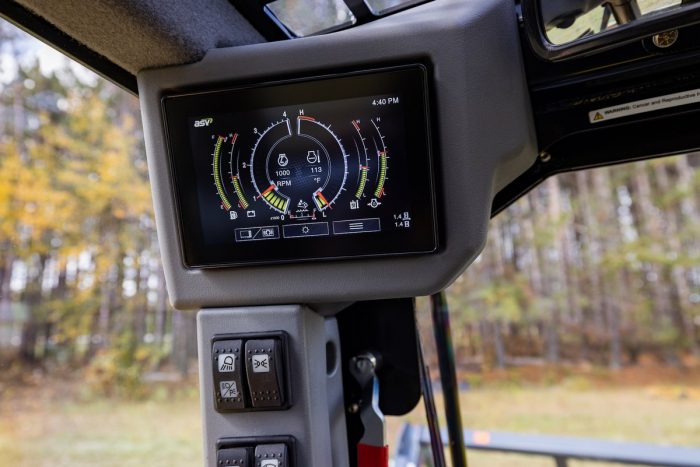 Power and safety are important but so is comfort. ASV's Max-Series has won two CE Innovative Iron Awards for both its skid steers and track loaders, and much of that had to do with the premium in-cab experience. The RT-135 and RT-135F bring that beautiful glass-first cab frame, with amazing 360-degree visibility. Standard LED lighting, optional side lighting and new taillights make it even easier to see around the outside of the machine.
Operators benefit from a roomier cab accessible to virtually all body types — a one-sided lap bar making exit and entry easier and one of the industry's most customizable seat and arm rests. The RT-135's advanced, customizable controls allow for a premium operator experience. A state-of-the-art 7-in. touchscreen display provides vital monitoring tools, displays the view from the backup camera and integrates with service history and schedules. It also allows for service scheduling, job management, passcode operator lockout, idle time tracking and more. The in-cab experience is also enhanced through Bluetooth radio allowing operators to listen to music and take calls wirelessly.
Intuitive operator controls benefit operators of all skill levels and a dual throttle option — a MAX-Series feature — allows operation at a set rpm with the joystick controls and the ability to increase the rpm with the foot throttle without the need to adjust the dial.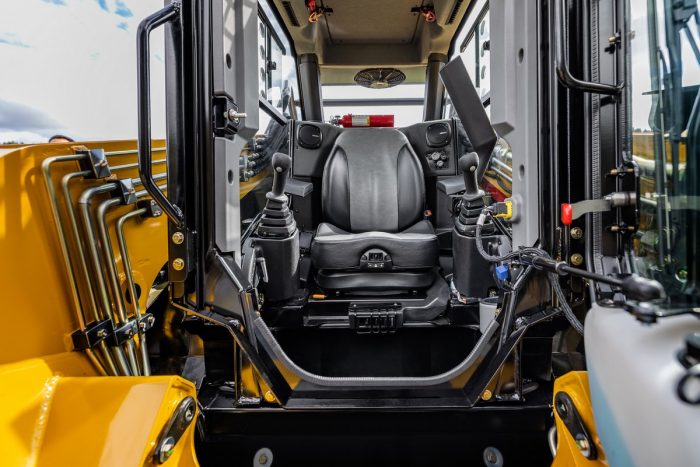 "We have EH controls on this unit," said Storlie. "We do have full adjustability within them. In the joystick controls, you can do H pattern, Case controls and, of course, we've got multiple operator settings. That's something we really focused in on. With our RT-120, I would say we weren't 100 percent satisfied with the controls. We felt like maybe our pilot control machines were smoother. With our RT-135, our goal was to make sure that was no longer the case. That the 135 was as good or better than our pilot-operated controls. We believe we achieved it."
Also, the RT-135 and 135F's undercarriages have been upgraded for maximum performance under the additional weight. Redesigned torsion axles are 20 percent stronger than their predecessors, bearing the weight of the machine while allowing the track to flex over obstacles and reduce impact to the operator and attachment. Reinforced wheel hubs and bearings enhance durability. The loaders' large number of ground contact points combine with the RT-135's 20-in.-wide tracks to spread the machine's weight for a 4.6 psi ground pressure.
Yanmar, Engines and Onward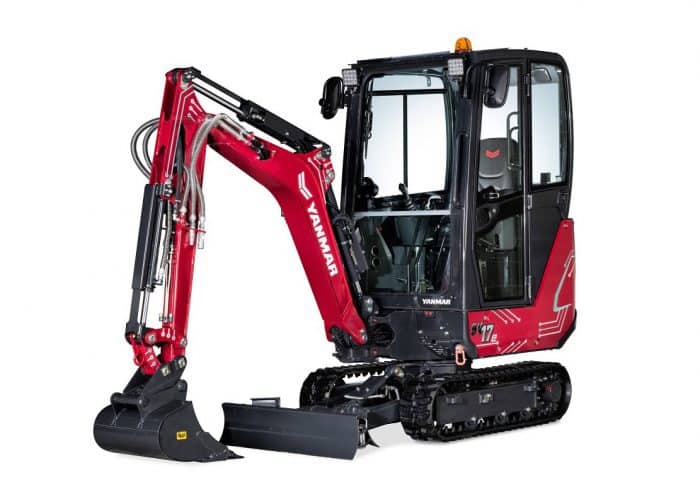 Reminder: Yanmar acquired ASV in 2019. The two companies combined offer an impressive portfolio of compact construction equipment: track loaders, skid steers, mini excavators, compact wheel loaders, tracked crawler carriers, compact tractors, UTVs and compact diesel engines. In last week's virtual press conference, a few cool Yanmar news items were announced.
As we previously mentioned in November, Yanmar has announced its first electric mini excavator prototype — the new SV17e — but this unit won't be sold in America for a while. Yanmar Compact Equipment also announced its new brand tagline: "Together We Build." ASV announced a new line of branded attachments that includes a full range of buckets, pallet forks, grapples and brush mowers, but even more interesting, the two companies announced that ASV is transitioning to some Yanmar diesels in its loaders. ASV's RT-40 Posi-Track loader now comes with a more powerful new 38.2-hp Tier 4, three-cylinder Yanmar engine, along with other cool improvements to the cab and machine.
"It's fair to say that we're trending in that direction," explained Storlie. "You know, we aren't in a rush to replace every engine with a Yanmar. What we are doing is evaluating platform by platform and looking at what's the right engine offering, what's the right timing maybe to make that transition and what's the best solution for our future."
We'll keep you updated.
Keith Gribbins is publisher of Compact Equipment.
Compact track loaders are the most popular category of compact equipment in America. Learn why with loads of track loader features right here.