Track loaders are traditionally larger than their skid steer counterparts, but which track models are actually the largest? While small track loader are growing, contractors are still investing in the largest compact track loaders because they have large jobs or have need of greater productivity with higher lifts, heavier loads and more hydraulic performance. They are utilizing attachments such as cold planers and mulching heads that require the big units' high-pressure, high-flow hydraulic systems. They are moving enough dirt in landscaping or site preparation tasks that while employing a small bulldozer is a conceivable option, buying a large track loader is the more versatile solution. On the construction side, they're used in land clearing, raking and digging foundations — anywhere a contractor needs a lot of hydraulic flow and runs the machine for hours on end. As an example, here are a few of the biggest compact track loaders in the industry.
Gehl VT320
Boasting 3,200 lbs of rated operating capacity at 35 percent of tip, the Gehl VT320 machine is ideal in earthmoving applications like site preparation, land management and everything in between. Powered by a turbocharged 114-hp Deutz engine, the VT320 sits alone at the top as the most powerful compact track loader in the industry. If you need to run a demanding high-flow attachment, the Gehl VT320 offers up to 37.7 gpm of auxiliary hydraulic flow at 3,500 psi. This vertical-lift machine has a 130-in. hinge pin height. That's 10 ft, 10 in. of clearance that gives operators all they need to be able to empty a bucket into the center of a dump truck. For more info, visit gehl.com.
Bobcat T870
As the highest-lifting compact loader on the market, the Bobcat T870 compact track loader gives operators access to bigger jobs and increased productivity with every lift cycle. The 100-hp T870 is the largest Bobcat compact track loader in the equipment lineup. It has a variety of performance features, including enhanced automatic ride control which reduces material spillage and the industry-leading 5-Link torsion suspension undercarriage which delivers increased durability and reliability, improved stability and great ride quality. The T870 also features enhanced operator comfort and visibility enhancements. For more info, visit bobcat.com.
John Deere 333G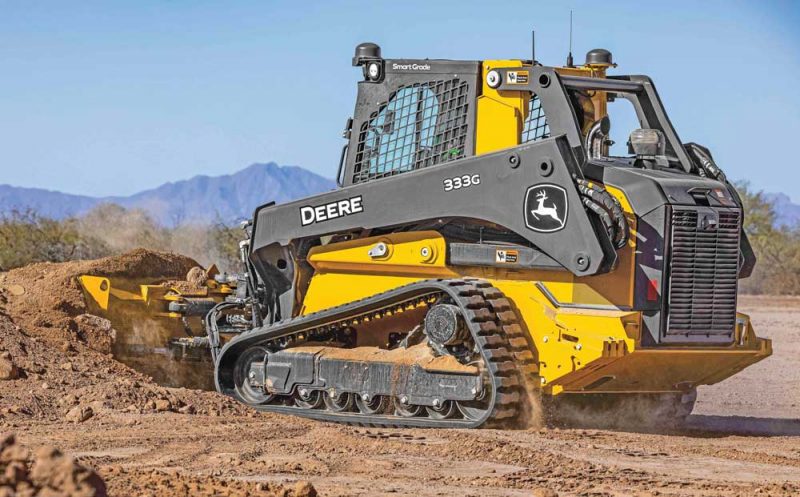 Designed to expand the capabilities of operators working in site development, road building, landscaping, residential and commercial building operations, the John Deere 333G compact track loader offers optimal power and expansive capabilities for jobs of any scale. The refined vertical-lift loader design of the 333G CTL rises higher and reaches farther than previous models for quicker and easier loading. The comfortable cab is tightly sealed to keep out noise and dust, while optional features such as heated seats, side lighting and a rearview camera enhance operator comfort on the job. The 333G CTL is easy to operate, easily transported and offers versatility with a multitude of attachment options. For more info, visit deere.com.
Cat 299D3 XE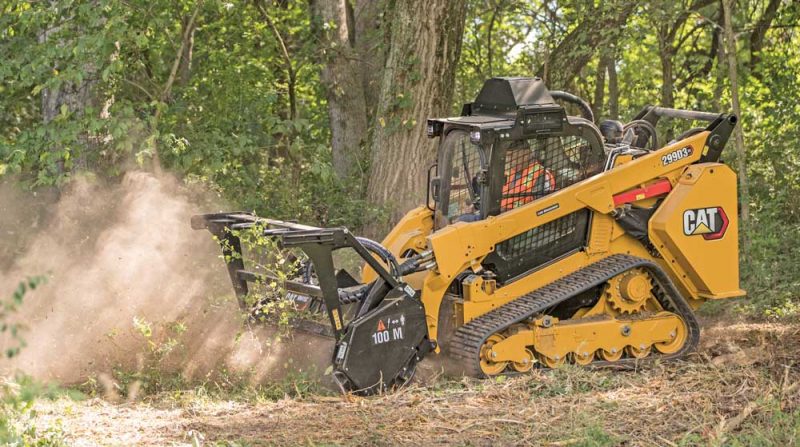 The Cat 299D3 XE represents the highest performance and most advanced technology available to customers in the Cat CTL line. This model comes highly equipped: sealed and pressurized cab, high back heated seat, Advanced Display monitor with rear view camera, two-speed travel, LED lights and torsion suspension undercarriage are all standard. Ensuring optimal performance when powering high-production hydromechanical attachments like mulching heads or cold planers, this machine boasts a 110 gross hp, 3.8-L engine that combines with a 40 gpm high-flow/high-pressure auxiliary hydraulic system, producing a hydraulic horsepower rating of 94 hp. For more info, visit cat.com.
Kubota SVL95-2s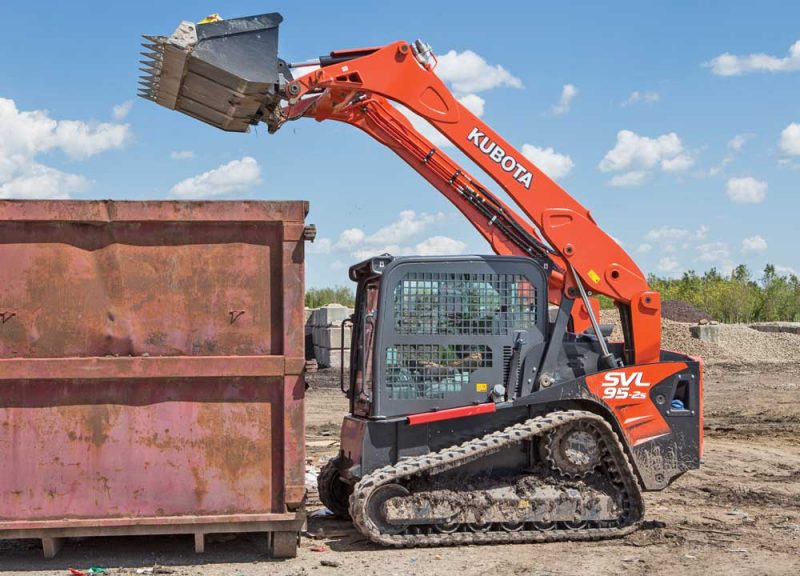 Kubota's SVL95-2s compact track loader offers high power, improved multi-tasking capabilities and increased hydraulic horsepower that ups the ante in the compact track-loader segment. Powered by a Tier 4 Final turbocharged diesel engine and equipped with a common rail fuel system, the SVL95-2s delivers 96.4 gross hp and increased fuel economy. The new model also features cab upgrades for enhanced operator comfort, and outside, its five-way adjustable optional high-flow hydraulics allows it to quickly match the hydraulic flow requirements of any hydraulic attachment. For more info, visit kubotausa.com.
JCB Teleskid
The JCB Teleskid is the newest generation of JCB's track loaders and the world's only compact track loader with a telescopic boom. The 3TS-8T and its single-arm Powerboom allows operators to perform applications not possible for conventional skid steers such as loading high-sided trucks, loading and unloading flatbed trailers from one side and digging ditches. Equipped with a forward reach of 8 ft and a lift height over 13 ft, this machine is exceptionally versatile. The Teleskid offers an operating capacity of 3,695 lbs and is the only compact track loader that can dig below grade to a depth of 3 ft. There's side-door entry and a 74-hp JCB engine requiring no DEF or DPF. For more info, visit teleskid.jcb.com.
ASV RT-120 Forestry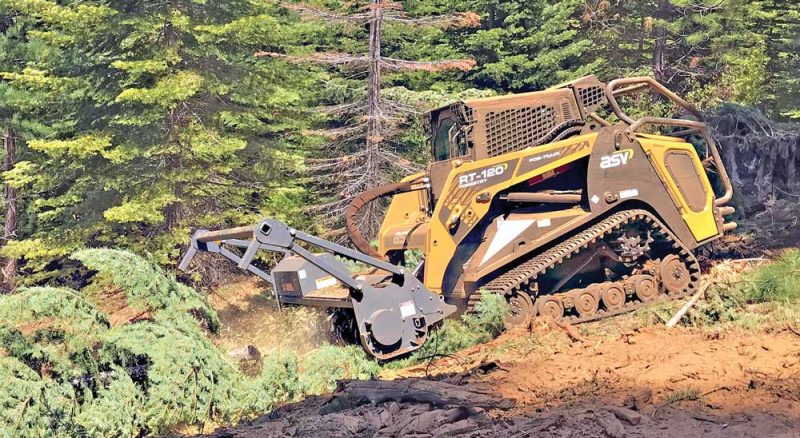 ASV Holdings Inc. offers the 120-hp RT-120 Forestry Posi-Track loader, one of the largest and most powerful compact track loaders in the industry. Unparalleled cooling capacity and a 3.8-L, turbocharged diesel engine outputting 360 ft-lbs of torque make the RT-120F capable of using the largest attachments for mulching and brush cutting. ASV optimized the 12,255-lb machine for forestry work with metal guarding against brush and debris. A hydraulically driven, auto-reversing fan blows debris out of the engine compartment screens. The machine features 15 in. of ground clearance, a 3,745-lb ROC and a 10,700-lb tipping load. For more info, visit asvi.com/compact-track-loaders/rt-120-forestry.
Wacker Neuson ST40 and ST50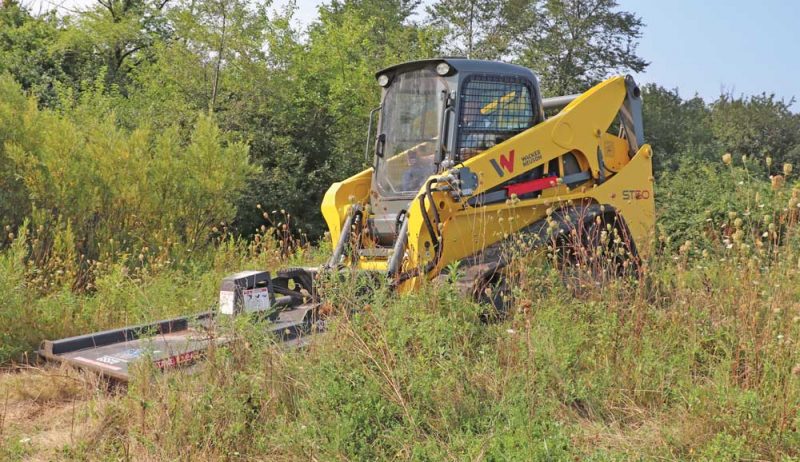 Wacker Neuson has expanded its compact track loader line with a selection of 100-hp models. The ST40 and ST50 compact track loaders bring maximum power and efficiency to the jobsite. The ST40 and ST50 are powered by a Kohler KDI 3404 turbo diesel engine that offers a maintenance-free diesel oxidation catalyst (DOC) and a selective catalytic reduction (SCR) system as an exhaust aftertreatment. The ST50, a vertical-lift machine, has a hinge pin height of 136.3 in. and a rated operating capacity of 3,500 lbs at 35 percent and 5,000 lbs at 50 percent tip. Offering more tractive effort, faster travel speeds and the power to easily handle hydraulic attachments, the ST50 is a workhorse on any job. Fore more info, visit wackerneuson.com.