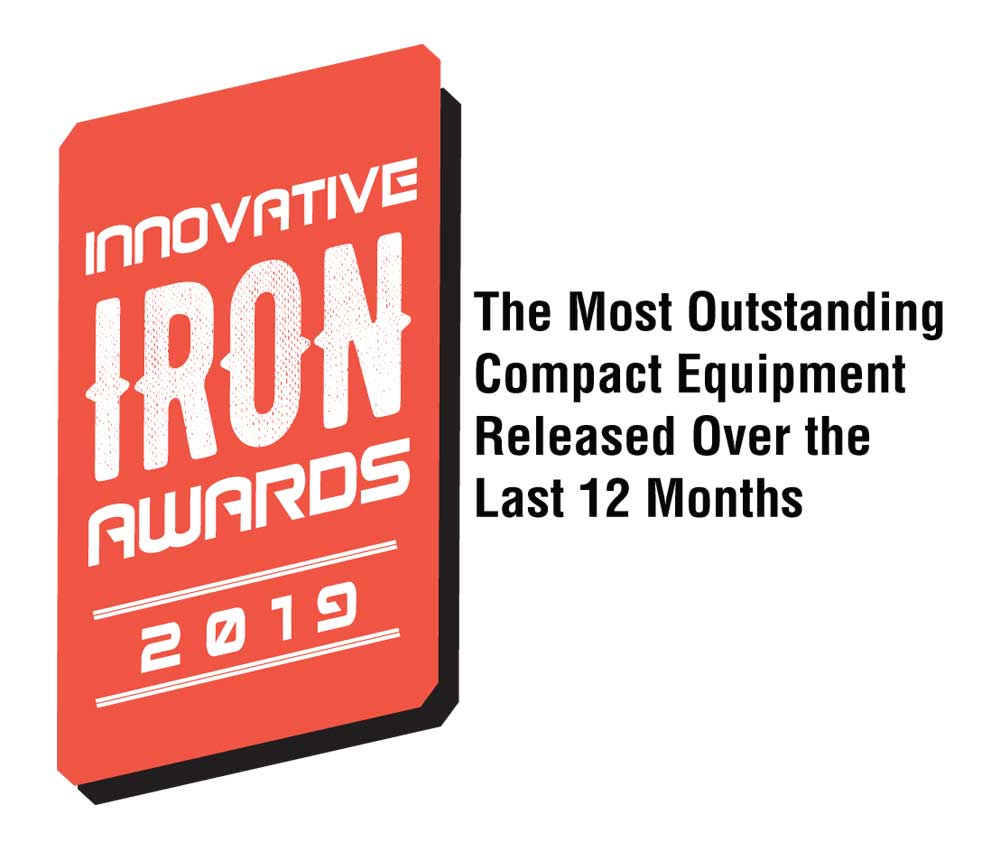 In the off-highway equipment industry, most of the machine options are already pretty fantastic. Skid steers that boast insane hydraulic power to the attachment, zero-turn nimbleness and automation as sophisticated as giant loaders. Micro excavators with retractable undercarriages that fit through narrow gates, boasting zero tail swing, 10 ft of reach and a ridiculous amount of breakout force for their size. Almost any brand and unit on a dealer lot today can be outfitted with standard or optional features that sound futuristic — from telematics to grade control. My point is: The standard for greatness is very high today because the status quo is already pretty damn impressive. That is why we bow to these 2019 Innovative Iron Award winners. These ideas are taking already amazing machines to a whole other level.
High Output: ASV's VT-70 High Output Amps Up Diesel and Hydraulic Power

Manufacturers continue to offer innovative, niche options for the uber popular track loader segment. Example: This year, ASV introduced the VT-70 High Output Posi-Track loader. High output means a turbocharged 74.3-hp Deutz 2.2-liter diesel, producing 207 ft-lbs of torque, matched with a robust hydraulic system (3,300 psi of auxiliary pressure and 22.9-gpm standard or 27.9-gpm optional high flow), allowing for optimal performance and efficiency with the most demanding attachments. ASV also engineered excellent maintenance solutions with a swing-out radiator, top hood and side doors. The VT-70 High Output includes ASV's most comfortable cab to date, designed for easier entry and exit and improved visibility. For more info, visit asvi.com.
Small but Mighty: Kubota's SVL65-2 Balances Size and Strength

Kubota's new SVL65-2 is another new addition to the small side of track loaders, but what makes this unit innovative is its size and its advanced multifunction valve (AMV valve), which provides smooth operation when using simultaneous functions, such as auxiliary, boom and bucket circuits. With the AMV valve, the SVL65-2 makes running any attachment that utilizes auxiliary hydraulics even easier, especially attachments such as grapple buckets, 4-in-1 buckets and hydraulic augers. The SVL65-2 is powered by a 68-hp Kubota engine, engineered with a rated operating capacity of 2,100 lbs (35 percent), reach of 34.9 in. and a hinge pin height of 118.5 in. Also, self-leveling comes standard. Sweet deal! For more info, visit kubotausa.com.
Size Meets Service: Wacker Neuson's Series II Large Frame Units Ensure Easy Maintenance

Earlier this year, Wacker Neuson launched its Series II large frame skid steers and track loaders (the SW24, SW28, ST35 and ST45), offering an enhanced cab experience and one of the best service sales pitches in the industry. Wacker Neuson's new large frame loaders stand out for their best-in-class daily maintenance service access (cab that fully tips forward, simple open design, Kohler diesel that's regeneration-free) with the company's unique 3-year standard, 4-year powertrain and 5-year electrical system warranty. The SW and ST Series II loaders also usher in a new era of comfort: high visibility cabs, convenient switches, no restrictive lap bar and a variety of control pattern options. The vertical-lift models offer class-leading hinge pin height and the largest fuel tanks in their class, 40 gal, with an optional 50-gal for track loaders. For more info, visit wackerneuson.us.
Size Meets Power: Gehl's RT135 and RT105 Balances Both

Compact equipment vet Gehl released two small and strong track loaders to a growing trend of rental friendly size classes. Gehl's RT135 track loader boasts a 46.6-hp Yanmar engine, pilot joystick controls, overall width of 57 in., height of 76 in., lift height up to 110 in. and a rated operating capacity of 1,350 lbs (35 percent). Gehl goes even smaller with the RT105 track loader, with its 1,050-lb rated operating capacity and maximum lift height of 109 in. It's also easily transportable at 4,720 lbs. Both units have the IdealTrax automatic track tensioning system, and both are also in a cool niche between ASV's super small units and the mid-rangers from Bobcat and Kubota. For more info, visit gehl.com.
FOR MORE INFO ON TRACK LOADERS, ROLL THROUGH THIS LINK.