Welcome back to another edition of Machine Heads. I'm once again Keith Gribbins, publisher and resident guinea pig at Compact Equipment. Today we'll be discussing the evolution of the compact track loader market. Over the last decade, track loaders have dramatically overtaken skid steers as the most popular piece of attachment-taking compact equipment. Part of that rising popularity has come from track loaders finding new work in niche applications from brush cutting to grade control. Now, forward-looking manufacturers are designing more market specific machines, upfitted with features and technologies for focused applications, as opposed to traditional do-it-all utility units. A great example of this is John Deere's 333G SmartGrade compact track loader — a machine specifically designed to use grade control automation. It's the machine we'll discuss in the Machine Heads video above, and here to help is Gregg Zupancic, product manager with compact equipment at John Deere.
Smart Grade Control
As compact track loaders continue to grow in popularity, manufacturers continue to enhance their sophistication and application focus. The perfect example of this is John Deere's 333G SmartGrade compact track loader, which we've been hyping for a couple of years now but finally hit dealer lots this summer. This unique unit is engineered as a dirt works machine, specializing in grade and earthmoving apps. It can be optioned out with fully-integrated grade control technology, anti-vibration undercarriage, sweet six-way dozer blade and the ability to spearhead precision dirt work quickly.
Operators will have access to DozerMode, a breakthrough control solution that enables the EH joystick control system to function like a crawler dozer with the push of a button. DozerMode is beneficial when operating the John Deere-designed and -built, six-way SG96 Dozer Blade that can both cut a grade and spread materials, streamlining attachment needs and setup time. Both 2D and 3D grade control automation will be available to help work the blade. As a complete package, the 333G SmartGrade compact track loader is a top-tier, spec-heavy model, and it can easily cost over $100K, so what kinds of customers will gravitate toward the 333G SmartGrade? Gotta watch the video above.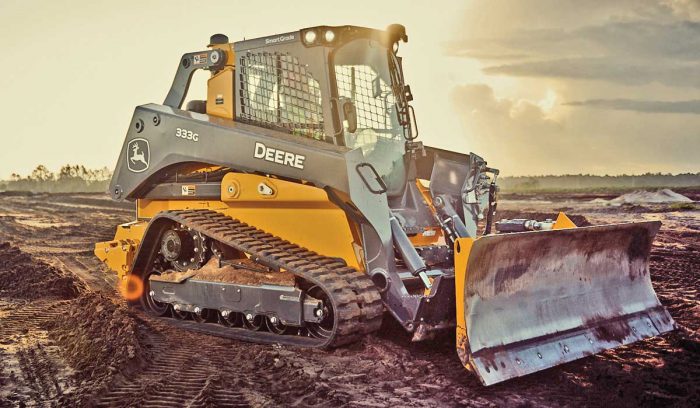 By leveraging the latest grade control technology, the 333G SmartGrade machine levels the playing field with contactors running larger fleets. The unit will increase productivity by helping to automatically complete grading tasks faster with fewer passes and less rework compared to working without grade control technology. Moreover, operators can reap the benefits of using a versatile, more transportable piece of equipment where the grade control system is fully integrated into the machine's structures and software, delivering precise grading performance while eliminating vulnerable masts and cables. Wait, did we mention this is mastless grade control? It is.
On the lower cost 2D side, John Deere is offering Slope Control as an integrated factory option individually or packaged with its 3D SmartGrade setup. This entry-level, mastless, grade control feature is perfect for less complex flatwork driveways, sidewalks/bike paths, parking lots, etc. It will help assist operators in grading smooth 2D surfaces and is ideal for several different segments including small site development, road building and some agriculture applications. All grade information is displayed through an integrated 7-in. color LCD display.
Compact track loaders are the most popular category of compact equipment in America. Learn why with loads of track loader features right here.
On the 3D side, John Deere's SmartGrade package includes the 96-in. six-way dozer blade, fully integrated harnesses, sensors and DozerMode controls with EasyGrade to enable smooth manual operation controls as well as 3D mastless grade control. This system utilizes dual-band radio that is capable of receiving both UHF and 915 MHz, sensors, integrated display and Topcon software compatible with Topcon file formats. It also includes Remote Display Access and Wireless Data Transfer for integrated connectivity and support.
Anti-Vibration Undercarriage
If this wasn't enough cool tech, John Deere just announced a new anti-vibration undercarriage system as an option. Basically, the anti-vibration undercarriage is isolated from the main frame reducing overall machine vibration but keeps the machine stable as if the undercarriage was rigidly mounted to the mainframe for excellent machine stability when truck loading, stock piling or grading. Also, as a bonus, John Deere has integrated a bogie roller system (an industry exclusive) that allows the undercarriage to hug the peak of a berm, hill or jump a curb smoothly. These features also enable the machine to travel at higher speeds while retaining material on the job.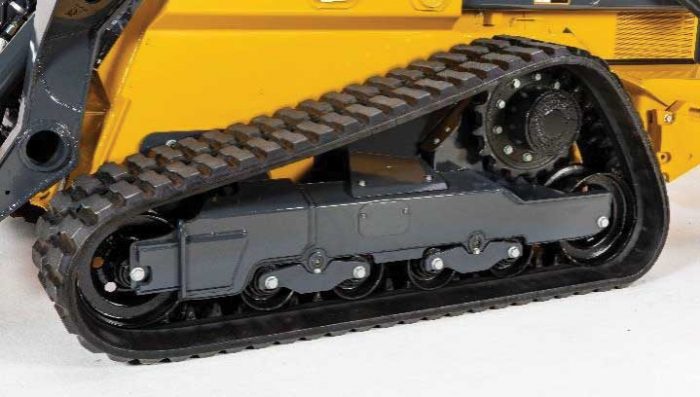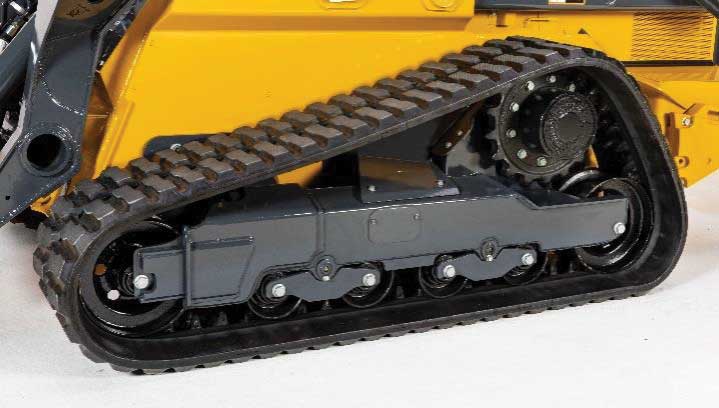 Today, John Deere currently offers four track loaders in its G-Series, including the 317G, 325G, 331G and the regular 333G. Deere classifies its track loaders in three categories: small, medium and large frame, and it's definitely seeing more interest in the latter. When looking at the broader track loader market, the trend continues to go toward customers buying larger and more specialized machines. It helps that John Deere currently offers a zillion options for every unit (from cold weather packages to backup cameras) and over 100 models of attachments (from breakers to brooms), so customers can build their ideal machine for their applications.
If you want to learn more about similarly cool machines from John Deere, just click here to access the company archive on our website. If you want more Machine Heads, just click here.