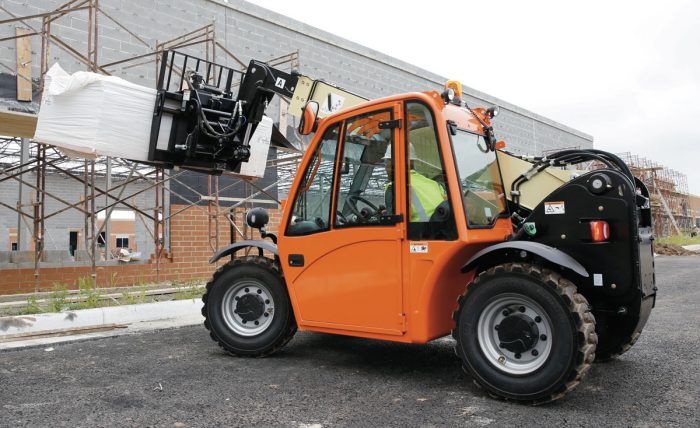 It's no mystery why compact telehandlers have grown in popularity over the past few years. They are versatile and nimble tool carriers with a long reach. An affordable rental option compared to larger lift-and-place units, the compact telehandler's two-stage boom delivers working heights usually ranging from 14 to 19 ft, exceeding that of skid steers and rough terrain forklifts. Their small footprint makes them suitable for tight or urban applications. Their spacious cabs and automotive-style operation make them approachable for several levels of operation. Plus, attachments.
With a wide range of implements available, compact telehandlers are jobsite mainstays that tackle everything from moving material to cleanup applications to lifting people. It's critical to identify the correct attachment for your application when using a compact telehandler. Not only will the wrong attachment impede productivity and reduce efficiency, an overextended or overloaded telehandler is unsafe and can tip. With that in mind, what are the most popular attachments buyers are picking up for their compact telehandlers? Here are what customers are adding to their fleets.
Carriages and Forks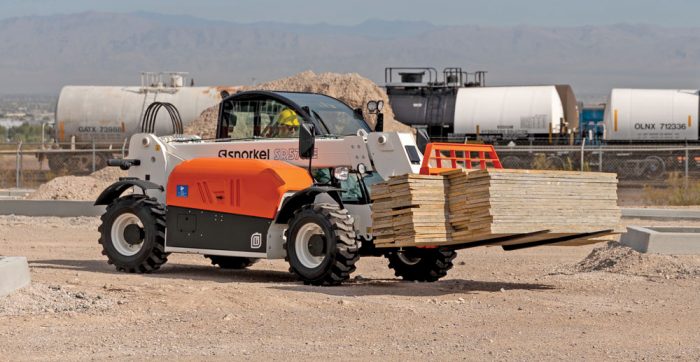 Even though compact telehandlers are cool attachment takers, they still do tons of pick-and-place work. Carriages are the metal assembly where the forks are mounted, and pallet forks are still the most popular choice among telehandler attachments, says John Boehme, senior product manager at JLG. In addition to the standard carriage with forks, options are available that enable both the carriage and forks to be customized.
"For example, the side tilt carriage is able to position a load properly for transport across uneven terrain and pick or place loads that are not on a level surface," Boehme says. "Another option is the side swing carriage, which provides offset placement of a load at angles from 50 to 90 degrees each side of the center point. This is useful when the machine is unable to provide a direct path to a load due to a work environment that offers limited space to operate."
Side shifting carriages are available, which offer the ability to shift the entire carriage and fork either direction. This feature is useful if positioning the machine side-to-side is not possible when picking up a load or if lateral placement of a load is required. Rebecca Yates, material handling product manager at JCB, says its hydraulic fork positioner is a popular option. A fork positioning carriage provides a powered means to situate the forks at the correct spread for palletized loads without the operator having to leave the cab. By eliminating manual fork shifting, operator safety is increased, and with hydraulically controlled fork spacing directly from the cab, operator downtime is reduced.
"The operator stays in the cab and can adjust the forks back and forth across the carriage," she says. "It's more efficient and safer."
Of course, the traditional carriage with forks to handle pick-and-carry tasks continues to be the most popular attachment for Xtreme Mfg. and Snorkel. "In construction applications, compact telehandlers can often be found moving materials in confined areas or from outdoor to indoor spaces," says Matthew Elvin, CEO, Xtreme Mfg. and Snorkel. "They are also used to unload pallets of materials from flatbed trucks and empty jobsite storage containers."
Elvin notes with the recent developments in fully electric compact telehandlers, such as the Snorkel SR5719E, units can now also be used indoors to double stack pallets in narrow aisles, for example, in a warehousing environment, with zero emissions and low noise.
There are a few fork options to attach to your carriage too. Sizes might vary from 48 to 60 in. Other options might include heavy-duty forks, fork extensions or perhaps four to six cubing tines, which allow operators to load, unload and place cubes of brick and block with ease.
Grapple Buckets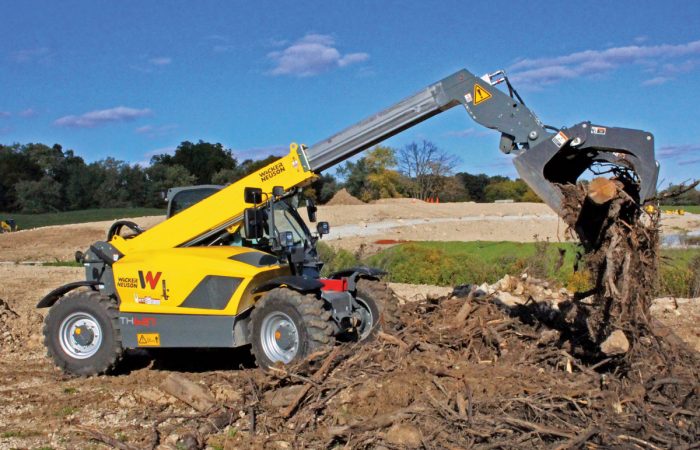 Clean up is a never-ending process in construction and having the right attachment to tackle the task simplifies material management on the jobsite. Construction grapple buckets are a popular choice for cleaning up solid debris around a site and loading into a truck or dumpster. The buckets are an excellent choice for agriculture, construction, forestry and land management applications, says Jay Quatro, field application and training specialist with Wacker Neuson.
"Since our telehandlers are true ground engaging machines, our customers can go beyond forks and a bucket when selecting an attachment," Quatro says. "The operator can control each grapple arm independently of the other, allowing for greater control and ability to stabilize irregular loads."
A powered grapple bucket is helpful for non-uniform loads that are awkward to capture in the bucket without use of grapple arms. This is helpful for maintaining the load in the bucket while transporting and disposing the contents. Fabricated with high-strength steel, reinforced components and replaceable cutting edges, the grapple has bucket tines typically spaced 6 in. apart with support plates to help hold material in the bucket for easier pickup and management.
Buckets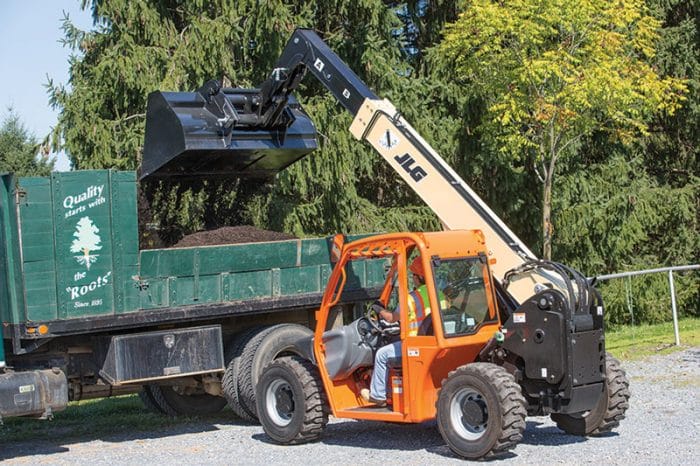 In addition to the grapple bucket, standard non-powered buckets are versatile jobsite workhorses. A good choice when loose material needs to be loaded and moved, a non-powered general-purpose bucket can be used to load dirt, mulch, gravel or any other bulk material.
The Info on Ag Attachments
Even though you may be up to speed on the versatility compact telehandler attachments offer in the construction market, don't turn a blind eye to the agricultural side of the market, which delivers equal flexibility. While specific attachments such as hay bale clamps are designed to relocate hay bales, some attachments have usefulness across agricultural and construction applications, says Matthew Elvin, CEO, Xtreme Mfg. and Snorkel.
"Common attachments, such as buckets, are used in agriculture for movement of grain and animal feed," Elvin says. "They're available to the construction sector for movement of other bulk construction and landscaping materials as well."
Rebecca Yates, material handling product manager for JCB, says that agricultural attachments can be extremely useful. "This is an area where everyone is trying to showcase the versatility it brings to a farm," she says. "Telehandlers are so small and nimble that for some jobs they just make sense, and these attachments deliver a benefit and offer a lot of options."
"Buckets are used for just so many things," says JCB's Yates. "From rocks to dirt to sawdust, and then all types of jobsite cleanup." Yates adds that the choice between using a bucket and grapple comes down to productivity — simply selecting which will be the proper tool to move the most material efficiently.
Multi-purpose buckets are suited for a variety of applications, says JLG's Boehme. He notes that almost all telehandler buckets are intended for non-excavating options, and multi-purpose buckets have a variety of non-excavating uses. "The split bucket design allows for loading, carrying and dumping," he says. "They can also be used as a grapple for handling odd-shaped objects or for dozing, leveling and spreading material with the clamshell open."
Truss Booms and Lift Hooks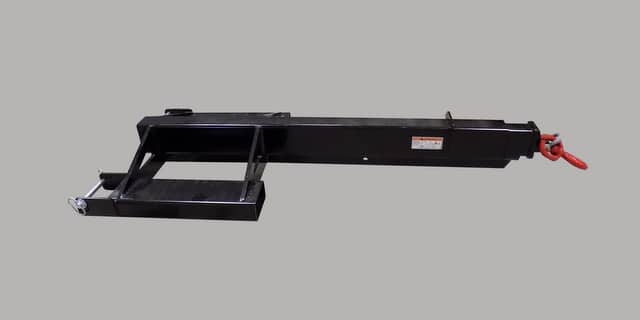 A truss boom allows operators to set trusses and wall sections for wood and steel building construction, and they are typically available with or without a winch. Not only can the truss boom increase the capabilities of a vehicle by providing increased reach, it can in some cases, increase the height of the suspended load. They are available in various lengths from a simple boom-mounted lift hook to a fixed length truss boom. Additional options that make this attachment useful include variations of coupler or fork-mounted truss booms. When equipped with a winch, an operator can raise and lower the suspended load in tight spots, eliminating the need for up and down movement of the boom.
Making a Match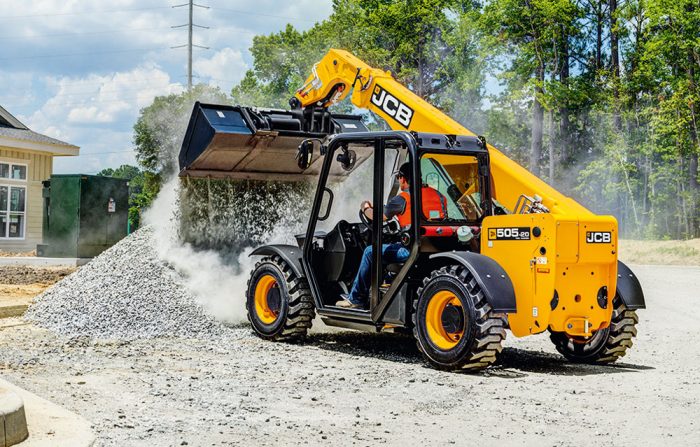 There are other attachments, including augers, brooms and even a skid steer adaptor plate to allow the use of some skid steer attachments. Most of these attachments require auxiliary hydraulic flow to the implement, so make sure the telehandler is plumbed with auxiliary hydraulics to properly operate powered attachments. Hydraulic flow to the attachment varies by manufacturer, but most of the truly compact models are hovering around 15 or 20 gallons per minute (gpm) with pressures ranging from to 3,000 to 4,000 psi. After determining the attachment that best suits your needs, match the flow, pressure and weight of the attachment with your host machine.
Many attachments are available in different sizes, such as fork length, and multiple carriage types such as fixed, adjustable and swing, says Elvin. "With a huge range of available attachments on the market, and the ability to utilize other intermediate hydraulic flow attachments that would traditionally be utilized by skid steers, telehandler owners should carefully evaluate the possible uses for the telehandler. Shop for attachments that deliver maximum return on investment, possibly being able to use them across a range of their existing equipment, such as skid steers and other similar products," he says.