Earlier this week, we jetted down to Atlanta and nearby Conyers, Ga., to participate in the 2015 Kubota Dealer Meeting. We had a ton of fun, made some new friends and saw a lot of cool equipment. In particular, there were four machines that stood out. Look for them on Kubota dealer lots soon.
Kubota's New L47 and M62 Tractor Loader Backhoes
Kubota introduced two new 4WD loader and landscaper utility tractors, the L47 and M62, replacing the L39, L45 and M59 models in this unique line, available as either tractor-loaders (TL) or tractor loader backhoes (TLB). Both new models offer more horsepower than ever before, with more versatility and an improved operator experience for landscaping to construction jobs. Powered by Kubota diesel engines and hydrostatic transmissions, the L47 boasts 47 gross horsepower and the M62 boasts 63 gross horsepower.
The L47 and M62 offer optional cabs to protect the operator from the elements, complete with heater and a new design that offers a 27 percent increase in space at the operator's feet while operating the backhoe. Side-positioned loader controls provide operator ease and at-a-glance information when using the loader or the backhoe. The L47 offers a newly designed backhoe with a digging depth up to 10 ft. And the backhoe for the M62 offers 14 ft. digging capability, providing an extra 2 ft. of digging depth over previous models, making it an excellent choice for customers looking to upgrade their backhoe performance, while still benefiting from a smaller TLB machine. When it comes to comfort, both models offer improved foot room for the operator, a larger LCD screen, added throttle-up button, and a boom lock for easy and safe onsite maintenance.
Fuel tank capacity has greatly improved on these new models, with the L47 and M62 each offering a 17.7 gallon tank, which is 22 to 49 percent more capacity than the previous models. On the M62, the newly designed quick coupler allows compatibility with certain Kubota excavator buckets, making it more economical and versatile on the jobsite.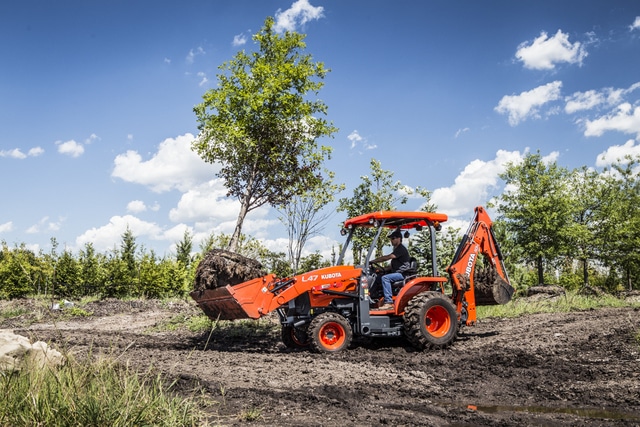 Kubota's New K-Vertible Four-Passenger RTV-X1140
Kubota introduced a new addition to its RTV-X Series Utility Vehicle roster, the RTV-X1140, featuring the innovative K-Vertible cargo conversion system, which transforms the vehicle with minimal effort and time from two passengers and a large cargo bed to four passengers and cargo bed. Featuring sophisticated technology yet easy to operate, the RTV-X1140 offers an impressive array of comfort and performance features, with convenient tilt steering, simple inline shifting, secure lockable storage and a long-travel four-wheel independent suspension that enhances drivability and handling in all off-road conditions. The new five-point ROPS design increases RTV-X1140's legendary workhorse characteristics allowing for more cargo volume and side loading. RTV-X1140 also comes standard with hydraulic dump bed and ships this month to Kubota dealers nationwide.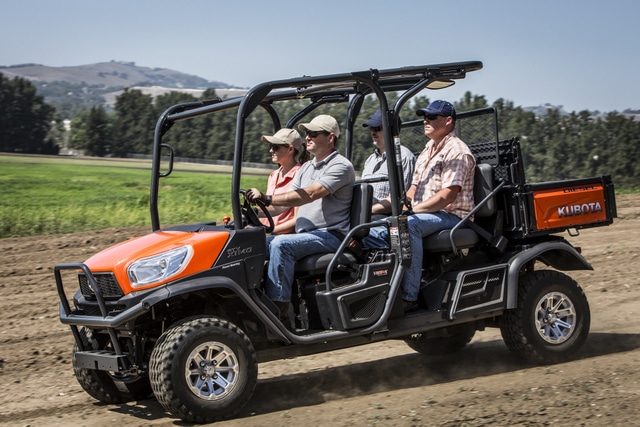 Kubota's New SVL 95-2 Compact Track Loader
The latest model in the Kubota compact track loader lineup is the SVL95-2, replacing the SVL90-2, and offering more power, improved multi-tasking efficiencies, and increased hydraulic horsepower and capacity that puts this model in an elite group of high flow machines. Powered by a Tier 4 Final turbo-charged, liquid-cooled diesel engine, the SVL95-2 is a best-in-class machine that delivers 96 horsepower with Common Rail Fuel Injection and Diesel Particulate Filters to match outstanding performance and increased fuel economy with greatly reduced exhaust emissions. The new model also features cab comfort upgrades to keep the operator in the seat longer. And, with an increase in operating capacity, the SVL95-2 offers 3,200 lbs. ROC, which is up 6 percent over the previous model.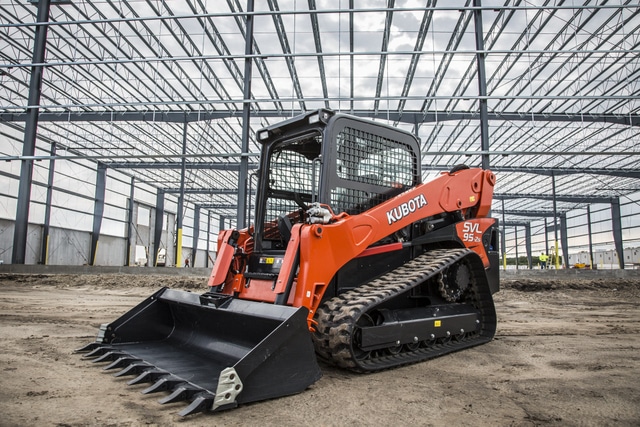 For more coverage on Kubota products, click this link. It's definitely click worthy.