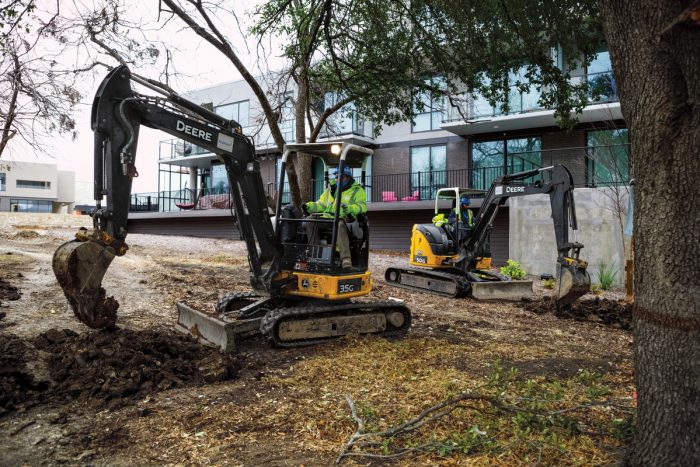 Compact excavators have become an American favorite. Let's run the numbers. Compact or mini excavator sales in America are hovering around the 60,000-units-a-year mark, making it one of the most popular categories of earthmoving equipment. In a conversation with Edward Song, CEO at Doosan Infracore North America, he noted that the U.S. mini market might have potential for up to 90,000 units sold a year. In our recent Spec Guide, we analyzed 17 different brands of compact excavators being sold in America in 2022, and there are even more brands than that. On this very website, these three stories alone (all on mini excavators) will probably account for over 80,000 pageviews throughout 2022, earning them a spot in our top five most popular posts of the year.
According to that quick number crunch, mini excavators are popular in America right now, and equipment manufacturers from around the world are positioning themselves to sell units into this hungry market and (if they're clever) differentiate themselves from the growing competition. Here's a good example of both from John Deere. The famous American brand has been raising eyebrows and striking new deals (both with Hitachi and Wacker Neuson) to remake its compact excavator line into more of a John Deere image, and these deals are also pushing both of those companies in new directions.
A little backstory: In America, the Hitachi brand has been tied to John Deere for some time. John Deere and Hitachi have been business partners since the 1960s, working together on distribution, sales and OEM relationships in both the Americas and Asia. Hitachi specifically has supplied John Deere with its excavator lineup since the early '80s, but their partnership is changing. The two companies' 30+ year manufacturing joint venture ended last March. John Deere has acquired full ownership of three Deere-Hitachi factories and has begun new license and supply agreements with the Japanese excavator specialist.
On its end, Hitachi is now entering the American markets (both North and South) with a new sales and marketing force in 2022 and new Hitachi-branded products, including two new compact excavators and six more in the future. Here's Simon Wilson, vice president of sales at Hitachi Construction Machinery Americas Inc., speaking at a press event in May.
"In North America [in the past], a significant portion of Hitachi machines were manufactured under the John Deere badge and marketed that way," explained Wilson. "But over the last five or six years, the discussion started to change and we said, 'Maybe we want to go our separate ways.' It's a very difficult kind of discussion. It wasn't bad. It was really much more of, you know, there are different things that each of us want to do. The economics changed and where the businesses were going. John Deere was talking about where they wanted to go and Hitachi was talking about where it wanted to go globally, as the largest manufacturer of excavators in the world."
The end result for Hitachi will be a lot more Hitachi-branded excavators on dealer lots and jobsites in America in 2022 and beyond. The company has secured 25 dealer groups (around 250 locations) and has hired 150 employees in North and South America in the last six months.
The Deere/Wacker Relationship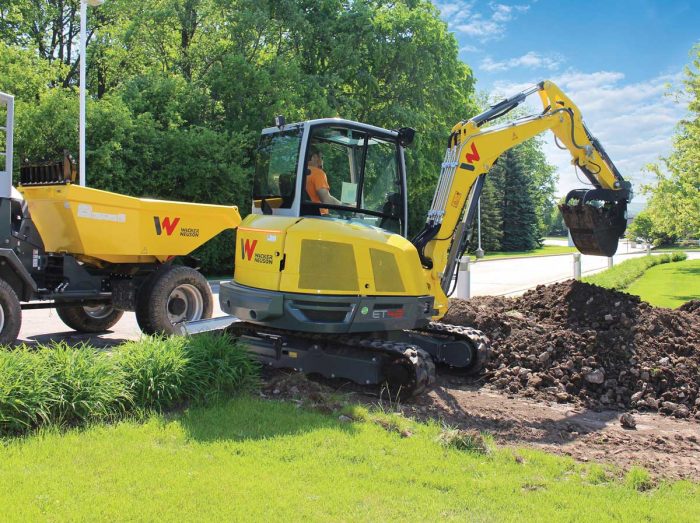 John Deere, for its part, is moving in a new direction too. In June, Deere announced it was expanding its relationship with Wacker Neuson to include the development of excavators less than 5 metric tons, including battery electric excavators, that will be manufactured by Wacker Neuson. Additionally, John Deere announced it would also have control of the design and manufacturing of a new line of 5- to 9-metric-ton excavator models, "leveraging a solid foundation from Wacker Neuson," according to the press release. This is not the first time the two companies have worked together.
"John Deere and Wacker Neuson have had a relationship outside of North America since 2017 for wheel loaders and telehandlers in Europe, North Africa and the Middle East — and for even longer with Hamm for compact rollers," explained Domenic Ruccolo, senior vice president of sales, marketing and product support for global construction equipment at John Deere. Ruccolo also holds the position of chief sales officer for the Wirtgen Group, which John Deere acquired in 2017.
He continued: "This relationship has been positive for both organizations and as demand for John Deere excavators continues to increase, expanding this agreement to support the less-than-9-metric-ton compact excavator lineup in North America, made business sense. With increased design and manufacturing control, John Deere customers will benefit from a differentiated 0- to 9-metric-ton excavator lineup. One that leverages John Deere technology, optimizes productivity-driven features, prioritizes the user experience and rapidly brings new customer validated innovations to market."
Mini excavators are making big waves on jobsites all over North America. Click here for the latest news on these machines and the companies that make them.
"Differentiated" seems to be a key term here, with John Deere looking to create a unique brand halo for its line of mini diggers. For starters, the long-term exclusive OEM supply agreement with Wacker Neuson includes battery-powered electric excavators, which fit into the manufacturer's long-term gameplan.
"John Deere announced our Leap Ambitions in February of this year, and John Deere Construction and Forestry has committed to deliver 20+ electric and hybrid-electric models by 2026," said Ruccolo. "The new agreement with Wacker Neuson includes battery electric compact excavators in the less-than-5-metric-ton range and development has already commenced. Much like electric car manufacturers tout their entire ecosystem, we'll offer a comprehensive experience that will leverage the entire John Deere tech stack to maximize customer value. It's why we are certain we'll have a highly competitive electric offering because we'll combine our battery electric machines with the industry's most powerful tech stack for a solution that's truly differentiated."
Where Will They Be Built? When Will Units Hit the Market?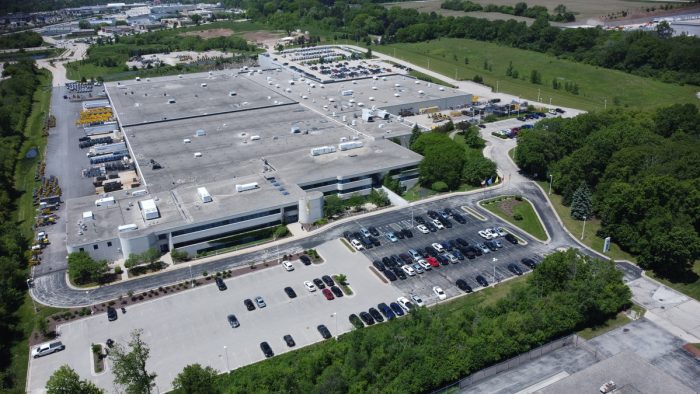 Wacker Neuson will design and manufacture the less than 5 metric tons machines at its facilities in Menomonee Falls, Wis., facility (pictured above), as well in Linz, Austria. John Deere will manufacture the new line of 5- to 9-metric-ton excavator models itself. All of these excavators will be distributed under the John Deere badge via John Deere's global dealer network. The companies plan a phased introduction of models.
"There is not an exact timeframe, but we anticipate availability in the coming years," said Ruccolo. "We are constantly exploring new machine and technology solutions that will help expand our offerings to meet the growing needs of all customers. The development of a new machine is a multi-year, multi-phase process, and we continue to listen to our customers to seek new ways to meet the demand for expanded excavator offerings."
That means John Deere's partnership with Hitachi will continue for now, just in a different capacity.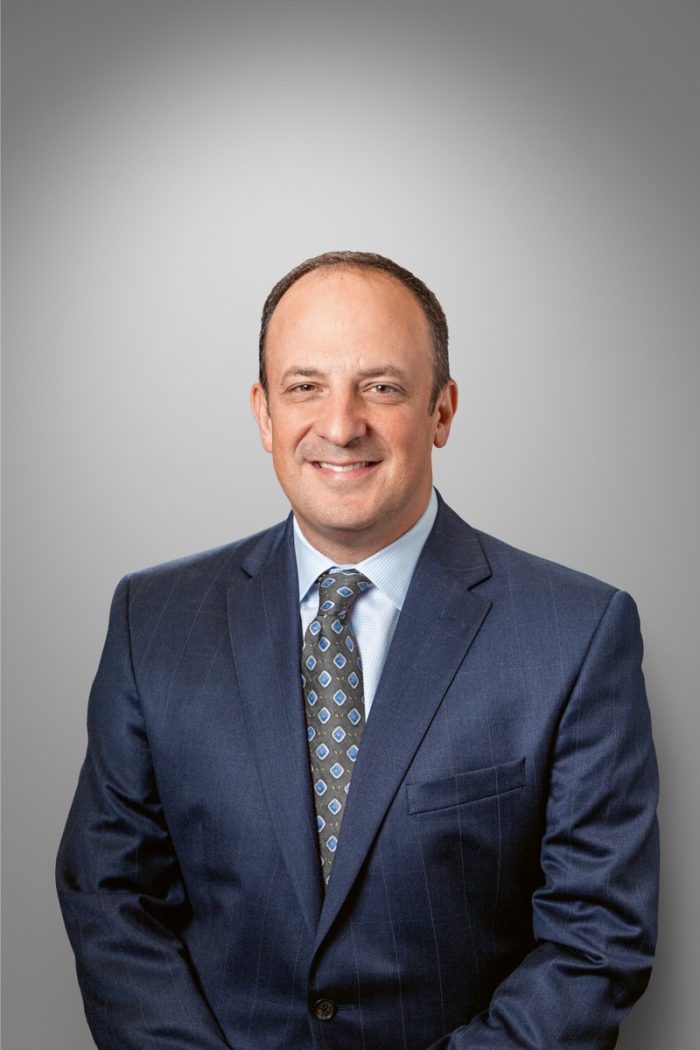 "The joint-venture agreement between John Deere and Hitachi has been mutually beneficial for over 30 years, and as business needs change it was the right time to dissolve the agreement," said Ruccolo. "John Deere will continue a supply agreement with Hitachi to continue to source, manufacture and distribute the current lineup of John Deere-branded excavators in the Americas. For now, John Deere will continue to source its existing lineup of 0- to 9-metric-ton excavators from Hitachi until further notice."
Also interesting here is that all Wacker Neuson compact excavator models in the same product range will continue to be distributed under the Wacker Neuson brand through Wacker Neuson's own distribution network. That means the market has gotten even more competitive with Hitachi emerging as a new brand to sell against. Here's a statement from Wacker Neuson:
Wacker Neuson management is confident that this alliance will substantially accelerate the Group's profitable growth trajectory in the medium term. It does not, however, expect significant contributions to sales and earnings within the next three to four years. The Wacker Neuson Group plans to invest an amount in the low double-digit million Euro range to expand production capacity accordingly.
It appears compact or mini excavators will continue to roll off lots in 2022 at an alarming rate, as supply chain issues and demand continue to present delivery challenges. Manufacturers can't make minis fast enough, yet they continue to release new models and introduce cool new technologies that keep us all wanting more. We're definitely interested in seeing what John Deere and Wacker Neuson will cook up together, especially in the electric digger realm. When looking at Deere's other inventive compact equipment offerings — like the 333G SmartGrade compact track loader — it's easy to imagine a new line of compact excavators with class-leading variants and technologies.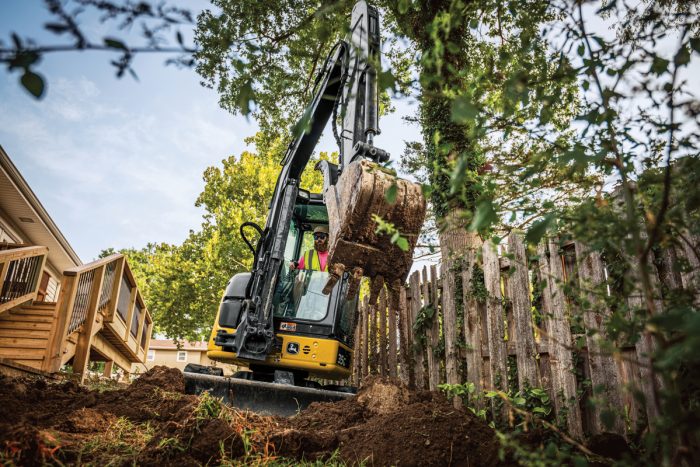 Of course, Deere will have to support both its old products and new products in the long run, and critical to the transition will be its dealer group.
"Our world-class network of dealers is integral to supporting the new agreement with Wacker Neuson," said Ruccolo. "We're working closely with our dealers to ensure the most seamless customer experience as that is a priority. As the excavators will be distributed under the John Deere brand, our dealers will support customers regardless of the supplier. Customers will see no difference in the excellent service they have come to expect from the John Deere dealer network."
Keith Gribbins is publisher of Compact Equipment.
For reprint and licensing requests for this article, please click here.
John Deere Unveils G-Tier Compact Wheel Loader Models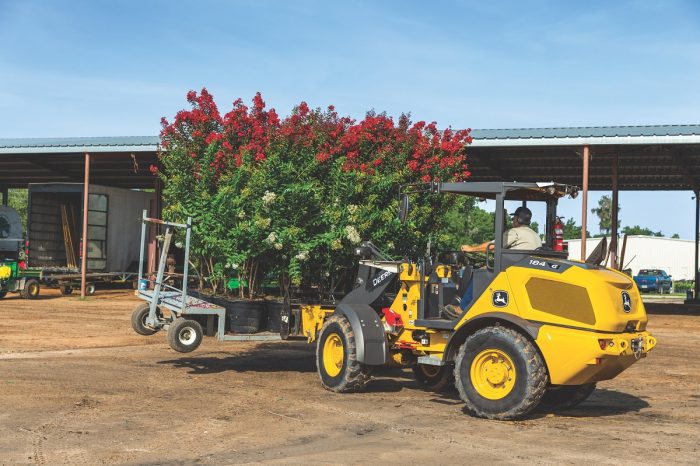 John Deere is building upon its lineup of compact equipment by expanding its performance tiering strategy with three new models of compact wheel loaders. The new G-tier models, including the new 184 G-tier and the 204 G-tier and 304 G-tier machines, were designed to include proven capabilities and are ideal for customers in need of a dependable machine to complete everyday tasks. The G-tier compact wheel loader models are also practically equipped, providing proven capabilities with the reliability and ruggedness customers expect from John Deere machines.
The 184, 204 and 304 G-tier compact wheel loaders provide solutions for customers in applications such as landscaping, agriculture, snow removal, site development and rental without sacrificing the world-class John Deere quality. The G-tier models offer optimal performance with lower maintenance costs. With convenience and productivity top of mind, these easy-to-operate models come standard with limited slip differential, which automatically engages if one wheel loses traction, providing enhanced safety for the operator and the machine. The optional ride-control reduces spillage from the bucket when traveling over rough terrain, reducing jobsite clean-up and improving ride quality for the operator and can also be set to engage and disengage at certain speeds. Learn more right here! Tags: Doosan, Hitachi, John Deere, Wacker Neuson