Arizona soil can be unyielding earth. The sunbaked clay and caliche of the Sonoran Desert is certainly not kind to bucket teeth, yet Doosan's new DX35Z-7 mini excavator cut and spread Arizona dirt with relative ease. The newly designed, not-yet-released, 24.7-hp, zero tail swing DX35Z-7 is one of four new mini excavators coming out from Doosan in 2022, and I got the opportunity to inspect three of these units last week out at the ROC Customer Experience (Doosan's "real operation center" near Tucson where dealers, customers and occasionally journalists can get hands-on with equipment). Digging force, hydraulic speed, machine stability and a refined cab experience (that AC works well, dear readers) are highlights of this quartet of cool new mini diggers.
These -7 compact excavators are part of a bigger plan and a bigger story for the Doosan brand. Over the next few years, Doosan hopes to launch 10 new compact excavators to the North America marketplace, because according to Edward Song, CEO at Doosan Infracore North America, the market is primed for serious expansion.
"For mini excavators, we think the market will continue to grow until it reaches 87,000 to 90,000 [units] a year," he explained at the media event, noting right now it's about 63,000 units a year. "And that is one of the reasons why we're looking to bring in our own mini excavators. We are sitting on a lot of successful ingredients right now, and we don't want to lose momentum. Especially now that our dealer group is more assured of our new ownership because our new owner is willing to invest more and have more focus."
Perhaps you didn't notice (you're busy, I get it), but on August 19, 2021, Doosan Infracore was officially sold to Hyundai Heavy Industries Holdings Co. This sale did not include Bobcat Co. or Doosan Portable Power (brands acquired by Doosan from Ingersoll Rand in 2007 for nearly $5 billion) but did include orange Doosan Infracore machines and Doosan's engine business. Doosan Infracore will become a subsidiary of the newly created Hyundai Genuine group alongside Hyundai Construction Equipment.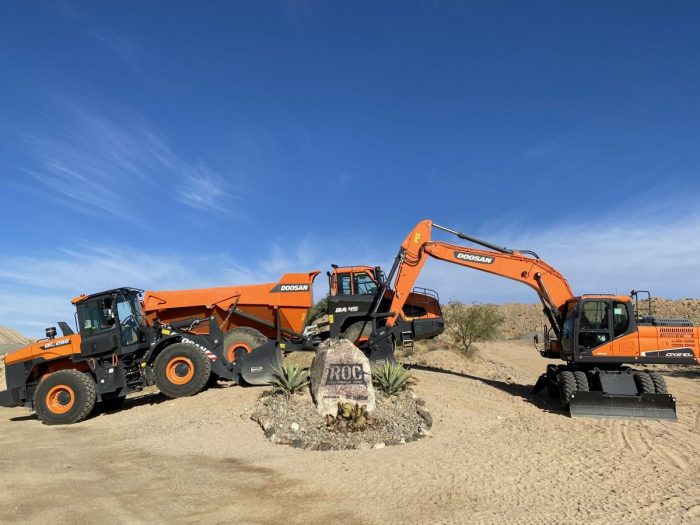 The two groups look to work independently, noting Hyundai will have three years to transition the Doosan name to its own unique brand (similar to how it revamped Ingersoll Rand's compressor, gen set and light tower lines to Doosan Portable Power post acquisition). This also means that its supply agreements with Bobcat will be changing, hence 10 new Doosan mini excavators coming to the market.
"So [presently], Bobcat provides us with 3-[metric]-ton, 4-[metric]-ton and 5-[metric]-ton mini excavators," said Song. "As of today, we provide them with our 14-[metric] tonner and a 17 tonner. However, now we have plans for Doosan built mini excavators to be sold in North America. So, in 2022, only the 4-[metric] ton will come from Bobcat for six to seven months, and then we will transition into these new models."
Long story short: In 2022, Doosan Infracore North America will launch a completely new lineup of mini excavators, as well as other bigger equipment from dozers to large diggers. Those mini models will include conventional tail swing, reduced tail swing and zero tail swing configurations, and for the first time the DoosanCONNECT Telematics management system will be available as standard equipment. I got the opportunity to operate a few of these units in Tucson (see the video above), and these first three models definitely deserve your attention.
Four New Mini Diggers
Eighty degrees, beautifully sunny, surrounded by spectacular giant saguaro cacti — these are the ideal operating conditions I enjoyed at Doosan's ROC. Of course, the new DX35Z-7 mini excavator is primed to work regardless of the jobsite conditions. This new mini excavator features a zero tail swing design, a wider enclosed cab, powerful new heating and cooling system, 5.7-in. full-color LCD monitor and DoosanCONNECT telematics as standard. There's also a highly luminous LED lamp for improved visibility in low-light conditions, and available options include a rearview camera, cast counterweight, second auxiliary hydraulics and long-arm design. The new DX35Z-7 features a max digging depth of 11 ft, 4 in., max digging reach (ground) of 17 ft, 9 in. and a max loading height of 12 ft, 2 in. The new DX35Z-7, and all of these new mini excavators, come directly from the minds behind the Doosan brand.
"We will be bringing these machines in from our design teams and our factories in Korea," said Aaron Kleingartner, product and dealer marketing manager at Doosan Infracore North America. "They have designed some very powerful machines with great trenching and lifting capacities. We maintain the Doosan engine on all of these, so parts support will be improved as a result of having everything under one roof.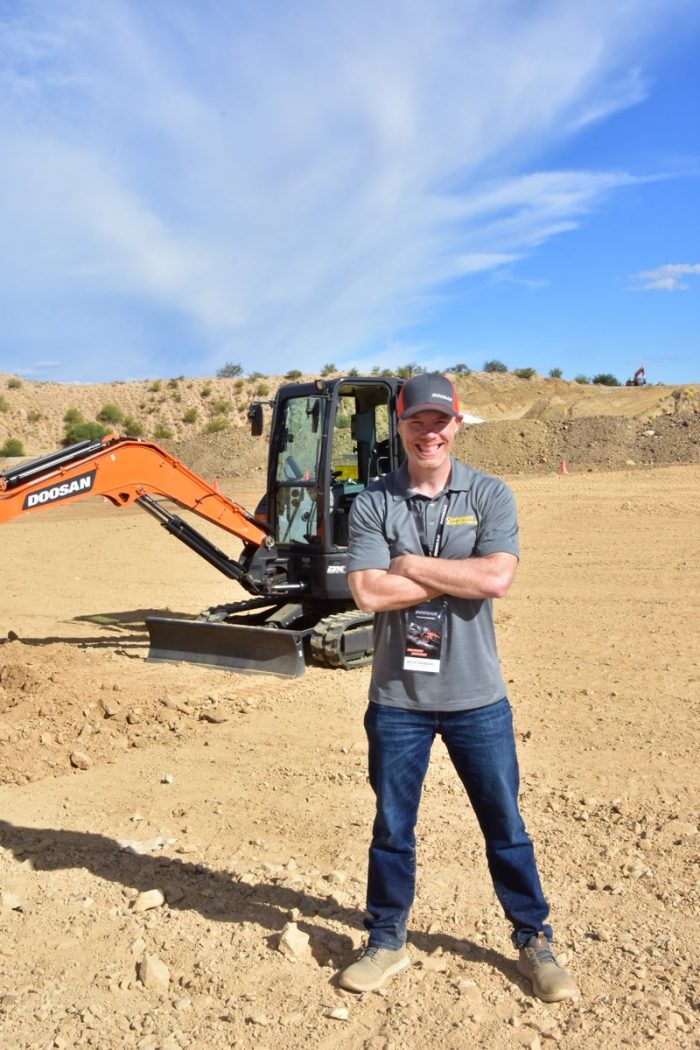 "These are small machines, so we want to make sure we maximize cab comfort and visibility. We've got a full glass door with a frame, a very powerful HVAC system — best in class, as testing shows in that 27 and 35 size of machine — as well as the ability for hands-free radio operation and Bluetooth audio. It's a very versatile machine with sufficient flow to run the attachments customers are using and the ability to adjust and set that hydraulic flow from inside the cab for those attachments to optimize performance."
On the smaller side, the DX27Z-7 mini excavator is a new size class for Doosan in North America. Its new rearview camera allows an operator to navigate a full 360 degrees on jobsites. Other features include a 3-ft, 7-in. standard thumb-ready arm and an 11.8-in. rubber track undercarriage. The DX27Z-7 will boast a 24.7-hp Doosan engine, an operating weight of 6,168 lbs, max digging depth of 8 ft, 8 in. and a max digging reach of 14 ft, 10 in. This model is only 60 in. wide, ideal for both confined jobsites and transport. Customers can add second auxiliary hydraulics as an option for attachments that require additional gpm and psi.
"One of the new things that we will be offering with these machines for the first time is telematics as standard equipment on the compact excavator lineup," said Kleingartner. "We're excited to extend that to our customers as well as new options like LED lamps and rearview cameras."
Going bigger, the new 48.8-hp Doosan DX50Z-7 mini excavator is part of the 5-metric-ton size class. Its zero tail swing design makes it a popular choice for customers working in confined spaces on construction jobsites or landscaping projects. A standard enclosed cab with heat and air conditioning will keep operators working comfortably throughout the day. A heated adjustable seat is available as an option for additional operator comfort. Customers can upgrade to a steel track option for use in jobsite conditions that may otherwise damage rubber tracks. This unit has an operating weight of 12,121 lbs, max digging depth of 11 ft, 5 in., max digging reach (ground) of 19 ft and a max loading height of 12 ft, 6 in.
"And then moving on into 2023, to some of our future aspirations, we will continue to extend our options with two smaller units — the 17 and 19," explained Kleingartner. "So, 1.7-metric-ton machine. So, we will have everything from 1.7-[metric] tons up to 100-[metric] tons in our excavator line. We will offer a very broad scope to allow customers the options to choose the machine they want. Last year, we also showed a prototype compact excavator that was electric, and we plan to commercialize those by 2023."
Top 5 Brand in the World
Doosan Infracore North America highlighted a lot of interesting products last week in Arizona. The global machine maker introduced its first dozer to North America — the 122-hp DD100 — which can wield 3D machine control tech for automated accuracy and ease of operation. In 2022, Doosan will introduce its -7 Series crawler excavators to North America, while it's already released its lineup of -7 Series wheel loader models to America in 2021. Doosan continues to showcase mind-blowing tech too — like its Transparent Bucket option for wheel loaders and its Concept-X project — which spearheads the implementation of future construction site technology, converging and integrating technologies related to ICT (information and communications technology) and AI (artificial intelligence).
Right now, the Doosan Infracore brand ranks about No. 9 in global sales volume when comparing the biggest earthmoving equipment makers in the world. With the recent acquisition and a whole host of new units coming out, the company is looking to break the Top 5.
"That definitely seems doable, especially for us here in North America, because we're not that far away from that level already," said Todd Roecker, vice president of growth initiatives. "Probably most important is to continue to strengthen our sales channel throughout North America. That will continue to be a key initiative moving forward. As Edward alluded to, continuing to improve the quantity of offerings to our dealers, so that we can become that single shop for our customers and for their contractor and construction businesses, maximizing uptime. As an example, there's a new initiative that we just launched earlier this year to help improve our residual values on used equipment. Something that we're not satisfied with at its current level. And then of course, branding continuing with a new brand transition, a stronger brand that makes us that much more successful."
Keith Gribbins is publisher of Compact Equipment.
Mini excavators are making big waves on jobsites all over North America. Click here for the latest news on these machines and the companies that make them.
Tags:
Doosan
,
Doosan Infracore
,
Doosan Infracore North America
,
Hyundai
,
Machine Heads